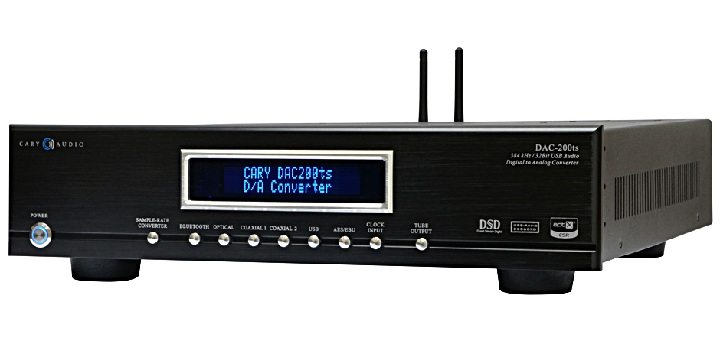 Cary Audio, a manufacturer or both vacuum tube and solid state components, has annouced their new digital-to-analog converter (DAC), dubbed the DAC-200ts.
The new DAC-200ts is the pinnacle in digital AND analog circuit topology from Cary Audio and incorporates Cary Audio's upsampling engine that they call TruBit upsampling. TruBit upsampling is a 128 bit DSP engine that can expand an incoming native signal of up to 32 bits to a sampling rate of up to 768 kHz (with 8 different upsampling rates being user selectable). Whether the incoming signal is upsampled or left native, the signal is clocked several times with Cary Audio's proprietary OSO reclocking and then 4 independent DACs for 8 channels of processing perform the digital to analog conversion. Using multiple parallel DACs ensures that the process of converting a true balanced or single ended digital signal will retain musicality.
The analog circuit within the DAC-200ts has been designed to provide the best and purest conversion, using Idependent Output (DiO) analog topology with a separate solid state output stage and a separate vacuum tube output stage. The separate independent analog output stages allow tailoring of the DAC-200ts' sound to source material at the touch of a button.
The new DAC-200ts is a reference level digital source unit but can also be used as a digital preamplifier with a 3.0 volt variable volume output. A clock input allows for the use of an external master clock or with the DAC-200ts' clock output, it can be used itself as a master clock for other compatible digital sources.
The DAC-200ts supports super high resolution Asynchronous USB computer audio. That means PCM up to 32 bit/ 384 kHz as well as native DSD 64, 128, and 256 audio. Additionally, the DAC-200ts includes; CSR aptX lossless Bluetooth, SPDIF coaxial and Toslink inputs, AES/EBU input and both fully balanced XLR and RCA outputs. Large VFD display, full function remote control, and Ethernet and Wi-Fi for control systems are also included.
The new Cary Audio DAC-200ts is set to begin shipping this April 9 with a MSRP of: $3,995 U.S. Look for more information on this and other Cary Audio products at: www.caryaudio.com