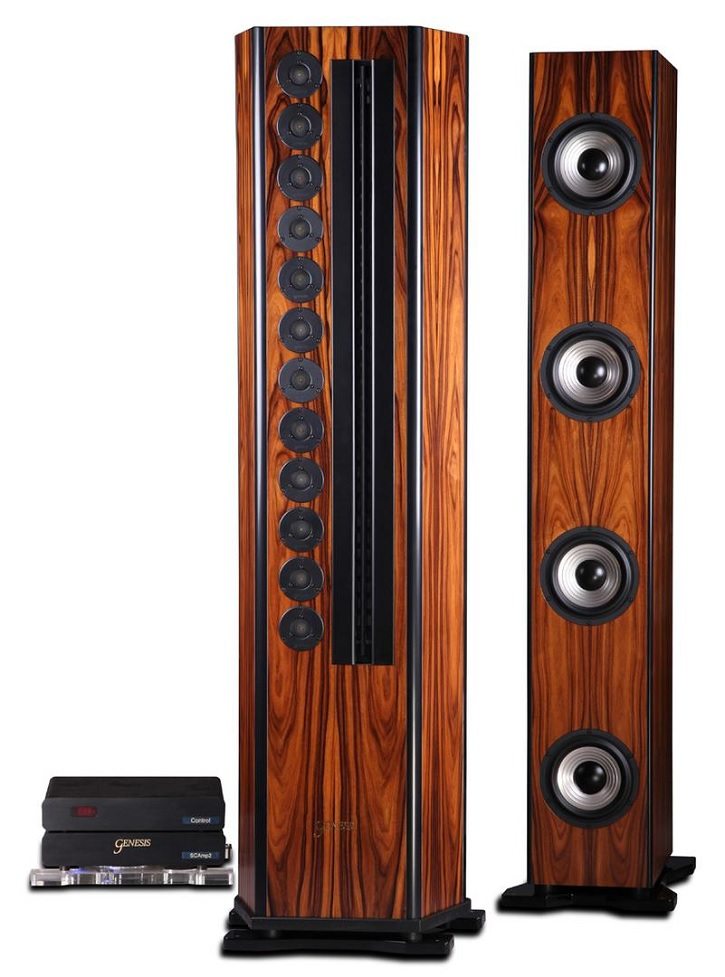 Genesis Advanced Technologies (Genesis) has just announced their new Genesis 2.3 loudspeaker. Speaking of the new Genesis 2.3, Gary Leonard Koh, Cheif Designer and CEO of Genesis states that "The G2.3 is as close to the perfect transducer as we can make given the constraints of room size and budget."
Genesis' position is that a line-source loudspeaker has a huge advantage over a point-source loudspeaker due to there being no vertical dispersion of the sound-wave; this makes seating height irrelevant for listening to a line-source loudspeaker. As well, the attenuation of sound pressure level is -3dB with distance doubling as opposed to -6dB with a point-source, providing greater effective volume and dynamics at any distance and filling a larger rooms with sound.
In addition, a line-source has a lack of vertical dispersion resulting in no deleterious reflections from the floor or ceiling which can cause indistinct imaging. Since the new Genesis 2.3 is also a dipole, side-wall reflections are reduced, providing a more convincing and lifelike soundstage.
The Genesis 2.3 has been improved over the previous generation launched nearly 8 years ago primarily in the area of coloration, with the new 2.3 being more transparent to the signal, producing purer sound.
The new Genesis Ring Radiator Ribbon Tweeter (R3T) has lower distortion and wider dispersion up to 40kHz. The structure of the 48-inch ribbon midrange unit has also been strengthened and improved to further reduce distortion. As most rooms are acoustically asymmetric, separate left and right Servo-Controlled bass Amplifiers (SCAmps) are provided – with two channels per woofer tower. Improved power supplies from the development of the Genesis Reference Amplifier Series II have been incorporated in the SCAmp resulting in more impactful bass.
Structurally, the constraint-layer-damped composite sandwich that was designed during the development of the G-Force loudspeaker now reduces resonance in the cabinets. This improves the "launch blackness" of the mid/high frequencies making music sound like it is coming from a quieter background.
The Genesis 2.3 loudspeaker system comprises a pair of midrange/tweeter "wings", a pair of woofer towers, a pair of Servo-Controlled bass Amplifiers, and connecting cables and accessories. It is custom built in "any" finish including carbon-fiber, rosewood and high-gloss black.
The new Genesis 2.3 loudspeaker is currently available for order with pricing yet to be announced. Look for more information at: http://www.genesisloudspeakers.com/