If you live in the GTA and are thinking about upgrading the audio system in your car, I highly recommend contacting Ultra Auto Sound – working with their team was a great pleasure.
While waiting for the installation, I snapped a few shots of the Ultra Auto Sound storefront.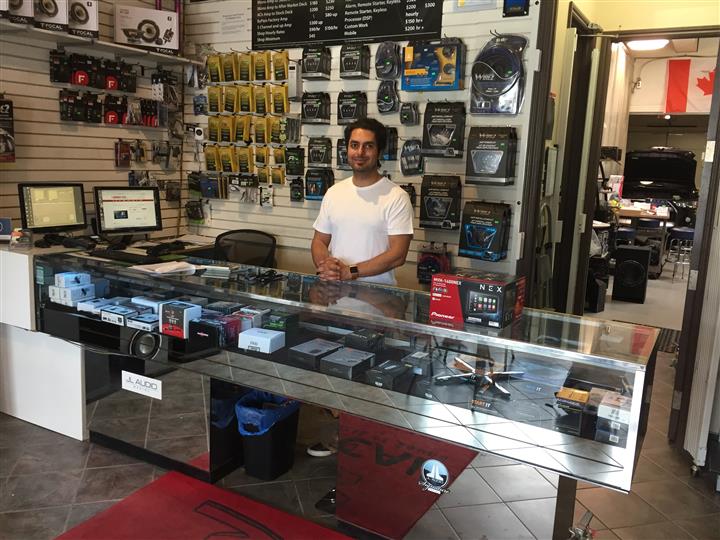 Here's Joe Karimzad behind the counter of Ultra Auto Sound.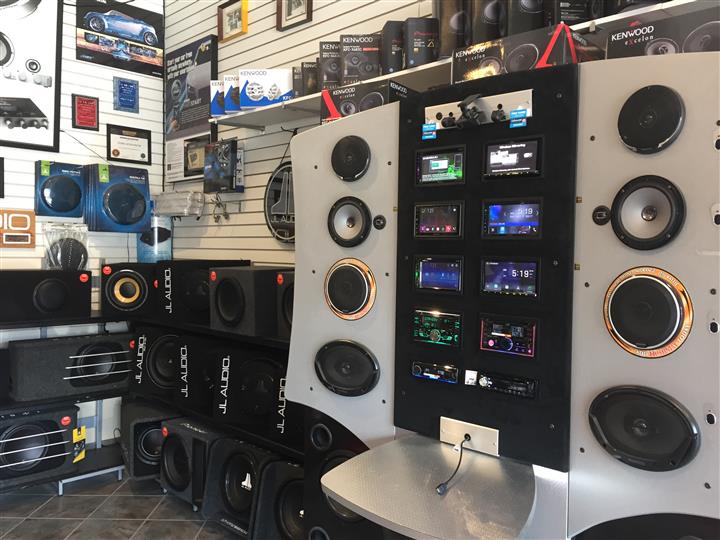 There are plenty of stereo / navigation head units, amplifiers and speakers on demonstration at Ultra Auto Sound.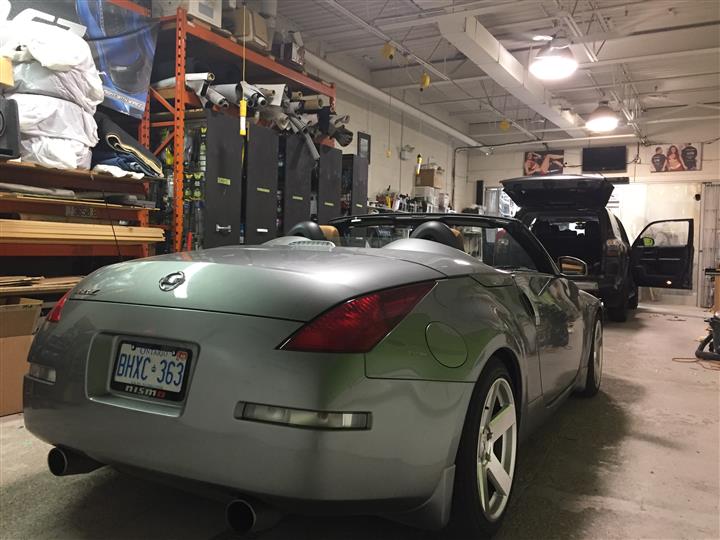 Here's where all the action takes place at Ultra Auto Sound, inside their workshop.
The new system doesn't look quite as cleanly integrated into my dashboard as the factory system, particularly around the edges where it meets the trim kit. However, the large touchscreen looks amazing and goes a long way to making the car feel like it's entered the new generation of vehicles on the road. Before leaving Ultra Auto Sound, Kyle connected my iPhone to the DNX996XR and gave me a quick tutorial on how to use the new system, which I really appreciated.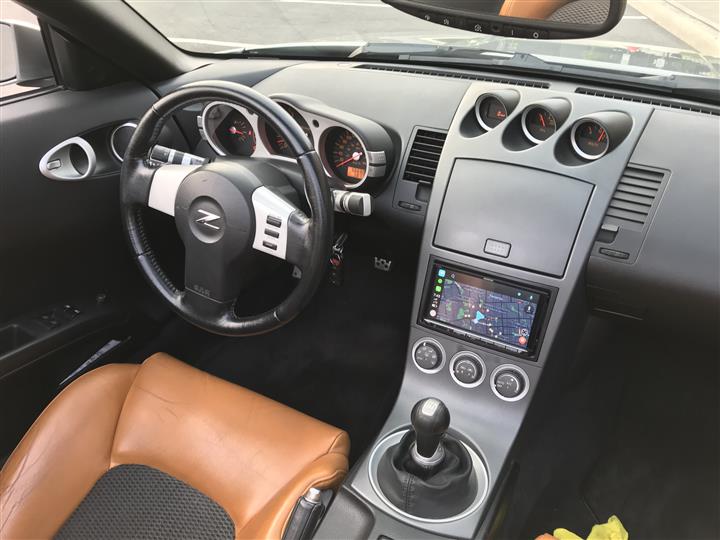 All done! How awesome does that look? 21st century… here I come!

With the installation complete, I was ready to hit the road and mess around with the new system. When you start the engine, the DNX996XR takes about 23 seconds to start up before you can use it. That's a bit long for my liking, but you also have to understand this is essentially a mini computer and it needs time to boot up.
The 6.8-inch screen of the DNX996XR is simply stunning. Thanks to the only HD radio screen on the market, the images appear crisp and highly detailed. The semi-glossy screen offers a bright, vibrant picture that is easy to see even in direct sunlight. This is of particular importance in my 350Z since it's a convertible. The capacitive touch screen works very well, offering a similar touch and feel compared to my iPhone, albeit not quite as smooth. The capacitive touchscreen is one of the biggest advantages of selecting a high-end unit like the DNX996XR – and it works very well. Most less expensive navigation / sound systems offer old school resistive touchscreens, which compared to any modern smartphone feel very outdated and slow.
Another major advantage of a high-end unit like this DNX996XR is that you get wireless Apple CarPlay – the feature we've all been waiting for. Equally important, the DNX996XR also offers wireless Android Auto. These features allow you to mirror those two platforms most popular smartphone apps on the screen of the DNX996XR – without having to connect any wires. With my iPhone wirelessly connected, the DNX996XR displayed on its screen icons for apps such as Phone, Messages, Google Maps, Spotify, Music, Podcasts, TIDAL (high-res music), Waze (navigation) and more.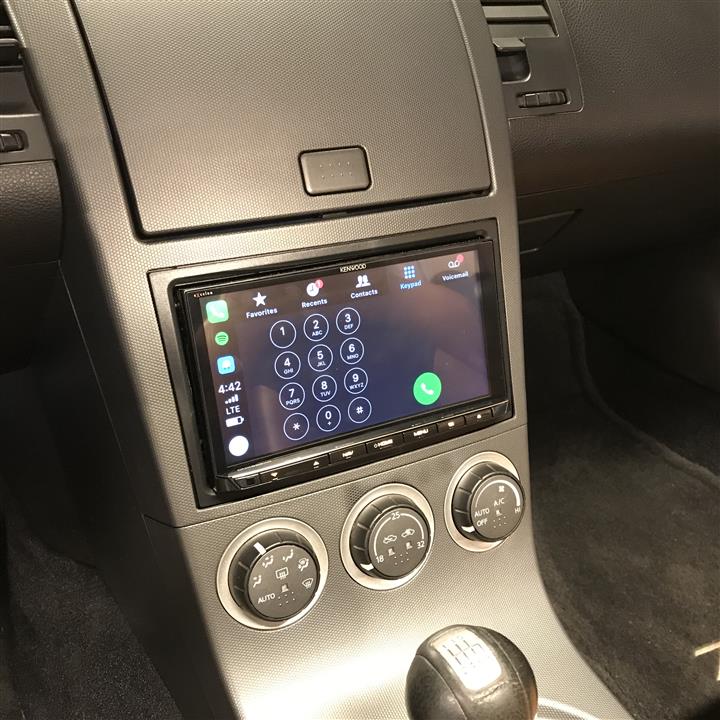 Performance: Hands Free Calling and Messaging
The DNX996XR integrated smoothly with my Phone app. It allowed me to make phone calls by voice commands, or with just a few buttons to press on the screen. I could also answer calls with a single tap on the screen. The microphone that came with the DNX996XR was installed below my rearview mirror and provided above average sound quality – everyone I spoke with heard me without any problems. The same cannot be said of many of today's hands-free systems, factory or aftermarket – I often speak with friends via their hands-free systems and can barely hear them.
Next, I shifted gears to testing the Message app via Apple CarPlay. This app allowed me to send and receive text messages by speaking to the unit. Following a single button press on the stereo, I could say commands like "Text Sarah" and then "Do you need anything from the grocery store?" When I received text messages, the DNX996XR automatically read them to me. This is functionality that I appreciate, as it allows drivers to keep their eyes on the road while also receiving potentially important communications. If being completely honest, the experience wasn't exactly perfect – on many occasions the voice recognition system would misunderstand my words and mispronounce words when reading texts. This of course isn't the fault of Kenwood but rather the fact that modern voice recognition is still clumsy in general. At times, the experience was akin to communicating with my dogs Josie and Shelby – they tend to have minds of their own. In practice, this speech-to-text functionality is not refined enough to have long text conversations. However, it does serve a very good purpose for quick exchanges.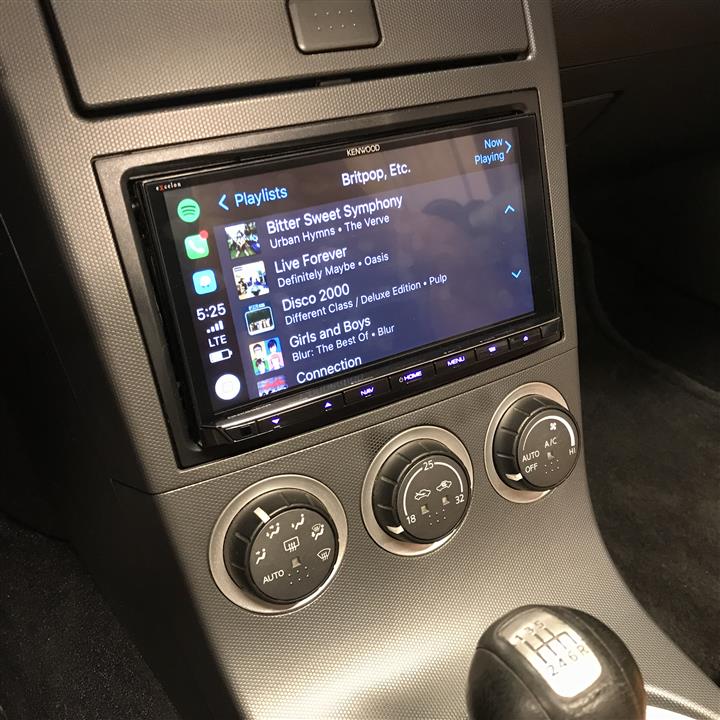 Can somebody start writing some Britpop again? Please?
Performance: Music – Spotify, TIDAL, DVD and Radio
If you love the experience of hitting the open road on a perfect summer day like me, the only thing that can make it better is a great music playlist, and to this effect, the DNX996XR has a lot to offer. As you might expect there's an AM/FM/HD radio on-board, and you can play music from CDs and USB sticks – but of course the exciting part is that this system allows you to play music from your favourite music apps like Apple Music, Spotify, Pandora, TIDAL and more via wireless Apple CarPlay. I have both Spotify and TIDAL subscriptions, so these are the two apps I tested.
Controlling Spotify on the DNX996XR's screen is a music lover's paradise. I no longer had to put up with the annoyances of radio – their repetitive playlists, commercials and sometimes annoying radio personalities. Instead I built my own playlists in Spotify at home and hit the road listening to music that I truly enjoy. This elevated my driving experience to a whole new level. Navigating playlists, albums, artists and individual tracks was a fantastic pleasure on the large 6.8-inch touch screen. I did however discover that Spotify and CarPlay integration was not perfect. At times, when accessing the Spotify app, the music would resume playing were I last left off but the app portion of the screen was blank. This means that I couldn't change the playlist / album / artist that I was listening to. After an exhaustive search online, I found many Spotify users reporting the same issues and it looks like Spotify has not found a solution yet that works for everyone. In fact, the Spotify / CarPlay integration in my girlfriend's 2017 Volvo XC90 has the same issues. This is a real shame but hopefully Spotify can eventually find a solution. Of course, there are plenty of other competing music streaming apps you can try. TIDAL is another fantastic app that offers high-res music streaming and worked flawlessly with the DNX996XR system. Apple Music is another major player. Despite the occasional issues I experienced with Spotify, there is no question that CarPlay combined with a music streaming app is the best thing that's ever happened – musically speaking – in vehicles.
Performance: Sonic Features and Quality
During the installation process, the team at Ultra Auto Sound recommended that I use the existing Bose amplifier that came with my 350Z rather than using the DNX996XR's built-in amplifier – they said I would likely get better performance from this configuration. In the case of my 350Z, it wasn't really an option to use the DNX996XR's amplifier anyway – since it has only 4-amp channels, while my car has 6 speakers plus a sub. Without question though, the sound I heard from my new setup exceeded the performance of the factory system. This would indicate that the preamp inside the DNX996XR is of superior quality compared to the preamp in the factory Bose system.
There's a lot to like about the DNX996XR from the audio enthusiast perspective. High resolution audio playback is possible thanks to a careful choice of high-quality internal components and circuit design. This means that you can play audio files with a resolution up to 192 kHz / 24-bit from apps like TIDAL or files on a USB stick. In contrast to CD quality (44 kHz / 16-bit), high res files offer sound that is much closer to the sound of the original recordings. Admittedly, my 350Z is a convertible and has an upgraded Nismo exhaust so the music competes with a lot of ambient noise. For these reasons I couldn't take advantage of the high res capabilities of the DNX996XR, as you would in a non-convertible vehicle. The quality of the sound was dynamic and highly detailed when listening to high res files, when I listened to music while the car was parked.
In addition to high res audio, the DNX996XR also offers large number of audio settings and features a 13-band graphic equalizer that allows you to tailor the sound to your listening preferences. I spent a lot of time messing around with the audio settings and the equalizer and managed to achieve significantly better-quality sound than with the factory settings. I'd love to tell you about these settings in more detail but that's an entirely different editorial piece all together. Know this however – if you love your music, the DNX996XR offers a ton of customization options for you to explore.