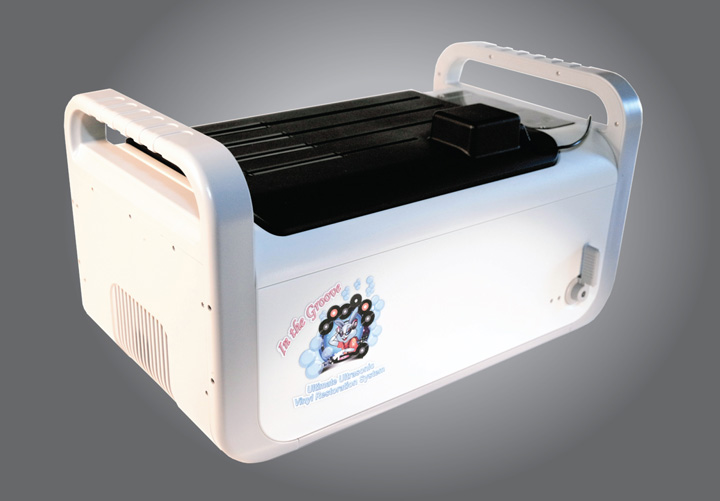 Kirmuss Audio's innovative Ultrasonic Vinyl Restoration System.
SK: There appears to be a lot of buzz among the industry and audiophiles about the Ultrasonic Vinyl Restoration System you released earlier this year. What inspired the design of this system?
CK: Four years ago, I showcased the infamous Rogers LS5/9 65th Anniversary Edition loudspeakers at the Munich High End show. Next to my booth, a company was demonstrating both vacuum and sonic record cleaning systems, retailing for $8,000 and $12,000 US respectively. I thought to myself "what makes these machines so expensive?" After all, we use $500 sonic frequency machines at Kirmuss & Associates to clean PCBs and aluminum chassis. Why were the other guys asking $8,000? We bought one of each machine and pulled them apart. We quickly realized that there wasn't anything special inside that commanded such high price tags. Further research into this product category revealed that what these machines should really be doing is restoring records, not just cleaning the record surface. All of the vinyl cleaning systems we tested left residue on the record from the cleaning process, which resulted in the cartridge needle making less contact with the record's groove. Most, if not all, did not even clean deep into the groove. We also discovered that some cleaning systems use cleaning agents that are not PVC friendly and some ultrasonic systems promote the growth of fungus if the cleaning system's tank is not emptied immediately after use. Some machines we tested even damaged the records' edges, leaving tiny little pieces of the record at the bottom of the cleaning chamber. Crazy, isn't it? After about 3 years of tests, we realized that there had to be a better solution to cleaning records. Records made in the 50s, 60s, 70s and 80s cannot be replaced. Most of the original record stampers have all been destroyed since the advent of the CD. As audiophiles we should be the custodians of this wonderful sounding medium.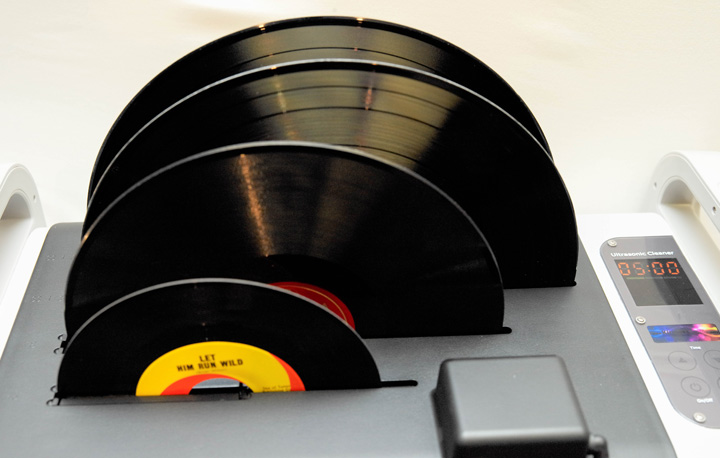 The Ultrasonic Vinyl Restoration System can handle cleaning up to 4 records.

SK: What distinguishes your Ultrasonic Vinyl Restoration System from other record cleaners in the market? Tell me about the technologies that make up this system.
CK: Rather than designing another product that cosmetically "cleans" records, we set out to develop a vinyl restoration system. Most cleaning system use water with an enzyme added, which is not enough to truly clean a record. However vinyl actually rejects water. We also found that other ultrasonic cleaning systems available in the market are simply flawed. A surfactant and some elbow grease is needed to get the job done. Our Ultrasonic Vinyl Restoration System is the only system on the market that physically shows the user when a record has been restored. Usually the restoration process results in 1.5 to 5 dB of signal gain, depending on the condition of the record being restored. That's a great sonic improvement!
SK: What types of music do you enjoy and how often do you get a chance to catch live shows?
CK: At the age of 12, I was given the opportunity to perform some sound mixing for Claude Denjean's recreation of the "Moog!" album. Claude revolutionized well known pieces of music by adding the synthesizer, even with whimsical songs like Joni Mitchel's Taxi. This exposed me to a lot of electronic music from the 70s which I still enjoy today. I also love listening to jazz and disco. I don't get to see live shows as much as I'd like to due to my frequent work travels but I've certainly seen some great performances in the past. I enjoy live performances because they come straight from the heart of the artist – there are no second takes.
SK: How many records do you have in your collection and what are some of your favorites? Why are these your favorites?
CK: My record collection increases weekly. In the last few years it has jumped from a modest 800 to over 6,000 records. My excuse to buy records all the time is that I need used records to demo our Ultrasonic Vinyl Restoration System. I love albums that exemplify a great sounding music system – recordings filled with strings, brass percussion and dimensionality. The old Denon label resurrected Asian pressings are some of my favorites. Of course I also regularly spin up some of the recordings I used to work on as a sound mixer when I was younger. My favorite record is a radio broadcast of a commentary recorded on glass in 1962, partly because I'm happy that we are able to restore shellacked and glass records 🙂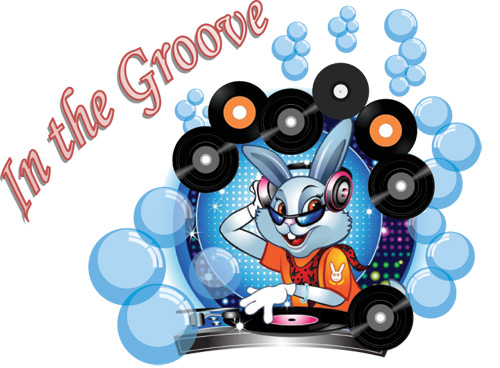 SK: Is there any significance to the rabbit in the Kirmuss Audio logo or did you simply intend for your logo to look more fun than regular logos? I noticed that your website also features many pictures of stuffed rabbits.
CK: What does a wife give to someone that has everything? We have hares around our home in Denver. One even travelled in my car's undercarriage to Colorado Springs and back, as well as to the office and home for months. So one day my wife brought me a small gift, a stuffed rabbit – courtesy of Ikea – and I named him Sal. I reciprocated with a stuffed rabbit on her birthday, which she christened Sally. Then she surprised me with little Squirt and Itsy-Bitsy. Products of Sal and Sally? We'll never know! As we increased the production of the Ultrasonic Vinyl Restoration System, they seemed to multiply like rabbits. A rabbit's sensitive hearing also seemed like a good parallel to a good audiophile ear. Much like our Ultrasonic Vinyl Restoration System, the rabbits are now spreading around the globe since we hand them out a various trade shows. Sal travels with me globally and aids with jet lag. Keep tabs on Sal and Co!
For more info about Kirmuss Audio, please check out www.kirmussaudio.com
Stay tuned for NOVO Magazine's review of the Ultrasonic Vinyl Restoration System – coming soon.
Sal approves Butler Audio's blue tube technology.