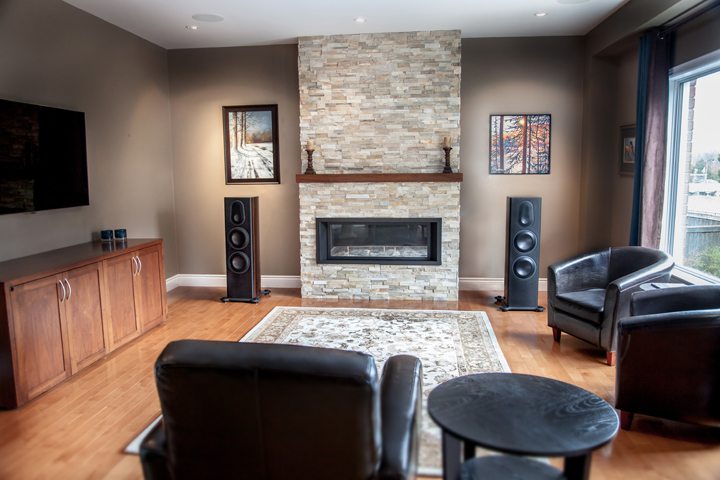 The British have contributed mightily to the music universe. The world of music would just not be the same without the body of work of The Beatles, The Rolling Stones and The Moody Blues. On the audio gear side, they have not been too shabby either, giving us some highly revered brands, one of which is Monitor Audio. I admire the chutzpah of this company for constantly trying to push the performance envelope by consistently daring to think outside the box. They have always had a penchant for trying out new materials and designs. All parts are designed and manufactured in-house and are proprietary to Monitor Audio. Even the screws and bolts are made specifically to the design parameters indicated by Monitor Audio. The venerable Platinum Series has been around for 8 years and has now been replaced by the Platinum II Series, which is chock full of exciting new technology.
There are eight speakers in the Platinum II range. The PL300 II, the subject of this review, is one down from the nearly 2-meter tall flagship PL500 II. It was with great anticipation that I got down to the business of putting this gorgeously finished speaker through its paces. Sheldon Ginn and his team delivered the speakers to my auditioning facility. Sheldon is the Vice President of Sales and Marketing at Kevro International, the North American Distributor for Monitor Audio. They were also kind enough to help me set them up, which was a real blessing given the 120 pounds that each speaker weighs. The review pair offered a stunning Ebony real wood veneer, hand-finished with 11 layers of clear gloss piano lacquer. These speakers are also available in Santos Rosewood or a piano black gloss lacquer finish.
The PL300 II has a 3-way configuration which features two 8" RDT II long-throw bass drivers, a 4"
RDT II mid-range driver and an MPD high frequency tweeter. The frequency response is 28 Hz to 100 kHz at minus six decibels. The sensitivity is 90 decibels and it can reach a maximum sound pressure level of 117.8 dBA, which is pretty close to live rock concert volume levels. The nominal impedance is 4 ohms and the power handling is rated at 300 watts RMS. Monitor Audio recommends pairing these speakers with amplifiers rated from 100 to 300 watts RMS.
The cabinet consists of a multi-layered, super-rigid construction, has curved sides and back to break up internal standing waves and is equipped with two HiVe II ports embedded in a sealed mid-range TLE enclosure. The network crosses over at 3.4 kHz and 500 Hz. The speaker terminals have been completely redesigned and are now milled from solid copper and plated with Rhodium. They accept spades, banana plugs or bare wires. The speakers stand at approximately 43 inches tall; have a width of 11.5 inches and a depth of 14.5 inches.
Monitor Audio used FEA modeling to optimize the operation of the electrical, mechanical, magnetic and acoustic systems in the Platinum II range. A new generation of RDT bass and midrange drivers have been employed, complemented with a micro pleated diaphragm (MPD) tweeter.
The all-new RDT II bass and mid-range drivers offer a superior diaphragm material and better suspension to generate significantly lower levels of distortion, compared to the previous RDT generation. The diaphragm is a composite sandwich structure made from ultra-thin, low-mass skins bonded to a honeycomb Nomex core material. The front skin is made from C-CAM and the rear skin is fabricated from woven carbon fiber. PL II series cones are 150 times more rigid than Monitor Audio's own proprietary C-CAM cones and 1/20th the weight. The upgraded ports comprise a straight rifled design, which accelerates the airflow and reduces turbulence to generate faster, more powerful bass and better transient response.
The MPD tweeter optimizes the diaphragm and magnetic geometry for improved power handling, higher sensitivity, flatter impedance and better transient response. It uses an ultra thin, low mass pleated diaphragm formed by bonding 12 uM layers of high temperature polyimide and aluminium. The latter is etched away to leave a resistive track, which operates like a voice coil of an electro-dynamic driver. This new tweeter results in a cleaner sonic character and reduced harmonic artifacts.
The completely redesigned crossovers use air-core inductors, audiophile grade metallized 1% tolerance polypropylene capacitors, silver lead wire aluminium-clad resistors and 'Pureflow' silver plated oxygen free copper internal wiring. The front baffles are hand-upholstered using Strathspey leather supplied by Andrew Muirhead. This is the same grade of leather that is used in quintessential British brands of high-end furniture, luxury automobiles and exotic yachts.
When it comes to placement, these speakers are temperamental prima donnas. They will throw a tantrum if not placed and aligned properly in the listening room but if you give in to their whims and fancies by placing them just right, like most prima donnas, they will reward you with performance that will take your breath away. The unusually wide dispersion of the tweeter allowed me to place the speakers around nine feet apart to broaden the soundstage and widen the sweet spot, without paying the penalty of a hole in the middle. I toed them in around 10 degrees. The levelling mechanism made it easy to align the speakers to perfection and that brought the sonic image into sharp focus.