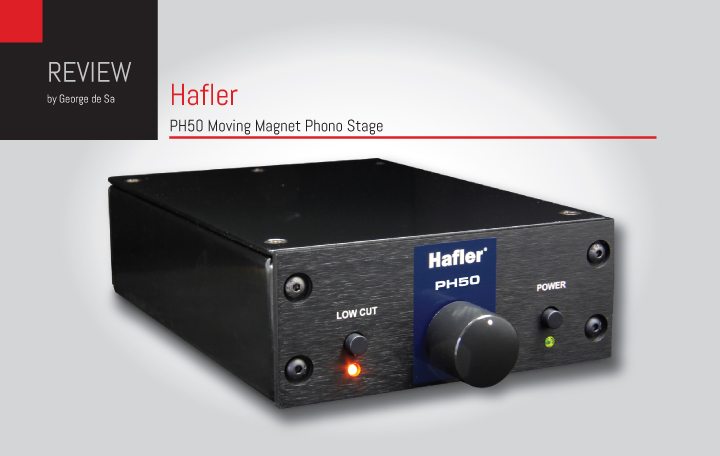 Hafler is a division of Radial Engineering Ltd, headquartered in Port Coquitlam, BC, Canada.  Radial is primarily a pro-audio company with products targeted at musicians and studios; however, in 2014, with the acquisition of Hafler, Radial has begun its move into the consumer audio market.  Hafler though, is a brand with history, having its beginnings back in 1977, founded by David Hafler.  David was already well established in the audio biz as a partner in Dynaco, a highly-regarded audio product company best known for its tube amplifiers.  Interestingly enough, Radial just re-launched the Dynaco brand, at the 2016 High End Show in Munich, once again uniting Hafler with Dynaco.
I've been auditioning the Hafler PH50 Phono Stage ($500 US) for moving magnet cartridges over the last few months.  In addition, I've also had my hands on a Hafler PH60 ($600), its sister product.  Whereas, the PH50 is specifically made for moving magnet (MM) cartridges, the sibling PH60 is designed for low-output moving coil (MC) cartridges.  For those with even more demanding MC needs, Hafler produces two other significantly more expensive phono products, the PH34 ($1,200) and PH44 ($1,200).
The Hafler PH50 and PH60 share similar build, quality, exterior dimensions, aesthetics and simple operation, while differing in circuit design and application, as mentioned above.  The Hafler PH50 is an ultra-linear phono stage for MM cartridges.  It employs a RIAA curve to preserve the original program material and minimize coloration.  The PH50 has low noise, rated at -82dB with a dynamic range of > 91dB and just 0.002% distortion.  While not a pin-up model in form, the PH50 is non-intrusively styled and purpose built, with a sturdy feel.  The casing is 14 gauge steel, ensuring durability and effective shielding from external EMI/RFI contamination.  A full surface ground plane reduces its susceptibility to RFI, as well.  Sturdy gold plated RCA connectors and a grounding screw are on the back, along with the DC power input socket.  Inside, a military grade PC board has a neatly laid out circuit, which serves to minimize self-noise and cross-talk.  The power-supply is an outboard switching wall type that's common for phono stages at this price point.  Adding to peace of mind is the fact that the PH50 and its siblings are made in Canada, and have a 3-year transferable warranty.
On the front panel of the PH50 there is a convenient power on-off button and a low-cut button but also a curious rotating knob, looking a lot like a volume control.  Turns out that this knob is a variable control for the low-cut (high-pass) filter, which, when engaged, allows variable attenuation of low frequencies – providing a means to ameliorate rumble or system low-frequency feedback.  Though I didn't find I needed to employ the low-cut filter, given the vast potential systems out there, it's comforting to have a means to reduce low frequencies, even to tame excessive bass.  Apart from this control, everything else with the Hafler PH50 phono stage, is plug and play with no other controls for users to worry about.
The vast majority of MM cartridges will be happy with a 47KΩ load and 35dB of gain of the PH50 but not necessarily all (see the Hafler website for full specifications).  My resident Ortofon 2m Red MM cartridge was fully compatible with the PH50; however, my Dynavector 10×5, a high-output MC, designed for use with MM phono stages, required a little more gain for optimal performance than the PH50 could produce.  All my evaluations were with my Ortofon 2m Red on my long-term reference VPI Scout turntable.
With over a couple hundred hours of break-in I began to pay closer attention to the sonic attributes of the PH50.  One thing that I first noticed about the PH50 was its nonchalant manner, this is not an in-your-face performer but rather comes across as relaxed and composed.  It conjures images with impressive body and dimension, while avoiding any unnatural highlighting or silhouetting.  With respect to treble, the PH50 was benign, never biting or stinging.  It's delivery of high frequencies was smooth and controlled and absent of unnatural emphasis or grain.  Tonal colors possessed natural warmth without coming across as overly ripe or Technicolor.   My general impression, as I made my way through a stack of LPs was that the Hafler PH50 favoured musical relevance over forensic detail.