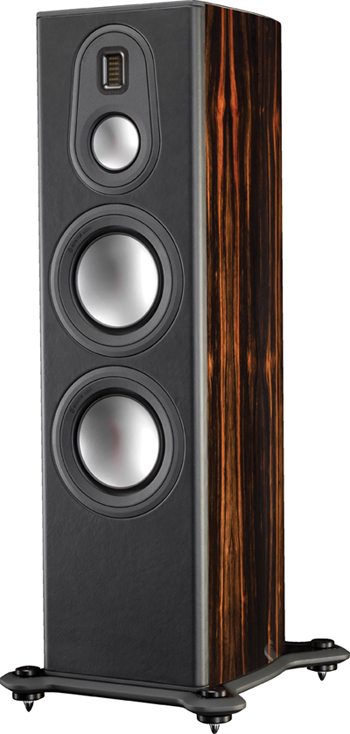 The music that I used for this audition included high-resolution 24/192 tracks from Chesky Records, many Redbook tracks from the seemingly limitless Tidal streaming music library and a few choice LPs. I began the audition with Yuri Honing Trio's version of The Police classic "Walking on the Moon". This reggae track rendered in jazz style is a treat for the ears. Right from the introductory passage of the bass guitar and kettledrums of this incredibly well recorded track, it became very apparent that I was listening to very articulate transducers. Each whack of drumsticks on the skins was crisp, taut and controlled. Then the horn joined in with incredibly breathtaking grain-free glory; sheer sonic bliss. The tone and timbre was spot on while the bass was deep, tight and tuneful.
Next up was the Chesky 24/192 resolution recording of the album "City of the Sun" featuring John Pita, Avi Snow and Zach Para playing on two guitars and percussion instruments. It's been referred to as the reinvention of acoustic music, and experiments with everything from post-rock dynamics to gypsy jazz. I played the track 'Brothers' and revelled in the way the PL300 II painted the huge soundstage with such composure, it made these three intrepid musicians sound glorious. The guitar strums were finely woven with pristine tonal purity that was truly soul satisfying.
For a change of pace I put on the track "San Diego Stomp" by Bob James and Earl Klugh from their "Cool" album. This incredibly well recorded track dominated by guitar, percussion and piano, is very adept at revealing the ability of a speaker to create a three dimensional soundstage. On the PL300 II, the music burst forth in glorious splendour. The leading weight, edges and decay of each piano note were rendered with the same panache and realism as I have heard on some speakers at twice the price. The accuracy of the pace, rhythm and timing on this track compelled me to get out of my listening seat and spontaneously cut a rug with enthusiasm.
I then switched to Dire Straits "Private Investigation" from their "Love Over Gold" album. It commences with an ominous, deep-pitched synthesizer orchestration, which leads into a slow piano progression, accompanied by a classical guitar. It then opens up to a slow, bass-driven beat, with vociferous electric guitar chords, before the gradual diminuendo featuring interplay between Mark Knopfler's acoustic guitar magic and Mike Mainieri's marimba. This intricate and highly complicated arrangement of constant changing tempo, going from whisper quiet passages to suddenly soaring notes, is a bit too much for many speakers to handle without losing their composure. Not so with the PL300 II, which rendered the challenging dynamic contrast of the track with uncommon ease. Mark's gravelly voice was portrayed with most of the tonal colours and saturation that I heard at many Dire Straits live concerts.
The PL300 II was equally adept at reproducing female vocals. Eva Cassidy's voice has an unusually wide dynamic range making it a real challenge for speakers. At whisper quiet levels, the PL300 II retained most of the texture, subtlety and nuance of this exquisitely seductive voice. On the other side of the spectrum, when Eva gives her vocal chords free rein, these speakers delivered it without sounding compressed, strained or distorted.
I was quite astonished at how close the PL300 II came to my reference ACA Seraphim SE speakers ($45,000 US), which I consider to be one of the performance and value leaders even at their lofty price point.
For the past decade, the Merlin Music VSM was my benchmark against which I gauged the performance of all speakers below $20,000. However with the sad passing of Bobby Palkovich and the subsequent closing of Merlin Music Systems, I have been looking for another benchmark at this price point. At $17,995, the Monitor Audio PL300 II is a strong contender for that benchmark. If there is another pair of current speakers that deliver this elevated level of sonic performance, build quality and sheer aesthetic beauty at this price point, I have not yet encountered them.
Distributed in Canada by Kevro International
www.kevro.com
(800) 667-6065
Monitor Audio PL300 II Speaker
Price: $17,995 CDN/pair