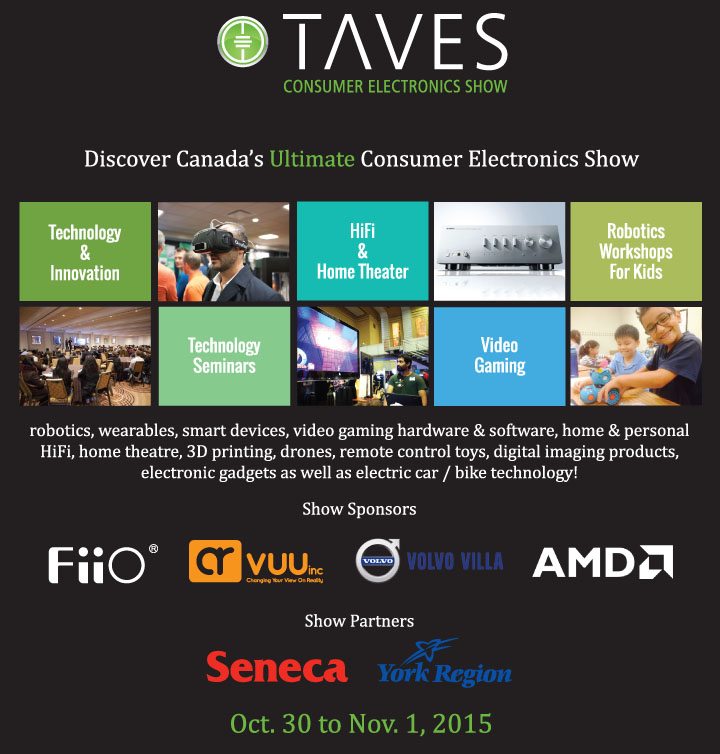 The TAVES Consumer Electronics Show is coming up this Oct. 30 to Nov. 1 and promises to showcase the largest number of exhibitors and most exciting show features to date. This news blog contains a special code below which will allow you to register for a discounted show ticket. From a staggering number of home & portable hifi demonstrations to the vast number of technology & innovation displays, this year's show is guaranteed to please just about anyone. For the first time, TAVES will also feature numerous exhibits, robotics workshops and coder education designed for kids.
To register for your discounted show ticket please visit http://www.taveshow.com/consumer-ticket/ and find the green "Order Now" button on this page, hit the "Enter promotional code" link just above and type in 15chfrocks. This discount is valid until Oct. 29th and for a limited number of tickets, so pick up yours today!  Feel free to share this discount code with your friends online 🙂
To find out more about the TAVES Consumer Electronics Show, please visit www.taveshow.com.