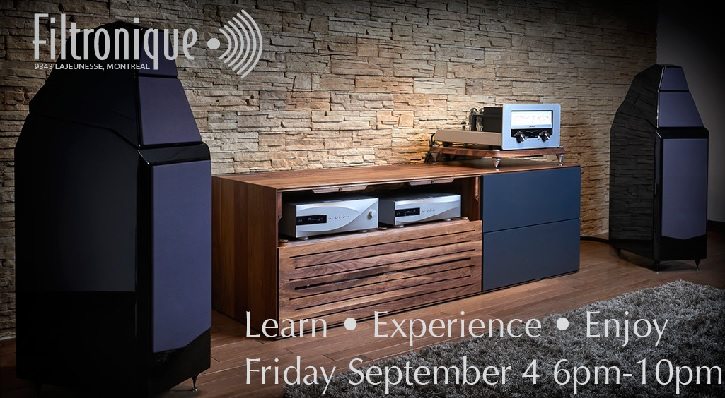 On Friday, September 4th from 6–10pm, Sonor Filtronique, located at 9343 Rue Lajeunesse, Montréal will host a special event focusing on hi-fi, music, and technology.
Manufacturer representatives, including Peter McGrath of Wilson Audio Specialties, John Quick of dCS, Dave Gordon of Audio Research, and Garth Powell of AudioQuest are expected to attend and discuss their latest products. There will be an opportunity to hear some wonderful music, ask questions and get answers from these well informed individuals.
The event will feature the Wilson's Sabrina loudspeakers, dCS's Vivaldi DAC, Audio Research's GSi75 integrated amplifier–DAC–headphone amp, as well as, the serve as the North American dealer debut of AudioQuest's new Niagara 7000 Low-Z Power Noise-Dissipation System.
If you are interested and able to attend, please be sure to RSVP, as follows: reservations@filtronique.com.
For more info, visit www.filtronique.com or call (514) 389-1377.