Kimber Kable: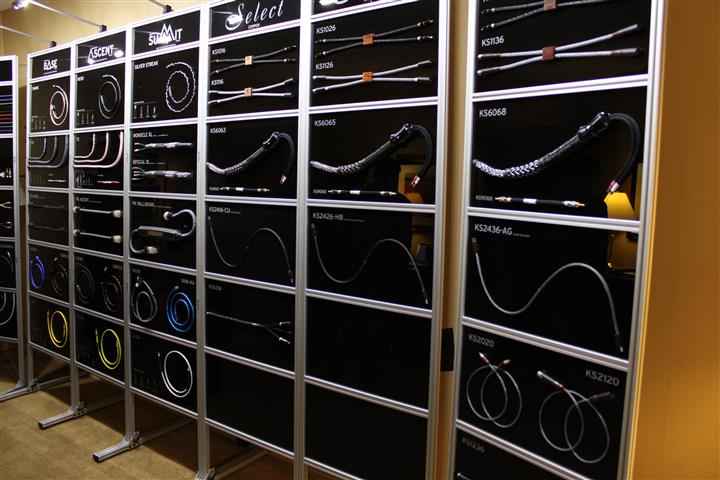 Kimber Kable is a popular brand of wound audio cables, and their suite this year included cutaways so that you can see the differences in materials and isolation between the various levels of cables.
NytroSound: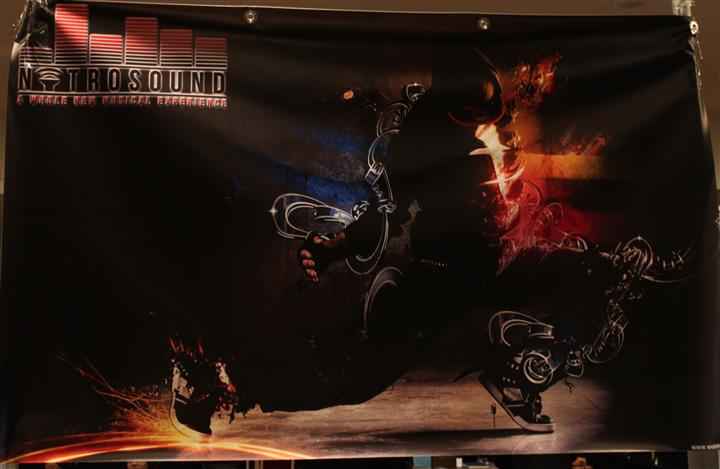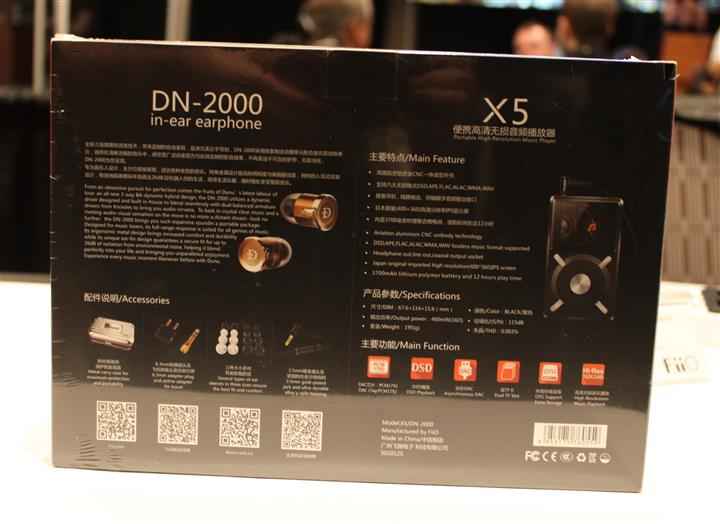 Kevin Petri of NytroSound brought a fun vibe with the full range of products from FiiO.  The FiiO brand covers all your portable listening needs: from upgrading the sound quality out of your mobile device, up to solutions like this X5 high resolution DSD music player with custom matched DN-2000 in-ear monitors.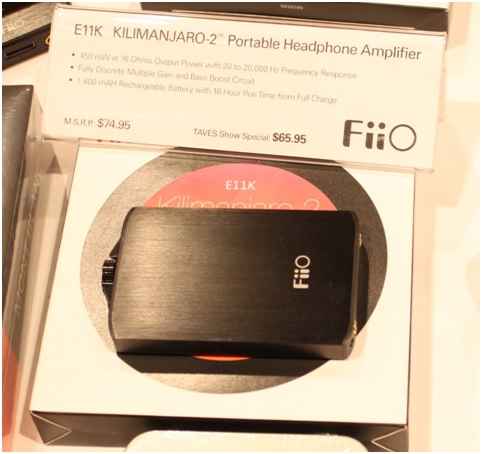 Debuting at TAVES was the E11K Kiimanjaro-2 headphone amplifier ($74.95). It builds on the previous Kilimanjaro, now offering an even more sleek design and solid finish.
R2R Audio: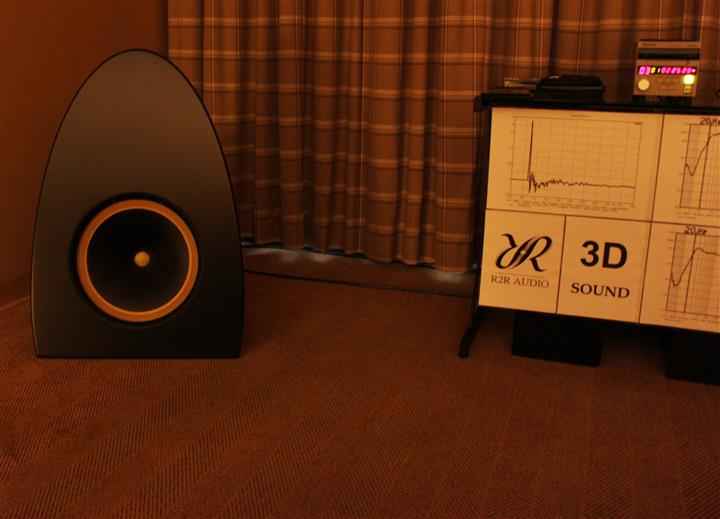 Arthur from R2R Audio (first time at TAVES) demonstrated a custom 15" full range speaker that has its driver positioned low to the ground, and leaning slightly backwards. Each speaker is self-powered with an integrated class D amplifier mounted behind the speaker, out of sight. ($50,000)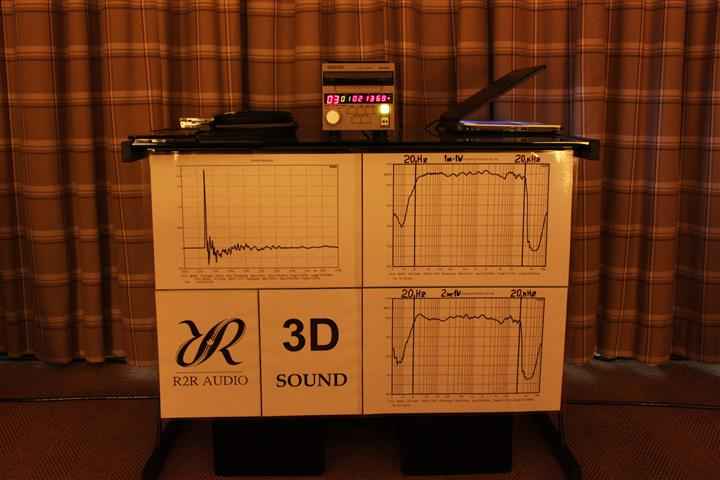 The above charts show the reasonably flat frequency curve of the full-range driver through the full 20Hz – 20kHz spectrum. This is accomplished partially with proprietary Digital Signal Processing (DSP). Arthur was passionate about his design and his choice of a 20 year old Denon CD player as the source.
SVS Audio: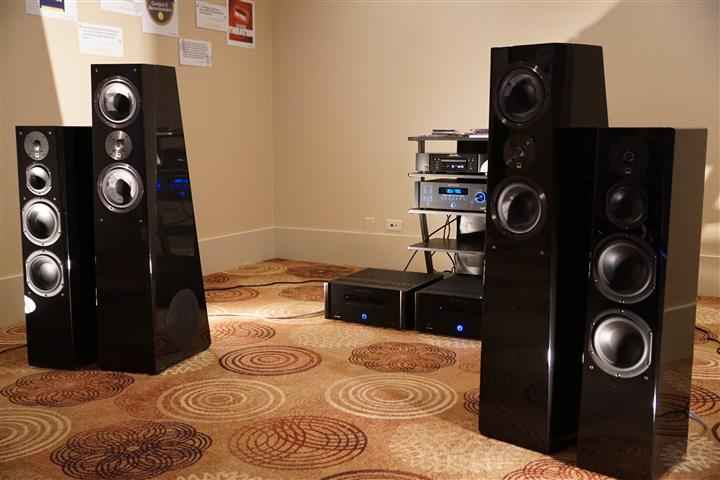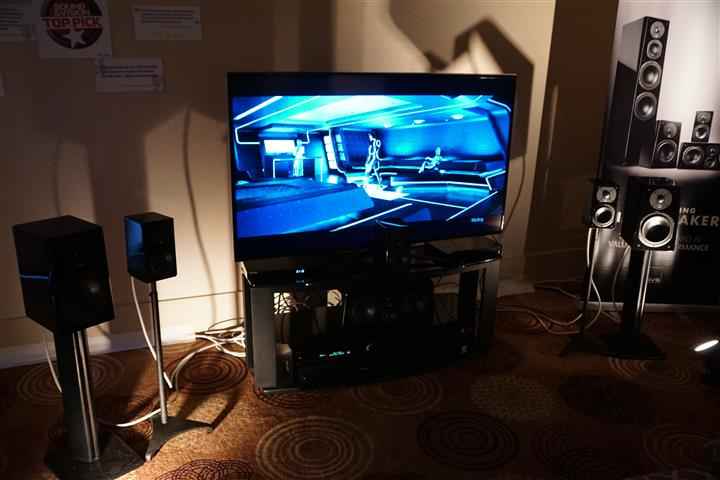 Inside the SVS room, I got a chance to speak with Dan Marks (Director of Operations) about his company's unique value proposition – good sounding gear at accessible prices. The new $999 SVS Prime Tower Speakers had me quite impressed in an A/B comparison with the company's own widely acclaimed $1,999 Ultra Tower Speakers. This large room also showcased a home theater demo, which was equally impressive. The Prime series 5.1 surround speakers ($999) cast a big sound field, and the PC-2000 cylinder subwoofer ($799) had the hotel room completely energized with bass.
Thonet & Vander:
Thonet & Vander is a German company (pronounced "tone-ay & vaughn-der") that has been expanding globally since 2006, and is about to launch their range of high-tech speakers in Canada. Their product line is in the $100-$350 range, and implements the latest technology. All of the speakers have built-in amplifiers, and many of the drivers are made from Kevlar. Their affordable range spans everything from powered multimedia speakers, passive bookshelves, Bluetooth speakers to soundbars.
VK Music:
Victor Kung showed an integrated tube power amplifier ($780) that is made in Japan. The output stage could be configured one of three ways: Ultra-linear, Pentode, and Triode. The rated output of the amplifier is 8W per channel.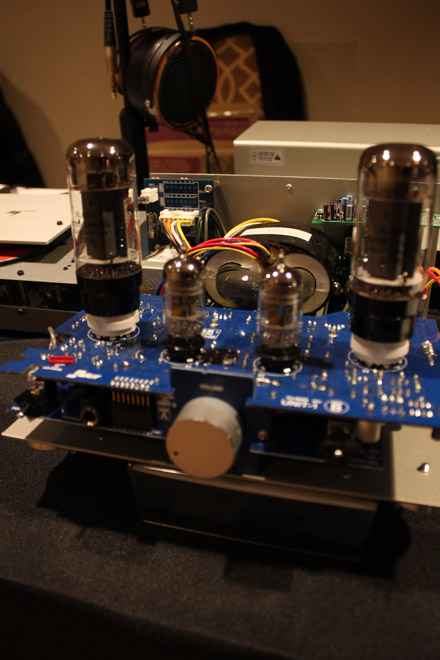 A view of the amplifier unwrapped. The built-in headphone amplifier sounded lovely with the popular Audeze LCD-3 headphones.
Woo Audio: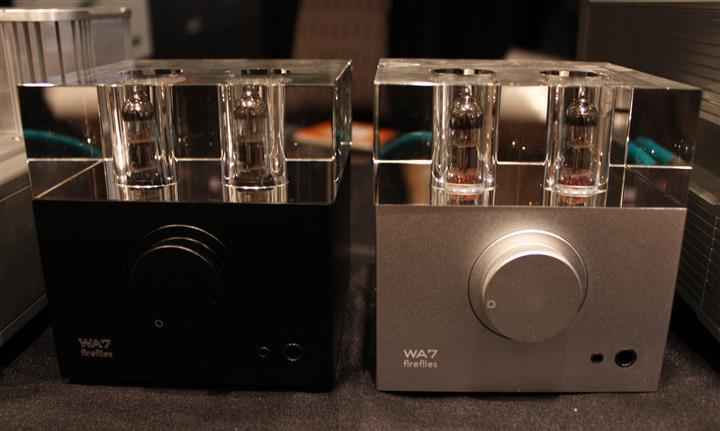 Woo Audio offers beautifully designed and extraordinary sounding headphone amplifiers. Their amplifiers are pure tube designs, and after getting an explanation and listening to each one they brought to TAVES, I thoroughly enjoyed the sonic experience. Pictured here is the WA7 Fireflies amplifier with integrated DAC, which comes in two colours, and offers two options for power supplies ($999 solid state, and $1398 for the tube).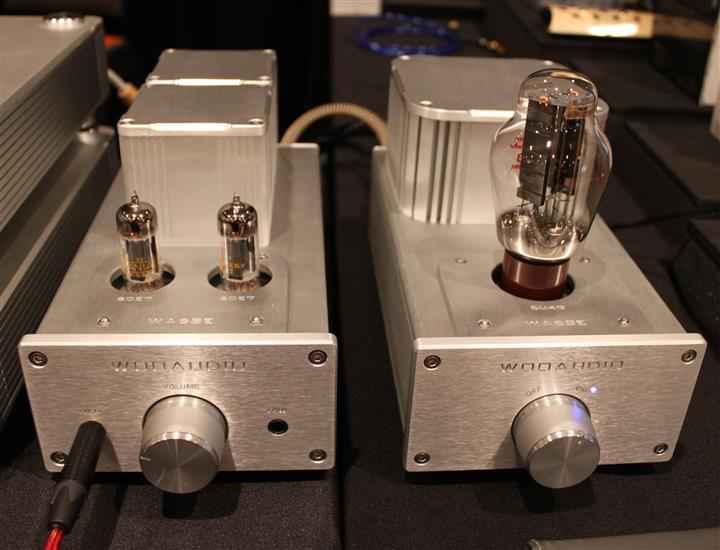 Although this Woo Audio WA6-SE might look like two units, it's actually one amplifier, with a separated line stage and power supply ($1190). Not only did it sound impressive and have a very high quality feel, it is also a beautiful statement piece for the dedicated headphone enthusiast.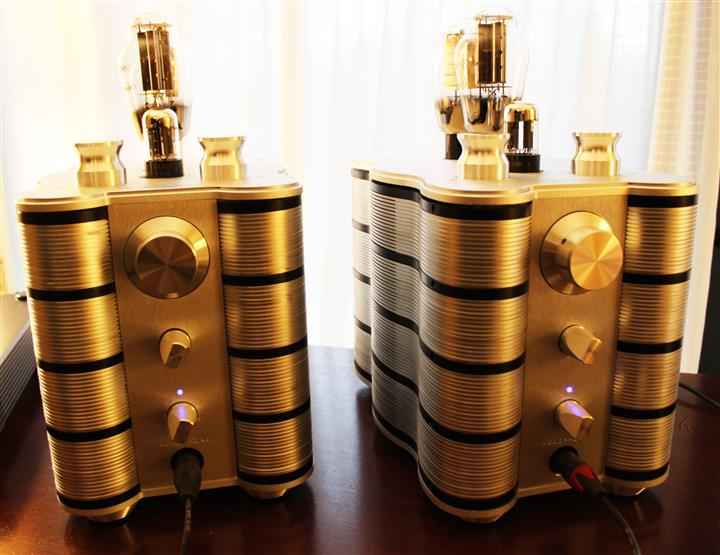 I admit that these Woo Audio 234 mono-blocks ($15,900) are the most extreme headphone amps I've ever listened to, and perhaps anyone has, since they're a world's first. These mono-blocks can also power speakers, as you can select which output and tube you're using for power by connecting the associated "keys", which are placed on either side of the 3 tubes: 45 (2 Watts), 2A3 (4 Watts), and the 300B tube for 8 Watts per side.
 NEW TECHNOLOGY AREA:

As I mentioned in the introduction, this year TAVES featured a newly introduced "New Technology" area which garnered a ton of interest from attendees, industry professionals and media.  Below you'll find a few of the highlights from this area.  George de Sa and Phil Gold covered other parts of this area in their respective TAVES coverage articles.
Tesla:
Electric car manufacturer Tesla was the perfect fit for a technology show. Though the motor-vehicle has come a long way, the overall efficiency of gasoline engines is still a weak 30% at most – the other 70% of the energy is lost as heat. Tesla has brought us a full electric car without compromises. The current Tesla Model S has a classic sedan shape, yet is actually highly engineered to have an extremely low drag coefficient (0.24) and offers 3 engine sizes.  The top model is rated at 85kW (416 hp and 446lb ft) and is alarmingly fast. Recently, Tesla announced a twin-engine Model S called the 85D, with a combined output of 691 hp. The batteries line the floor of the car, which makes it handle like a go kart since most of the weight is distributed low in the car. With a range of 500 km, you're covered for just about any drive. Tesla is currently installing a network of solar powered supercharger stations across North America, so you'll be able to charge up in 20-30 minutes, allowing for a road trip without the cost of fuel. You can already travel in your Tesla using their supercharger stations between Toronto, Detroit, Montreal, and Quebec City.
Ainovarobotics:
Speaking with Arseny Nikulchenko, he told me that the team at Ainovarobotics is an inspired group who were crowd funded by a Kickstarter campaign. They were displaying a 3D printed prosthetic arm called Icarus. The small black sensor beside it monitored a person's hand movements, and simultaneously the artificial arm would mirror those movements; impressive stuff. They are also working on a space age artificial intelligence interface that you can have a conversation with – it seemed straight out of a science fiction movie.
Matter and Form:
Toronto based company Matter and Form is another example of a brilliant project that was crowd funded 1.5 years ago by an Indiegogo campaign. They brought a normally prohibitively expensive 3D scanner to consumers for $579. It works spinning an object on a platter while two lasers take measurements creating a "point cloud" which represents the 3D object, which can then be modified within their software.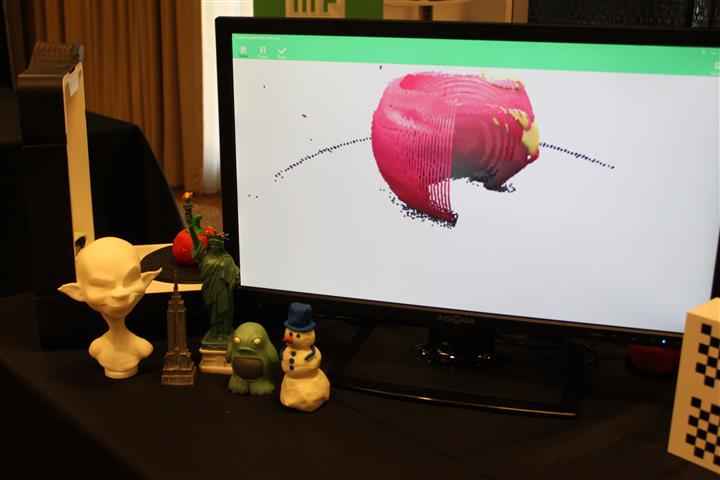 The 3D image being scanned in the background is a tomato, and on the display is the point cloud being created by the measurements captured by the two lasers. Next to the screen are some of the other sculptures used for demonstrations.
NVU Electronics: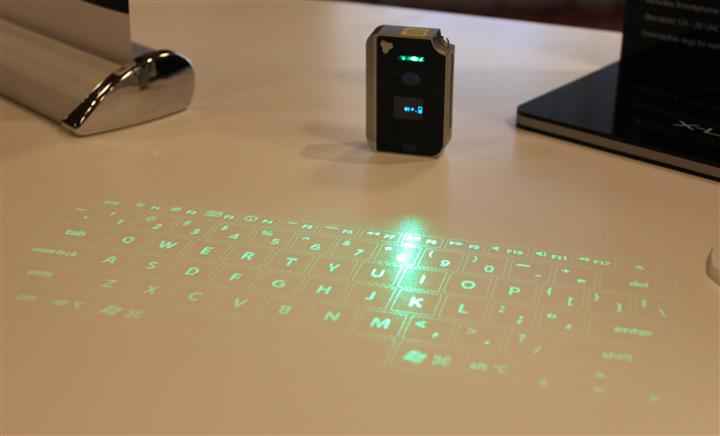 One of the catchiest displays in the new technology area was the $139 optical keyboard. It was nicely responsive to touch and immediately felt natural, which felt a bit… unnatural.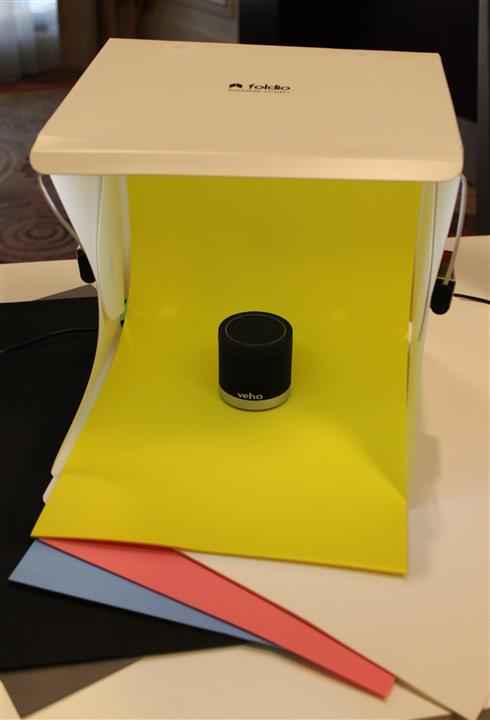 There was also a Foldio photo booth that uses LED lighting, and comes with several background colors for professional looking photos (for just $35).
My shot using the Foldio with a veho satellite speaker.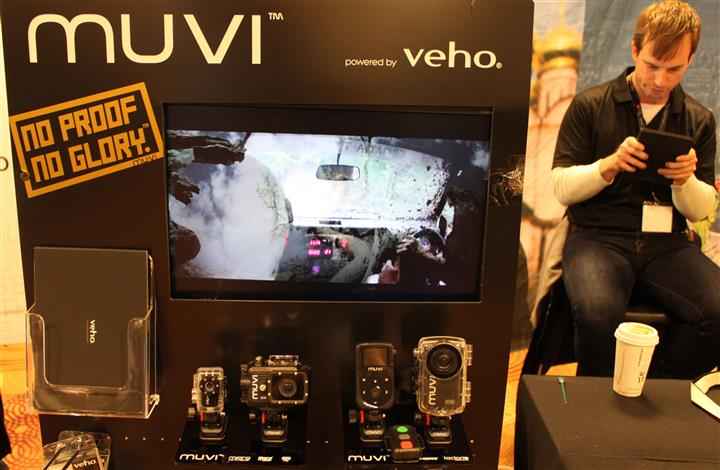 Here are some of the other veho products that compete with the infamous GoPro cameras, but do so at a lower price point.
And that's a wrap for my first coverage of the TAVES Consumer Electronics Show – hope you enjoyed it as much as I enjoyed putting it together.  If you missed them earlier, be sure to check out the coverage written by George de Sa and Phil Gold in the "Audio Video Show Coverage" section of our site.
Comments are closed.