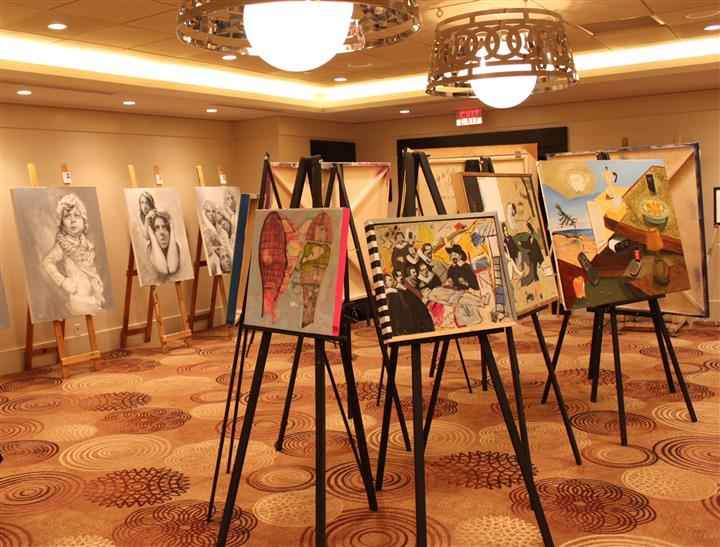 In November 2014, TAVES offered a sneak preview into the future of electronics. Since TAVES started four years ago, the variety of technology displayed at the show has expanded every year, and 2014 was a significant leap forward. To accommodate a larger show, the latest edition of the show was hosted at the Sheraton Centre Hotel. Naturally the audio portion of the show is a focus and still growing. This year's audio section featured a dedicated Portable Audio / Headphone Zone, and had audio demonstrations ranging from personal media all the way up to exotic high fidelity systems. The visual side of electronics offered a look at the latest TVs, projectors, cameras, virtual reality goggles and glasses, and even a life-sized holographic display. An exciting addition was the New Technology portion of the show, covering 3D printing and scanning, artificial intelligence, and wearable devices. Spectators could also attend seminars led by industry professionals, who were demonstrating the latest advancements in technology, and how to get the most performance out of your equipment. There was also an expansive art show & sale scattered throughout the show floor.  Seeing art at the show made it feel welcoming and added ambiance to areas that would otherwise have been unused. Viewing the art also heightened my attention to the design of equipment and instances of art and technology colliding.
The art collection was presented by OCAD U, York University, Centennial College and Brockton Collective, a Toronto based organization that supports a variety of artists at all stages in their careers. The Brockton Collective showcases art at interesting local events, like TAVES, which makes engaging with high quality art less intimidating, and without the associated costs of an art gallery.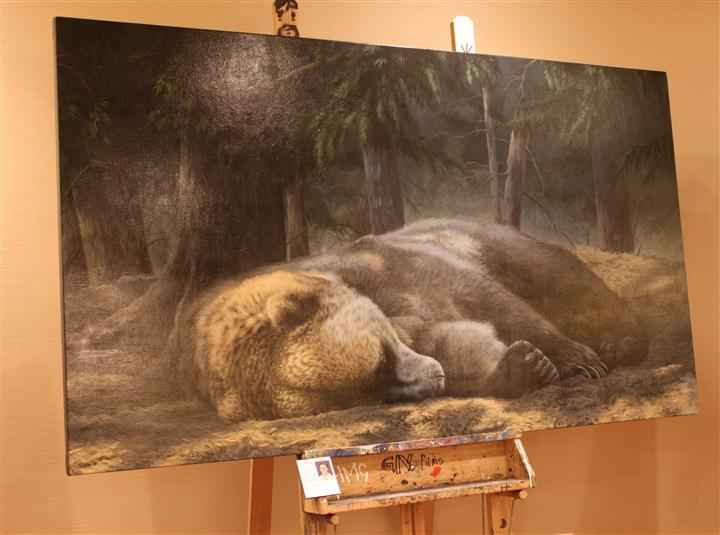 A bear's peaceful sleep.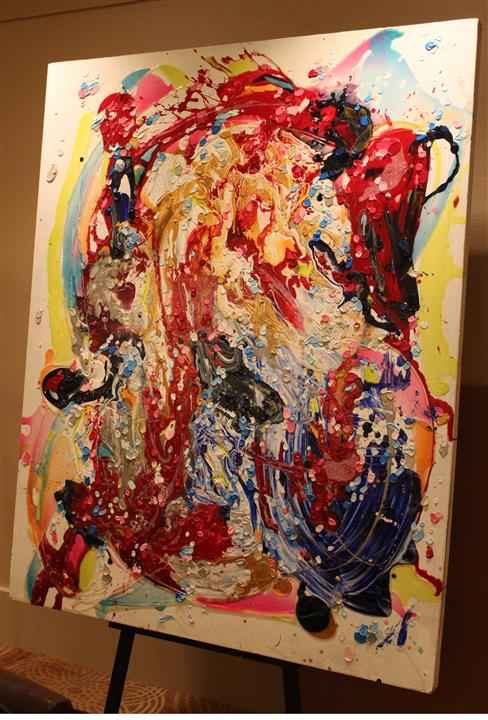 The motion, colour, and textures here look to me like a painting of music.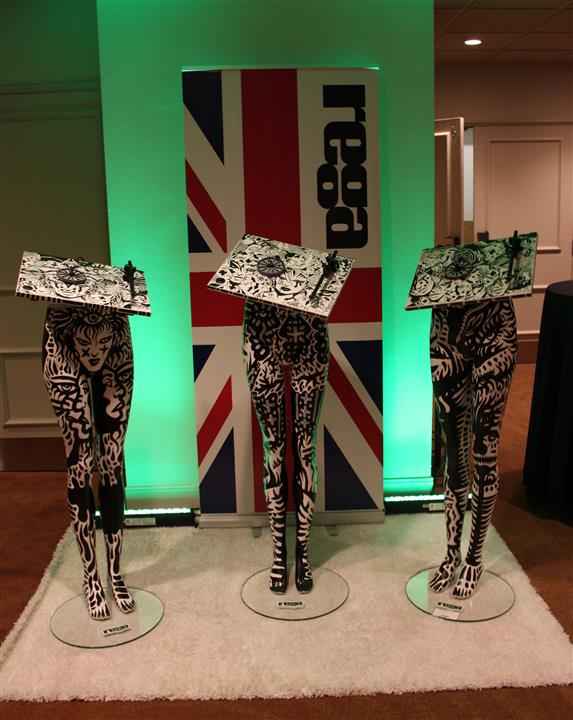 Another example of art and audio colliding – Rega's limited edition RP1 or RP3 turntables with art by Canadian artist Zilon. Distributed by Plurison, the additional cost over each turntable's MSRP goes entirely to the artist.
Audio Alliance: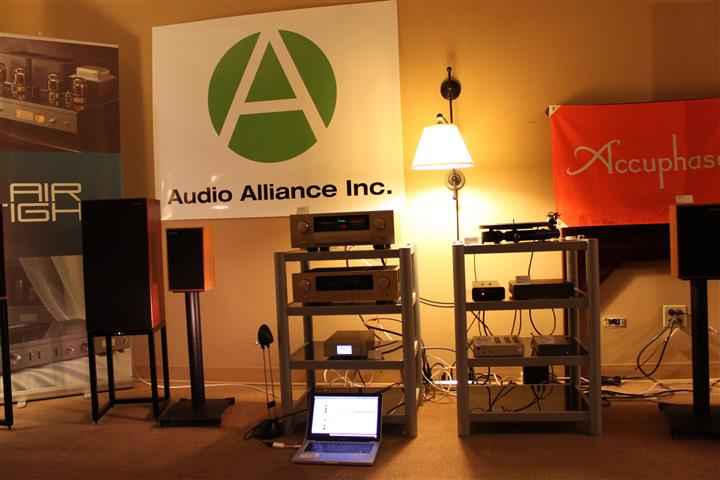 Michael Billington and his team had an easy-going vibe in their room, which complemented their audio system. Implementing both digital and analog sources, the warm sounding tube amplifiers meshed nicely with the signature sound of Harbeth speakers. Debuting at TAVES were the Harbeth Super HL5plus speakers ($6299 in Cherry), sitting alongside their siblings in the Harbeth range, the 30.1 ($4,999) and the P3ESR ($2,299). Powering the system were two integrated amps: an Acuphase E-360 ($10,499) and a very impressive Air Tight ATM-4 ($5,995). Spinning records was a Kuzma Stabi PS turn table with a Stogi S Arm ($5,898), and for a digital audio source they were using a Weiss DAC 202 ($6,599) fed via Firewire from a Macbook laptop.
Bryston: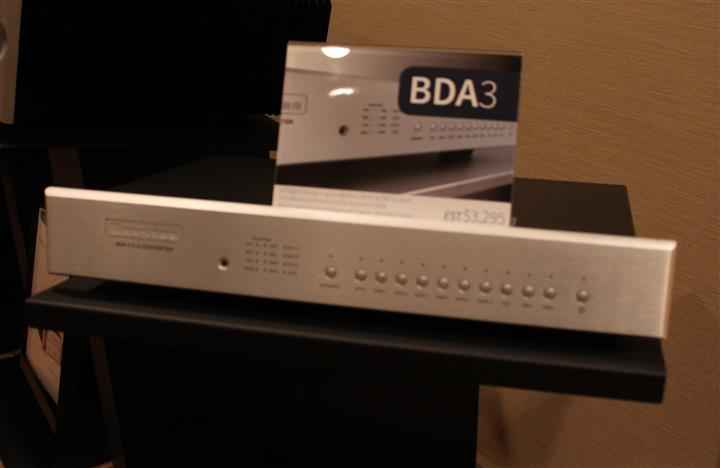 Bryston has been making great strides in computer audio, and at TAVES they revealed their third generation Digital to Analog Converter, the BDA-3 ($3,295). This latest model now offers the ability to play audio formats up to 32bit/384kHz, and the wonderful capability of playing native DSDx4! It has 10 inputs in total: 4 HDMI, 2 Asynchronous USB, AES/EBU, BNC, RCA, and Toslink, and outputs through RCA and XLR.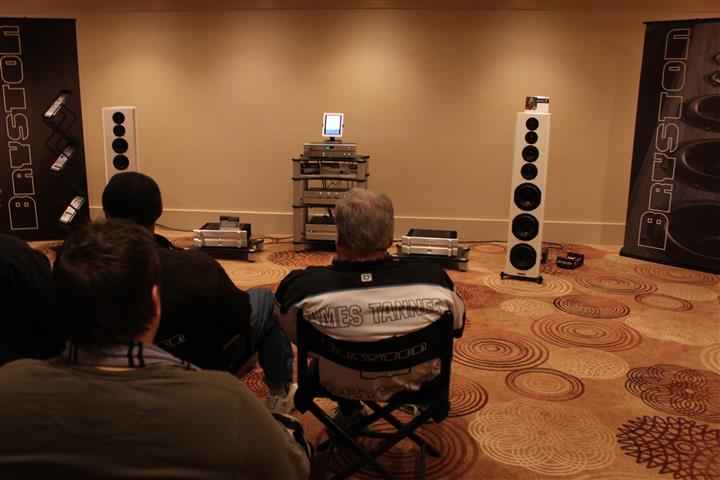 A captive audience in Bryston's room, especially when James Tanner (Vice President) was the DJ. Although they were using the top-of-the-line Bryston Signature Model T's priced at $7,395, the total system was priced around $22,000. Given how good it sounded, Bryston's system was a comparative bargain at TAVES considering there were single components at the show with much higher price tags.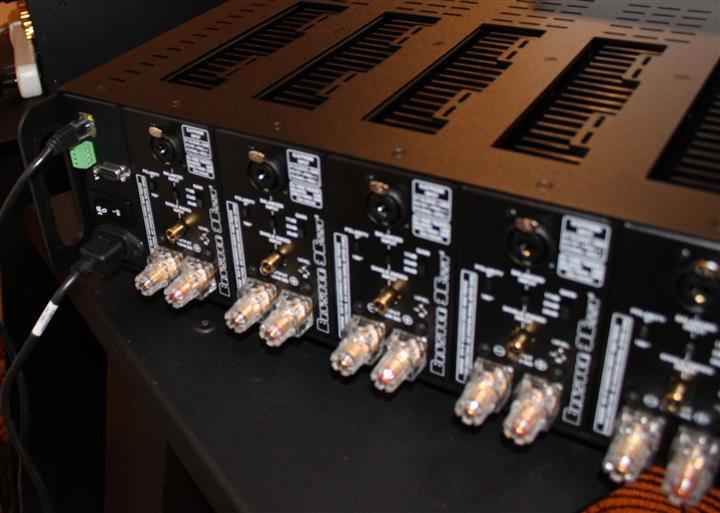 A new feature on Bryston amplifiers is an Ethernet connection for remote diagnostics.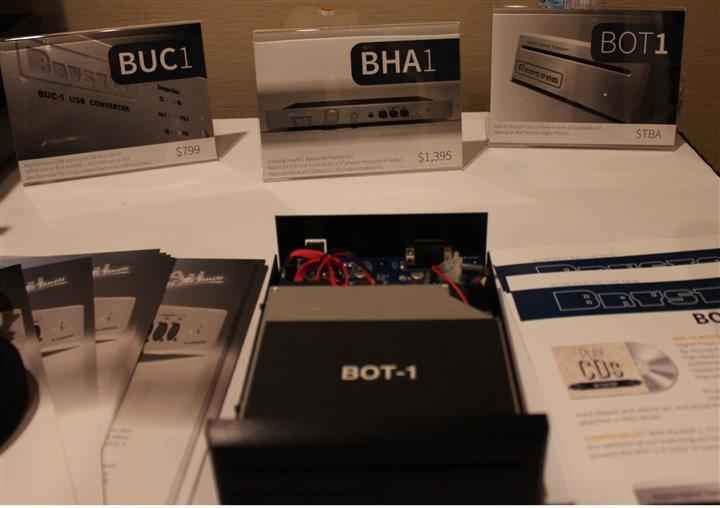 Brand new from Bryston is the BOT-1 (Bryston Optical Transport $TBA), which offers a computer-less way to rip, organize, and listen to your CD collection in conjunction with the BDP-2 (Bryston Digital Player, $2,995). The CD data is seamlessly transferred onto the BDP-2's internal storage, or to an attached external hard drive.
Canada Computers: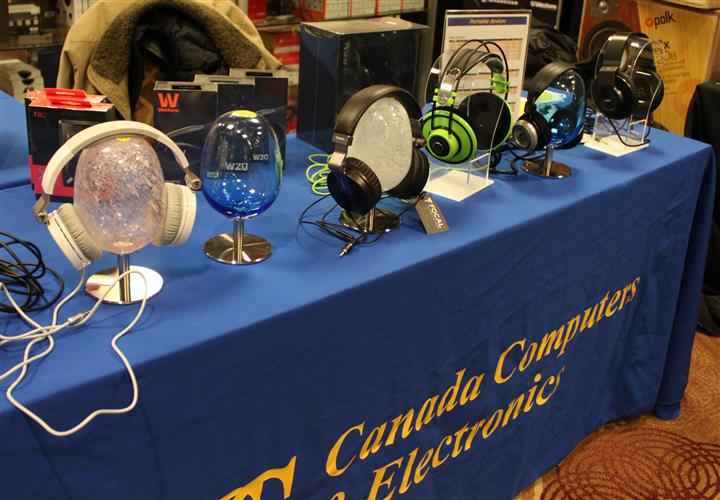 Michael Lau (Store Manager) had a wide offering for bridging the gap between a typical computer audio experience, and a high fidelity experience. Canada Computers brought some of their wide range of headphones and stereo speakers to this year's show for the first time. The products here were high quality and good sounding, such as the Focal Spirit One Classic headphones ($399), and the eye-catching neon green AKG signature Quincy Jones Q701 ($279).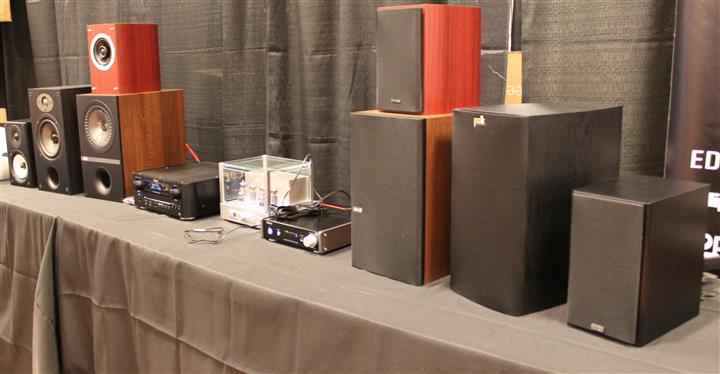 For a 2-channel application Canada Computers was demonstrating the TEAC AI-301DA integrated amplifier (with Bluetooth) and a DSD capable DAC ($625), mated nicely with KEF Q300 speakers ($699) for a small, but versatile stereo that sounded big and impressive. Canada Computers had some amazing TAVES specials too.
Reference 3A / ExaSound: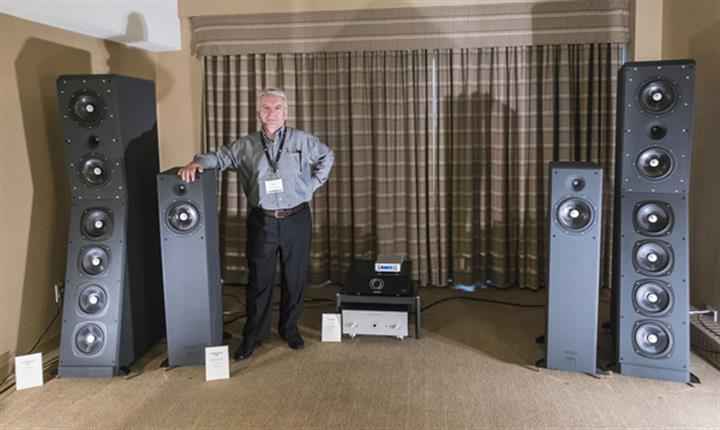 Both Reference 3A and exaSound are Canadian companies based in Ontario, and were demonstrating similar philosophies on how to get out of the way of the music, allowing it speak for itself. Sharing a room this year with speaker company Reference 3A, exaSound really got to demonstrate the musicality of their new e22 Digital to Analog Converter ($3,499). The small chassis of exaSound's e22 and Reference 3A's tiny Dulcet BE speaker ($1,999) seemed unassuming, yet created an enormous sound with retrieval of the finest details; a stunningly revealing duo. Mated up with Copland's CTA 405A Integrated tube amplifier ($5,990), the whole system cost around $11,000, and delivered incredible sound for the money. Look out for a review on exaSound's e22 in the current issue of CANADA HiFi.
Focus Audio: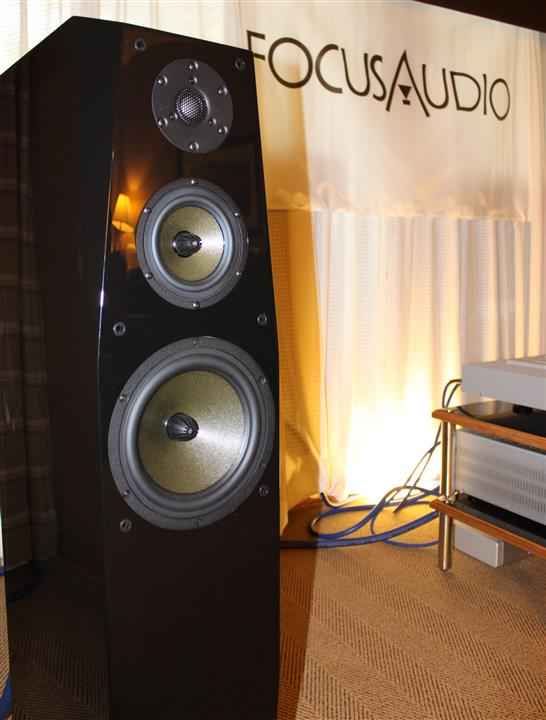 Focus Audio FP90 SE ($9,500) speakers pack a lot of technology into a small piano black package. Though reasonably simple looking, this floor-stander sounded amazing. The 9" bass drivers had weight and articulation that seemed impossible just by looking at them. The 5.5" mid-range drivers were expressive, and the 1" tweeters struck a magical balance between having sparkle and being soft.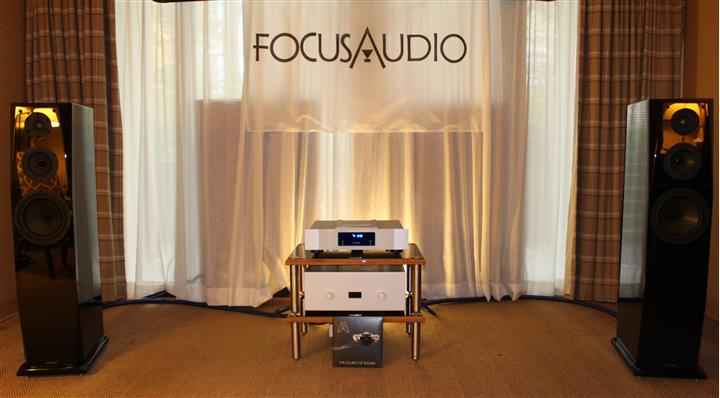 The full setup from Focus Audio included a Metronome Technologies CD8T CD player ($12,800). The foundation of the system was the Focus Audio Liszt Sonata Integrated Amplifier ($12,000), which was a big sounding 35W Class A amplifier. Despite the FP90 SE being relatively inefficient speakers at 87dB, powered by an amplifier with "only" 35W, regardless of the volume level the combination had surprising bottom end weight, excellent top end finesse, and great tonal balance.
CANADA HiFi's Director of Marketing/Senior Editor George de Sa in the Headphone Zone thoughtfully taking in the sound of a one-off test version of Audeze LCD-3 headphones (in black brushed aluminum).
Hafler: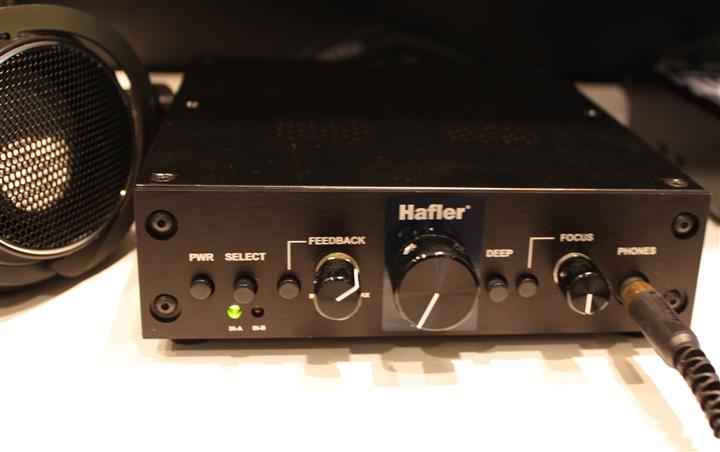 Peter Janis – President of Radial Engineering and Primacoustic presented his selection of products in the Headphone Zone. Among them was this studio-grade Hafler tube-based headphone amplifier, the PH75 ($999). This unit featured a variable focus point and variable negative feedback with selectable XLR and RCA inputs.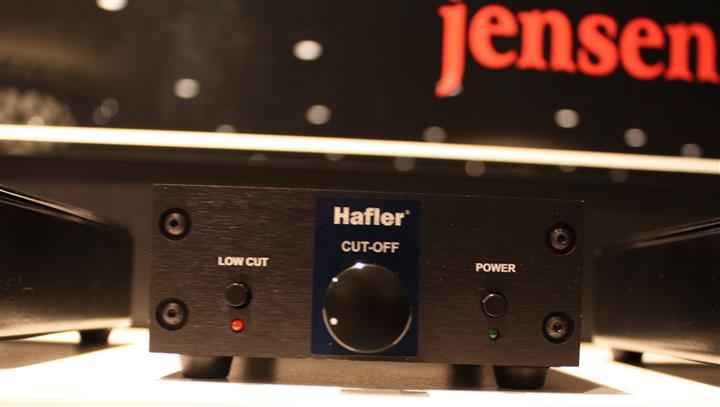 The lineup of Hafler equipment included a series of phono preamps optimized for specific impedances. Pictured above is the PH60 ($499), which allows for adjusting the impedance in 6 steps from 50-500 ohms. The adjustable cut-off is useful for reducing noise and low end feedback.
HEADFONEshop: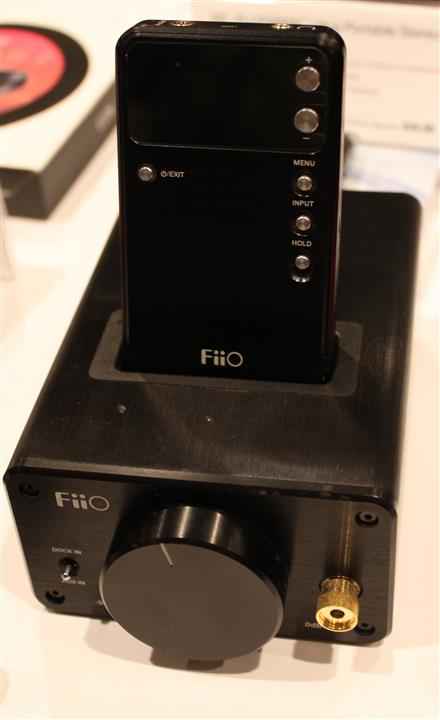 Charles is the owner of a Toronto based retail store called HEADFONEshop, and he is one of those super friendly, patient guys who truly cares about customer service. He's very knowledgeable and his shop carries almost every kind of headphone, headphone amp, and headphone accessory that one could ask for. He's happy to let you try combinations of gear until you're happy with the sound.
Comments are closed.