[Editor's note]: TAVES 2017 coverage part 1 and part 2 articles were posted on our website earlier this week.  This is part 3 of our coverage, by Douglas Brown.
Angel City Audio
Angel City Audio proudly brought a pair of ACA Seraphim Skogrand Edition 3-way floorstanding loudspeakers (MSRP $58,000 CDN / $45,000 USD) to TAVES 2017. To quote from the brochure:
"The ACA Seraphim Skogrand Edition reference loudspeaker is the first found worthy of using Skogrand SCIW Beethoven internal wiring. This is a 1.00 air Dielectric Ultra Pure Ohno Continuous Cast (UPOCC) solid core wire and it is the only one of its kind in the global market preserving the signal most effectively, completely, and undisturbed."
Their ACA Seraphim Skogrand SE speakers were used in a stunning 2-channel system comprised entirely of Triangle Art's flagship components. These included: a Triangle Art Master Reference turntable ($39,900 USD); an Osiris Mk#2 12" tonearm ($6,800 USD); a Reference Tube phono-stage ($12,999 USD); an Apollo M/C cartridge ($8,000 USD); Reference Tube pre-amplifier ($17,999 USD); and Reference Tube mono-block amplifiers ($17,999 USD).
Cabling was a mixture of Skogrand's A/C power cords, a 9ft pair of TEO Audio's Reference speaker cables ($44,000 USD), and a 1.0m pair of TEO Audio Kronon interconnects ($3,199 USD).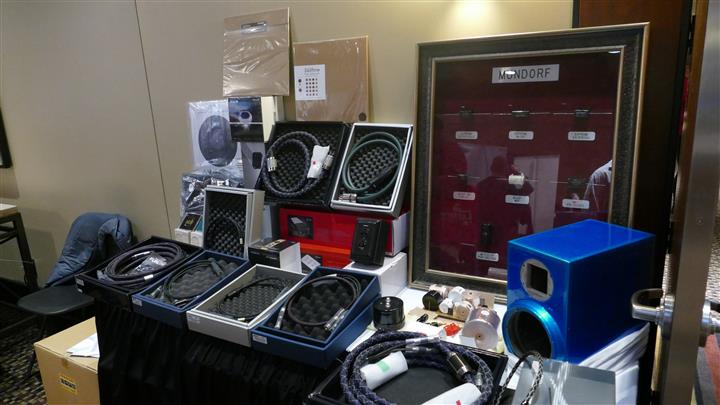 Audiyo Inc. / 1877-Phono
Audiyo Inc. displayed a vast array of Furutech's new NCF (Nano Crystal² Formula) power cords, speaker cables, interconnects, jumpers, USB and HDMI interconnects, digital interconnects, end plugs, and power distribution systems. Also inside this room, Audiyo showcased 1877-Phono's newish Copperhead turntable ($5,500 CDN); which had Zavfino's new carbon-fibre tonearm ($1,500 CDN) mounted on-board.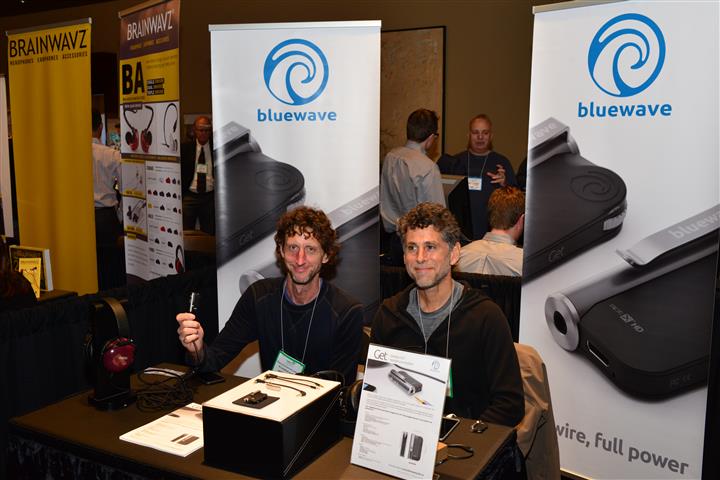 Bluewave Audio
Based out of Montreal Quebec, Canada, Bluewave Audio chose TAVES 2017 as the venue for the WORLD premiere of their brand new GET wireless hi-fi headphone amplifier ($159 CDN).
As more and more smart phones are now being released without headphone jacks, Bluewave's GET is the most affordable solution to getting high quality sound out of your smart phone. Their product literature states: "Enjoy music with the highest level of clarity, answer phone calls thanks to the integrated high quality MEMS microphone, control your music with the play/pause/shuffle buttons, and adjust volume without ever having to handle your phone."
I listened to a Leonard Cohen track off of a smart phone on this device and was mightily impressed by the audiophile sound quality that I heard. I was so impressed, in fact, that I'm going to try to source a GET for a future NOVO review.
The tiny GET measures 1.25" x 2.25". And yet, it includes an ultra-high quality ALPS analog volume potentiometer, plus 44.1Khz and 48Khz sampling rate capability. It supports SBC, MP3, AAC (IOS), AptX, AptX Low Latency, and AptX HD codecs. The GET is manufactured entirely in Canada and it is THE solution for the "fake obsolescence" that many smart phone manufacturers are foiling on an unsuspecting public.
Nothing makes me happier than when two enterprising businessmen come up with a way to circumvent the utter nonsense that massive smart phone companies are trying to stuff down the throats of unwilling, and often unwary, consumers. Kudos to Bluewave for having the guts, tenacity, and temerity to release the wonderful sounding GET wireless headphone amp.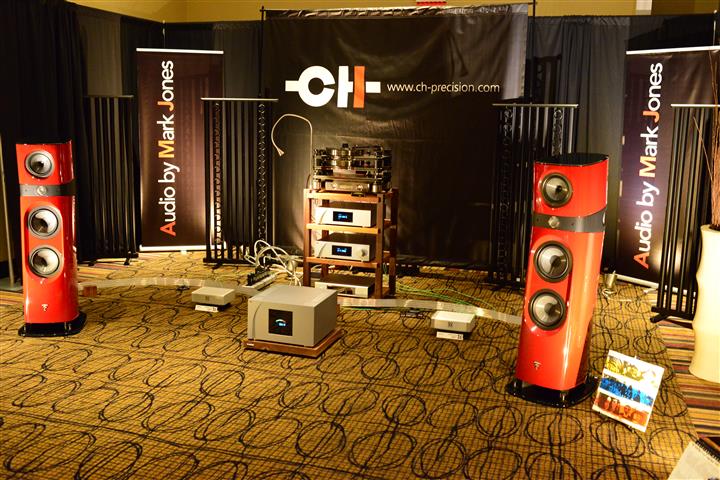 DVL Audio / Nordost
DVL Audio's ultra high-end 2-channel system featured a Kronos Pro turntable ($38,000 USD), a matching Kronos Black Beauty tonearm ($8,500 USD), and a Haniwa low inductance M/C cartridge ($8,000 USD). DVL also brought Swiss OEM CH Precision's D1 SACD / CD transport + player ($38,000 USD) and a CH Precision C1 Reference DAC ($33,000 USD) as their digital source.
Pre-amplification featured CH Precision's P1 dual mono phono pre-amplifier ($31,250 USD) and X1 external power supply ($15,000 USD). A CH Precision M1 Reference 2-channel stereo power amplifier ($51,000 USD) rounded out their components. Combined with a pair of Focal Sopra No. 3 floorstanding loudspeakers ($24,000 CDN), a full loom of Nordost Valhalla-2 Reference interconnects, speaker cables, power cords, and Massif Audio Design's racks, amp stands, and risers, DVL Audio achieved an amazingly detailed and, concurrently, musical sound that was in my "Top 3" exhibitor rooms for overall sound quality at the entire TAVES 2017.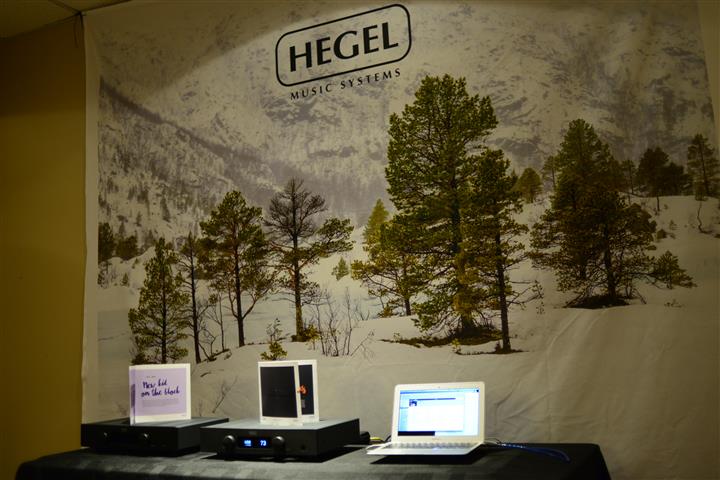 Hegel Music Systems
Situated in the Karsh room, Hegel Music Systems brought 2 separate 2-channel systems: both of which were active and available for auditioning.
System 'A' featured a Hegel CDP 2A ($2,900 CDN), a Hegel H190 integrated amplifier with on-board DAC ($4,500 CDN), and French loudspeaker company Cabasse's entry-level 'Jersey' model floorstanding speakers ($1,699 CDN).
System 'B' combined Hegel's H90 entry-level integrated amplifier with an on-board DAC ($2,200 CDN), Polish audio firm Pylon's (pronounced 'P-Lawn') Opal bookshelf monitors ($990 CDN – $1,390 CDN; depending on finish), and Pylon's Diamond 25 floorstanding speakers ($2,900 CDN). Both of these 2-channel systems provided superb 'bang for the buck' high-end sound.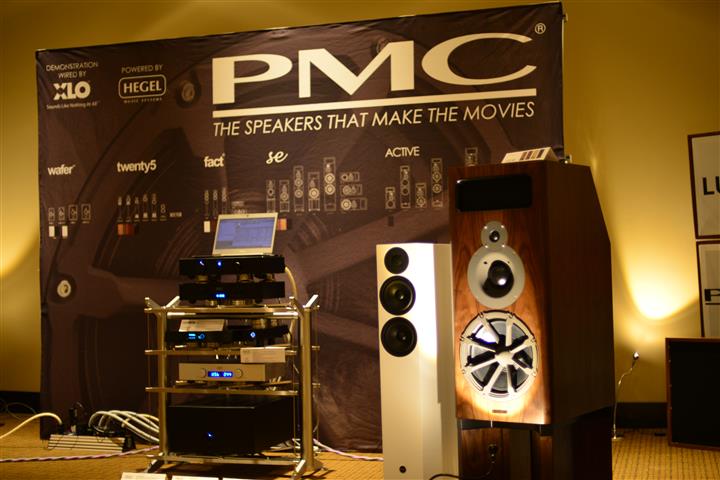 PMC Loudspeakers
Showcasing PMC's speakers, Hegel's components, XLO's cabling, and Stillpoints vibration control products, the PMC room had a Hegel Mohican CD Player ($6,000 CDN) and a Hegel HD30 DAC ($6,000 CDN) sitting on Stillpoints' ESS34-20-4 rack plus Ultra 6 tuning devices ($24,419 CDN).
For their pre-power components, they employed a Hegel P30 pre-amplifier ($9,000 CDN), and a Hegel H30 amplifier ($20,000 CDN). These were combined with a pair of PMC's massive MB2 S.E. floorstanding speakers ($40,800 CDN). This highly dynamic system utilized a full-loom of XLO's Signature-3 interconnects, power cords, and speaker cables (exact pricing unavailable).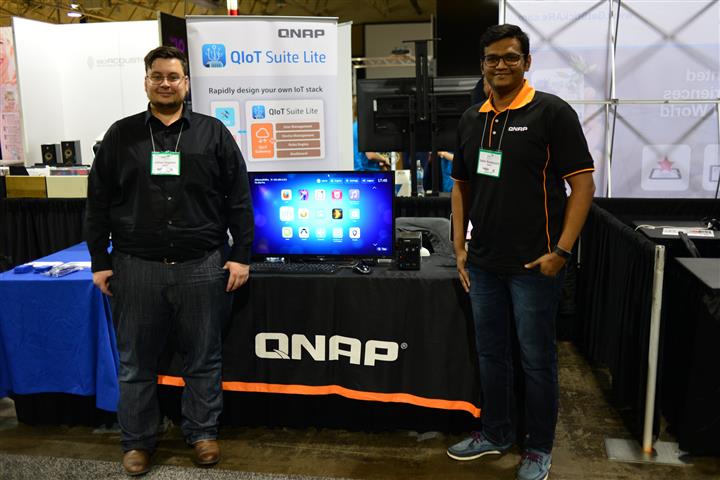 QNAP
QNAP showcased a sampling of the company's massive selection of NAS (network attached storage) devices at TAVES, aimed at home entertainment and small business applications. Capable of 4K video and 7.1-channel sound, these NAS devices are priced at $200 USD per each hard drive bay and configurable to an almost endless number of bays. Designed to serve as the central storage hub (and a personal cloud), these storage devices allow end users to stream digital content via Airplay, Plex, and DLNA multi-media applications. Using QNAP's mobile Apps, end-users can also remotely access, view, and download digital files stored on their home NAS system.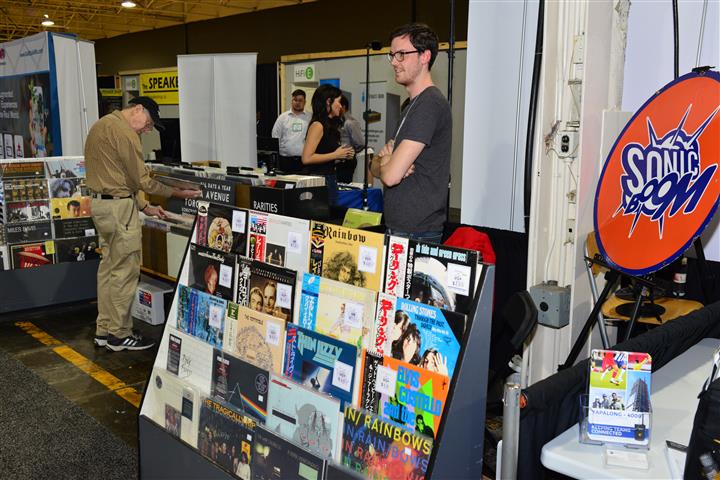 SonicBoom
As the largest independent music retailer in ALL of Canada, Sonic Boom brought a variegated selection of pristine import vinyl records, 180 gram and 200 gram virgin vinyl recordings, and numerous vinyl accessories to TAVES 2017.
Sonic Boom's downtown Toronto store houses a staggering amount of new and used vinyl, CDs, DVDs, Blu-rays, and all of the accoutrement which any self-respecting audiophile and/or videophile would see as 'must have' items are all readily available for purchase.
Be forewarned though: if you have an addiction to high-end vinyl, Sonic Boom can (and probably will) send you off on what might become a rather lengthy trip to analogue Heaven. Need your vinyl fix…? These guys and gals will happily hook you up with some of the sweetest sounding records on the planet. There… you've been warned.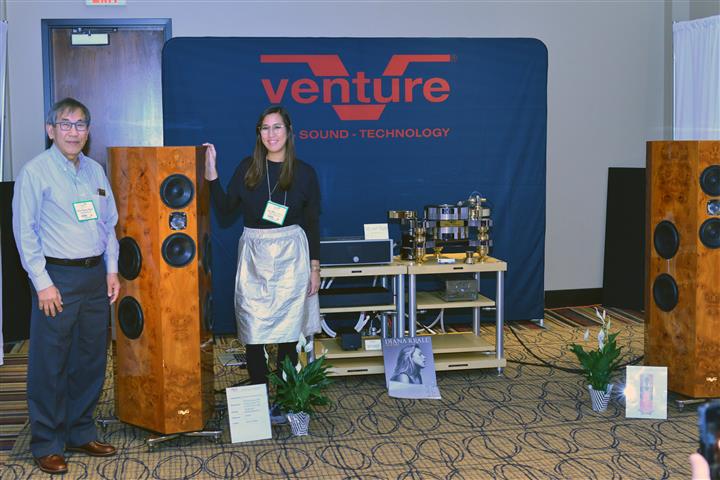 Venture Audio
Travelling all the way from Singapore(!) to Toronto, it was an absolute pleasure to chat with Njoo Lee Ming, sales and marketing manager of Venture Audio. Their commitment to providing ULTRA high-end 2-channel analogue sound has been rock-solid for 30+ years.
Out in the hallway just outside of Venture's room, I thought I heard a "live" (read: a NON-recorded) pianist playing a Diana Krall song on a real piano. Once inside, it shocked me to find that there wasn't a real, live, living and breathing pianist playing a baby grand piano. Nope… the sound was coming from a vinyl record-based 2-channel audio system.
For TAVES 2017, Venture brought a Triangle Master Reference turntable ($39,000 USD), a Venture VP100P phono pre-amp ($32,000 USD), a Venture VP200D 2-channel stereo pre-amplifier with built-in DAC ($60,000 USD), and a pair of Venture's fully-active flagship Quantum Signature floorstanding loudspeakers ($150,000 USD); which were finished in the irrationally beautiful Elm Burl high-gloss finish. The Quantum Signature speakers delivered a remarkably accurate, coherent, and non-fatiguing sound that simply melted my jaded and cynical heart.
All of the cables and the A/C power distribution system featured Venture's own in-house designed and branded 'Venture' models.
Venture's 2-channel system was the ONLY one at the entire TAVES extravaganza which I mistook for real instruments. As such, they've earned my 'Best Sound at TAVES' for 2017. Kudos to them for achieving this!
Von Gaylord Audio
Based out of Sacramento California USA, Von Gaylord Audio is one of a very few high-end audio manufacturers that produces ALL of their own audio components including sources, DACs, pre-amps, power amps, speakers, and even cabling.
For TAVES 2017, Von Gaylord's 2-channel system showcased their VG-8 bookshelf speakers ($5,000 USD), Harmony class 'A' pre-amplifier ($18,000 USD), Uni DA DAC ($13,000 USD), Nirvana mono-block amplifiers ($8,500USD), and a full loom of Von Gaylord branded cabling (aprx $14,000 USD all in for ICs, SCs, and SCs).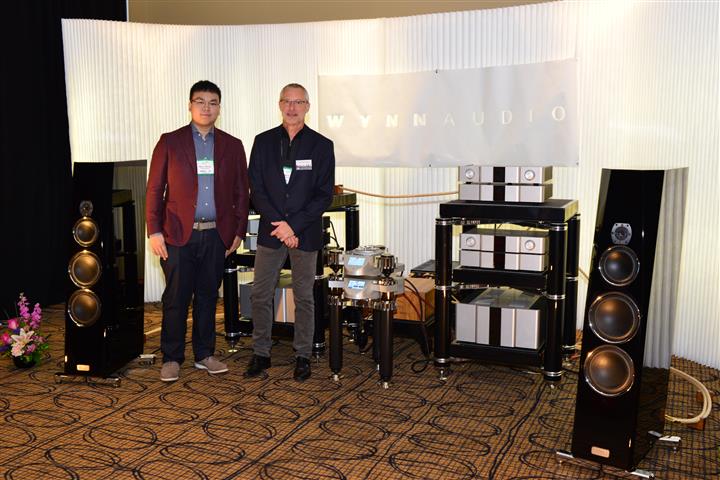 Wynn Audio
Based out of Richmond Hill Ontario, Wynn Audio swung for the fences with a 'State of the Art' 2-channel reference system that showcased Metronome digital sources, Karan Acoustics pre/power components, German Tidal speakers, Zensati cabling, and Critical Mass Systems racks.
The sources in Wynn's uber-reference system were a top-of-the-line Metronome DreamPlay 30th Anniversary CD Player + on-board DAC ($105,000 CDN), and a Thales TTT-Compact Mk#2 turntable ($19,000 CDN) with Thales Statement tonearm ($30,000 CDN).
Wynn's pre/power set-up featured a Karan Acoustics KA Ph Reference phono preamp ($30,000 CDN), a Karan Acoustics KA L Reference pre-amp ($24,000 CDN), and a pair of Karan Acoustics KA M 2000 monoblock amplifiers ($78,000 CDN). These amazing sounding components drove a pair of Tidal (German) Contriva G2 floorstanding loudspeakers (base model price $65,000 CDN).
Combined with Critical Mass Systems' awesome Olympus racks ($13,000 CDN per each rack), Entreq Olympus Tellus grounding box ($12,000 CDN), and a full loom of Danish Zensati Seraphim and Zorro cables ($220,000 CDN), this 2-channel system represented an all-out assault at achieving 'State of the Art' sound quality.
I spoke at length with Metronome's CEO and owner Jean Marie Clauzel who generously took the time to provide me with a barrage of technical information about their Kalista CD player + DAC and the company's philosophies towards both business and music.
Wynn's 2-channel system had a relaxed, organic, and natural sound that was a joy to listen to. If money wasn't an issue, this is the kind of system that I'd have Wynn Audio assemble for me. Their careful attention to detail, component matching, speaker selection, and knowledge of how to squeeze the sonic lemon to wring every last ounce of sound of out ultra high-end gear is what made their room sound so special. Wynn achieved the best digital sound I heard at TAVES 2017. Germane to the 40 or 50 different rooms that I listened to systems in, this is quite an accomplishment.