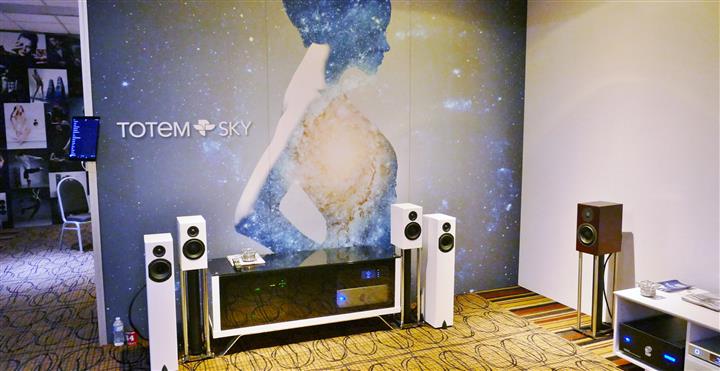 With the coming of the fall season in Toronto there are a few things I always look forward to. There is the beauty of the turning leaves, there is Thanksgiving long-weekend and of course there is pumpkin pie. And, yes, there is the annual TAVES Consumer Electronics Show.
This year's TAVES was the 7th year running and there were a couple of key changes that came along with it. First, the timing changed, it moved up a couple weeks to mid-October – no more, Halloween party dilemma. Even more significant was the second change, no more was TAVES to be hosted in a hotel – this year marked the first appearance of the show in a convention centre – The Toronto Congress Centre. Gone were the typical winding hotel hallways, exhibit rooms spread over multiple floors, parking limitations and over-crowded hallways. This year, touring TAVES was a veritable breeze, with all the exhibits spread over a single floor.
Entering the show, the large audio/video exhibit rooms were found to the left and right and wrapping around what the Mirvish Hallway. Passing on through this hallway, which contained everything from art, to vinyl, to televisions and massage chairs, you made your way into the cavernous Main Show Floor. The Main Show Floor itself was divided into a central booth space and an outer perimeter of purpose-built audio rooms. Though somewhat overwhelming with the hustle and bustle of all the technology exhibits and the sounds of music playing this provided a level of excitement that many show-comers would likely appreciate – an all-out consumer electronics extravaganza.
I began by visiting the large rooms in the front, before making my way down through the Mirvish Hall and onto the Main Show Floor.
Audio One (AudioQuest and B&W)
The first room I came about was hosted by a local dealer, Audio One. Within the room AudioQuest had a table that featured a number of their headphone products, was well as their cables and DACs.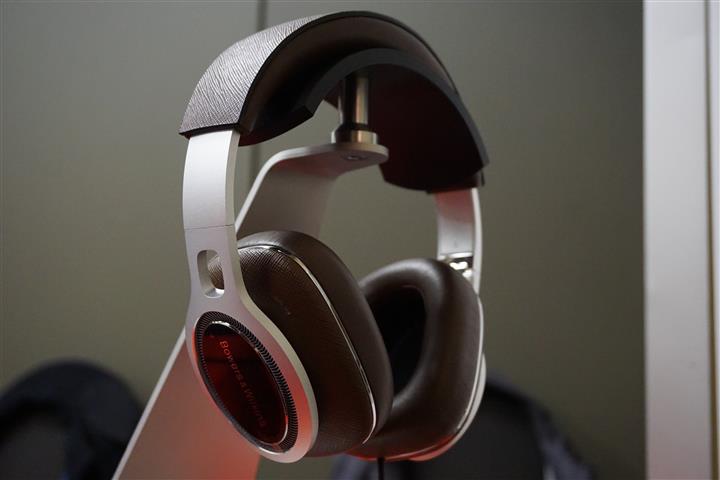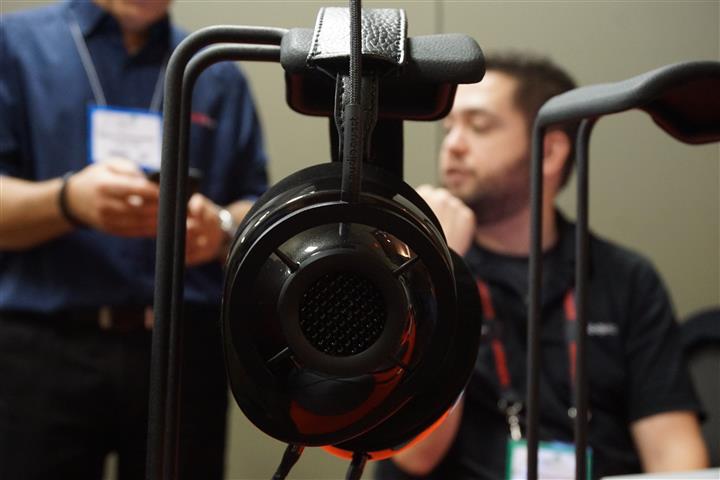 A display was setup up-front demonstrating the AudioQuest Dragonfly USB DAC with their Night Owl Carbon headphones ($899) as well as the B&W P9 Signature headphones ($999). This table had a constant stream of visitors, and Frederic Pinsonneault of AudioQuest, the bearded face in the background, was happy to demonstrate their products.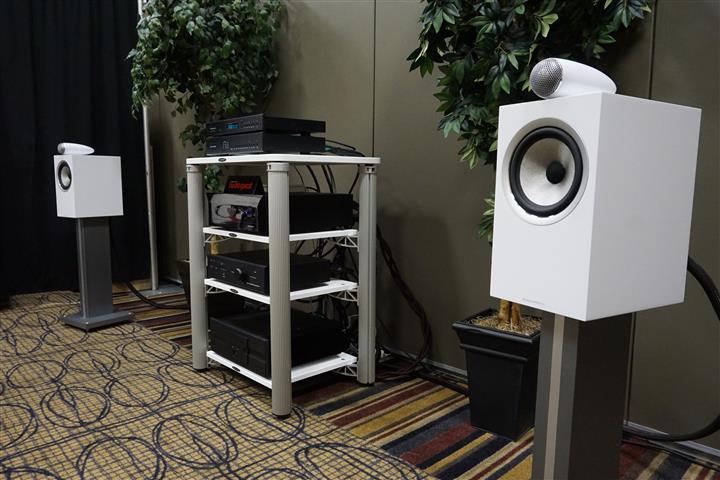 The main system incorporated the recently launched B&W 705 S2 loudspeakers ($5,500/pair) paired with the all-new Bryston BP173 pre-amplifier ($3999) and a Bryston 4B3 amplifier ($5,699). The source was a Bryston BDA-3 / BDP-3 with power delivered via an AudioQuest Niagara ($5000), using the company's new Hurricane and Tornado power cables, together with a Storm Series loom.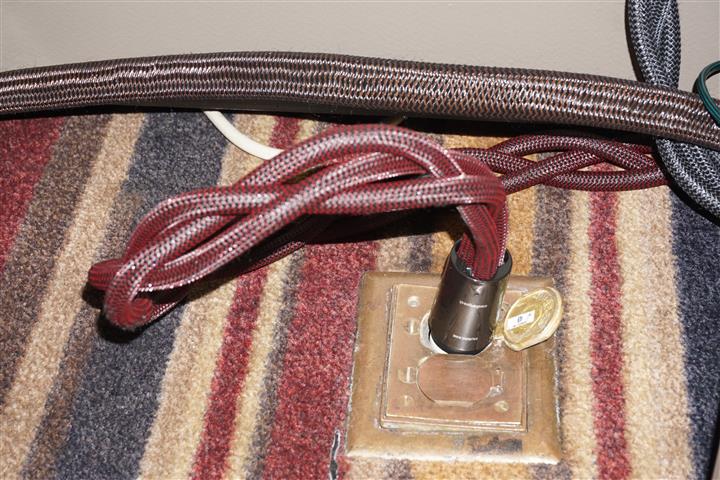 Pictured is the new Hurricane power cable, which has a braided construction that I was told is mainly to preserve flexibility, given the cables low gauge. What I heard was delightfully detailed, transparent, yet smooth. Obviously the Audio One guys had put some thought into putting this system together.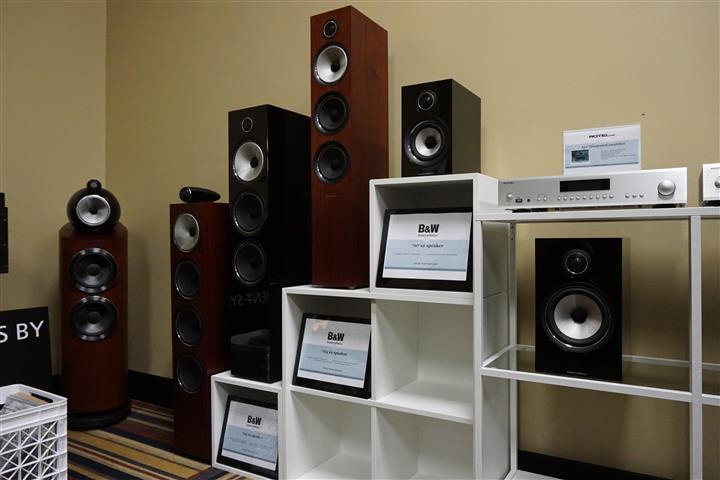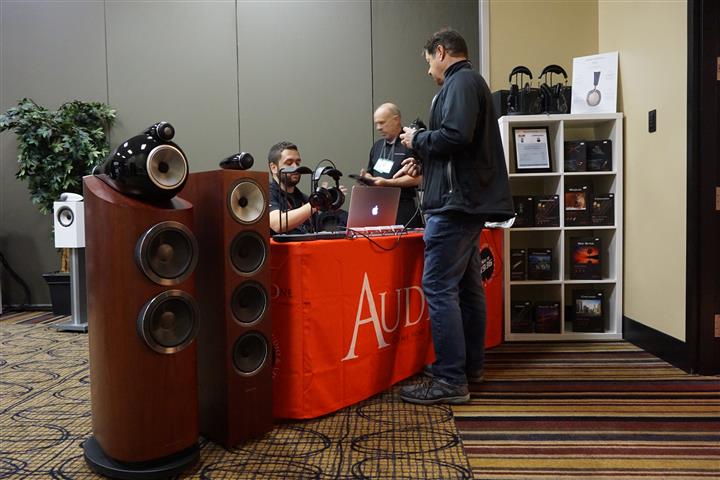 On static display were a number of B&W speaker models, including the B&W 803 D3 ($20,000/pair), which had me salivating.
Totem Acoustic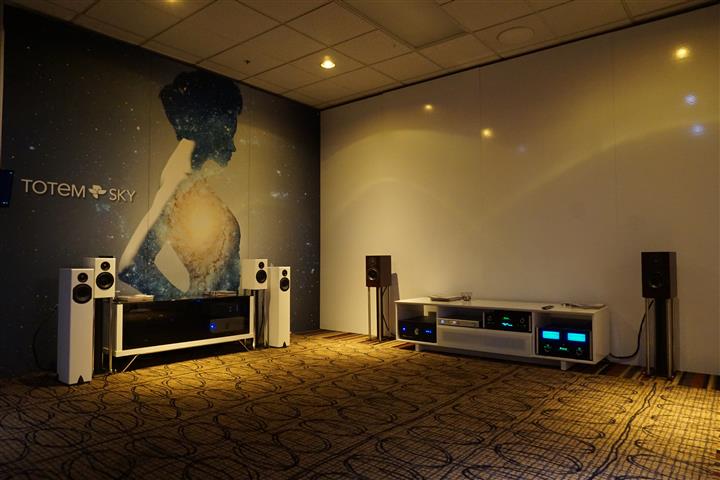 Totem Acoustic, as I've come to expect, always has the best decorated room at shows and this year was no less. Even more delightful was finding the company's founder and president, Vince Bruzzese, there, speaking about the company's latest innovative creations. On display were three systems on rotating demonstration.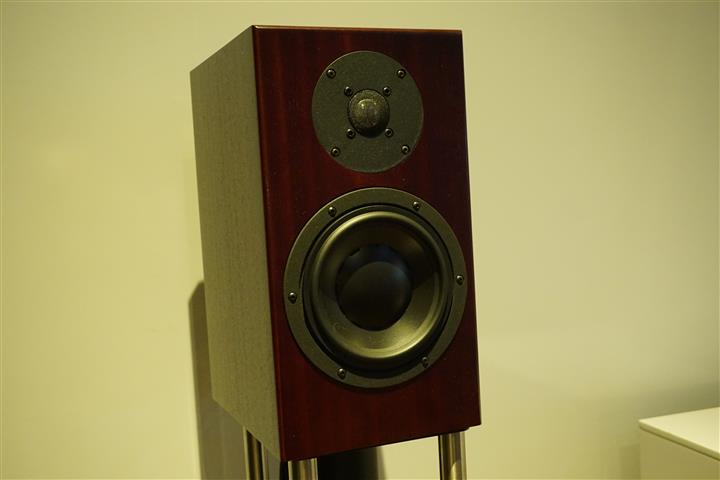 The first, was comprised of the Totem Signature One loudspeaker ($3,299/pair), which follows in the footsteps of Totem's original Model 1 loudspeaker. We recently reviewed this speaker in the pages of NOVO Magazine (https://novo.press/totem-acoustic-totem-acoustic-review/)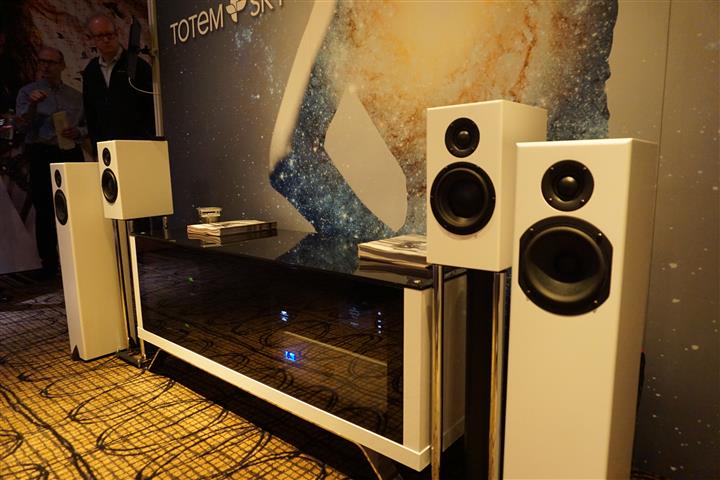 The next speaker setup included the Totem SKY ($1,850/pair) and the SKY Tower ($2,500/pair). Both of these speakers offer an exceptional value/performance factor. The SKY Tower is the replacement for the long-lived and very successful Sttaf tower loudspeaker. Magnetic grills are now standard for all new Totem speakers and this goes for all the speaker models that were in their room.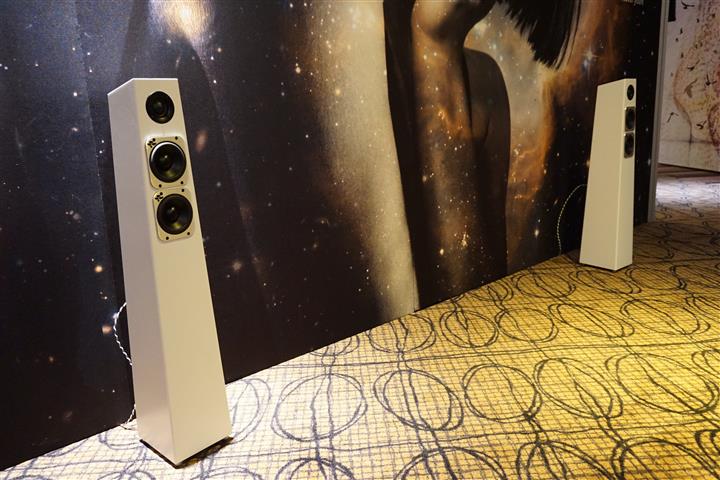 Next I was able to hear a demonstration of the new Totem Tribe tower loudspeakers, priced at $5,500/pair (matte) or $6,000/pair (high gloss). These speakers were able to fill the room, while delivering a marvellously stable and sizeable soundstage, even when off-axis. I was amazed by the bass response of the relatively tiny Tribe towers. Vince told me that the speakers provide a flat in-room response from 30 to 30,000 Hz (+/- 3dB), handle up to 250 watts each and achieve an in-room SPL of up to 108 dB. To paraphrase Vince, a listener from Holland has nicknamed the Totem Tribes as "Beastly Angels".
Audio by Mark Jones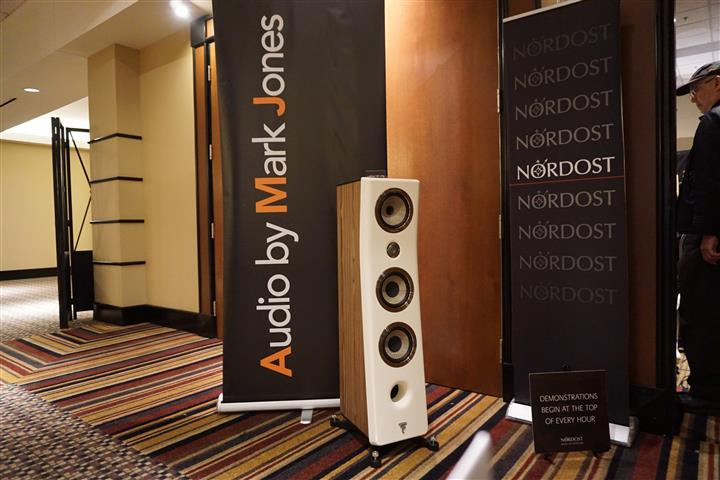 Out front of Audio by Mark Jones' room was a static display of the all-new and very stylish Focal Kanta loudspeaker. A perfect appetizer for what was to be found within.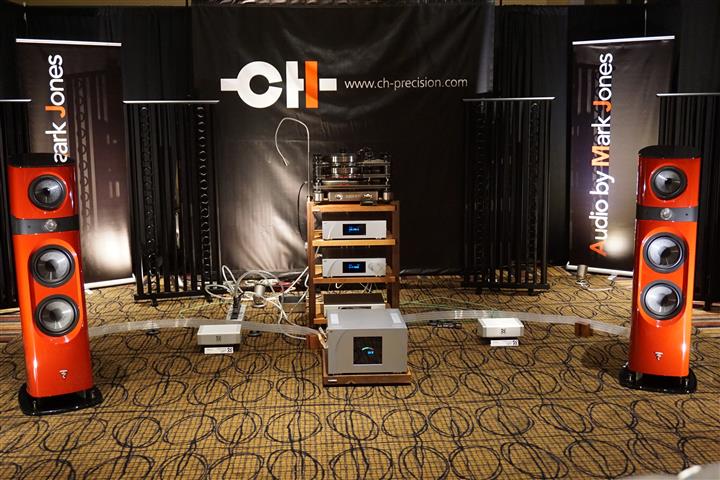 The main system being demonstrated by Mark, was playing through a gorgeous pair of Imperial Red high-gloss Focal Sopra No. 3 loudspeakers. Amplification and electronics was by CH Precision, including their P1 Dual Monaural Phono Stage ($31,000); C1 DAC ($31,000) and; M1 Reference Power Amp ($51,000). Cabling was Nordost Valhalla 2 Reference with QRT power products. The analog source was the Kronos Pro Turntable ($38,000); with SCPS power supply ($13,500); Black Beauty tonearm ($8,500) and a Lyra ETNA SL MC cartridge ($13,000). The digital source was an Aurender N10 Music Server ($8,500) and racks were by Massif Audio Design. The system sounded wonderful with generous harmonic colour and sweetness, natural warmth and openness, together with generous detail and excellent timing. I had the opportunity to sit in on a Nordost demonstration of their new QKore grounding unit. Listening to an A/B comparison, it was evident that the QKore provided added clarity, image focus and texture.
Update TV & Stereo / Samsung
There were a couple rooms that local dealer Update TV & Stereo were hosting at TAVES this year.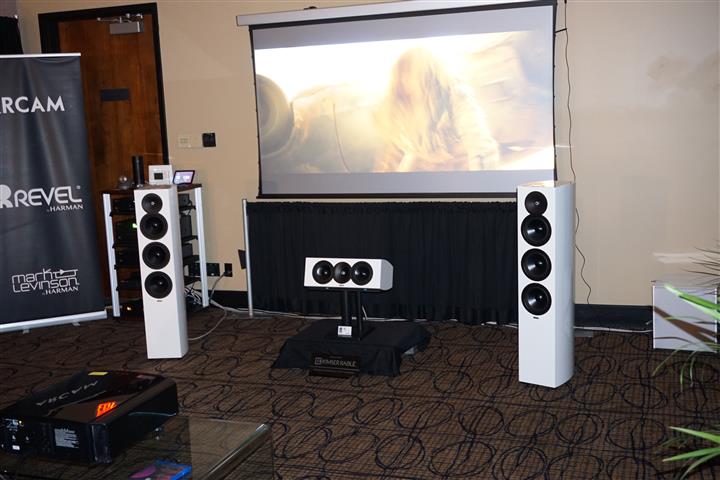 The first one I entered contained a full 7.2 home theatre demonstration using Revel loudspeakers (F36 $3,200/pr; C25 $1,200; F35 $2,400/pr; B10 subwoofers $2,300 each). Surround sound processing and amplification duties were being handled by an Arcam AVR850 ($8,500) with an Arcam UDP411 Blu-ray players ($2,500). The video was by way of a Screen Innovations 100" screen paired to a JVC DLA RS620 projector ($12,500). Watching the Mad Max movie as well as Everest Atmos demonstrations (sadly, no Atmos speakers), I was very impressed with the detail and clarity presented by both the sound and images.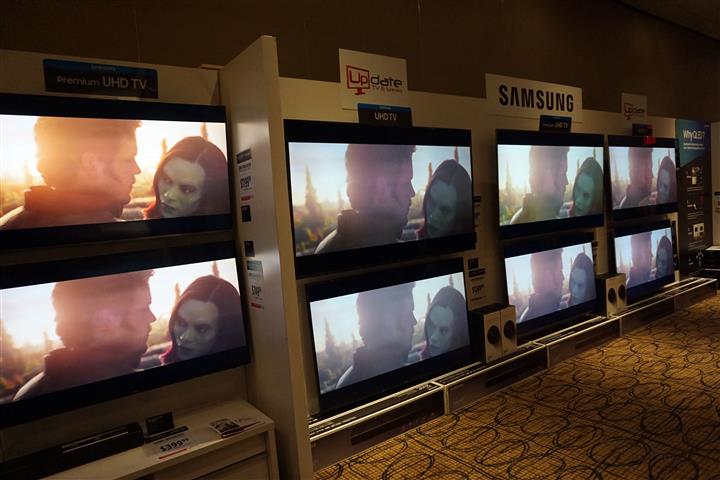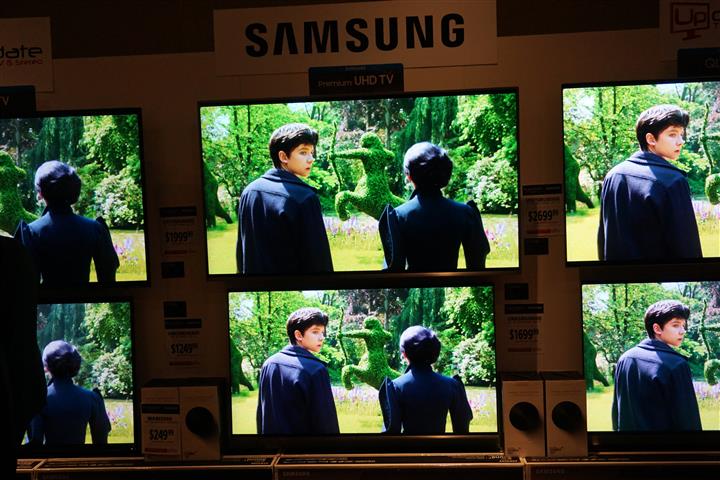 The second room hosted a literal banquet of Samsung televisions on display, with some absolutely amazing prices. I myself was scoping out the UN82MU8000 82" 4K HDR Smart LCD Samsung TV ($6,999, TAVES special $5,000), yet alas, a call to my wife clarified her priorities for a vacation this winter…hmmm, can't we have both dear?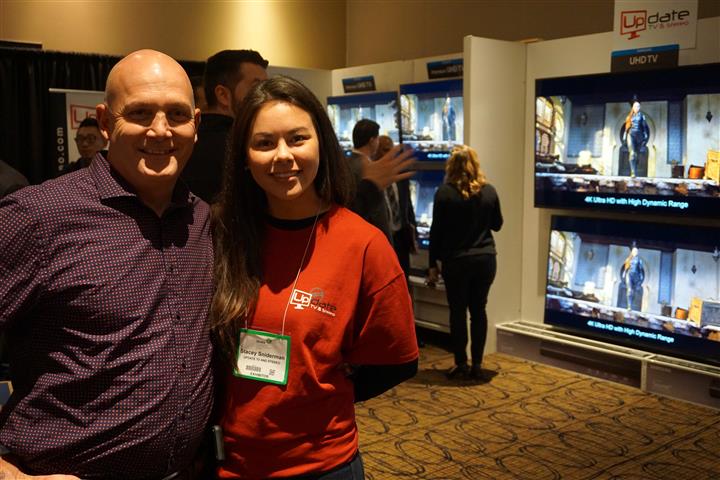 While looking around I caught James Drew, Wired for Sound, with Stacey Sniderman of Update TV & Stereo and it didn't take much to coax their smiles.
Audio Eden
Rob and Mike of Audio Eden are incredibly knowledgeable and experienced so I'm always excited to find the Audio Eden room at TAVES.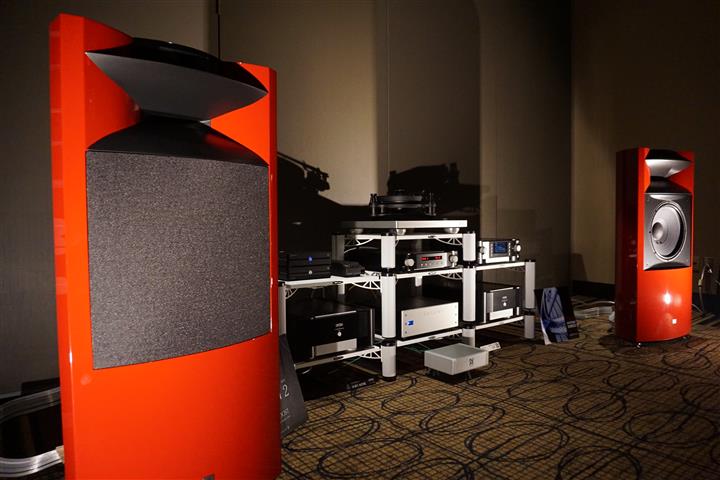 This year, the system was comprised of a JBL/Mark Levinson pair-up; specifically, the JBL Synthesis K2 loudspeaker ($80,000/pair) in Ferrari red with the Mark Levinson No.526 preamp ($29,000), No.519 phonostage ($29,000) and; No. 536 mono power amps ($42,000/pair). A Bryston BIT-20 ($3,995) was being used to ensure clean and plentiful power, along with Nordost Odin 2 cabling and QRT power products.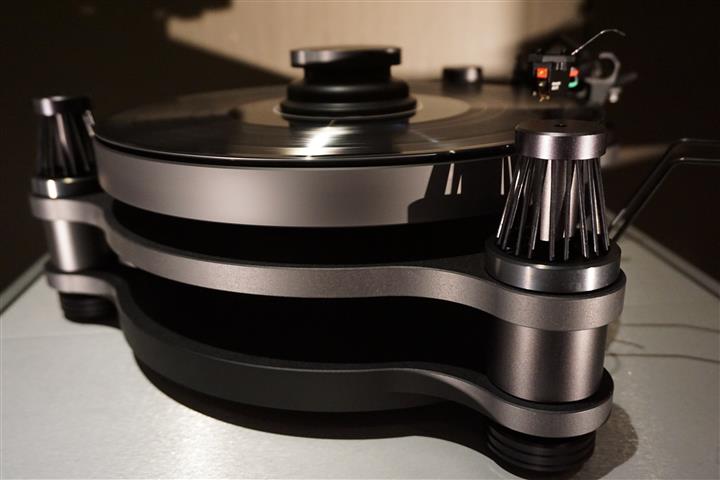 The source in play was a SME 15 turntable ($12,000) with SME V5 tonearm ($7,000) and Dynavector XX2 MKII cartridge ($2,250), a cartridge that is a venerable steal at its price. The sound had an incredible amount of low level detail and delicacy, with a refined and soothing presentation. Great job, as usual guys!
Krell Industries / Oracle Audio / Gershman Acoustics
As I walked down a hallway, I heard what sounded like live music emanating from one of the large rooms.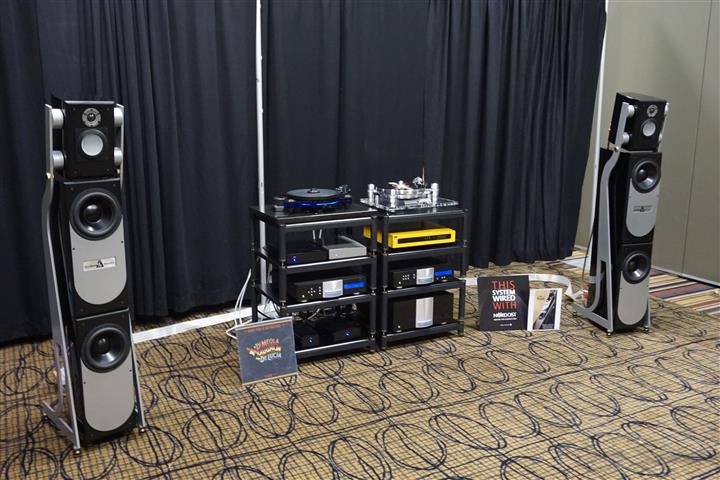 The room was hosted by Gershman Acoustics, Krell and Oracle Audio and featured the all-new Gershman Posh Speakers ($129,000/pair) that are hand-made in Canada. The speakers are constructed using 1" HDF with ¼" stainless steel panels. The cross-over is a point-to-point construction that uses Munforf MCapR Surpreme Classic Silver-Gold Oil caps. The tweeter is a Morel-dome with an Accuton Cell 5" midrange paired to twin 8" dual magnet woofers that are designed by Gershman. The sound had impeccable timing and was very vibrant. Along with the Krell amplification, the source was the new Oracle Audio entry-level Origine turntable/tonearm & cartridge package ($2,600), also made in Canada.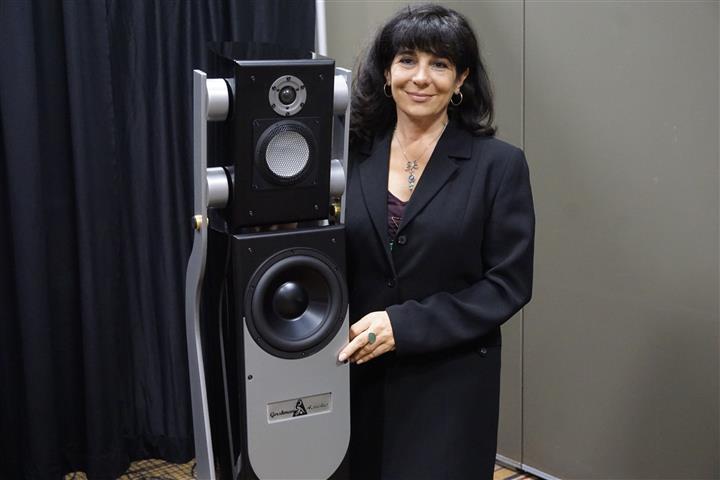 Ofra Gershman here, proudly posed with their company's new creation – the Posh loudspeaker.
Bryston Limited
With a friendly greeting from Brian Russell, President of Bryston, I entered their room and found a chair beside James Tanner, VP Marketing & Sales.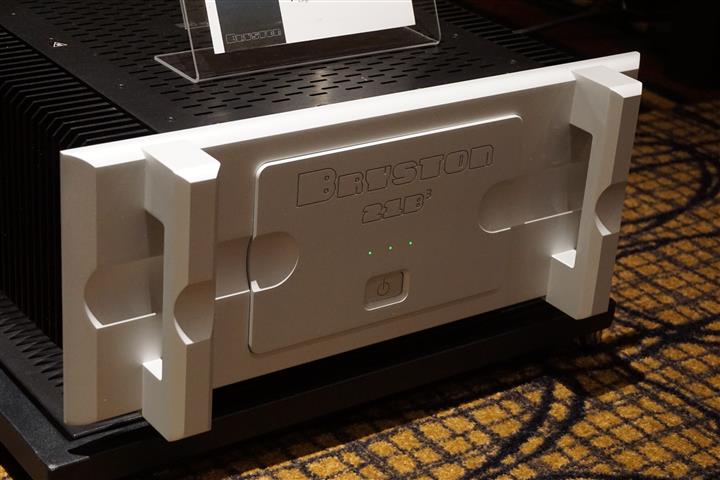 James was demonstrating Bryston's Active Speaker System, this year with something new, an all-new 3-channel amplifier, the 21B3 ($10,000). James told me that the amp was named based on its construction – it turns out that it combines a 2-channel (4B3) with a 1-channel (7B3) amplifier; 2+1 = 21 right, well not exactly but we get it James. Since a Bryston Active speaker setup requires three amplified channels per side to drive it three-ways, the 21B3 fulfills this need with a single-chassis form-factor.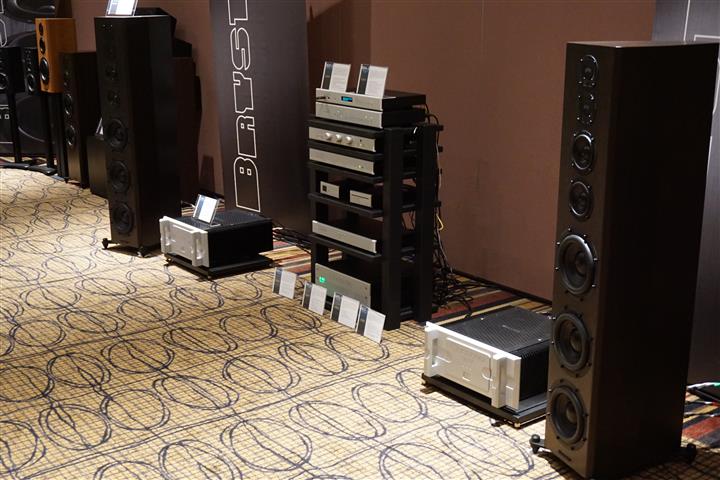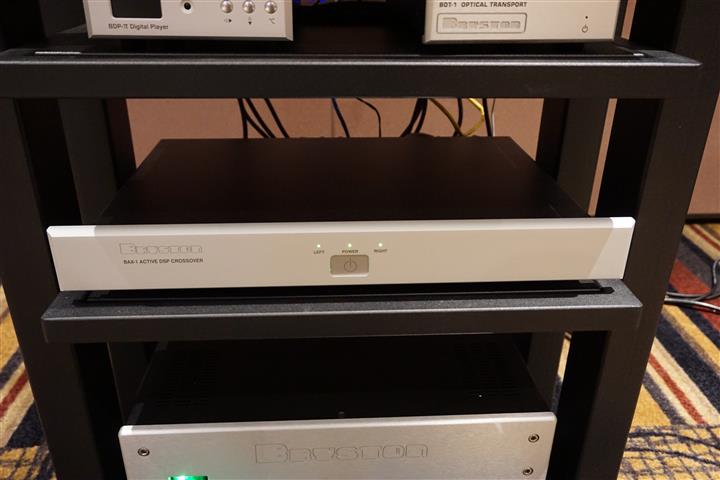 There are two Bryston Active systems currently available – the Model-T and the Middle-T. The system playing was a Model-T Active system (a pair of crossover-less Model-T speakers with a Bryston BAX-1 DSP Active Crossover, priced at $8,685). The speakers were finished in an attractive expresso brown wood veneer. The 21B3 has a total output capability of 350 + 350 + 500 watts = 1200 W / 8-ohms. With a BDP-3 digital player, BDA-3 DAC and BP26 preamp, this system delivered spectacular soundstaging and clarity; projecting images well above my head and with a level of immediacy and control that was mesmerizing.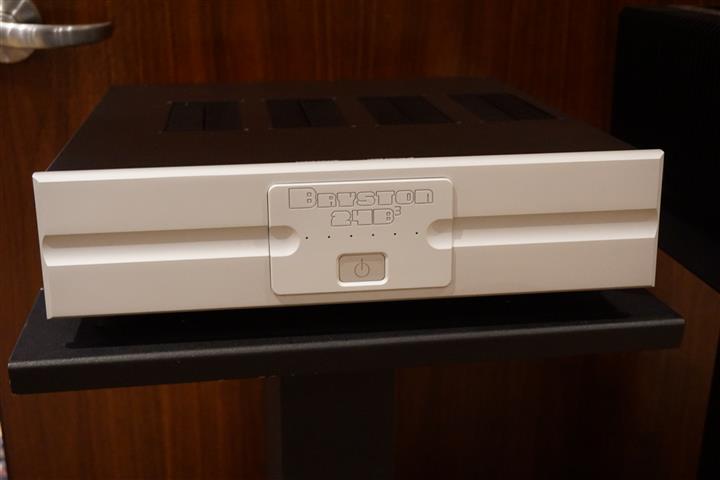 Bryston was also showing off on static display, their new 24B3 amplifier ($9,000), with 6-channels of amplification (2 x 300 W + 4 x 75 W) using 2 transformers. The 24B3 is meant to serve as a lower cost alternative for the 21B3 in the Bryston Active Speaker Systems, delivering the 3-channels of amplification per side at half the price of a 21B3.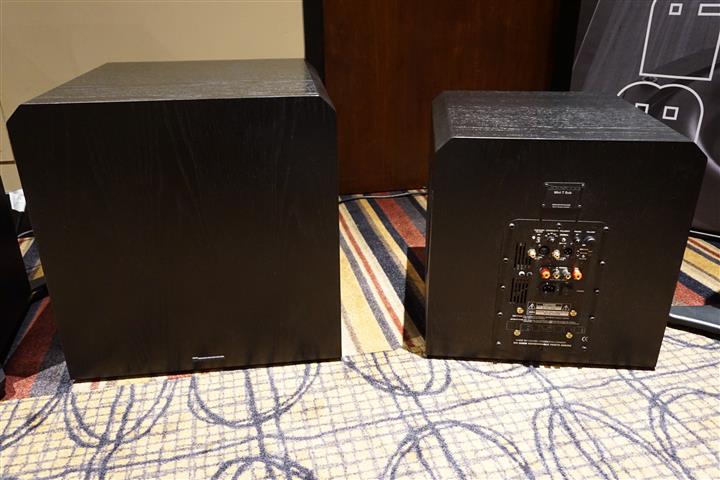 There were two new active subwoofers also on display – the Model T 12" subwoofer (approx. $5000), with 2 x 12" drivers and a 600 Watt amplifier and a Mini T (approx. $4,000) subwoofer with twin 8" drivers and 600 Watts of power. James told me the relatively modest wattage is not indicative of their output, as the driver to amplifier match is more than sufficient for full-scale bass attacks.
Erikson Consumer (JBL Synthesis / Mark Levinson / Revel / Arcam)
Erikson Consumer always has lots to show at TAVES and this year they took on a large room to showcase all the new products from their fine brands.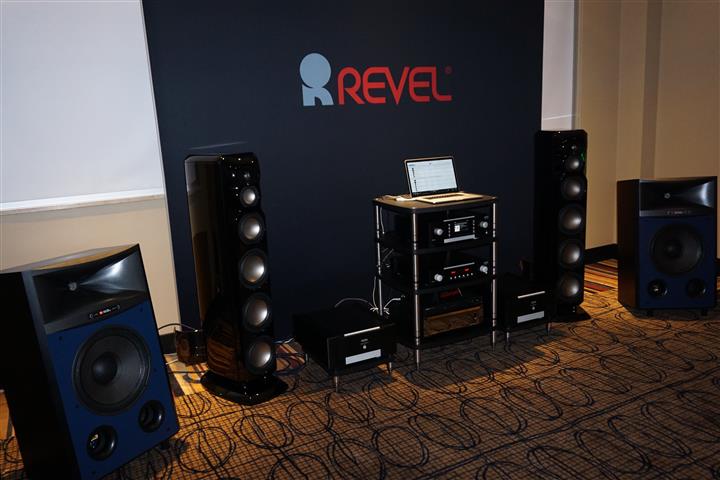 The first system combined Mark Levinson electronics with Revel and JBL speakers. This included the Mark Levinson No.536 Mono Blocks ($21,999); No.526 Pre-amp/DAC ($28,999); No.519 CDP/Streamer ($28,999) with the Revel Salon 2 Reference Ultima2 speakers ($34,000/pair) in rotation with the all-new (Canadian 1st showing) Revel F228 be ($14,000/pair) and the JBL Synthesis 4367 Studio Monitor ($22,000/pair). I heard the Ultima2 and JBL speakers back to back playing O-Zone Percussion Group and the sound was rich, full, relaxed, while also being very impactful and precise.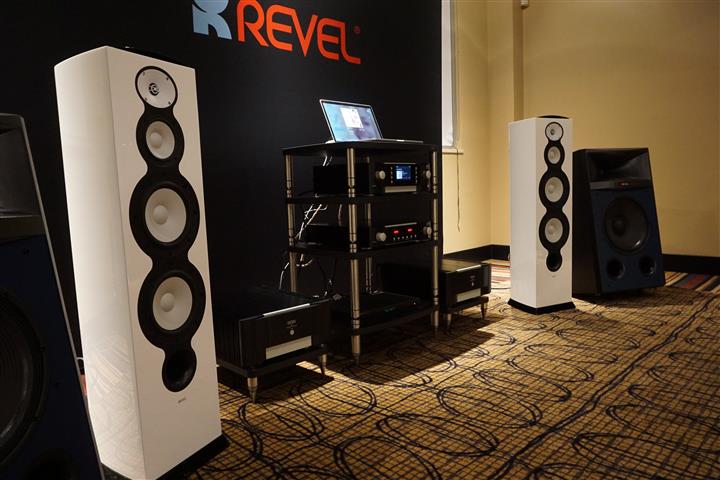 Though the Salon2 and JBL 4367 were masterful, I was even more amazed at what the new Revel Performa3 F228 could do, at its significantly lower price. In fact, the Revel F228 be had superb control and detail with some added vibrancy, making their sound extremely addictive. Speaking with Kevin Voecks of Revel he told me that the new F228 be is a ground-up new speaker that incorporates the latest innovations, with ceramic drivers, extremely low distortion motors and a Beryllium tweeter set in a ceramic waveguide.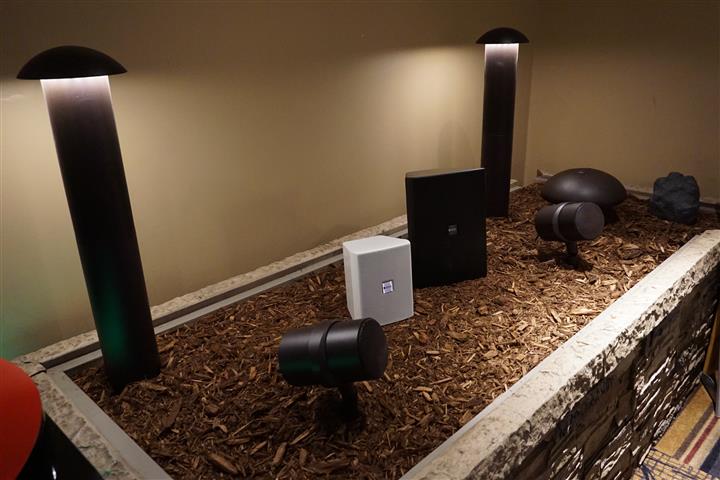 This was not the only surprise in the room. The main-stage turned to the Revel Landscape Series products and a demonstration ensued. The setup included the all-new Revel L41XC Satellite Wall/Deck Mount outdoor speaker; L42XC Tower Satellite outdoor speaker with a built-in light and; L12XC 12″ in-ground subwoofer. All, which are set for release in December. The sound of this system was spectacular and I doubt I've ever heard a better outdoor system – yes, that good! Two more conventional looking outdoor speakers sat in the middle, on static display, these were the Revel M80XC large bookshelf ($1,199) and M55XC small outdoor speaker ($799).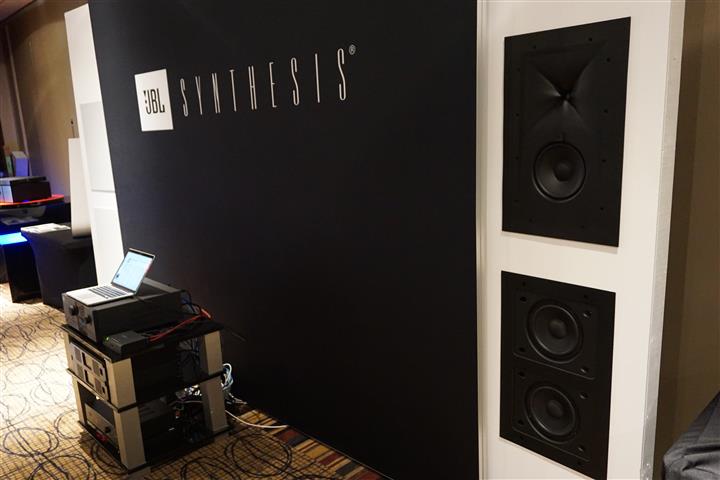 My attention turned to the wall-display in which were mounted the JBL Synthesis in-wall speakers, specifically the SCL-4 2-way 7″ woofer + 1″ D2 Compression driver ($4,500/each) and the Revel B28W dual 8″ in-wall sub ($1,400). Controlling this system was a JBL Synthesis SDP-75-32 32 channel AV processor with ATMOS, Auro 3D and DTS-X ($45,000) paired to two Revel SA1000 Power amps for the subs ($1,800/each) and the JBL Synthesis SDA-4600 4 x 600 watts power amp ($6,750); SDA-8300 8 x 300 watts power amp ($8,250). Unfortunately, I didn't get a chance to hear this system in play.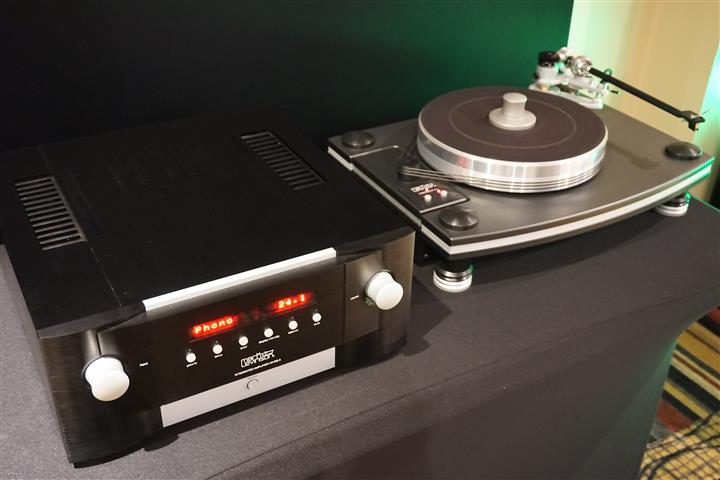 A couple of interesting new Mark Levinson products sat on static display, off to the side. They included the all-new Mark Levinson No.585.5 2 x 200 watts Integrated-Amp with DAC and Phono board and the No.515 Turntable, both of which will be available this November with pricing yet to be finalized.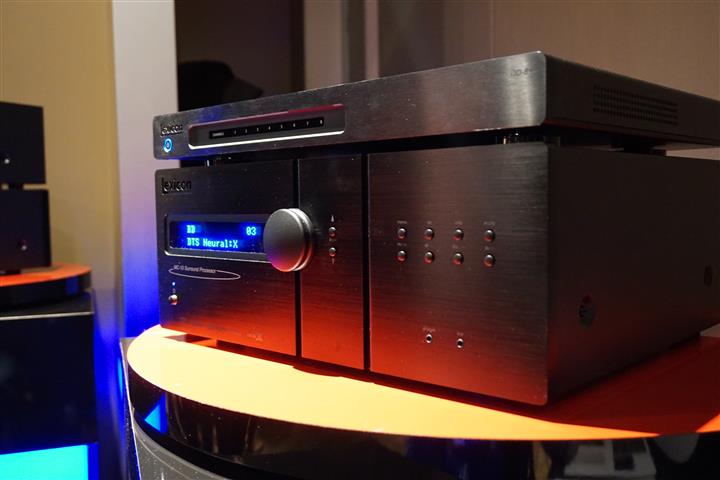 Some new products from Lexicon were also displayed in the room. These included the MC-10 11.1 pre-amp processor with ATMOS / DTS-X and Dirac and the DD8+, 8 x 125 watts 1U high power amp.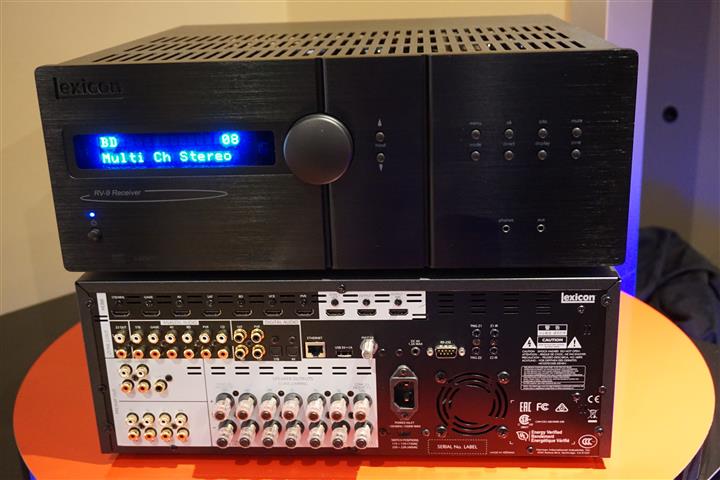 There was also the Lexicon RV-9, 7 x 100 watts Class G AVR with ATMOS / DTS-X and Dirac and the Lexicon RV-6, 7 x 90 Class A/B AVR with ATMOS / DTS-X and Dirac.
Kevro International (Monitor Audio / Roksan / Cyrus)
I did have some idea of what Kevro would be showing at TAVES. You see, I'd just recently finished my review of the Monitor Audio Silver 500 loudspeakers for NOVO Magazine, which ended up having to be picked up for TAVES, I was told. Despite that, I was in store for a pleasant surprise.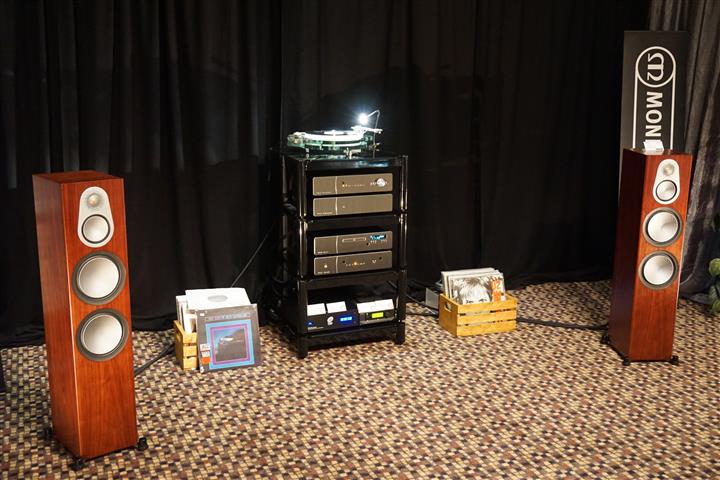 The main system paired the Silver 500 loudspeakers ($3299/pair) with the Roksan K3 Integrated Amplifier ($2499), K3 Power Amplifier ($1999), K3 CDP ($2499) and K3 DAC ($2499) using a Clarus cable loom, including Clarus Aqua speaker cables. The analog source was a Roksan Radius 7 turntable ($2,999). The results were nothing less than delicious, with music portrayed in a balanced and beautiful manner accompanied by generous detail, touch and realistic timbre. At TAVES 2017, this system was truly an overachiever and in my books exhibited the highest price/value quotient at the show; a steal at under $20,000.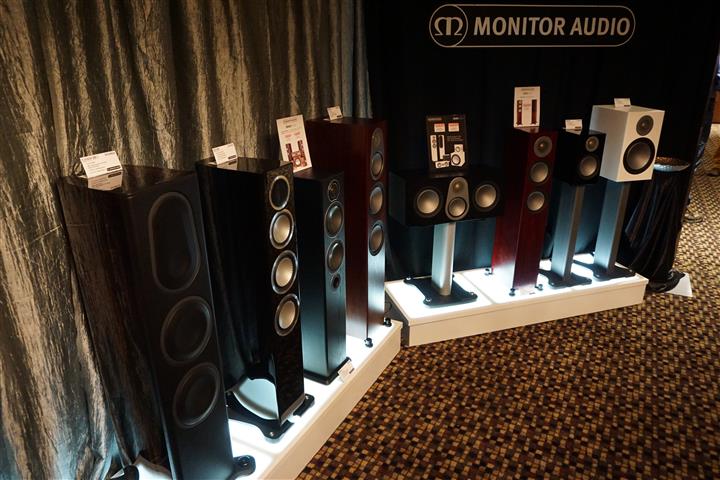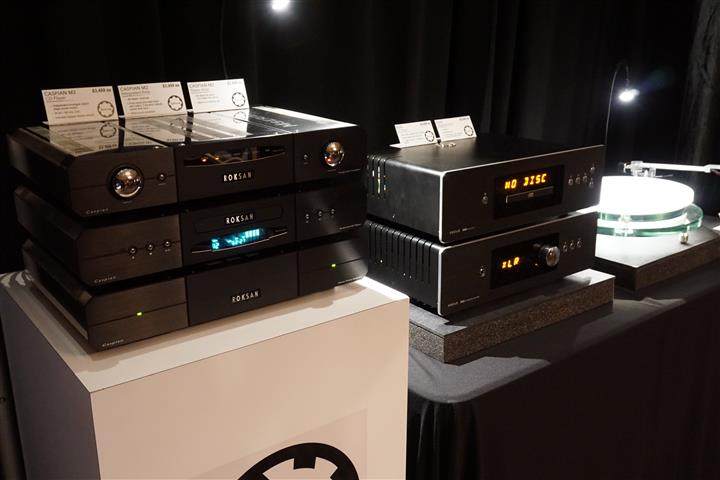 On static display could be found a number of other models from Monitor Audio as well as Roksan, including the Roksan Caspian and BLAK series of components.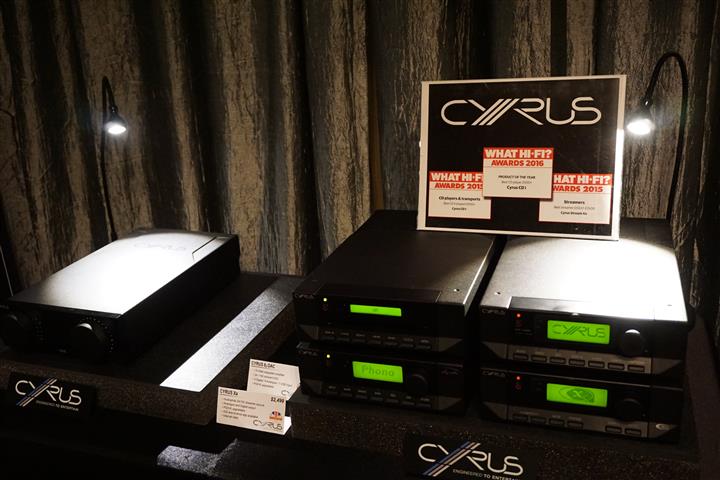 Still on the British theme, Kevro also distributes Cyrus Audio and there also a few of these components on display, including the Cyrus Xa ($2,499) and the 8 DAC ($3,199).