Tri-Cell Enterprises (Vivid Audio / Accustic Arts / Acoustic Solid)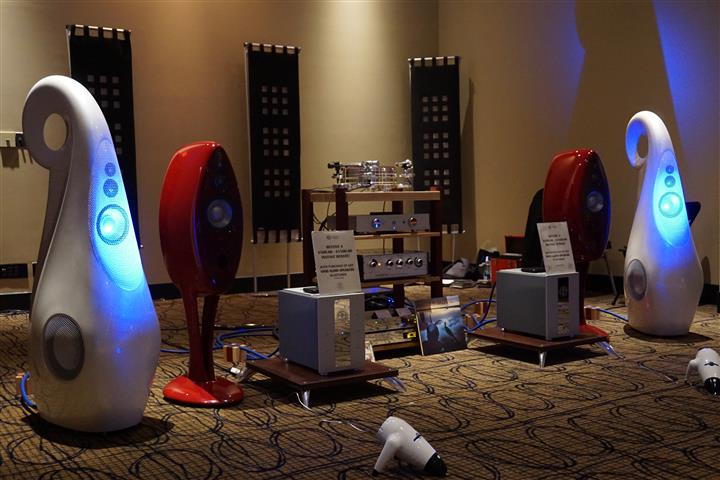 The main system that was in play here was comprised of the Vivid Audio speakers – the Giya G2 ($66,000) on rotation with the smaller Oval B1 Decade ($36,650), driven by an Accustic Arts Tube Preamp II MK2 ($15,830) and Mono II Silver ($24,770) amplifiers. Vinyl was playing on an Acoustic Solid, Solid Machine Small R equipped with 3 tonearms (Abis TA-1, WTB-213, Jelco SA-750DB) having a combined price of just under $11,000. The cartridge was a Benz Micro Glider SL MC ($1,190), amplified by an E.A.R. Phono ($8000). The digital source was also from E.A.R. and included their CD ($10,000) and DAC/transport ($18,000). Cabling was all Cardas Clear and Clear Beyond, apart from synergistic Research PowerCell 12 ($8,500) and 1.5m Atmosphere Level 2 power cord ($2,935). The main stack sat on a Massif Audio 4-shelf stand with Salamander amp stands. Ed Stone, of Executive Stereo fame, was spinning the discs. The sound was incredibly smooth, effortless and naturally warm, possessing both musicality and intrinsic texture. Definitely one of the highest achieving setups at the show.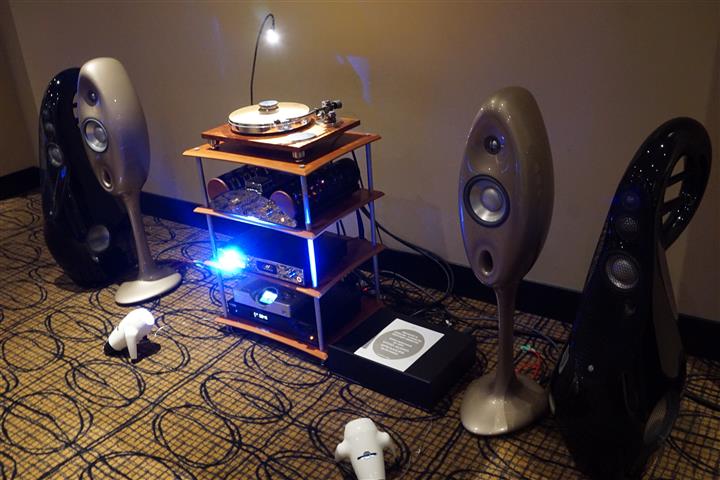 A second system sat to the side, powered on but not in use when I visited the room. It paired the smaller Vivid Audio Giya G4 ($43,385) and Oval V1.5 ($10,455) loudspeakers with an Acoustic Solid, Solid 113 Bubinga turntable and Jelco SA-750DB arm ($4,300).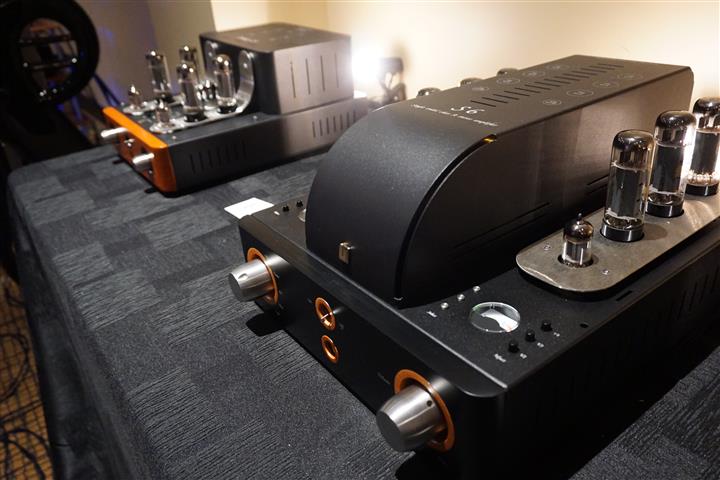 There was also a static display of the Unison Research Triode 25 integrated ($3,700) and their S6 integrated ($5,160) that I couldn't resist taking a shot of.
ALFA Distribution / Network
While on my way to the Main Show Floor, I passed through the Mirvish Hallway and came upon a couple gentlemen representing ALFA Distribution. The company develops and distributes network solution devices.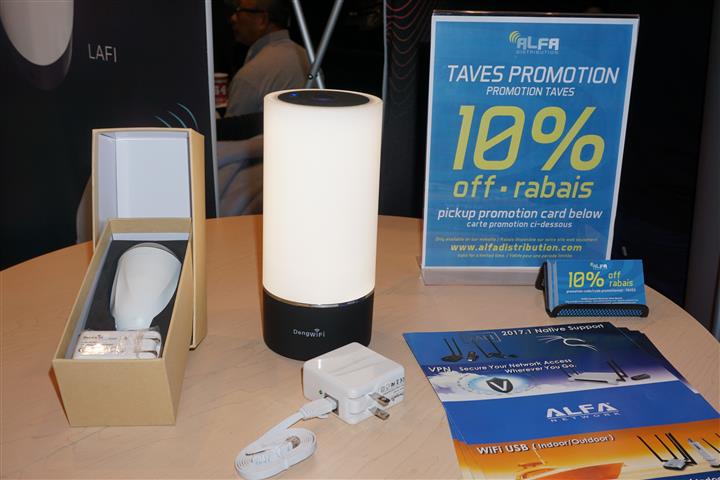 The all-new DengWiFi lamp / WiFi Extender ($68) seems like the perfect solution to my WiFi challenges. All that's needed is your WiFi network password and the device does all the setup automatically – my kind of device!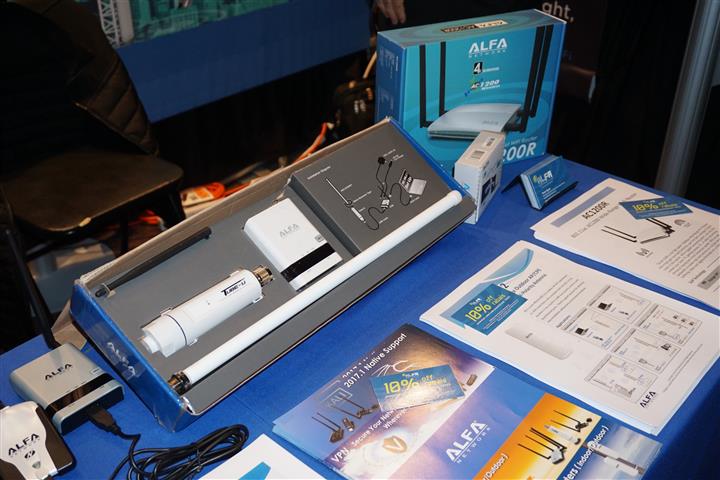 Another great device they told me about was the ALFA Network Camp Pro Universal WiFi / Internet Range Extender Kit ($179). This device is perfect for homes, cottages or even RV/Boats that typically don't have nearby hotspots. It is able to connect to hotspots up to 1500 feet away.
Epson
Entering the Main Show Floor, I couldn't miss the crowd outside Epson's room, taking in the view.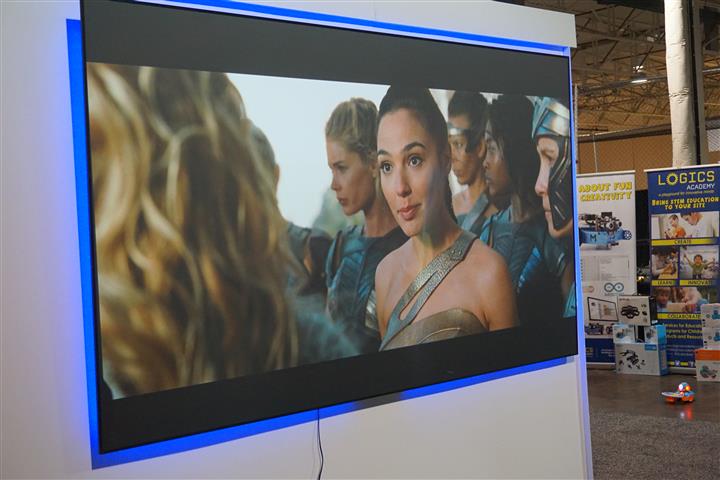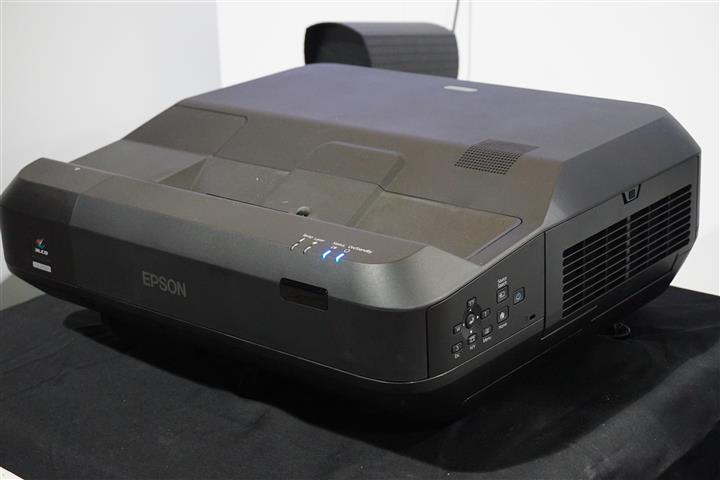 On display outside their room was their all-new Home Cinema LS100, a full HD 3LCD ultra short-throw laser projector ($3,999). With 4000 lumens, this projector was producing a surprisingly clear and colourful image in a brightly lit area. With laser lighting, there are no bulbs to worry about and the short-throw capability means it will work in virtually any room. This projector was getting tons of attention at the show, and with its capabilities, that attention was well deserved. Inside their room Epson was showing off their LS10500 4K HDR laser projector ($10,000) projecting to a 120" unity gain Cirrus Screen ($1,200). The picture was superb but sadly my photos were not.
JVCKENWOOD
JVCKENWOOD was showing off their car audio products for their KENWOOD and KENWOOD eXcelon (flagship) brands.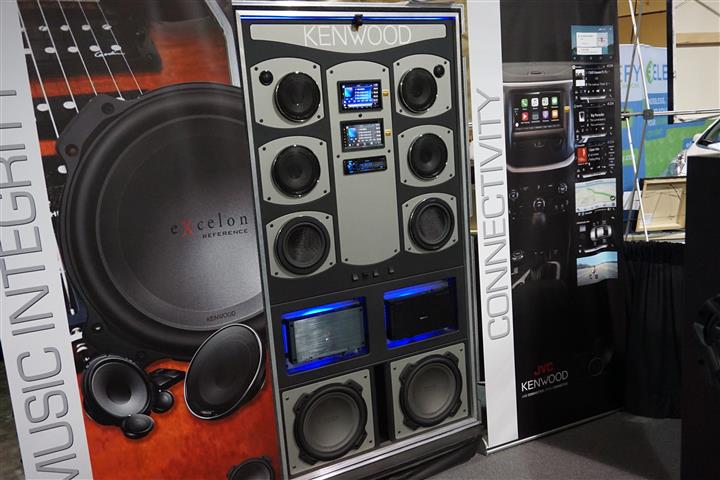 Their latest in-dash head units are true Hi-Res, capable of FLAC/DSD/WAV up to 24-bit / 192kHz resolution. Pricing on these head units ranges from $599 to $1499. And the KENWOOD brand caters to a younger consumer, incorporating Bluetooth and Touch Control, as on their KW-830BT ($899).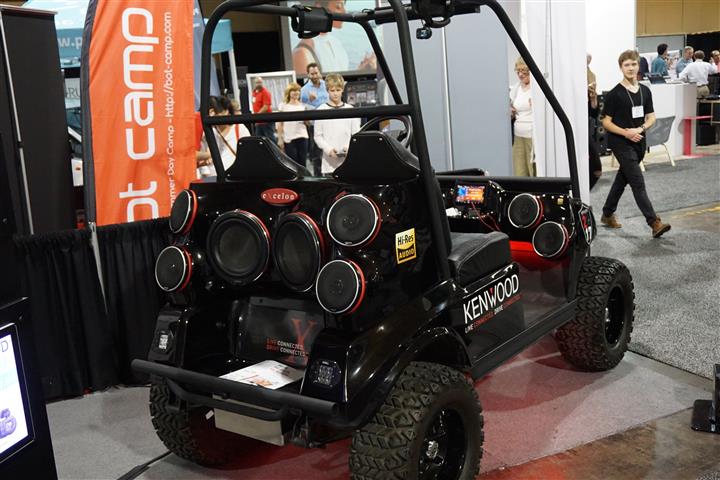 KENWOOD even had a fully decked out off-road golf cart with a full assortment of car-audio gear. I would have loved to give it a spin on the Main Show Floor with the bass-a-kickin'.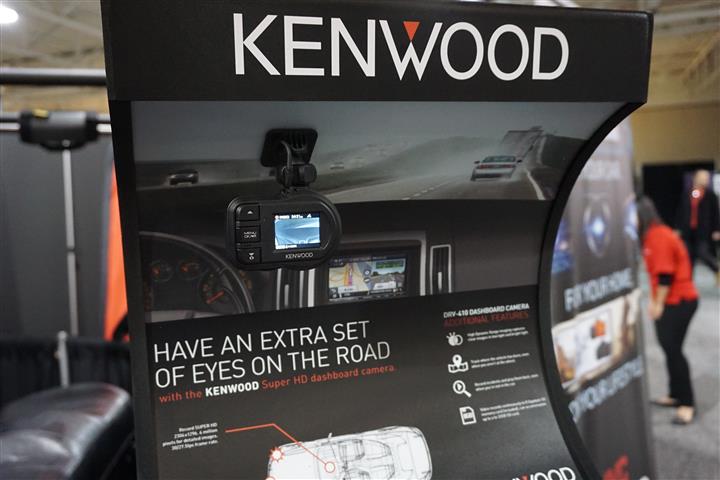 I took interest in their in-car drive recorder / dash cameras that now incorporate 4K super-HD, with GPS tracking, lane departure and collision alerts. Pricing of these is very reasonable, with the DRV-410 positioned at $299 and their DRV-N520 similarly priced.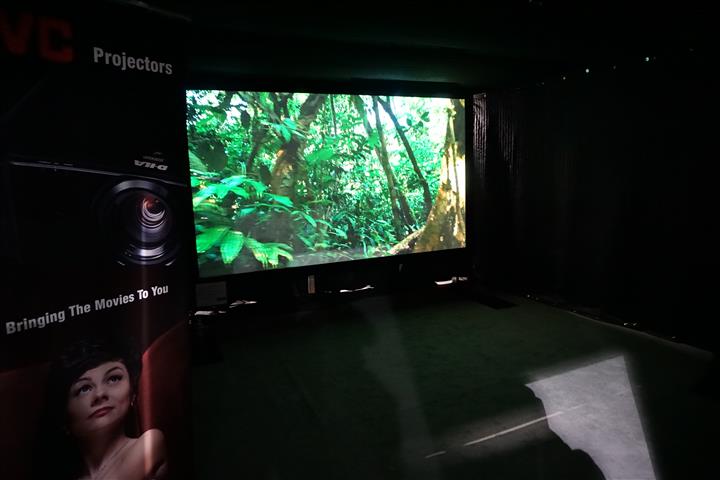 Within the first JVC exhibit room, they were showing an all-new RS 640 projector (first Canadian demonstration, est. $9,500), which will be available by the end of October 2017. The RS 640 features their latest e-Shift5 4K technology. This projector was displaying on an Elunevision 135" 16:9 screen. The image quality was just superb.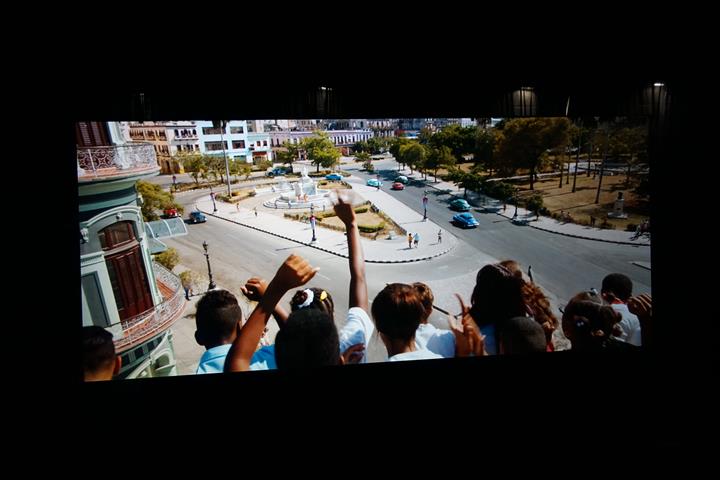 Within their second exhibit room, the JVC DLA RS4500 Reference Series native 4K laser projector ($45,000) was projecting on a 133" 235:1 1.2 gain Screen Innovations screen. The picture was beautiful; now, if I can only find a way to afford one myself.
Tri-Cell Enterprises (Sonic Artistry / Audiovector & Goldnote / Acapella – House of HiFi / Transrotor)
Tri-Cell had a whole lot of floor space to say the least, comprising four audio rooms and a couple booth spaces as well. I spent a considerable amount of time touring their space.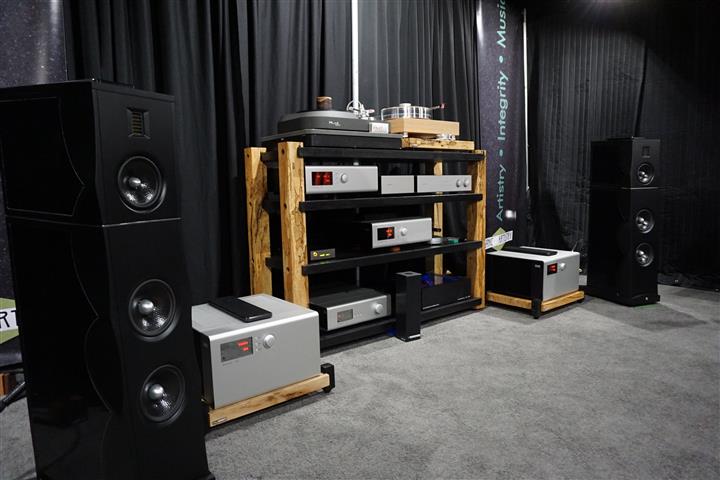 Sonic Artistry, a retailer, had a room featuring the GoldNote XT-7 loudspeakers ($26,500), driven by Soulution Audio components – 511 power amplifiers ($34,500 each); 520 Preamp ($26,000) and; 550 Phono Stage ($20,500). A Synergistic Research PowerCell 12 UEF ($8500) and Synergistic Research Atmosphere loom were used with the gear sitting on a Massif Audio rack.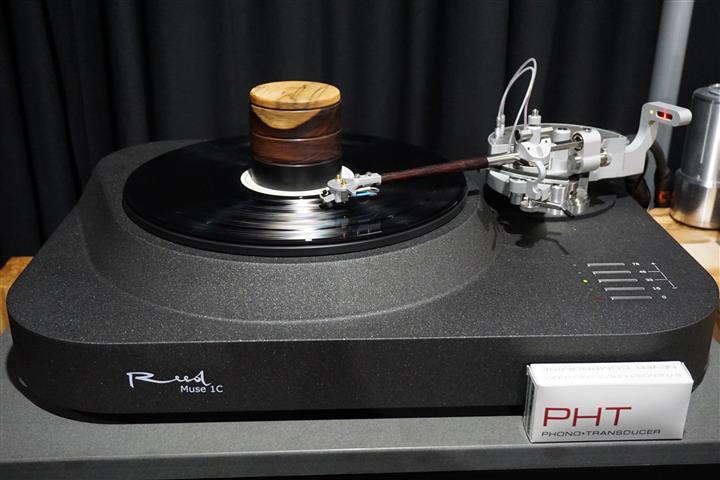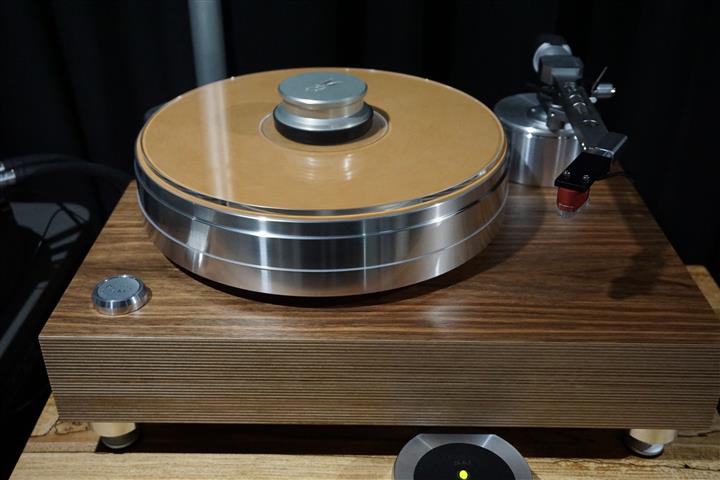 The turntables in the Sonic Artistry room were the Reed Muse 1C ($11,500) with Reed 5T tonearm ($18,150) as well as the Acoustic Solid Solid Wood MPX turntable & Sorane TA1 tonearm ($5,615). The sound in the room was relaxed, yet revealing with an impressive organic quality and lifelike soundstage.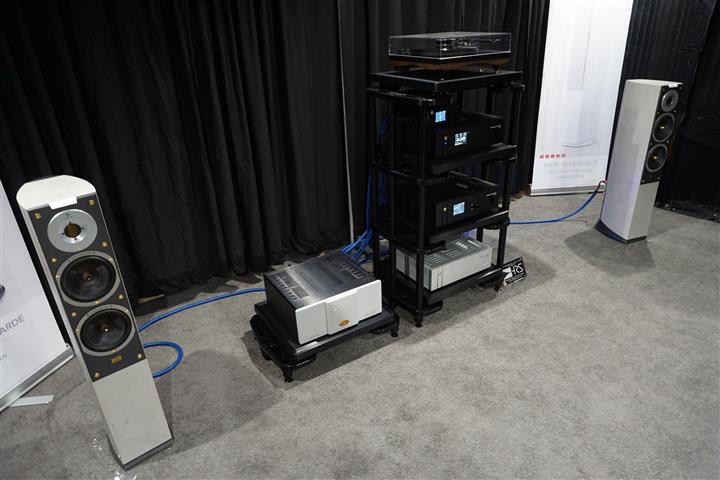 Audiovector's latest speakers, their SR3 Avantguarde Arrete Raw Surface Limited Edition (100 pairs, $15,000) were being demonstrated with a Goldnote P-1000 preamplifier ($7,500) and Unison Research Unico DM Silver power amplifier ($4950). Also in play were the Goldnote PH-10 phono amplifier ($2,000) and Goldnote Pianosa turntable with a B5.1 tonearm ($4,000), Hana SL cartridge ($850), as well as a Goldnote DS-1000 Streamer ($6,250), and a full loom of Cardas Clear Beyond cables. Racking was by HRS. Listening to this system I was mesmerized by how well spaced, defined and positioned images were. The tone was rich and authentic with impressive transient speed. I walked away very impressed with the sound.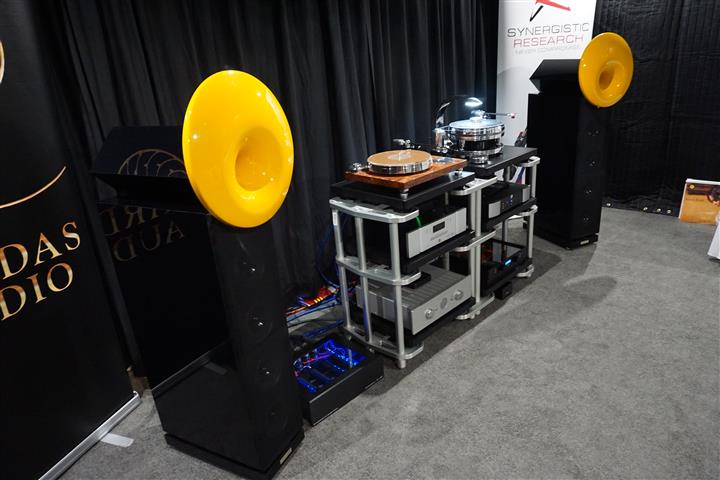 The next Tri-Cell room was hosted by House of HiFi and was featuring the Acapella LaCampanella MKII loudspeakers ($31,000). Amplification duties were by way of an Accustic Art Power I MK4 Silver integrated amplifier ($11,000) with two Acoustic Solid turntables through a Brinkmann Audio Edison Tube Phono Amplifier ($11,650) with Dynavector 10×5 ($750) and Denon DL-103R cartridges. Supporting the system was a HRS rack with power via a Synergistic Research PowerCell and cabling being all Cardas Clear Beyond. Listening to Hotel California I was smitten by the live and energetic dynamics.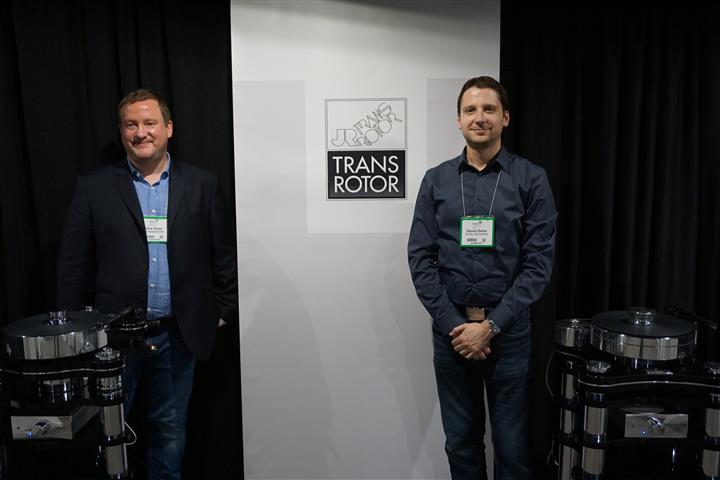 In a room dedicated to a Transrotor product, I had the pleasure of meeting Mr. Dirk Rake, CEO at Transrotor. Oh yes, and there was also David Geist of Tri-Cell Enterprises who twisted my arm to get in on this photo…okay, well maybe not twisted. Dirk, a very friendly gentleman, proceeded to personally show me around and tell me about their turntables.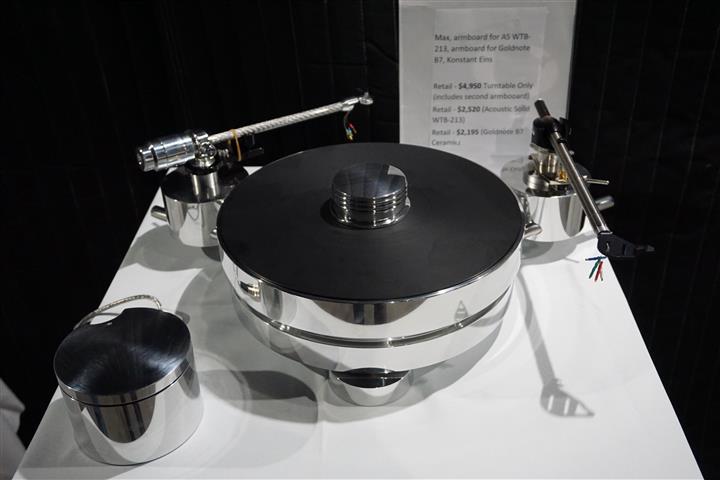 Here's a special setup of the Fat Bob turntable ($5,000) with a second armboard ($4,950) with a mounted Acoustic Solid WTB-213 tonearm ($2,500) and a Goldnote B7 Ceramic tonearm ($2195).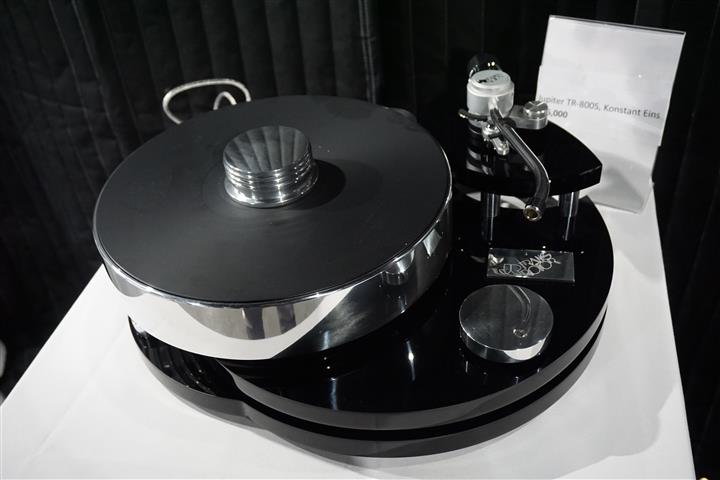 The Transrotor Jupiter turntable with TR-800S tonearm and Konstant Eins ($6,000).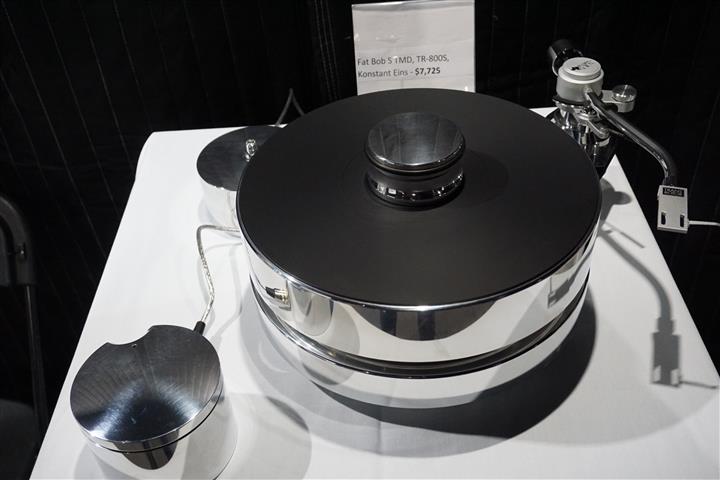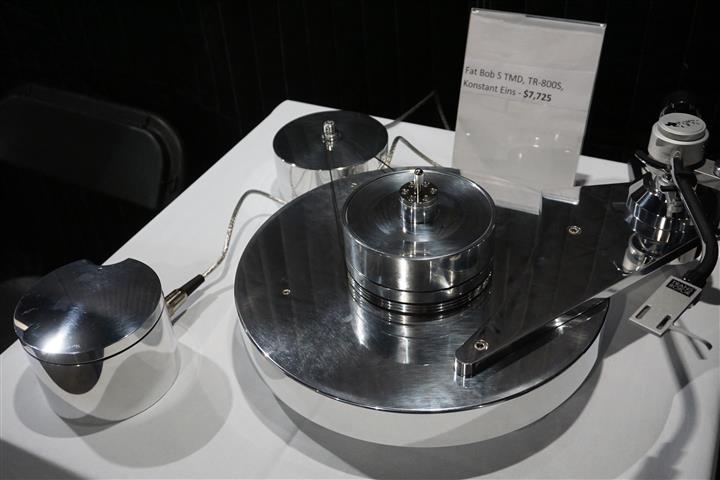 The Fat Bob S TMD with TR-800S and Konstant Eins ($7,725) platter on and platter off.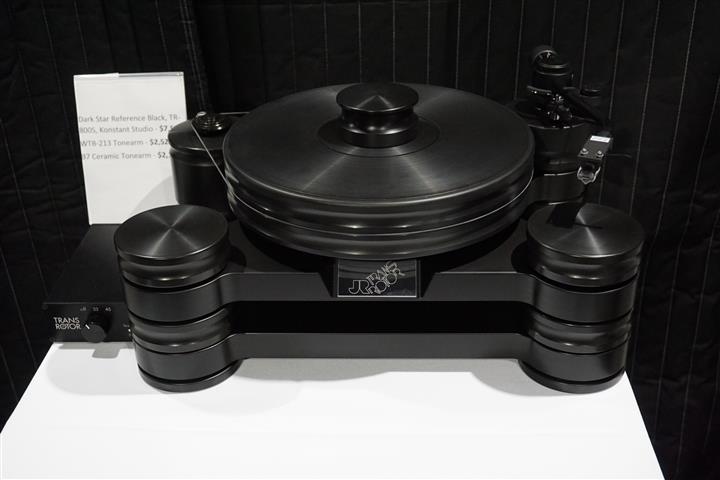 And, my personal fave of the bunch, with its stealth menacing appearance, was the Transrotor Dark Star Reference Black with TR-800S and Konstant Studio ($7,550); with an Acoustic Solid WTB-213 tonearm ($2,520). This is a table within grasp for many an audiophile…an maybe even me.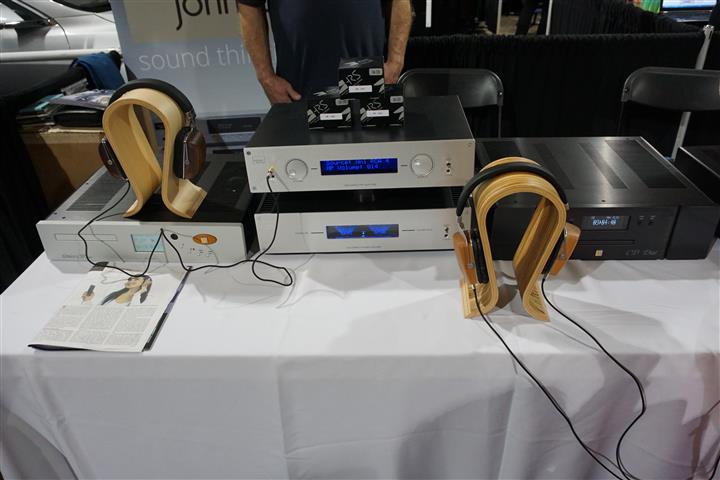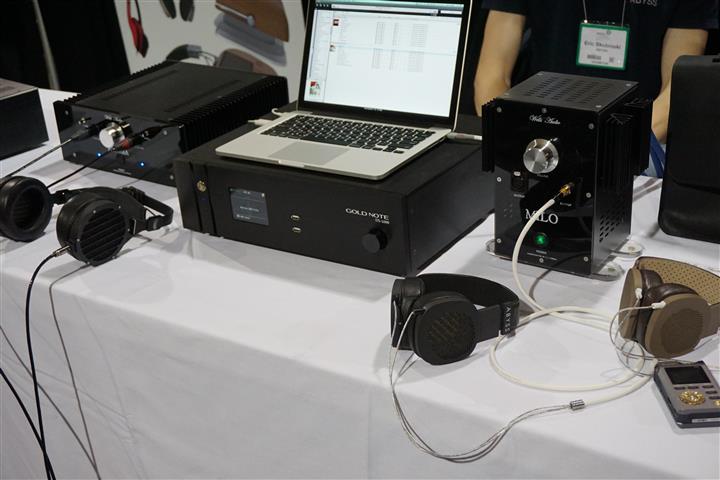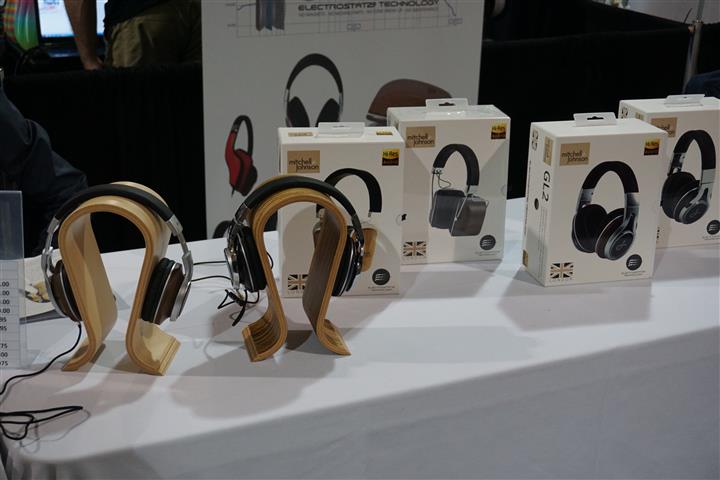 Finally, Tri-Cell also loaded up a couple booths with a wealth of interesting headphone products, including the U.K. Mitchell & Johnson headphones.
Plurison
Next up were the Plurison booth spaces towards the centre of the Main Show Floor.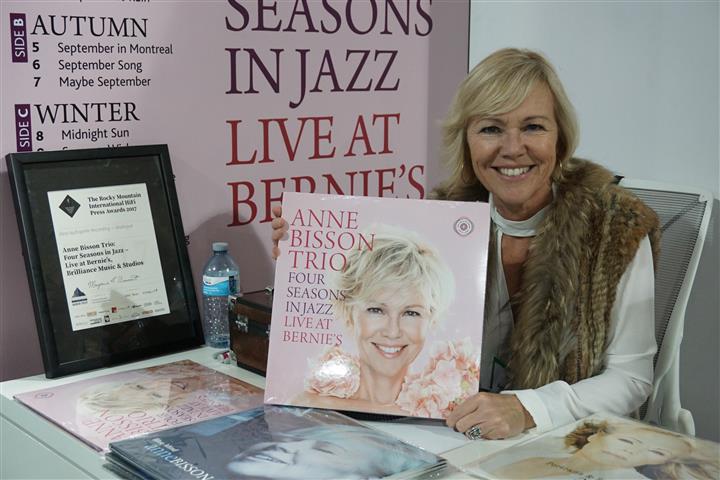 As I approached, I ran into my old friend Anne Bisson, who now is of international fame. She was showing off her new album, with her Trio, a direct-to-disk cut.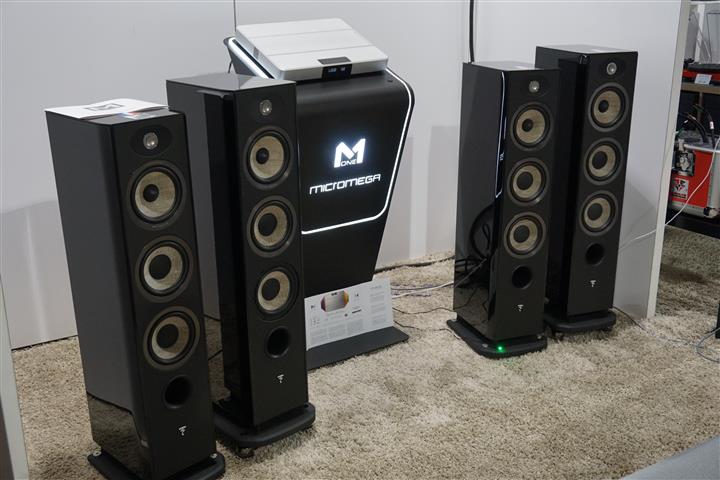 Focal Aria 926 and 936 loudspeakers with Micromega integrated.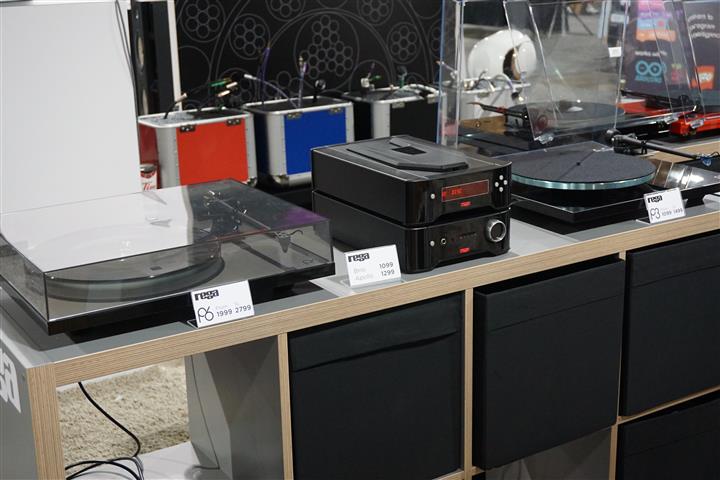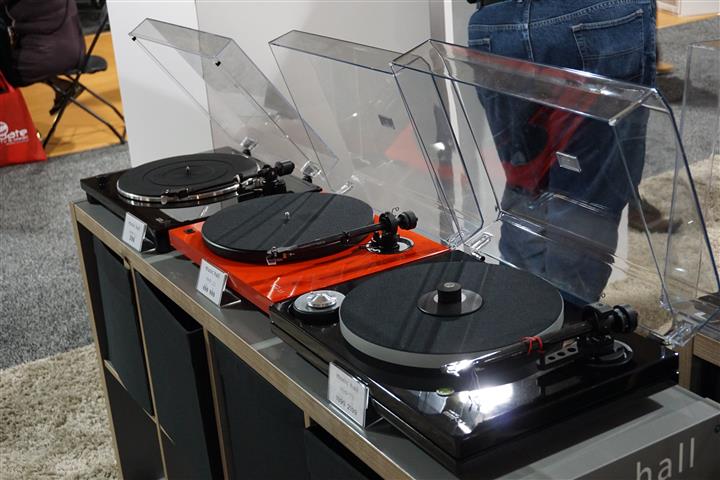 The Rega P6 turntable, Brio R integrated and Apollo R CDP, Rega P3 turntable with a nearby line-up of Music Hall turntables.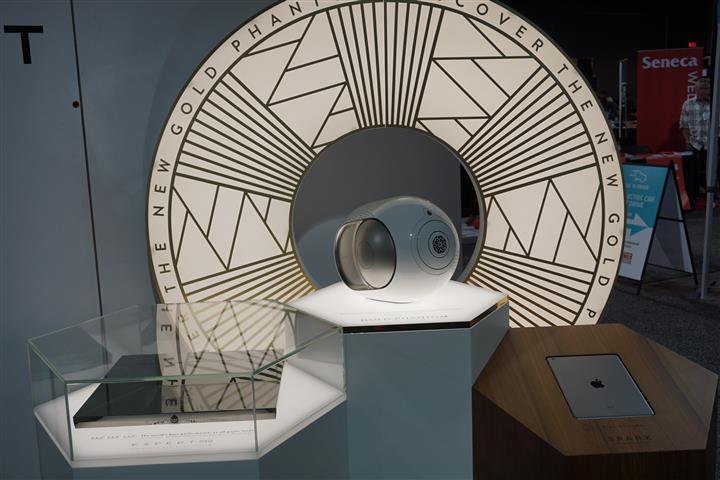 The Devialet Phantom Gold active Bluetooth speaker system with their Expert Pro integrated amplifier.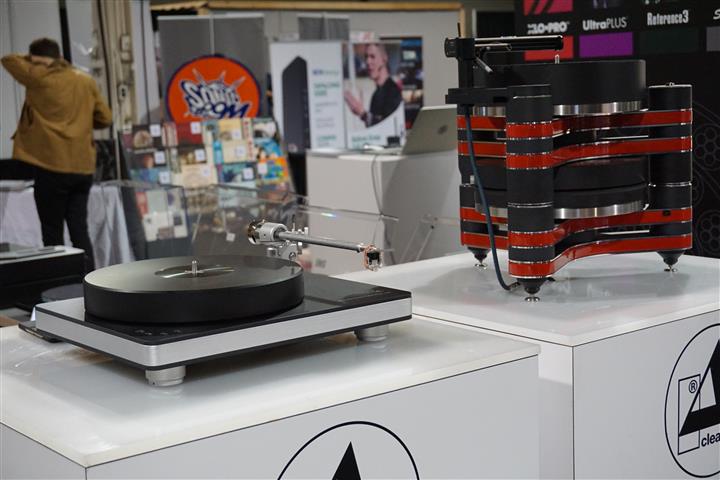 A fabulous looking pair of Clearaudio turntables.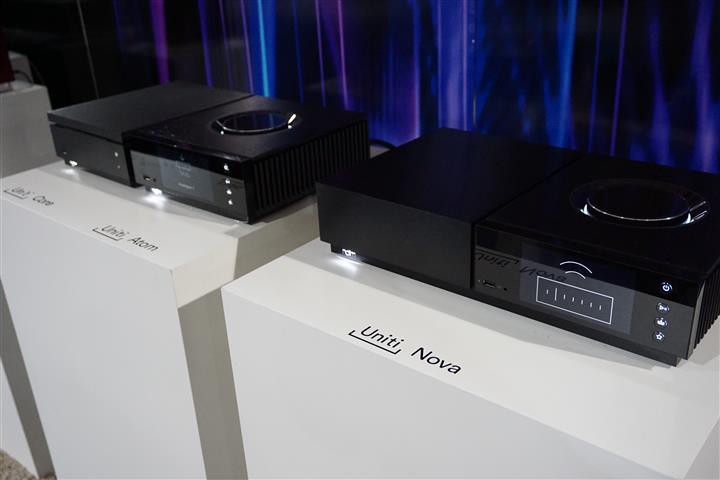 The Naim Uniti Nova ($7,995), a 2 x 80 Watt all-in-one system with UpNp player/server/streamer and AirPlay 1&2 that is capable of 32/384 DSDx2 resolution files. Next to it is the Uniti Atom ($3,800) a 2 x 40 Watt all-in-one system.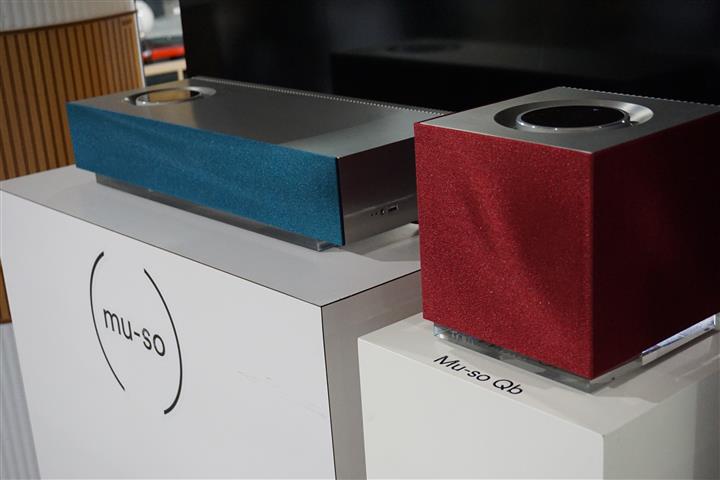 A pair of Naim Mu-So products, true all-in-ones that include integrated speakers. These are compact but amazingly large sounding.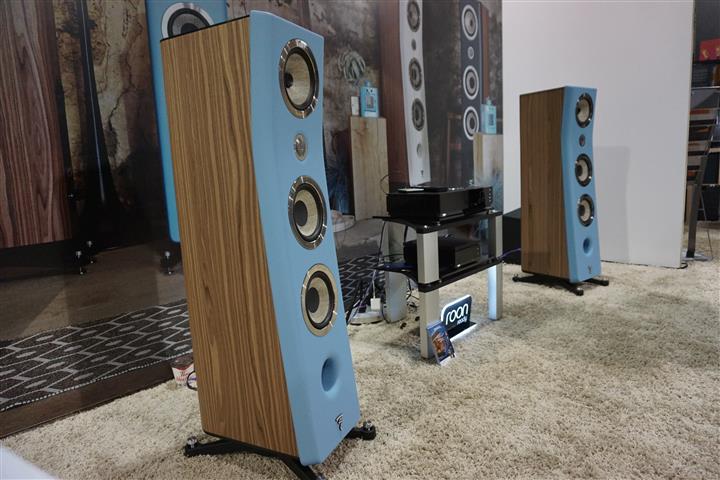 Here we see the all-new and highly anticipated Focal Kanta 2 loudspeaker ($12,000). This speaker uses Focal's new F-Sandwich technology with a flexcore. It uses the Sopra woofer suspension on the mid-driver, with a sealed Tweeter and composite moulded baffle. The cabinet is constructed of a single piece of play that is curved to form the cabinet, ensuring superb rigidity. The new Kanta Series fall between Focal's flagship Utopia Series and the long-running Electra Series.
Neat Acoustics / Kimbercan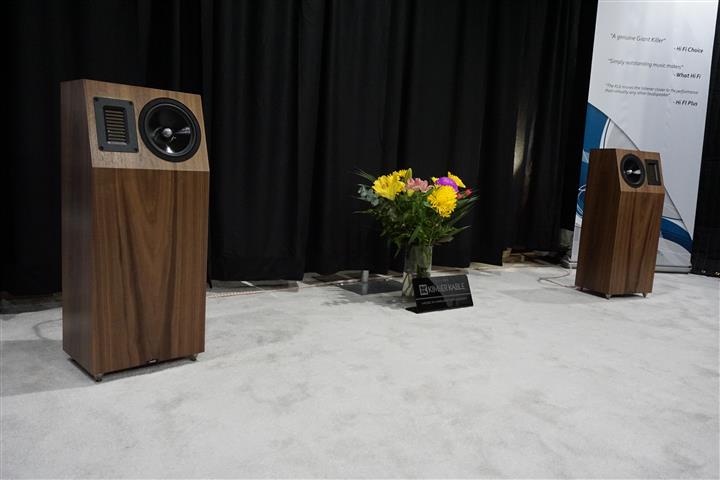 I dropped by the Neat Acoustics / Kimbercan room that was featuring the new Neat IOTA Xplorer loudspeaker ($5,999/pair) – set to ship this December. The speaker uses an AMT high-frequency transducer with 2 isobaric woofers within a sealed bass cabinet. The system was driven by a PS Audio amplifier and DAC with Kimber 8TC speaker cables. The system sounded full, punchy and quick, making for a fun listening.
Ruel Audio
The most unique product I came across at the show was that belonging to Ruel Audio, a new manufacturer all-the-way from New Brunswick.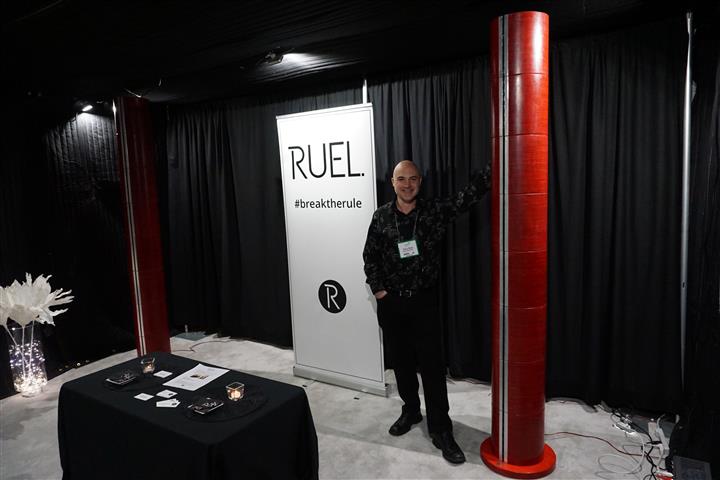 Terry Ruel, founder and designer, demonstrated the product for me and provided me with the details. The speaker, called the R7 ($36,000, as demonstrated with 8 modules / 8ft tall) is built by-order with a two-week turnaround. The Ruel Audio R7 is a one-way line source array that uses 1.5" full-range drivers.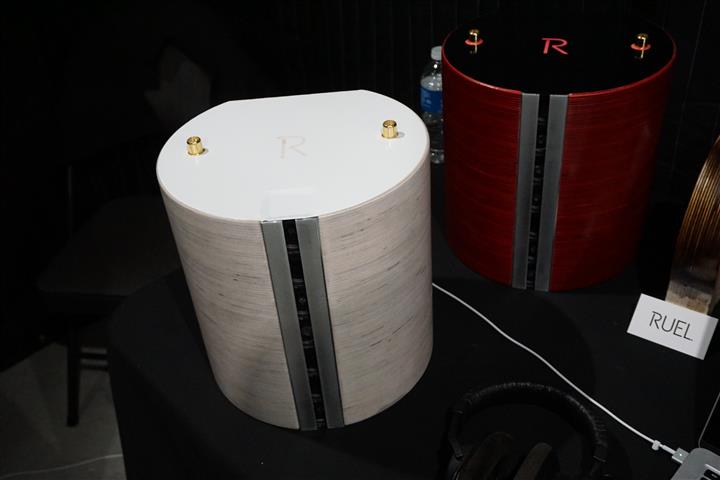 The speaker is comprised of modules, each just short of 1-foot in height. The objective is to order a sufficient number of modules to make the final speaker reach from floor-to-ceiling. 7-feet is the recommended height. The R7 comes with Class D amplification based on B&O ICE modules. Power output is 120 Watts per channel, which can produce over 100 dB peaks. I found the sound to be room filling with a volume that remained even regardless of how close or far I was to the speaker within the room, characteristic of an infinite line array. Overall, I found the R7 sounded relaxed but would have like to have spent more time evaluating it.
Erikson Consumer (Marshall / Human Touch)
Almost at the end of my tour of TAVES, I came across a booth that my feet wouldn't let me pass by.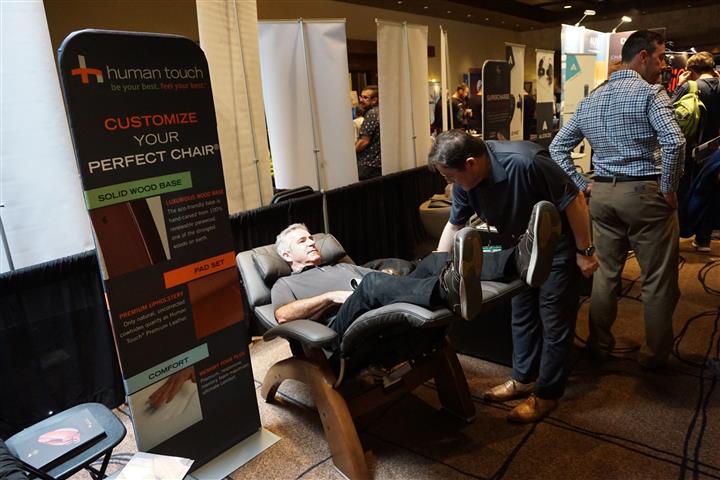 Turned out these were products distributed by Erikson Consumer. Human Touch is a company that specializes in precision-engineer chairs, including zero-gravity recliners like the pc610 ($4,500 to $5,500) as well as their NOVO XT massage chair ($10,999). With that name, it must be great and based on the demonstration…it totally was. In fact, I was so thrilled with how well the NOVO XT massage worked on me, I convinced a handful of others to give it a go. I had to laugh at seeing their faces display obvious pleasure at the experience. I can just imagine having one of these in my listening room.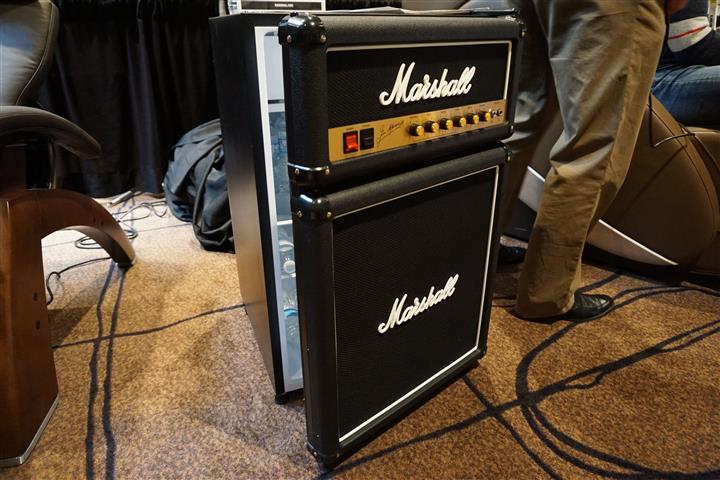 Erikson Consumer also distributes Marshall products, including this MF-110 bar fridge. As you can see the fridge is adorned with authentic Marshall Amp parts, as well as Marshall logos, fret cloth and knobs that dial up to 11. The fridge can store 36 small cans, 18 large cans, 28 beer bottles or 8 wine bottles – the possibilities are endless and I was now very thirsty.
On that note, I'll wrap my TAVES CES 2017 show coverage. Once again, lots to see and experience and a great time with friends! Cheers – George de Sa.