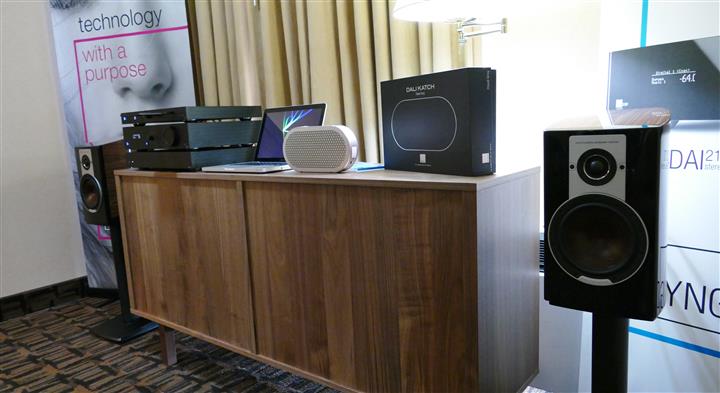 Nation Imports
Nation Imports is a high-end audio distributor. They brought a 2-channel system to TAVES that was based around Lyngdorf Audio components and DALI (Danish Audiophile Loudspeaker Industries) speakers and cabling.
Featuring a Lyngdorf Audio TDAI 2170 integrated amplifier (as equipped $4,999 USD), a Lyngdorf CD-2 redbook CD player ($3,995 USD), and a pair of DALI Epicon 2 stand-mount speakers with SMC and wood-fibre cone drivers ($9,995 USD), Nation's system created a wonderfully musical sound. All cabling was supplied by DALI and included their RM 230 ST-terminated speaker cables with rhodium connectors.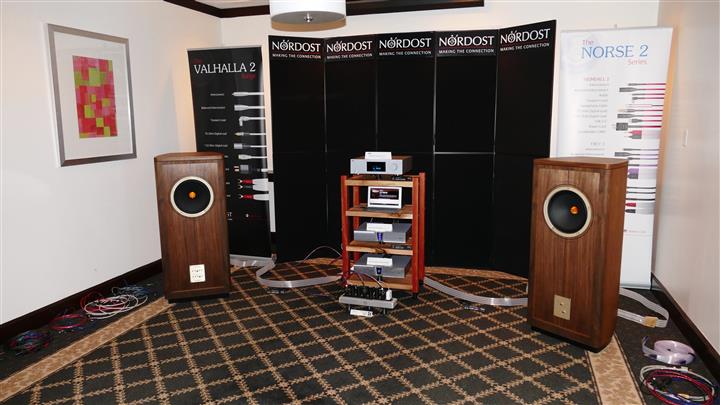 Nordost
Immensely successful American audiophile cable and accessory maker Nordost had a strong presence at TAVES 2016. In the Nordost room, they had an impressive 2-channel set-up that showcased a CH Precision transport + DAC ($38,000 CDN), a Viola Crescendo pre-amp ($22,500 CDN), a Viola Concerto stereo class 'A/B' amplifier ($22,500 CDN), and a pair of Tannoy Model GRF-90 loudspeakers ($25,000 CDN per pair). This rig was, of course, cabled-up entirely with Nordost's Valhalla 2 interconnects and speaker cables, as well as Nordost's Frey 2 power cords.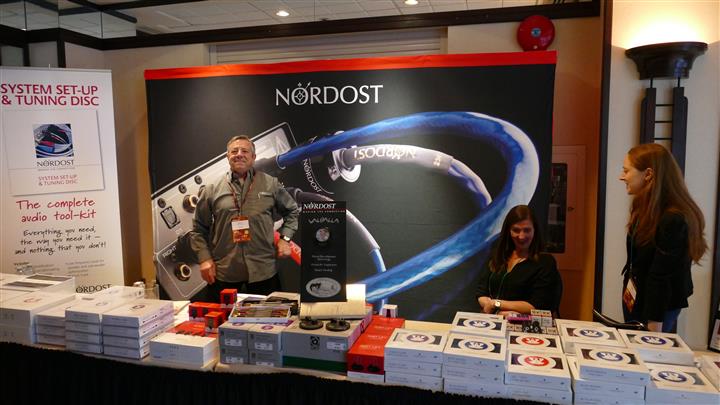 In the hallway outside their room, Nordost also had a fully stocked shopping area where audiophiles could ask questions from their knowledgeable sales staff and purchase stock from their extensive range of audiophile cables and accessories. Nordost's new cable lifter named the Sort Lift ($720 CDN per pair) was a Canadian premiere. This was also the first Canadian appearance of their new Frey-2 USB interconnect.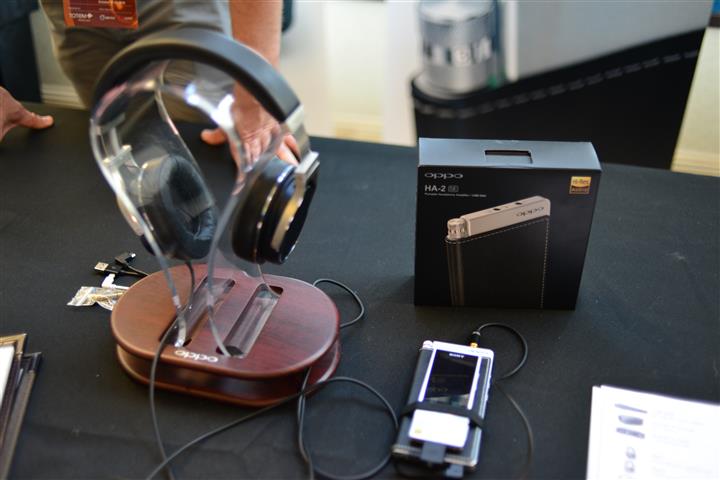 Oppo Digital
Carrying a full line of Oppo's digital products, Solutions AV of Markham Ontario were proudly celebrating their 10th year of bringing Oppo's amazing components to customers across Canada. Solutions AV premiered Oppo's new HA-2 SE portable headphone amplifier and DAC ($399 CDN) which uses the new Sabre ESS-9028 DAC chip and also has MFI certification for compatibility with Apple products and Android devices.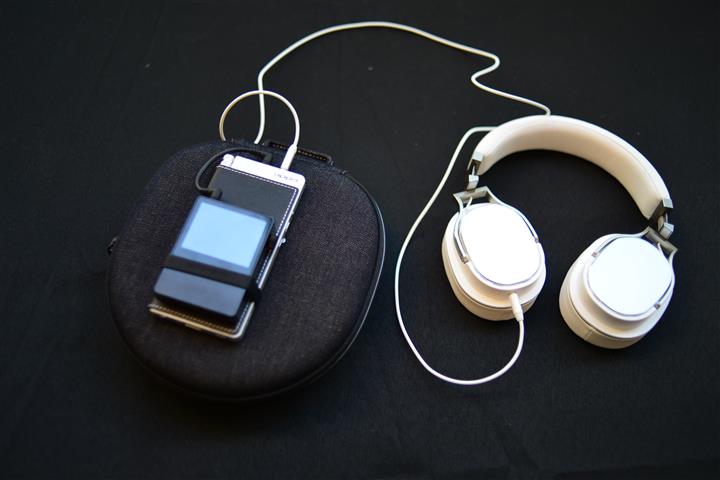 Solutions AV also brought Oppo's Sonica high-resolution DAC and Network Server ($799 USD) which can accept digital streams from DLNA-servers. The Sonica uses the new Sabre ESS-9038 Pro DAC chip which can convert PCM files up to the 32 bit / 384 KHz level and can also handle native DSD-encoded digital files up to the 256 level.
Oppo's Sonica series of Wi-Fi speakers are now available in two models: 1), the Sonic; and 2), the Sonica Grand (retail prices for both are yet to be determined). Featuring planar-ribbon tweeters, the Sonica Grand can be controlled via an App on any Smart-phone. Similar to speakers by Sonos, the Sonica Grand produced an impressive volume of sound with decent sonics. Different than Sonos, Oppo's Wi-Fi baby can handle Hi-Rez PCM-encoded digital files up the 24 bit / 192 KHz level.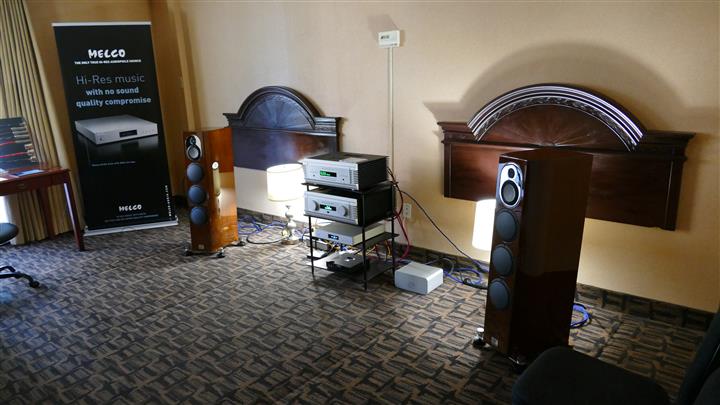 The Gramophone
Visiting Toronto from Edmonton Alberta, importer The Gramophone Distribution Company had two rooms set-up with a boat-load of equipment in both active and static 2-channel systems from ATC, Musical Fidelity, Melco Audio, and Marten Design.
In their 'cost-no-object' room, they proudly showcased the Canadian premiere of the Melco Audio N1Zh Music Server ($5,500 CDN). A Chord Audio Hugo TT DAC, a Musical Fidelity Nu-Vista CD Player ($11,995 CDN), a Musical Fidelity Nu-Vista 800 integrated amplifier ($13,995 CDN), and a pair of Marten Design Quintet loudspeakers ($60,000 CDN) in an irrationally beautiful 'Gloss Walnut' finish completed this system. Hooked-up with a full loom of Luna Cables, the dynamics, scale, and subtle textures offered by this 2-channel system were all striking; and memorable.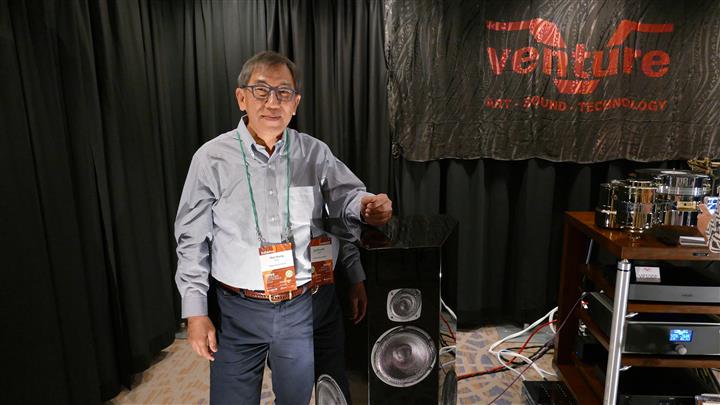 Venture Audio PTE Limited
Travelling all the way from Singapore to Toronto, it was a pleasure to sit down and chat with Njoo Lee Ming, sales and marketing manager of Venture Audio. Venture brought a Triangle ART Reference turntable ($35,000 USD), a Venture VP100P phono pre-amp ($32,000 USD), a Venture VP200D 2-channel stereo pre-amplifier with built-in DAC ($60,000 USD), and their flagship fully-active Venture Quantum 8 loudspeakers ($74,000 USD per pair) to TAVES.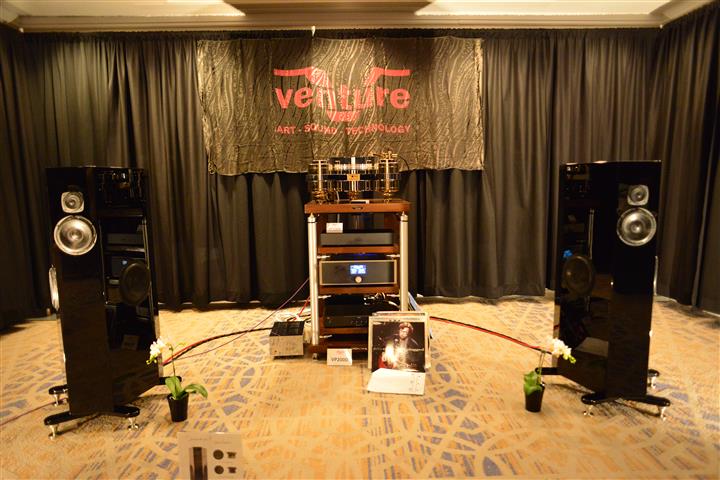 Driven by a 2,400 watt class 'D' internal amplifier, the pair of Quantum 8 speakers delivered a remarkably accurate, coherent, and non-fatiguing sound. All of the cables and the A/C power distribution system featured Venture's own in-house designed and branded 'Venture' models. To house this awesome 2-channel system, Venture used a Krolo Design equipment rack. Overall, Venture's system sounded phenomenal. Their room easily made my 'Top 5' two-channel systems at TAVES 2016 list.
Woo Audio
After chatting briefly with Woo Audio's CEO Jack Wu, it struck me that Woo Audio is utterly obsessed with building better sounding headphone amplifiers. Instead of resting on their laurels and ponying-out the same components as the previous year, once again, Woo pushed the sonic envelope of headphone amplifier technologies harder and farther than I'd once thought possible.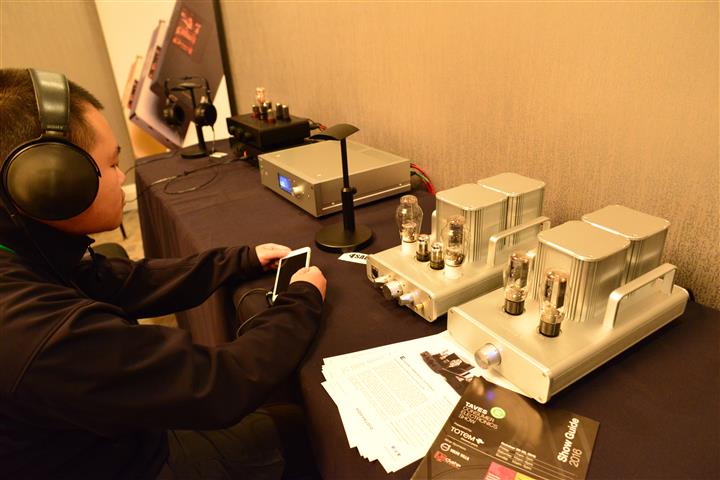 For TAVES 2016, Woo had 8 separate listening stations set-up with different digital sources, various Woo Audio headphone amplifiers, and many different cutting-edge planar-ribbon sets of headphones from different OEMs.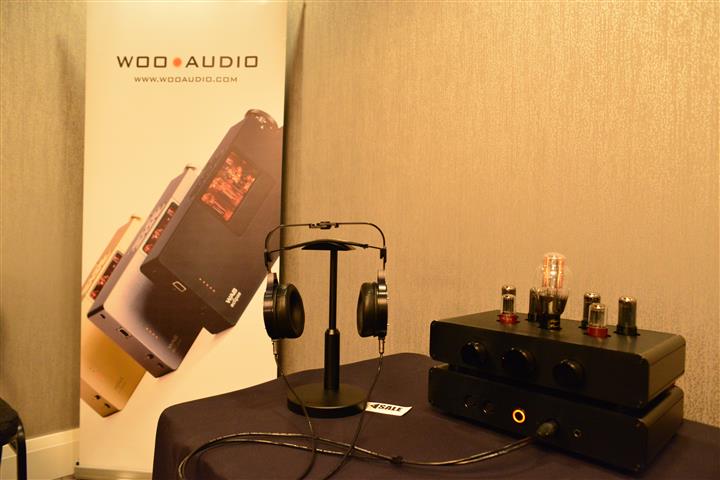 The diminutive Woo Audio Eclipse headphone amp + DAC ($800 USD) is an all tube design, class 'A', SET, transformer-coupled, portable headphone amplifier. Featuring a Sabre ESS 9018 K2M reference DAC chipset, an OCC single-crystal copper (Cu) wired output transformer, and a rechargeable Lithium-ion battery, the WA8 Eclipse offers asynchronous USB compatibility with Mac, PC, Android, and iOS devices. It can decode incoming PCM digital files up to the 24 bit / 192 KHz level.
Woo also brought their new proto-type WA-22 Special Edition fully-balanced, full sized, headphone amplifier (projected MSRP $6,000 USD). For the Canadian premiere of the WA-22 SE, Woo used a Sony HAP Z1-ES ($2,000 USD) as a digital source. Combined with different pairs of Abyss headphones by JPS Labs ($4,500 USD to $5,500 USD), the sound of the new WA-22 Special Edition was reference calibre.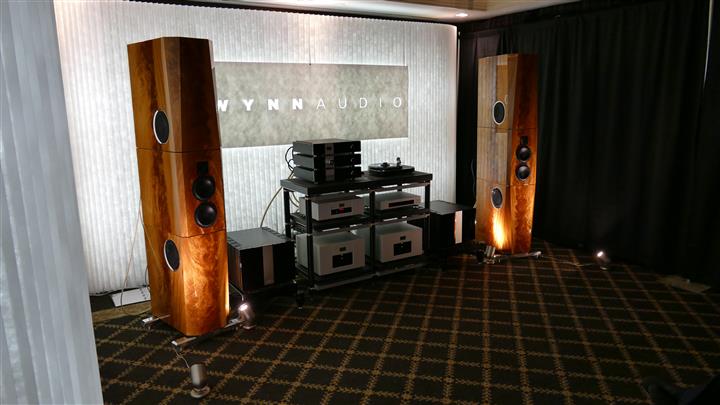 Wynn Audio
Based out of Richmond Hill Ontario, Wynn Audio swung for the fences with a 'State of the Art' 2-channel reference system that showcased Switzerland's Goldmund and Thales components.
Wynn's reference system featured a Goldmund Eidos-17 CD transport ($18,000 CDN), a Goldmund Mimesis 20-H DAC ($88,000 CDN), a Thales Compact turntable ($18,000 CDN), a Tidal (German) Prescencio phono stage and pre-amplifier ($90,000 CDN), and a pair of Goldmund Telos 1,000+ mono-block solid state amplifiers ($140,000 CDN per pair).
Combined with customizable equipment racks from Critical Mass Systems ($7,450 CDN), a full loom of Danish Zensati Seraphim cables ($220,000 CDN), and a monstrous pair of awe-inspiring Tidal Sunray speakers ($200,000 CDN per pair), this 2-channel system represented an all-out assault at achieving 'State of the Art' sound quality.