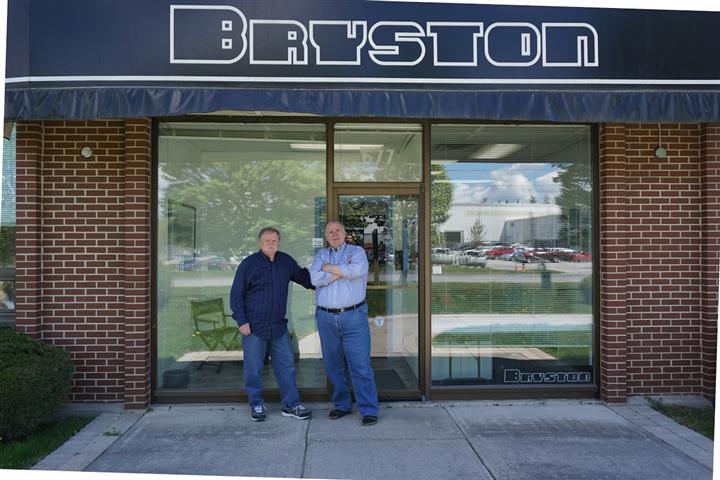 Over the years Editor-In-Chief Suave Kajko and I, have had the pleasure of hearing Bryston products at audio shows and dealers on many occasions.  However, our appreciation for what Bryston offers goes much deeper than that.  In fact, each of us have been so impressed by the quality and performance of Bryston offerings that we  both use Bryston components within our own reference music systems.  Yet despite our high appreciation for Bryston products, neither of us had a chance to get out to Bryston's factory for a visit – until recently.
It was during the summer of 2016 when we made the drive to Bryston headquarters.  For those less familiar, I should let you know that Bryston Limited is a Canadian audio product manufacturer that distributes their products internationally.  The company's headquarters and factory are located in Peterborough, Ontario, just over 140 kilometers from downtown Toronto.  Bryston produces a full range of audio products, including digital audio players, DACs, surround sound processors, preamplifiers and amplifiers, loudspeakers, phonostages and now, even turntables.
Arriving at Bryston, we received a friendly greeting from Brian Russell, President, who led us to their lunch room for a coffee.  From there, we were off on the factory tour.  Bryston's factory is large facility, at approximately 20,000 square feet.  The site serves host for the manufacturing of all Bryston electronics but does not include their loudspeakers.  Bryston loudspeakers are manufactured off-site at Axiom Audio's massive facility in Dwight, Ontario, a couple hours north of the Bryston headquarters.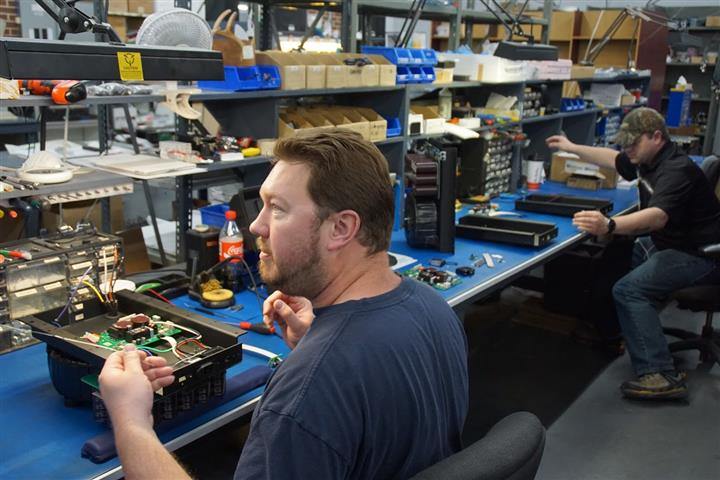 When entering the manufacturing facility, one might expect to hear the buzzing and whirring of machines, and clanking of conveyors.  However, the Bryston factory is very quiet, the main reason being that Bryston products are hand built by a team of about 40 employees.  Rather than snaking conveyor belts and automation, you find workbench stations with skilled technicians applying their skills to the assembly of every product.  This personal touch to production is something special and adds to pride of ownership.  We looked on as a couple staff were hand soldering surface mount circuit boards, including 28B power boards and 4B3 LED boards.  The attention to detail was obvious.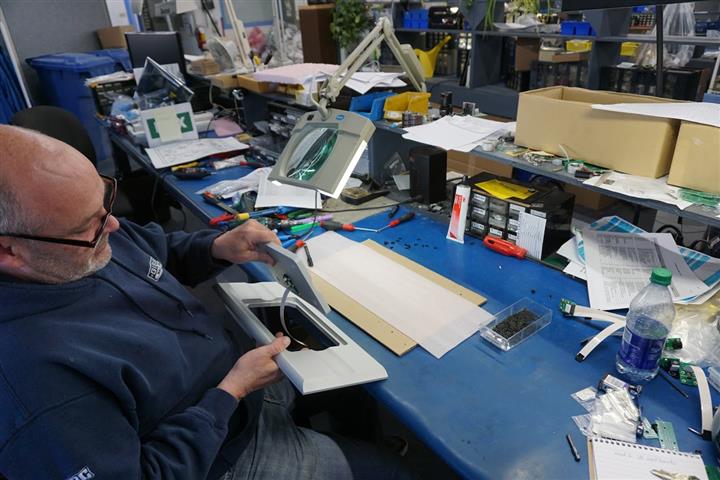 Moving along in the factory we were shown a station where a technician was assembling Bryston's new Cubed Series amplifier faceplates.  I noted that the new Cubed faceplates were actually two pieces.  It turns out that the rectangular protrusion centred on the new faceplate is an insert plate that covers the LED and power button module.  In Bryston tradition, form follows function.  I asked Brian if the new two-piece plate was for ease of servicing but his answer was far more intriguing than I expected.  Brian let us know they had an additional feature in mind for the Cubed Series, which wasn't yet ready, so as a future proofing measure they added the insert plate for easy access.  I blurted out – is it for power meters?  All I got was wide eyes and a smirk, so we'll just have to wait and see.
(Video) insights about the development of the Bryston Cubed Series amplifiers with James Tanner, VP of Sales and Marketing:
The Bryston facility in Peterborough focuses on product assembly and testing, rather than parts manufacture.  Parts production is primarily performed by Bryston's third-party suppliers.  For instance, all the CNC cutting, parts anodizing and finishing, aluminum and steel stamping and casework painting are completed by outside suppliers.  That said, Bryston does do a limited amount of parts manufacturing on-site; for instance, we were shown a very interesting looking circuit board manufacturing tool.  Brian explained that it allows them to easily design and create different circuit boards right on the spot.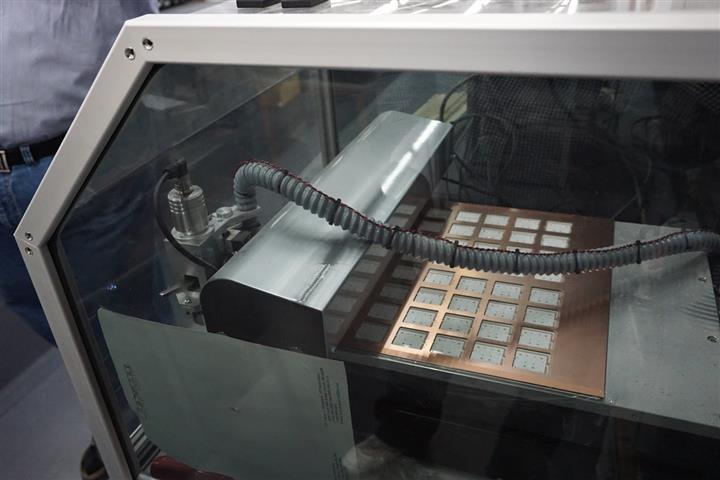 In addition, there was a special area reserved for silk screening parts, as found on the front and rear of most Bryston components.  I had to chuckle at the caption on the door of their paint kiln, which said: "BRYSTO (the "N" had gone missing) Amplifiers & Pre-amps, Watts & Watts of POWER".  Obviously a sense of humour goes into every Bryston product.
As we walked along the aisle, Brian stopped us in front of a parts rack.  He picked up and showed us an assembled amplifier circuit board and pointed out that there is no difference in the amplifier circuit in any of their amps.  From their 2.5B through to the 28B Bryston uses the same amplifier board, it's just the number that varies.  This fits Bryston's approach of not doing better and best but rather building each product the best for its intended application.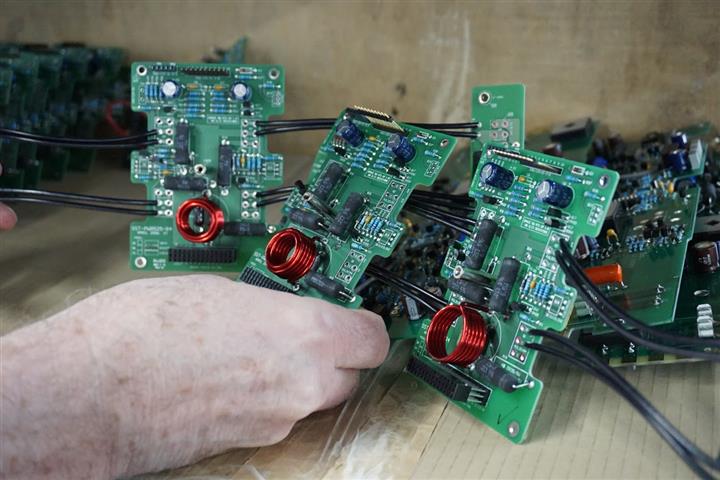 Bryston takes great pride in the quality, reliability and durability of their products, backing them up with an industry leading 20-year transferable parts & labour warranty on all analog products and 5-years on digital products.  When it comes to their amplifiers, Bryston subjects them to extreme stress testing at their burn-in station.  All amplifiers, once assembled spend a minimum of 100 hours being cycled on for 1 hr and off for 1 hr.  During the on cycle, they are fed a square wave input signal that runs them to their maximum output.  100 hours on this bench is equivalent to about a year of normal use.  It's like a boot camp for amps that they must pass to get their badge of health.  There were a couple of undressed 28B-SST2 monoblocks, along with a number of the new Cubed Series models, including the 4B3, 7B3 and 14B3, getting burned-in.  Brian informed us that all amplifier production was now Cubed Series except for the 6B and 9B, which were in the works.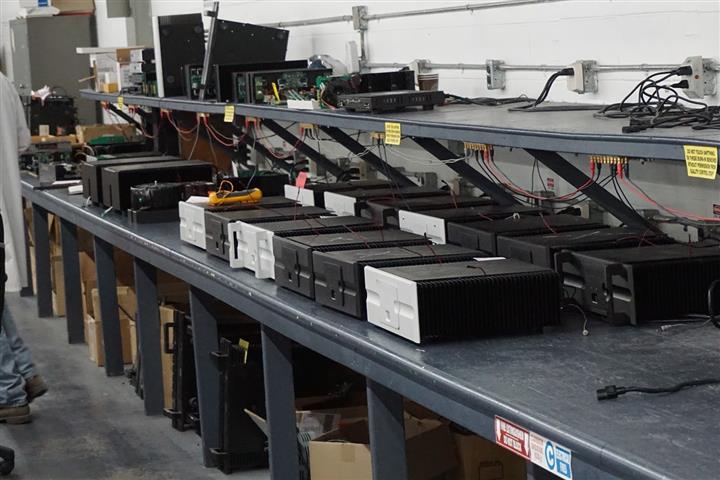 After burn-in, amplifiers as well as all other Bryston electronic products go through a careful inspection and testing routine to validate that they meet Bryston's exacting specifications.  If a product passes end-to-end testing, it moves on, while all failures are examined to determine the failure cause so that continual improvements can be made to parts, products and process.  Unique among audio product manufacturers, is the fact that Bryston actually includes a copy of the original test results certificate in the box with each product shipped.  We had the pleasure of meeting Jen, a lady who performs the final checkout on many of the Bryton products – you'll find her very signature on many of those certificates.
Over in the packing area, we met Paul, who was busy packing up amplifiers.  Brian told us that 42 years ago, packaging for an amplifier weighed about 25 pounds but fortunately Bryston was approached by a company with an ingenious light foam packaging material.  The foam was much lighter and substantially increased protection over the packing used at the time.  Bryston uses this foam to this day, as shipping related damages over the years have been miniscule.
We popped by the engineering department – Bryston skunkworks, a walled off area with cubicles and tons of testing equipment.  Mike Pickett, Service Manager was busy in his cubicle doing what he does best, supporting Bryston customers.  One of the items that the engineers were busy developing was Bryston's all-new BDP-π Digital Player.  We had a chance to take a look at one, top off of course.  It's great to see a 40+ year old company still plugged into current customer demand – the secret of survival.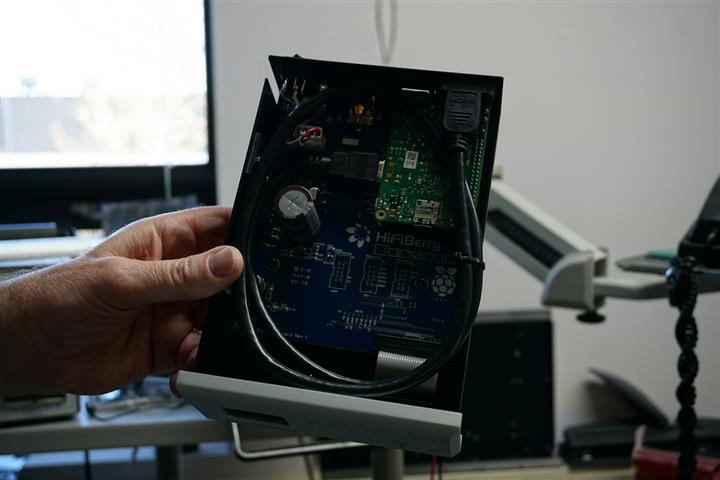 Next stop was Bryston's parts locker, a large caged off area where Bryston maintains parts for over 40 years of production.  If a Bryston product ever requires a repair, this is where the parts would come from.  Across the ways we were also shown a closet where Bryston maintains record cards for all the products it has shipped out over the years – we noted a box containing ones for their first preamplifer, the 1B.
Along with manufacturing, Bryston has a warranty and repair area.  Here we got to see a number of old amplifiers, obviously still desired for use that were being brought up to spec.  There was even an early generation 4B amplifier there – identified by its slim silver pipe handles.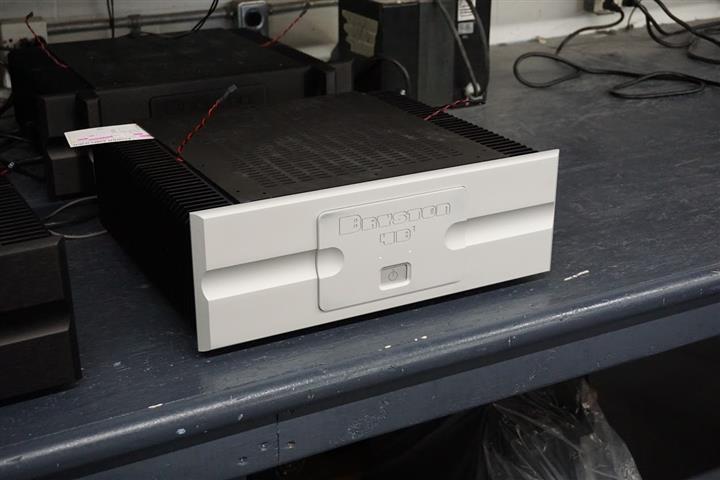 Following the manufacturing plant tour, we got a chance to sit down with James Tanner, VP of Sales and Marketing, and spoke with him about the new Cubed Series of amplifiers.  James explained that about 5-years ago Bryston was approached by a young engineer, Dr. Ioan Alexandru Salomie, who developed a revolutionary new circuit concept.  Bryston hired Alexandru to work for them and over 2 years he co-developed the Salomie input stage, an all-new input circuit with 10 times less distortion than the one used in Bryston SST2 amplifiers.  The new Salomie input stage was patented and deemed significant enough to introduce a new amplifier series – the Cubed Series.  Sadly, Alexandru Salomie passed away before seeing the final implementation of his work.
We also spoke with James about Bryston's current sales.  James let us know that in years past Bryston sales had traditionally been split 50/50 between consumer and professional but today, 80% of amplifiers are for consumers and on the loudspeaker side, it's closer to 90% consumer sales.  Though Bryston sells its products internationally in over 65 countries, North American sales make up 65% of the total and U.S. sales are particularly strong these days.
Bryston has a substantial partnership with Axiom Audio in manufacturing Bryston-branded loudspeakers, which make up about 20% of Bryston's overall product sales.  James showed us his latest product with Axiom, the BryFi BW-1, a wireless, portable multi-room music system that essentially incorporates two Bryston Mini A loudspeakers.  More details can be found in the press release on our website HERE.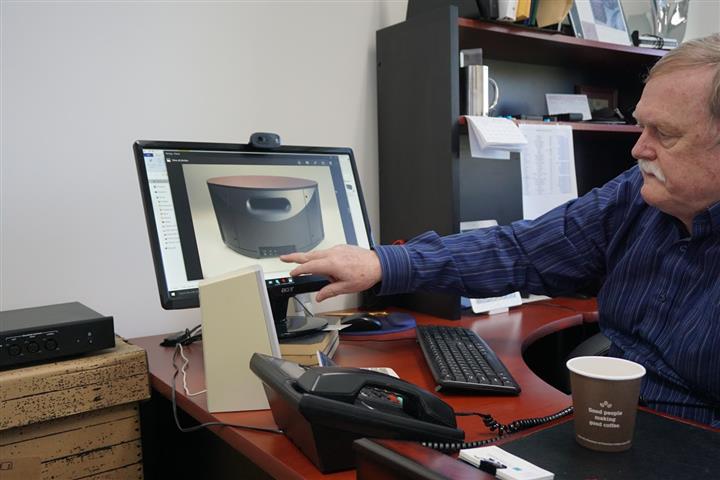 What's next?  James told us about his latest project with Axiom.  It's a full-range line source loudspeaker system that he is calling the T-Rex.  Formidable name – keep a watch out for it.  In December, Bryston will also be releasing two new subwoofers –  one will be a bi-pole design using two opposing 8-inch drivers and another model using two opposing 12-inch drivers and an internal 600 watt Bryston amplifier.  And, most interesting was the news of Bryston's first turntable, a partnership with a reputable Italian manufacturer named Goldnote.  In fact, we were able to get our hands on a sample turntable shortly after our Bryston tour.  You can find Douglas Brown's review of the Bryston BLP-1 turntable HERE.
During our visit, we also got a chance to ask James Tanner a few questions on camera:
Our visit to the Bryston headquarters was concluded with a brief history of the company, as we stood beside a large display case, showcasing classic Bryston products, in the front lobby. Originally incorporated in 1962, Bryston was purchased in 1968 by John Russell, a former NASA engineer, who had moved from the U.S.A. to Canada.  At that time, Bryston was a medical equipment manufacturer, specializing in a blood analyser known as the Aggregometer.  It wasn't until 1974 that John's son, Chris Russell (now CEO at Bryston) developed his first amplifier, the Pro3.  Chris managed to sell ten Pro3 amps to Eastern Sound, a recording studio located in Yorkville Village, Toronto and convinced John Russell to re-tool the factory for amplifier production.  Interesting enough, Stuart Taylor, Chief Engineer at Bryston (where ST and SST amplifiers get their initials) was employed at Eastern Sound back in those days.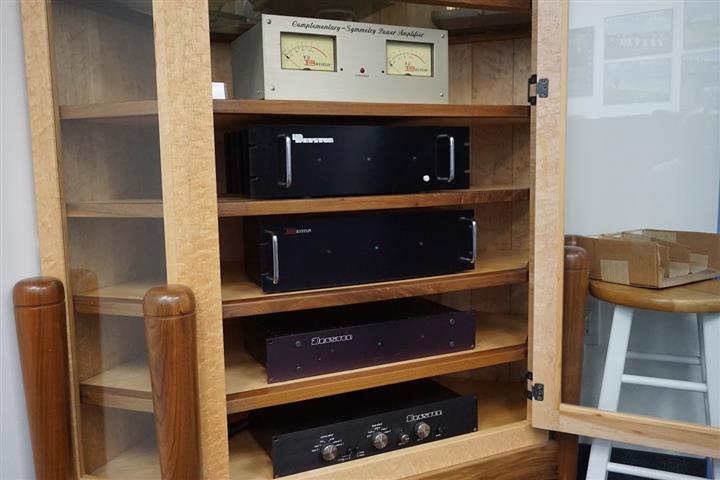 On exhibit in Bryston's front lobby is one of the original Aggregometers, along with a Pro3, the first 4B amplifier – serial #4001, a first gen 3B, the first 2B #2001 and Bryston's first preamplifier, the 1B.  I'm sure the late John Russell would be proud to see what his company has grown to become today.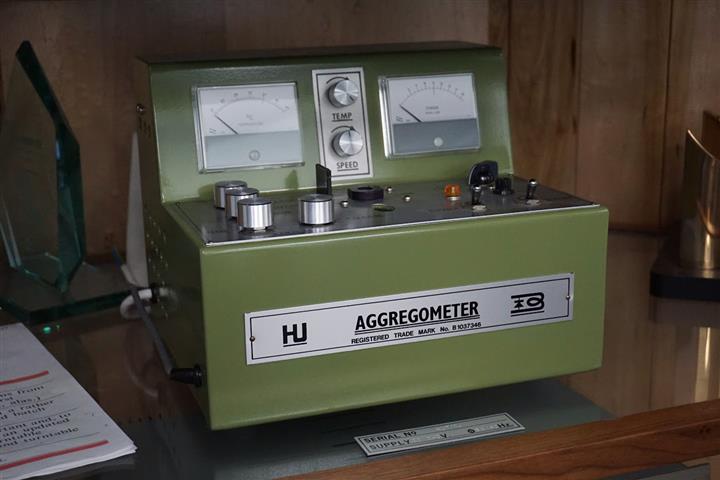 We said, so long to James and Brian and on our way out got a friendly visit from Bryston's adopted mascot, the neighbourhood groundhog, named Charlie.  A perfect end to our visit!