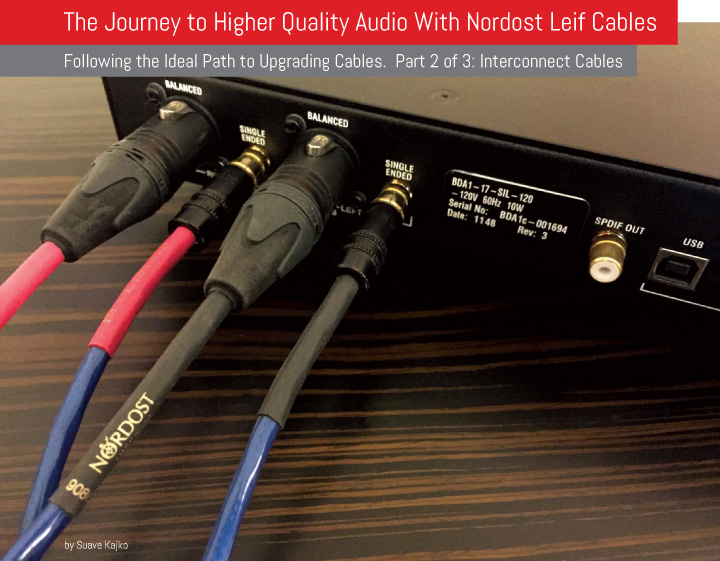 Following the Ideal Path to Upgrading Cables.  Part 2 of 3: Interconnect Cables
You may not spend much time thinking about the cables behind your music system because they remind you of a snake pit from an Indiana Jones movie.  If you grab the wrong cable it just might bite you.  Or maybe your thoughts are less imaginative and you don't think about the cable nest because it's out of sight, out of mind.  What a lot of novice music listeners don't realize is just how vital of a role cables play in the performance of an audio system.  But the truth is that if you ignore cables, you're simply not getting the best sound from your speakers and electronics.
Welcome to part 2 of this 3-part series in which I suggest how to extract the very best sound out of your existing sound system by upgrading the stock cables, often included with audio components, to the Nordost Leif Blue Heaven series cables.  I selected this series because it delivers tangible benefits, it is attractively priced, and offers excellent value for your money.  If you followed my advice in the previous issue of NOVO, you should now be basking in the joy of improved sound from your existing system.  Perhaps you also took the time to clean up all the dust bunnies behind your system – well done if you did!  If you haven't followed my advice, it's not too late – you can read part 1 of this series at https://novo.press/the-journey-to-higher-quality-audio-with-nordost-leif-cables.
In part 1, I upgraded the stock OEM power cords with the Blue Heaven power cords and the results were significant.  I was rewarded with a lower noise floor; crisper, extended high frequencies; and tighter, more articulate bass frequencies.  The soundstage also improved by gaining a greater width and depth.  Combined, these benefits translated into sound that was more musical and allowed me to peer deeper into the music.  So why did I start by upgrading the power cords?  Because that's where you'll get the best bang for your buck.  When upgrading cables, audio experts suggest following the flow of the power / signal path.  This means you would upgrade the power cords first, then the interconnect cables and finish off with the speaker cables.
With the power cords upgraded, it was time to move on to replacing the interconnect cables.  To refresh your memory, my test setup included a: ModWright Instruments LS 100 preamp and KWA 100 amp; Jeff Rowland Continuum S2 integrated amp; Raidho C 1.1 speakers; Sonos system; Bryston BDA-1 DAC; and Gold Note Giglio turntable.  While I normally use higher-end Nordost and Skogrand cables with these components, the great thing about using high-end audio gear with entry-level cables is that the gear is so transparent, it allowed me to truly "hear" the performance of the cables.
As the next step in my upgrade path, I tested the Blue Heaven RCA interconnects ($374.99 US, 1 meter pair) between the DAC and my Jeff Rowland integrated amp, as well as the ModWright preamp.  These interconnects can be purchased with either unbalanced RCA or balanced XLR connectors.  Their construction employs four, 24 AWG, silver-plated 99.9999% OFC solid core conductors which are wound in such a way that eliminates the need for unnecessary fillers or padding.  Nordost uses high-grade FEP insulation in these cables for its superior dielectric performance.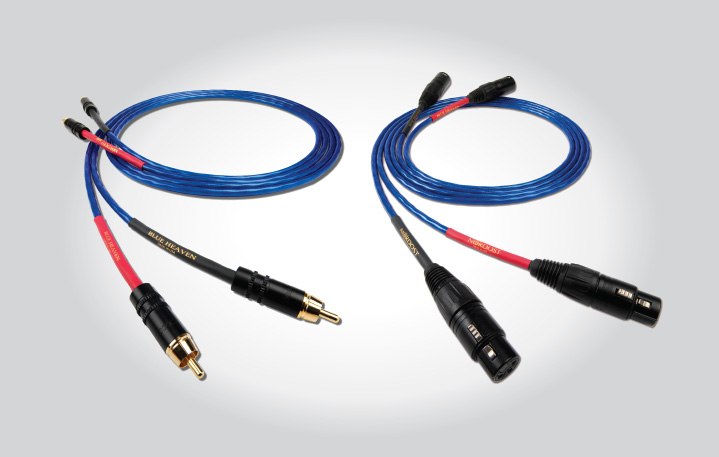 Trying the Blue Heaven RCA interconnects with my components resulted in another incremental improvement, over the upgrade that the Blue Heaven power cords brought on board.  The background became slightly blacker, which in turn allowed the vocals and instruments to offer a better presence, when listening to various acoustic tracks from the "Sons of Anarchy" soundtrack.  It was as if a faint fog had dissipated from in front of the music system, allowing a cleaner, more transparent sound to immerse.  The midrange, in particular the vocals on songs like "John The Revelator", "Son of a Preacher Man" and "Hey Hey My My" sounded more organic, resolved and focused.  Similarly, instruments sounded crisper and more palpable, with a slightly brighter presentation, which gave the sense of increased resolution especially in the higher frequencies.  Thanks to the quieter background, the echo of the vocals on the track "House of the Rising Sun" also decayed at a slower pace, making it sound more natural.  The bass on all the tracks I listened to also benefitted from better definition and improved coherency. These qualities made these recordings sound a few steps closer to a live acoustic experience.
XLR interconnect cables are the preferred choice of many musicians, music technicians, and audiophiles because they resist picking up errand interference. This is particularly true over long cable runs.  Will XLR interconnects make your system sound better?  The truth is that this depends on your audio components and whether their internal circuitry is full balanced and well designed.  In some cases balanced XLR connections will sound better, in other cases unbalanced RCA connections will sound better – the only way to know for sure is to try both types and judge for yourself.  You could also look up your audio component online since reviews will likely make comparisons between the performance of the balanced XLR and unbalanced RCA outputs.
The Blue Heaven XLR interconnects sport the same materials and construction as the Blue Heaven RCA interconnects, the only difference are the connectors.  When I tried the Blue Heaven XLR interconnects ($374.99 US, 1 meter pair) with my components, I observed a little more air and openness in the soundstage, which placed the instruments and vocals even further apart from each other.  The improvement was subtle, but noticable.  For someone who loves the three dimensionality of well recorded music, this was a real treat.  Orchestral and acoustic recordings benefitted from this improvement the most.
Whether you enjoy listening to the screaming of Dave Grohl of the Foo Fighters or the smoothness and sophistication of Frank Sinatra, integrating good quality cables that match your components and speakers will ensure that your system will perform at its peak.  If you love your music and have never upgraded the cables in your system, you should really give it a try.  Your system will sound only as good as the weakest link, which is often the sneak pit behind your audio stack.  Many listeners take a step by step approach to upgrading, starting with a single power cord or by upgrading all the power cords at once, before replacing the interconnects and speaker cables.  I prefer this approach as well because it allows you to get a true sense of the improvement each cable brings on board and also helps to spread out the cost of upgrading over time.
The Nordost Leif Blue Heaven cables are an excellent choice for listeners looking to push the performance of their existing system to the limit.  Offering a high ratio of performance versus value, these cables are well priced and attainable to just about everyone that's passionate about music.  To learn more about Nordost cables, check out www.nordost.com.
CLICK HERE to check out Part 3 of this article as I move higher up the "sonic ladder" by integrating a Blue Heaven USB interconnect cable and speaker cables into my system.