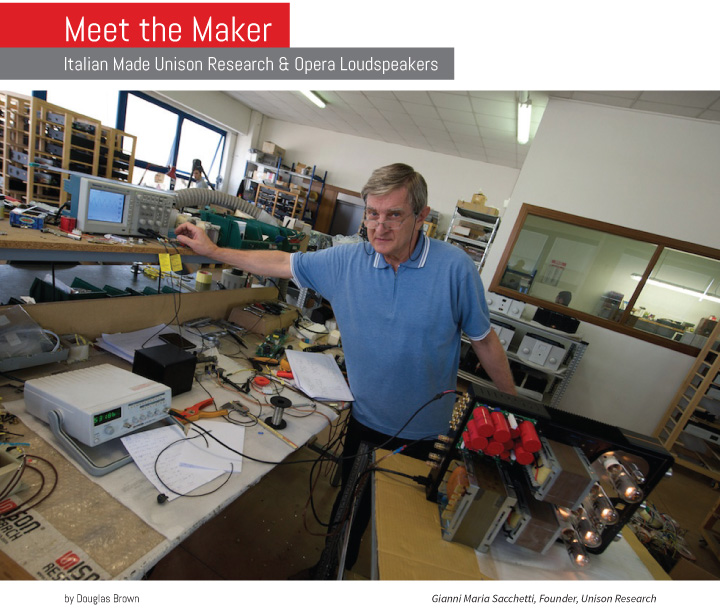 The consumer audio industry around the world is driven by remarkably passionate and sometimes eccentric individuals. For many of these individuals, audio is not just their business, it is a lifelong hobby. Welcome to NOVO magazine's "Meet the Maker" series of stories that connect us with some of these individuals as we ask what makes them tick as music lovers and learn about insights about their contributions to the audio business. In this issue, we speak with Gianni Maria Sacchetti, the Founder of Unison Research.
Douglas Brown (DB): What made you a music lover and what motivated you to start manufacturing audio equipment as a business?
Gianni Maria Sacchetti (GMS): Music is an art that involves all people, but not all people appreciate and pursue this art with the same levels of intensity. Education, culture, sensitivity, and many other factors determine this intensity.
I had a parent who was both a concert pianist and a composer. This helped create a profoundly deep passion for music within me. A musician does not limit himself or herself to having only executive or technical skills.
Creating hi-end audio equipment that faithfully reproduces music and that expresses my way of feeling and appreciating music was the main reason for creating a company of "musical reproduction instruments".
DB: How important do you think it is for an audio company to be founded by musicians and/or people who love music?
(GMS): Companies that produce hi-end audiophile devices are different from other companies. Audiophiles seek to reproduce live musical events as accurately as possible through recorded mediums. Accurately recreating any live musical event — not only in terms of the timbre of musical instruments, but also in a realistic orchestral stage reconstruction — is what we're striving to achieve.
In order to reach this level of sonic accuracy, audio companies need to have an advanced engineering knowledge, as well as a passionate musical knowledge and sensitivity that musicians and music lovers innately understand.
A hi-end audio company founded and run by people who are musicians will undoubtedly be better at achieving a natural, organic, and believable sound.
DB: Do Unison and Opera share design work, manufacturing processes, and/or engineering knowledge?
(GMS): Opera and Unison are located within the same building and our CEO is the same; Mr Giovanni Nasta. Our brands have many distributors worldwide and a number of our employees are actively involved with both companies.
Opera and Unison have a strong and close collaboration. Even during the design process, we share a lot of information and engineering knowledge.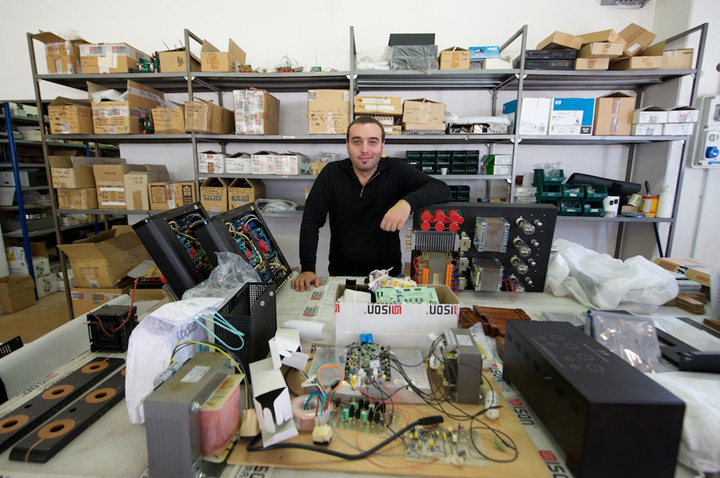 Bartolomeo Nasta, Export Manager, Unison Research and Opera Loudspeakers
DB: In terms of sales volume and audiophile recognition, what are your most successful products to date?
(GMS): Differences exist between our brands, because the life cycles of the two product categories — loudspeakers and components — are completely different. Opera re-designs its speakers every 5-7 years. For Unison's products, the life cycle is much longer. Some of Unison's products have been in production for more than 10 years and are still selling very well.
The most successful product in Unison's history was our Simply Two amplifier. During its life cycle, we sold more than 30,000 units.
Regarding current gear, our most successful tube products are the Simply Italy, the Triode 25, and the Sinfonia. From our Unico line, the Unico Primo, Unico Secondo, and our Unico CD Primo are our top selling pieces.
DB: Opera and Unison both manufacture gear for hi-end audiophile consumers, for mid-fi customers, and also for the entry-level market. Is there a "trickle-down" effect of higher-end technologies filtering down to your mid-fi and entry-level products?
(GMS): From our top range to our entry-level gear, all of our customers will experience the soul of Unison's products. We feel it's very important to maintain a level of consistency throughout the entire product line.
When we consider creating something new, we always think of producing a line of products which offer people better choices and superior quality within every price range.
We usually start from the top of the line and then engineer downward. With the Unison Triode 25, however, we don't have a product on top or below with the same features. The Triode 25 was designed from the ground up. It has, in fact, been one of our most successful products to date.