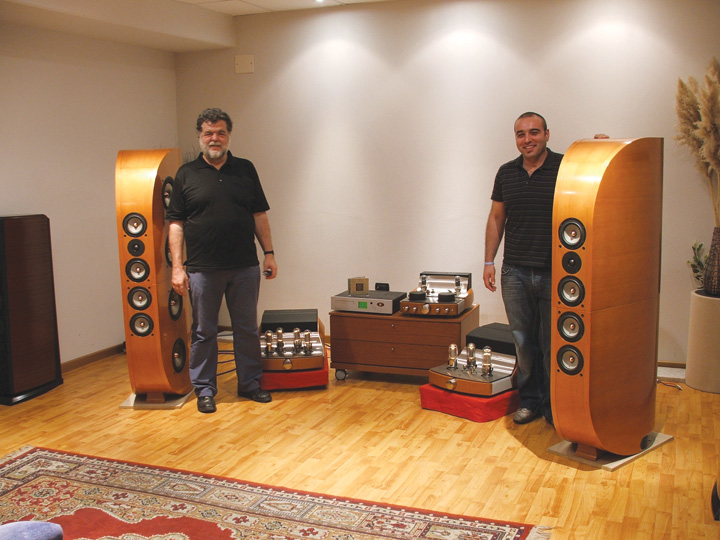 Somebody has to test all the Unison Research electronics and Opera loudspeakers! Left: Mario Bon, Speaker Engineer;
Right:  Bartolomeo Nasta, Export Manager
DB: Are there any special materials or patented engineering processes which Opera and Unison use that you'd like audiophiles to know about?
(GMS): Decades of our continuous R&D work has resulted in Opera and Unison producing products with very high quality standards. We are constantly refining our circuit designs, upgrading parts, and improving the sound quality of all of our products.
Through decades of on-going effort, we've gained a vast technical expertise that's both precious and exclusive. This wealth of engineering knowledge and manufacturing know-how is the real value included in every one of Opera's loudspeakers and Unison's components.
At trade shows, live product demonstrations, and even in press releases, our technicians always provide detailed technical information for the gear being demonstrated. We believe it's important to allow audiophiles and music lovers to understand how our equipment is designed. For obvious reasons, we cannot disclose too much about our patented technologies. We do, however, try to provide our customers with coherent answers to their technical questions.
DB: What new products are you releasing to the North American market?
(GMS): Unison Research is a brand focused on two channel sound, but we're also developing new technologies for the growing multi-channel market.
Next year we'll be launching some new products which we're very excited about. We're moving forward with cutting-edge technologies and also creating new products to expand our existing lines.
Although I cannot disclose too many details at this time, for Unison, we will be expanding our Max speakers (high efficiency loudspeakers) line. We'll also be introducing a new tube amplifier which will reaffirm Unison Research's strong commitment to vacuum tube gear.
We are even expanding our digital product line with some interesting new products.
Regarding Opera loudspeakers, we're currently working on two different segments which will soon be unveiled.
DB: What are your favourite genres of music and what kinds of concerts do you attend most: rock, classical, jazz, blues, pop or other?
(GMS): I love going to concerts regardless of what style of music is being played. The charm of live events, to which is added the emotion of listening to sounds and music being created on a live stage, has always made me love live music. My personal taste is more directed towards classical symphonic music, and the baroque and jazz genres.
DB: How often do you attend live performances to update your mental reference of what live music sounds like?
(GMS): To me, attending live musical events is very important. I try to be at live shows as much as my schedule permits. Each and every month I go to a couple of concerts of different genres.
When I dedicate myself to the design and sonic calibration of equipment, listening to live music is my first point of reference. Building gear that tangibly recreates the feelings and emotions created by live musical events is a fundamental objective. We try to achieve this goal by making equipment that I like to call "music reproduction tools."
DB: Where do you see Unison Research and Opera Loudspeakers as a company (sales volume, staff size, product lines, and market share by value) ten years from now?
(GMS): We are constantly investing in research to give our customers the best audio experience they've ever had. Within the next 10 years, I envision Opera and Unison continuing to deliver the joy and pleasure of listening to music to as many people as possible. Music is an emotional experience. We want to offer this experience to all of our customers by listening to music played through our products.