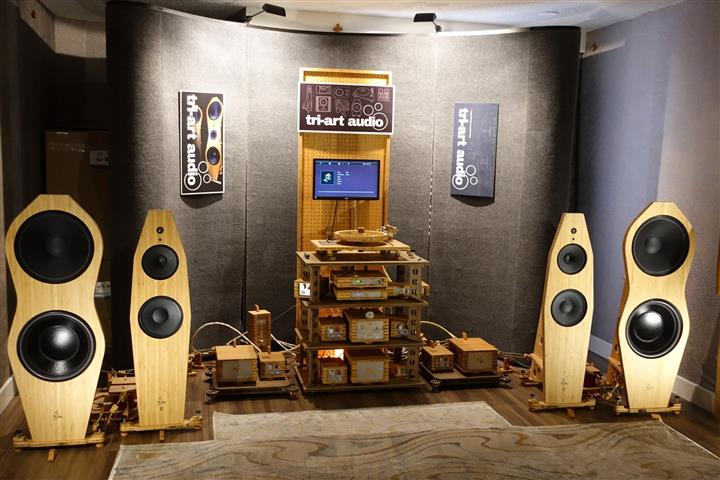 TRI-ART AUDIO
Tri-Art Audio of Kingston, Ontario are great believers in bamboo. Having recently walked through bamboo groves in Japan, this really caught my attention. They offer a complete range of components, from turntables and CD Players to amps and speakers as you can see here.
I'm not so fond of the looks of the electronics, but the speakers, stands and turntables are quite striking.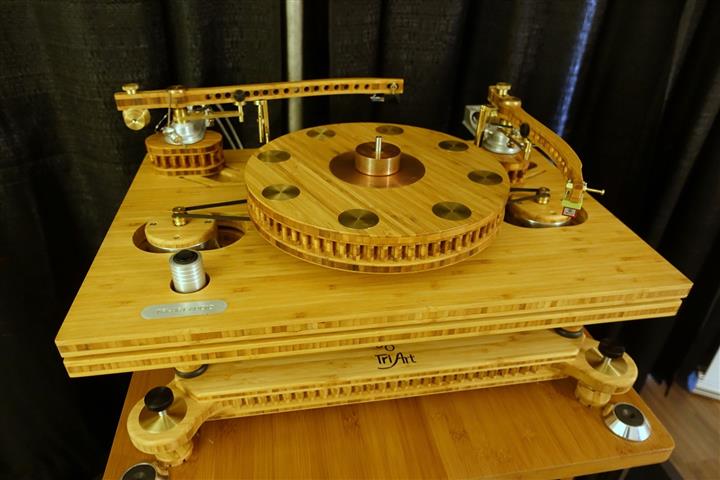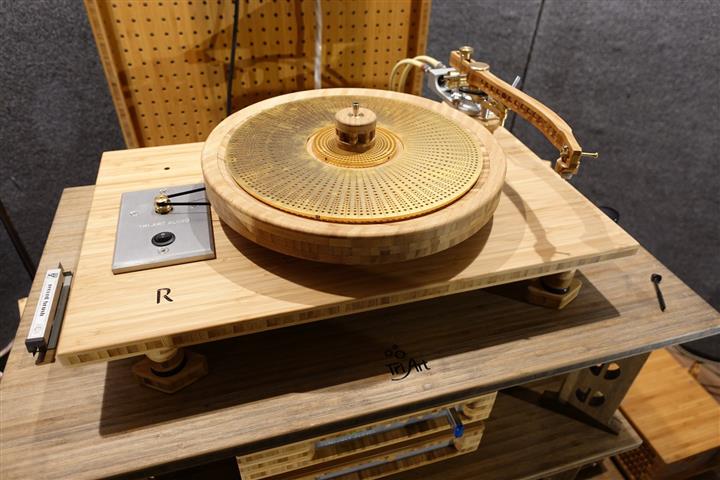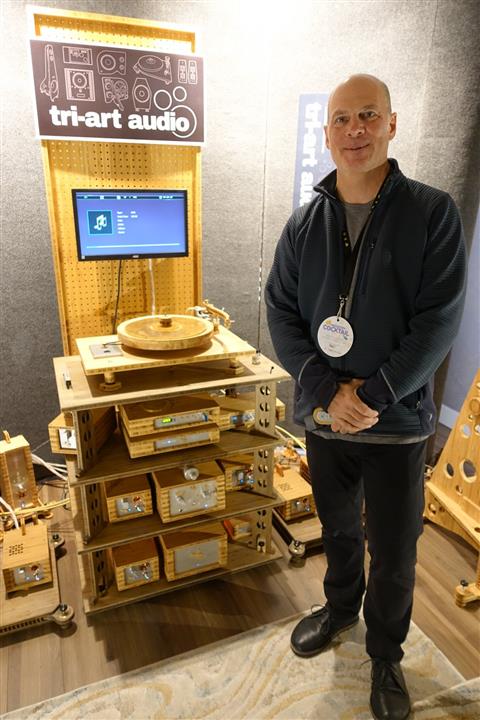 So we can see a constrained layer plywood bamboo variant replacing the metals and plastics other manufacturers use, but this return to nature does not end there. All the plastic wrapping around the resistors and other small scale components on the circuit boards have been removed, leaving them "naked", which is said to improve the purity of the signal. Tri-Art also avoids using inexpensive switching power supplies in favour of more expensive linear power supplies, but I'm not sure I buy that – some of the very best components (Linn, Soulution, EMM Labs) use switching power supplies. But Tri-Art also mount the linear power supplies in a separate chassis, which may be an especially good idea if you do not have metal shielding around the sensitive amplification stages. Amps operate in class D and prices appear quite reasonable, so I will take a closer look at this manufacturer in the new year, given that the room sounded quite musically alive.
CROWN MOUNTAIN IMPORTS
Alex Tiefenboeck's Crown Mountain Imports has recently added Proac to its roster, and showcased the brand new Proac Response 2DR loudspeaker, which replaces the silk dome tweeter from the long standing Response 2D with a very expensive ribbon tweeter. Ribbon tweeters can be excellent, but they don't always mesh well with regular moving coil drivers that support the lower frequencies in hybrid speakers. Stuart Tyler has been refining his Response line for a quarter of a century and they were sounding pretty good in the room, so yesterday I took delivery of a pair for review. Depending on finish they run from $6,500 to $7,300. Driving the Proac were a Norma Revo DS-1 DAC with CD Drive ($6,800), and a Revo IPA 140 Integrated Amp ($9,200). All cabling in the room came from Portento, whose top of the line Signature Plus 1.8m power cable runs $3,899.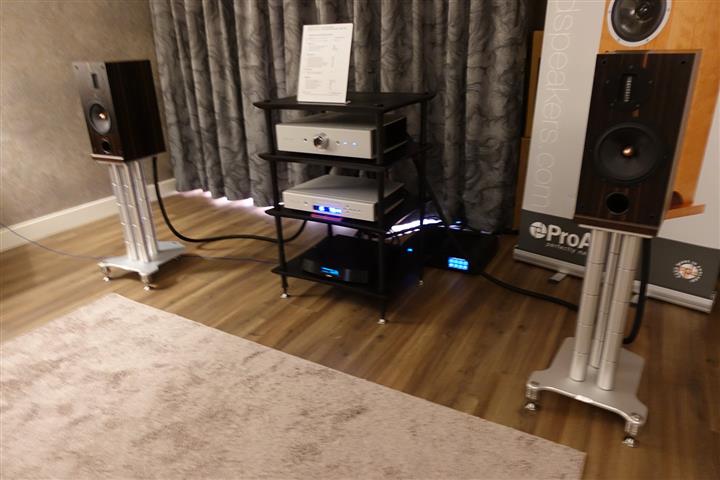 MBL
No new stuff on display, but when it sounds this good, who needs new? MBL's white coordinated system already looks like it has been transported back from some distant future.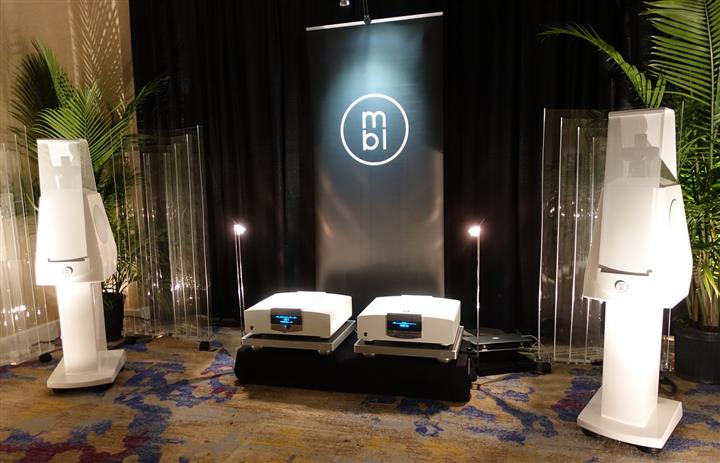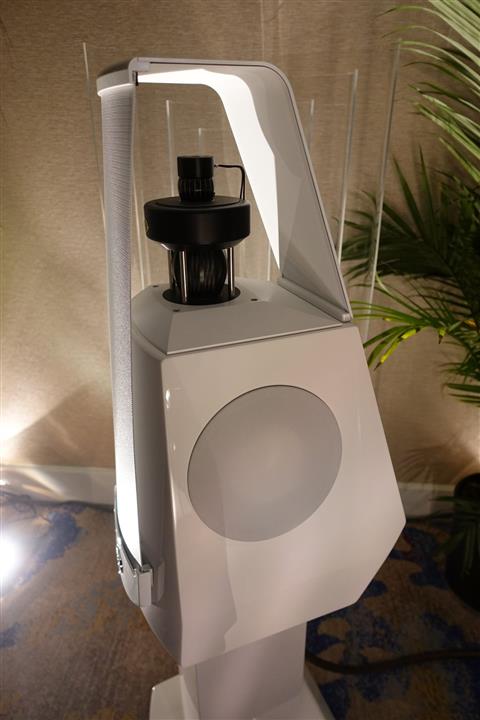 The C31 DAC-CD Player is $12,000, the C51 Integrated amp is $14,600, putting out 300 wpc into 4 ohms, while the 120 Radialstrahler 3-way hybrid omnidirectional speakers will run you $30,150. This line reminds me of Meridian and Linn in terms of synergy between a manufacturer's various products, advanced engineering and their striking looks.
GOERNER AUDIO
More than one colleague pointed me towards Goerner Audio's room to hear the North American premier of the Mach 9 Speakers €30,000 with its 9 woofers and 16 tweeters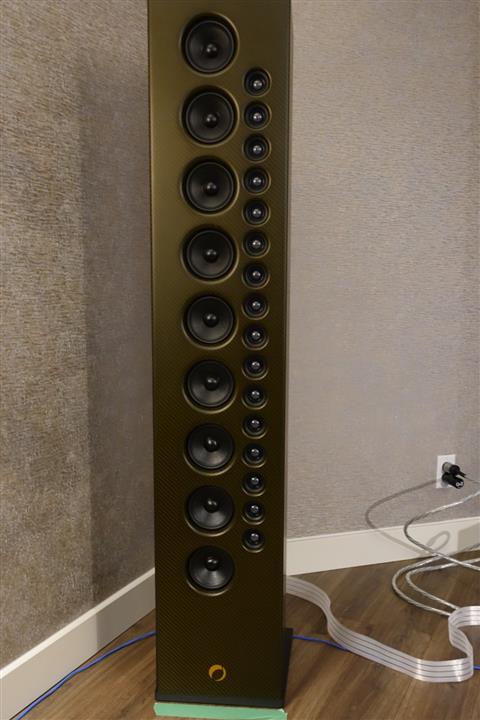 and the Grandinote Shinai Integrated Amp (€11,400) and Volta Streamer / DAC (€8,700) sitting on a Modulum rack.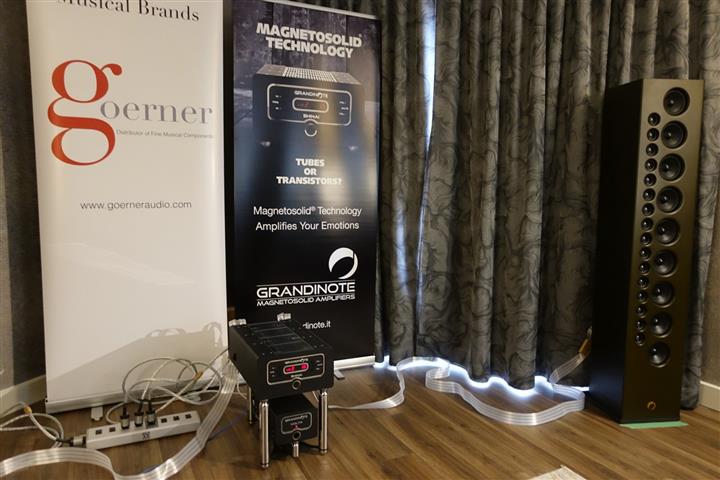 The amps employ tube type circuits but don't actually use tubes, while the speakers are 99dB efficient and feature a carbon fibre body with neither filtering nor equalization for the woofers. I must agree, this was one of the best sounds of the show from these Italian manufacturers.
AUDIO BY MARK JONES
More Swiss goodness in this room where a CH Precision stack fed Magico M2 speakers through Nordost cabling.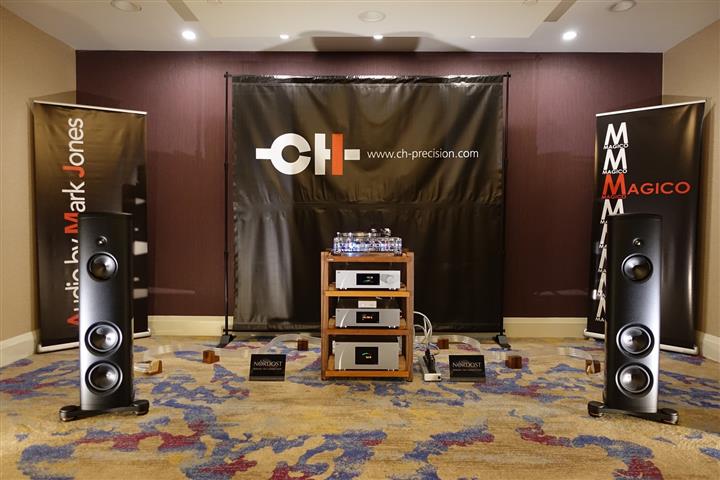 Fast, extended, dynamic and musical. The analog source sitting atop the rack was the Vertere Record Player RG-1 Reference Groove (now that's a mouthful). Certainly one of the best sounding rooms.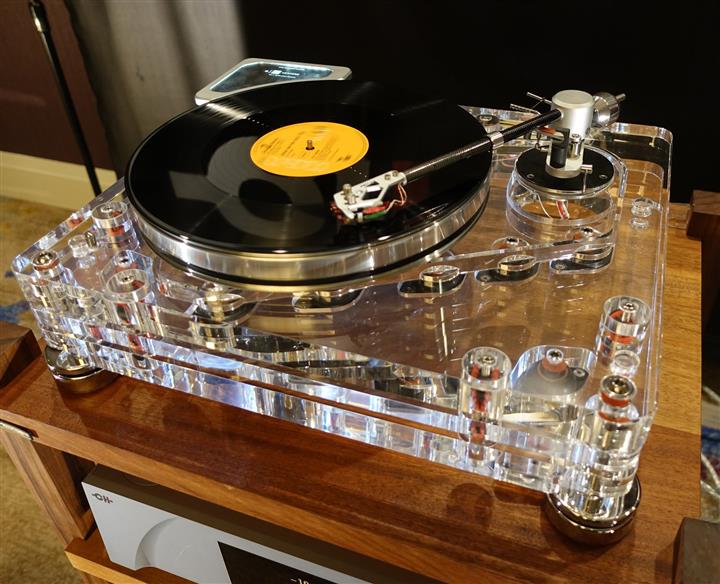 AUDIO EXCELLENCE
My last room was Adrian Low's Audio Excellence. Some very tasty gear here, from the Sonus Faber Olympica Nova V ($22,275 in Wenge finish)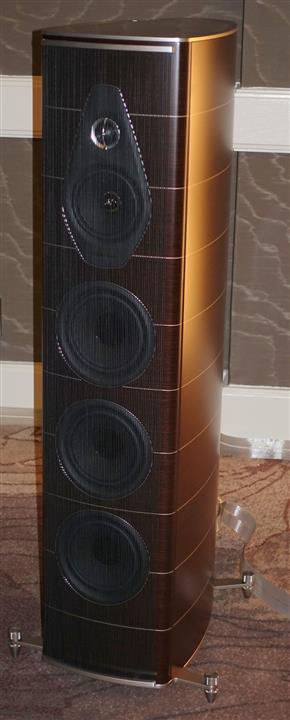 to a full range of McIntosh Products with a Dan D'Agostino Progression amp and some Hegel gear thrown in for good measure. The Nova V is everything you would expect in a Sonus Faber speaker. It has an asymmetrical shape from above that allows you to tune the bass performance by switching the position of the left and right speakers in the room and the bass porting is not an add-on but integrated fully into the frame of the speaker. The luxurious finish includes Italian leather around the midrange / tweeter assembly – the "Voice of Sonus Faber". The walls are made of eight layers of wood for extreme rigidity, braced internally with structural ribs. Beautiful and effective.
See you next year!
Phil Gold