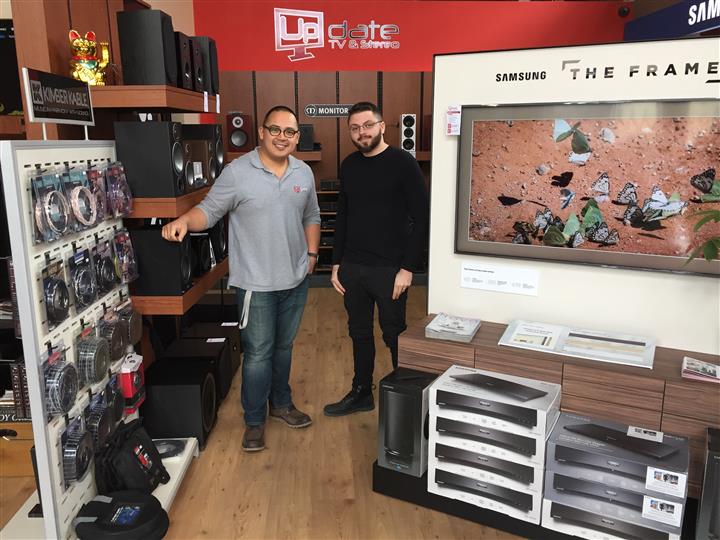 Ken Angeles (General Manager) and Shaun Schwartz (Sales & Marketing Specialist)
In the retail environment it's easy to run a business that's just like every other retail front.  What's not easy is to dare to be different.  When I first met Trevor Wong and Stacey Sniderman several years ago, I immediately realized there was something special about them.  This dynamic husband-wife duo beams with an invigorating energy and a true passion for what they do.  Together they own and operate three locations of Update TV & Stereo just north of Toronto, Ontario.  Trevor is a textbook definition of an early adopter: he gets his hands on the latest technology innovations as soon as they hit the market, from hoverboards to Segways to drones, he's owned them all.  He even bought the Sony AIBO robot dog when it first came out years ago.  Stacey on the other hand is one of the most passionate and knowledgeable females I've ever met in the consumer electronics industry.  She's just as happy as I am to talk about Hi-Fi gear or TVs and projectors.  Earlier this year, I decided to learn a little more about what makes Update TV & Stereo tick.  I sat down for a coffee with Ken Angeles (General Manager) and Shaun Schwartz (Sales & Marketing Specialist) and learned some great insights about the company and surprising fun facts and stories.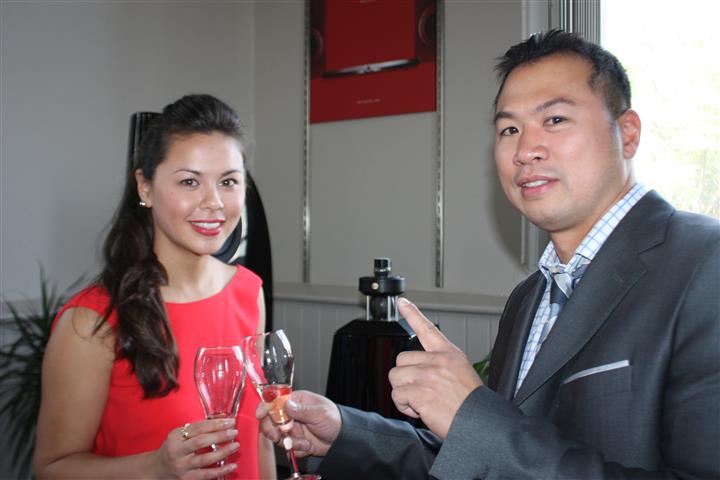 Partners in life and business (which comes first?): Stacey Sniderman and Trevor Wong celebrate the one year anniversary of their Update TV Elevated location in 2015.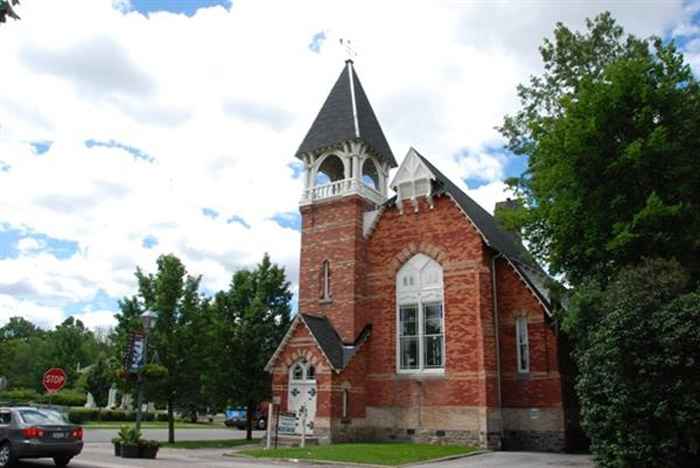 The Update TV Elevated retail location is housed inside a historic church
SK (Suave Kajko): Can you share a brief history about Update TV & Stereo with me? What products and services do you guys offer?
KA/SS (Ken Angeles / Shaun Schwartz): Update TV & Stereo was founded in 1992 in Toronto. The company was taken over about a decade ago by current owners, Trevor Wong and Stacey Sniderman-Wong, who have scaled the business up to three retail locations spread across the GTA. Update TV Uptown (Richmond Hill) acts as the central hub of the company, and is where the majority of the custom integration/automation business runs out of. Update TV Midtown (The Village at Vaughan Mills) offers a gorgeous boutique style showroom, showcasing everything from the latest in TVs, home theater, HiFi, and automation. Finally, Update TV Elevated (Historic Main St. Unionville) was introduced as the ultimate HiFi destination store, situated on the quaint yet buzzing Main St. Unionville, inside a historic church built over a century ago. For those looking for the highest standard of HiFi, or just looking to experience a one-of-a-kind retail experience, Elevated is an incredible destination.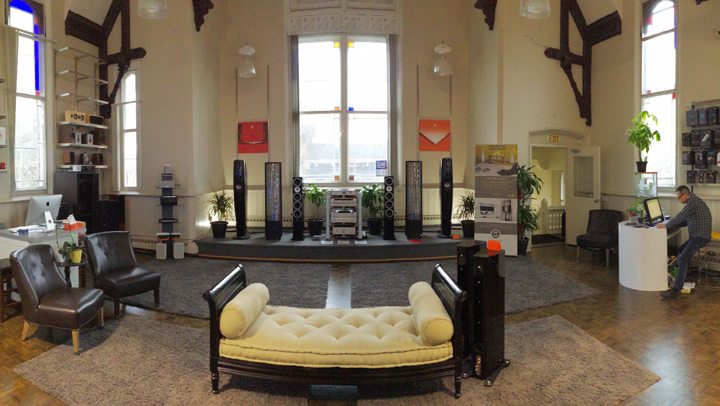 Inside the Update TV Elevated retail location
SK: A good portion of Update TV & Stereo TV's business is custom installation.  Can you give me a sense of what range of installations you guys perform?
KA/SS: Update TV's installation services run the gamut. We handle everything from system design, low voltage pre-wiring for distributed home audio, video, home theater, security cameras, networking, and automation, to hardware installation for all of the above.  We also offer installation of custom motorized shading/window fixtures, integration of automation systems (including custom programming), lighting control, network configuration, and pro-level calibration. We can support residential projects from small to large, as well as commercial applications (offices, gyms, restaurants, etc.). Not only do we ensure everything is installed correctly, but we have the knowledge and understanding to ensure all components within a system compliment each other (which is part of our system design), and through automation, we can bring the future in to our customers' homes. Through our certified Control4 programmers, the options for improving one's lifestyle through smart home automations are virtually limitless.
SK: Why should I shop at Update TV & Stereo versus another independent retailer or a big box store? Why shouldn't I just buy everything online?
KA/SS: In this shopping age, service and expertise on the retail sales floor is becoming harder and harder to come by. The stores where you do come across a high level of service, you are often expecting a heavy price tag to match. The reason why people enjoy shopping with Update TV & Stereo is because we employ highly skilled, experienced, and knowledgeable sales associates to operate our stores, and although we do offer an elevated level of service to our clients, we do not expect them to have to pay more than the competition. We understand there is price competition out there, in both the brick and mortar and eCommerce space, so we add an exceptional level of value by providing an energetic and enthusiastic retail environment where we spend quality one-on-one time with our clients while also offering very competitive pricing. With the rise of online shopping in recent years, especially in the consumer electronics industry, the following saying has never rang more true – "A deal isn't a deal unless it's the right product for you". That's something that the staff at Update TV & Stereo really take to heart, and spend lots of time working with our clients to make sure that when they're putting together a system (whether it be a HiFi system, home theater, or full blown home automation), that all of the components in the system work well together. A big reason why many stores see so many returns is not that the product doesn't work, it's that the product doesn't meet the expectations of that particular customer's system. Online shopping is great, we all benefit from it, but when it comes to building a high performance system that works to a high level of expectations, it's important to carefully match components. The best way to do that is by consulting with a company like Update TV & Stereo who can supply all of the right components and design a system customized to your needs.
SK: I recently learned that Update TV & Stereo will be refreshing its business model this year by introducing some exciting new product categories.  Can you share some insights with me about this?
KA/SS: Over the past few years, Update TV's smart home automation business has grown substantially. One of the growing trends in automation and IOT is the introduction of voice control (Amazon Alexa, Google Home, etc.), as was evident by almost everything under the sun shown at CES 2018 having some form of voice control built right in. Voice control on its own in different devices is pretty fun, but can become a novelty rather quickly when you're just talking to specific devices around the house. When it becomes truly mind blowing is when you integrate it into a whole-home automation system. The power of automation is not the control of devices independently, but how you make each of those independent devices work together, and work in a way that benefits your lifestyle. Voice control integration will become a substantial new addition to the list of our services moving forward.
To really demonstrate this in a more visceral way, Update TV & Stereo will be evolving our showrooms to showcase the possibilities of automation in a more tangible way. It's one thing to talk about the possibilities and read articles about it, but to put automation in to your own hands really solidifies the understanding of what this can mean for you and your family.
New products that Update TV & Stereo has introduced into our repertoire in 2018 are automated shades, blinds and shutters, offering our customers a one-stop-shop for everything "automated". Often times when customers are in the process of a new build or a large scale reno, they are coordinating with different vendors (designers, contractors, shades suppliers, AV, automation). Dealing with so many parties can get overwhelming, so having one contact point who is an expert in multiple aspects of your projects alleviates much of that stress and allows for things to move far more smoothly.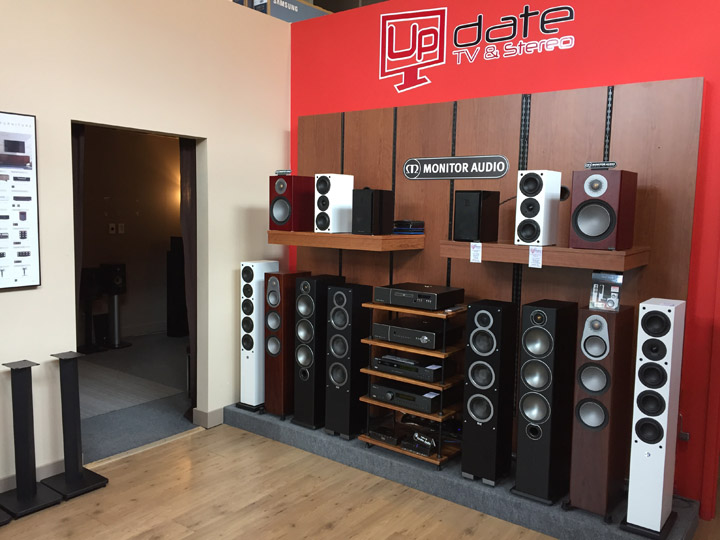 SK: Everyone on your team appears to be very enthusiastic and passionate about what they do.  There is a sense of energy about your team that is hard to ignore.  How do you guys achieve this? Tell us something unique or quirky about your team.
KA/SS: Everybody that works at Update TV & Stereo has a substantial amount of experience in the consumer electronics industry, whether it be professional experience, or as a hobbyist, or both. Everybody on the team has a great passion for what we do and for the product categories and brands that we represent. Everyone on the team also gets along very well with one another on both a personal and professional level, and the company has developed a very family-like culture. One of the biggest strengths of the Update team as a whole is communication, which is possibly the most important quality in regards to the success of a team. Our communication doesn't end once we lock up the stores for the night. The entire Update TV & Stereo team are part of multiple WhatsApp messaging groups together, where discussions often pop off or continue in to the wee hours of the night. Discussions range from planning for upcoming jobs, asking and answering any questions that may pop into our heads, offering general knowledge or advice, from inside jokes, sharing funny memes, or posting informative articles we may have come across that will benefit everybody. Discussions at Update TV & Stereo aren't limited to just work and industry topics. We are always sharing with each other what is happening in our personal lives, offering advice or feedback, or just getting each other's perspectives on life in general. We use our time together to not only learn and grow our knowledge and expertise in the consumer electronics industry, but in our personal lives as well.
The Update TV & Stereo team also spend lots of time together outside of the stores and the chat. For example, for the company's 25th Anniversary in April 2017, the owners of Update TV & Stereo, Trevor and Stacey, took the entire Update team, including spouses, for an extended weekend vacation in the Bahamas. All 3 stores were shut down for an extra couple of days to give the team time to have fun and laugh together and grow the already strong bond that everybody has with one another. Only a few months later, Trevor and Stacey shut the stores down again for a couple of days in the beginning of September 2017, so the team could attend the wedding of Ken (Update's General Manager) in Quebec.
What keeps the team so enthusiastic and passionate is not just the love and passion they have for the industry, but the passion that they have working for a company like Update TV & Stereo, who often go above and beyond to make sure everybody feels like they're part of something very special and unique.
SK: How does your team stay on top of all the latest technologies?
KA/SS: Everybody at Update TV & Stereo is a hobbyist to one degree or another, so we are often sharing information that we come across amongst each other to keep ourselves sharp and in-tune with the latest technologies. The Update team is also very proactive when it comes to formal product and industry training. We hold company meetings every Friday morning prior to the store opening with all staff members during which we spend a great deal of time training. We also attend as many manufacturer training events and dealer shows as we can, to make sure we stay on top of everything that is entering the market. "Team Update" also often attends large industry events, including CES and CEDIA, ever year. Members of our team also attend courses to become certified in certain areas of our business (Control4 Certification, PCNA Certification) to maintain a high level of skill and expertise not often found in today's retail landscape.
The company consistently invests in paid-for training and courses, local and abroad, for the staff, which is increasingly more rare in today's CE retail landscape. On occasion, all three stores will be shutdown, so the entire staff is able to attend industry training shows and events.
To keep everyone sharp, part of our weekly Friday morning meetings will often be PK (Product Knowledge) tests. Everyone will be provided a list of questions regarding a certain product or product category, and all are expected (in the week leading to the next meeting) to answer all of the questions. This helps to keep knowledge fresh and introduce concepts that some members may have never explored. Questions which may have answers that allow for some subjectivity and opinion will also help everyone to see certain things from a different perspective to deepen their knowledge and improve their salesmanship.
SK: What are the latest trends in building hifi and home theater systems? What product choices and brands are they popular with your customers?
KA/SS: We have been noticing a "forwards and backwards" mentality towards HiFi content. It appears many listeners are going forward with high-res streaming, while also going backwards with the continued resurgence of turntables and vinyl. With streaming technology where it is now, we are now able to mix these two worlds by integrating analog audio technology, such as turntables, and streaming it through multi-room audio systems, allowing users to take better advantage of their systems.
In regards to home theater trends, there are a couple we have noticed through the jobs we do. The first trend is in customers looking for a dedicated theater system with aesthetics at the top of the list of requirements. This leads to systems that are incorporating perforated screens, invisible or architectural (in-wall/in-ceiling) speakers, and in-wall/in-ceiling subwoofers. There has often been the idea in the past that when it comes to home theater that you will compromise aesthetics for performance, and vice versa, but we have found that with proper system design (a core part of the Update process), this is no longer always true. When the right components are combined, with proper installation and calibration, a system that may be "minimalist" in appearance can still be heart pounding in performance.
Another trend in home theater we have noticed is that now people are not necessarily looking to build dedicated theater rooms, but still want a nice, high performance theater system which can be used in a multi-purpose space outside of the basement or "man cave". This can include integrating theater systems into family rooms, condos, lofts, and even in the backyard. In the past this has been a huge no-no for home theater enthusiasts, but now with so many discrete speaker options available, as well as large home theater screens using ALR (Ambient Light Rejecting) material, the options for home theater placement are almost limitless.
SK: I expect that with the spring just around the corner some of your customers will be looking to take their entertainment outdoors.  What types of outdoor products resonate with your customers in the spring?
KA/SS: As the temperatures start to warm up and the weather becomes nicer, our clients love to spend a lot of time entertaining in their backyards, and nothing brings more energy to a party than music. In the spring and summer we sell and install tons of landscape audio systems, including speakers around the garden and subwoofers buried in the ground. With the growth of different wireless audio distribution systems (i.e. Sonos, MusicCast, HEOS, PlayFi), the ability to enjoy your favourite tunes, with sound quality far superior to just sticking a smartphone in a cup, has never been greater. Video also gets incorporated with outdoor TVs built to withstand the elements, as well as wireless, mobile, motorized projector screens. Something that has also become very popular are Outdoor access points, which extend a home wireless network beyond the walls of the house, and prevent network dropouts when customers are trying to stream by the pool. So the idea discussed previously about theater being integrated almost anywhere rings very true to the great outdoors. Who wouldn't want to watch "The Avengers" in full surround sound on a 120" screen while grilling up some steaks for the family?
To learn more about Update TV & Stereo please check out www.updatetvandstereo.com