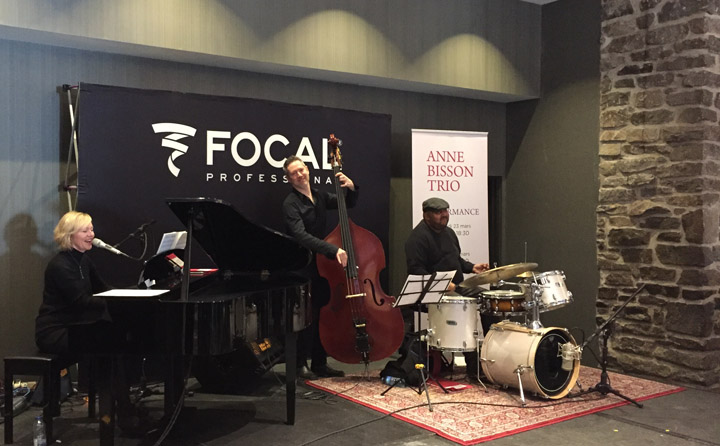 Welcome to part 3 of the Montreal Audio Fest 2018 show coverage by Suave Kajko.  If you've missed them, please read Part 1 and Part 2 of this article.
Plurison
Plurison is one of the largest importers of hifi products into Canada.  Their impressive portfolio spans some of greatest brands collected from around the world, such as Focal, Naim, Devialet, Musical Fidelity, Cambridge Audio, Rega, Micromega, Clearaudio, Wharfedale and Cocktail Audio – just to mention a few.  At the 2018 Montreal show, they highlighted many of these brands in the largest ballroom at the show.  While this made for a great product showcase, I could not properly audition any of the products, so instead I focused on products that were shown for the first time to show visitors. Canadian jazz songstress / pianist Anne Bisson also performed inside this room a couple of times per day, accompanied by a stand up bassist and a drummer.  I managed to catch one of the sets and enjoyed Anne Bisson's charismatic performance very much.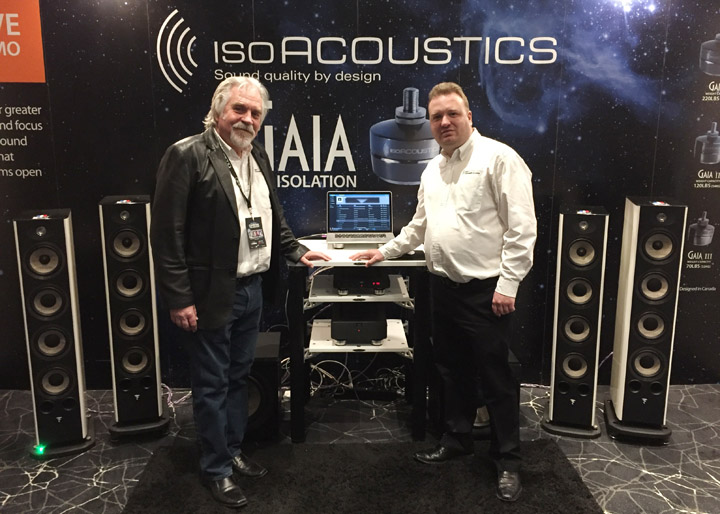 There was one excellent product demo that I managed to catch in this room from Dave Morrison, the President of IsoAcoustics (pictured on the left; unfortunately I didn't capture his colleague's name on the right).  This Canadian company has been making waves in the home and pro audio markets since 2012 with its range of speaker isolation products because of how well they work. IsoAcoustics had an A/B demo set up at the show with the same pair of speakers sitting on the floor and another pair sitting right beside them on IsoAcoustics Gaia isolators. Dave was able to switch on-the-fly between the two speakers as he played a couple of tracks for me.  The improvement in sound with the Gaia isolators in place was dramatic, this was not just another subtle audiophile tweak.  Even with lots of surrounding noise in the room, I immediately heard a cleaner, more detailed sound and an airy, wider, deeper soundstage.  Wow!  I have no choice but to try these isolators in my own system now 🙂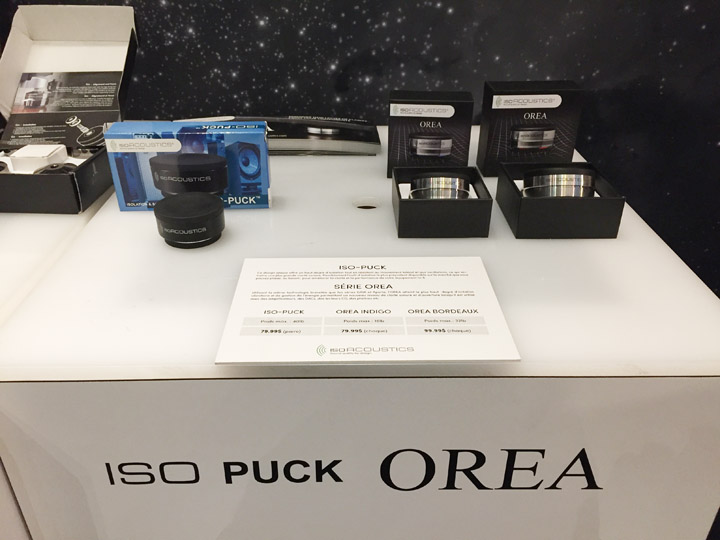 IsoAcoustics also launched a new product called the IsoAcoustics Orea at the show.  The Orea is series of isolation feet designed to be placed under components and speakers (priced from $79 to $99), as opposed to existing Gaia feet which screw directly into speakers.
Other new products highlighted inside the Plurison room included:

The Musical Fidelity Nu-Vista Vinyl phono stage.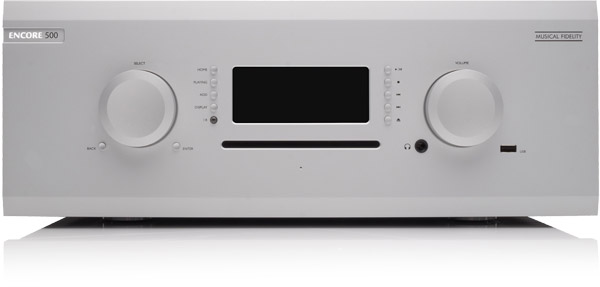 The Musical Fidelity M8 Encore 500 Streaming Music System equipped with a streamer, CD ripper and 2TB storage ($10,000).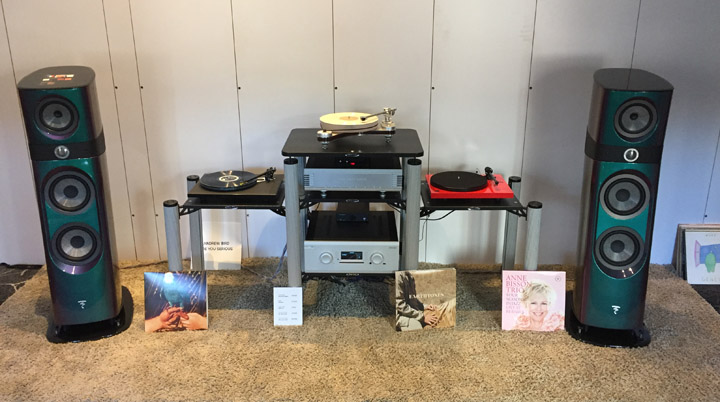 Alongside the new Musical Fidelity products, Plurison also showcased three Rega turntables.  The Rega P6 model was shown for the first time.  In the same display, the Focal Sopra 3 speakers were displayed in a new chameleon finish (the color of this finish changes depending on what angle you look at the speakers at).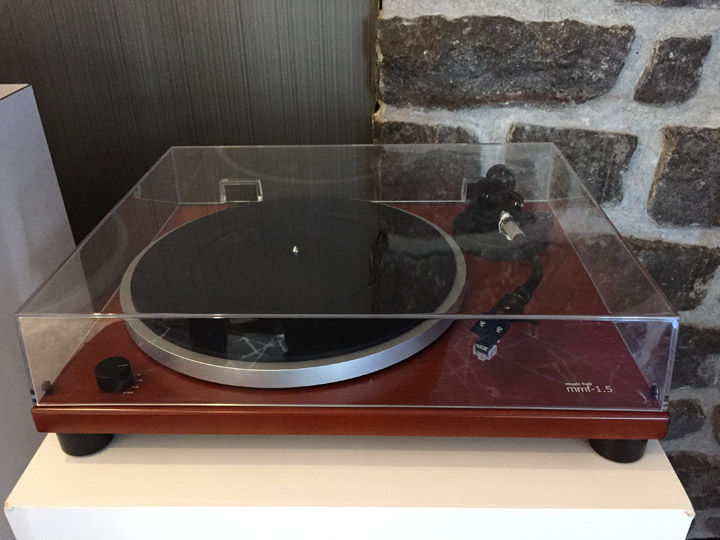 There was also a brand new Music Hall mmf-1.5 turntable.

And a new Cocktail Audio X45 server/streamer/CD ripper.  This unit is Roon ready and can be used as a digital preamp.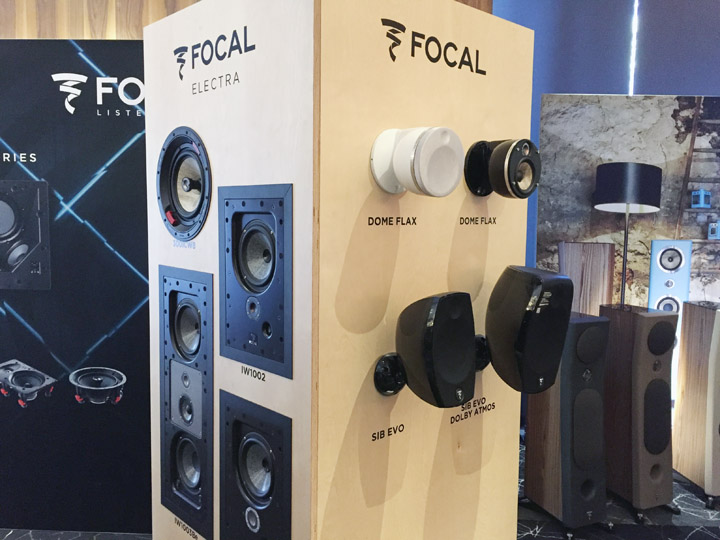 Also on display were three new lines of Focal in-ceiling and in-wall speakers: the 100 series, the 300 series (which use the same Flax woofers as the Aria speaker series) and the Electra series (which use Berillium tweeters).  In the bottom right of this picture, you can also see the new on-wall Focal Sib Evo Dolby Atmos speakers, which join the existing Sib Evo speakers.  What qualifies these speakers as Dolby Atmos speakers is the upward firing driver on the top of each speaker.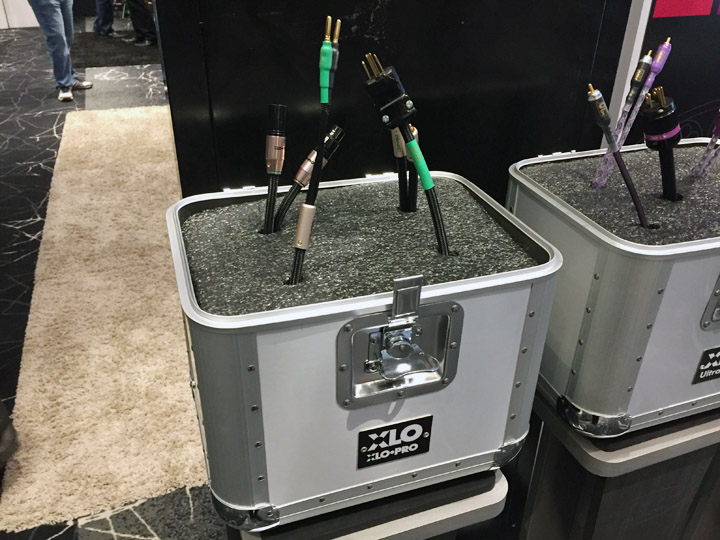 Plurison featured a creative display of the new XLO Pro series of cables in a cool rose gold finish.  Despite the name, this new series is actually an entry-level series…
Also shown for the first time in Montreal were the Focal Kanta No. 2 speakers ($12,000) available in a range beautiful finishes. This new 3-way floor standing speaker utilizes Beryllium tweeters together with Flax mid-range/bass drivers.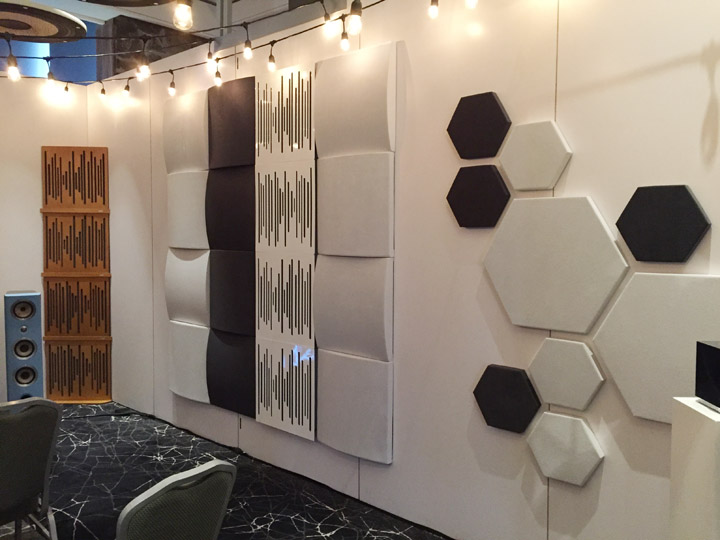 Plurison recently picked up distribution of Vicoustic acoustic panels and proudly highlighted them at the show.  Vicoustic makes a large range of products available in all sorts of shapes, sizes, materials and colors – designed for home and commercial applications.  All Vicoustic products are made in Portugal.  Above are its home acoustic panels.
These are some of Vicoustic's commercial products.
Plurison also gave show visitors a chance to listen to three new headphones from Focal: the Focal Clear, Focal Clear Pro and Focal Listen Pro models.  The Clear model fits between the existing Iilium and Utopia models, and is priced at $1,899.
The Focal Clear Pro headphones ($1799, show special $1,399) have the same design as the Clear model, but come in a different finish.  They also come with a different set of accessories.
The most affordable of the new headphones is the Focal Listen Pro ($299 show special).
Finally, Plurison recently added another French brand to its portfolio, called EarSonics.  EarSonic's roots come from the pro market but today the company offers both audiophile and musician-geared in-ear monitors.  Their products range from $499 to $1,799.
Hope you enjoyed some of this year's show highlights from yours truly, Suave Kajko.
You'll find Part 4 of this article (by George de Sa) at THIS LINK.
If you missed the earlier parts of this article, you can find them here: Part 1 and Part 2.