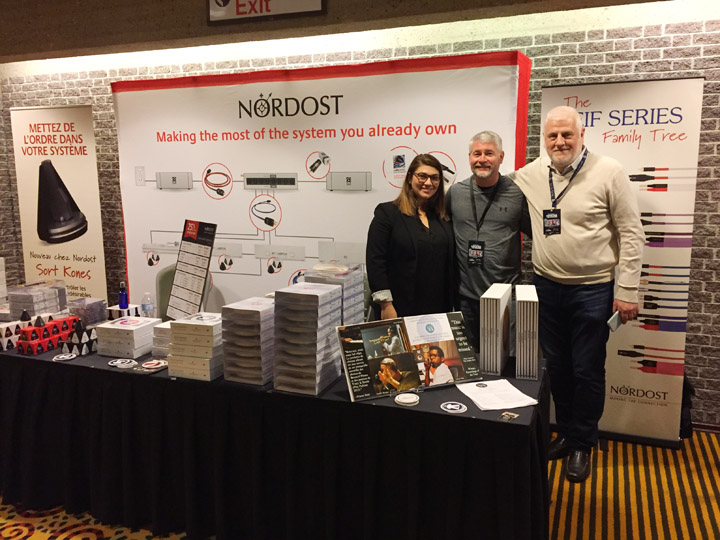 This article is a continuation of Part 1, which you can read HERE.
Nordost
Let's be honest with each other: when you attend an audio show to listen to high-end systems you're not very likely to make a decision on the spot to purchase a $25,000 pair of speakers.  Although some people do but it's not very common. Most of us enthusiasts however are prepared to make an "impulse purchase" in the form of some records or accessories.  At the Nordost exhibit, I had the pleasure of chatting with Meredith Gabor (Marketing/Public Relations), Michael Taylor (VP of North American Sales), and Nordost President Joe Reynolds (left to right in above pic).  Nordost had both a show booth where you could pick up a whole range of products at special show prices, as well as a listening room across the hallway, where Nordost ran demonstrations of its products in mini seminars.
Inside the listening room, Bruno de Lorimier (President of Unison Sales Resources), was showcasing the performance gains as you step up the range of Nordost cables and the improvements various Nordost accessories can bring to your system, including the QKore, Sort Kone, Sort Lift, QRT power products and more.  He was also happy to take requests from the audience for product demos. Hearing is believing!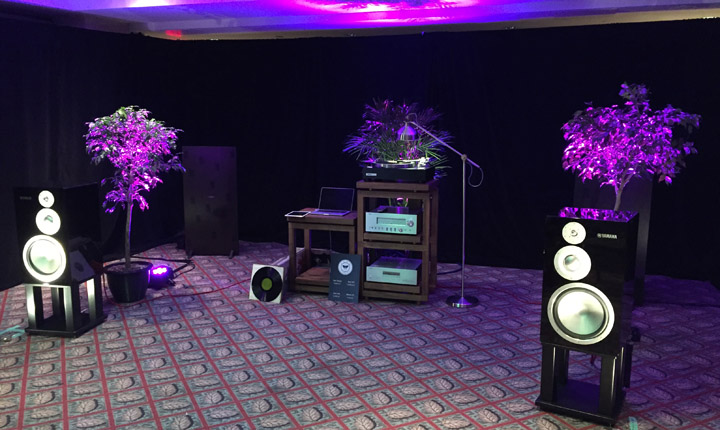 Yamaha / Luna Cables
Although the main demonstration in the Yamaha room didn't introduce any new components, it managed to capture my attention thanks to its engaging performance and a top-notch music selection. The main system here consisted of the NS-5000 speakers, A-S3000 integrated amp, CD-S3000 CD player and a little surprise on the top of the rack – a vintage Yamaha GT-750 direct drive turntable.  Unlike most rooms at the show that were playing "audiophile" recordings, that on a couple of occasions made me doze off during the listening sessions, the guys in the Yamaha room were having much more fun with the music.  Paul Bawcutt (Key Account Manager at Yamaha), Nico Boucher (Sales Consultant at Yamaha) and Danny Labrecque (Luna Cables) played some great tracks for me, ranging from bands that I'm well acquainted with like Guns N' Roses to lesser known, but very entertaining artists like Anderson .Paak (yes there is a period in front of Paak), which I ended up picking up on Amazon when I returned home from the show.  Guns N' Roses "Patience", from a digital file, sounded absolutely spectacular on this system.  The presentation was lively, offering highly detailed vocals and highs, with guitars that sounded like the real deal.  A funky track from Anderson .Paak on vinyl offered up a rich, full bodied sound with fantastic energy.  Overall, the system sounded very musical, had a realistic presence and was just a pleasure to listen to.  To my ears, these guys were playing the funnest, most energetic music at the show.  Well done!
At the side of the room, on static display, there was one relatively new product – the Yamaha R-N803 network receiver ($999).  This attractively priced 2-channel hifi receiver offers a high-precision sound, 2 x 145 watts of power, network connectivity (wired/wireless) for streaming and a phono input, just to mention a few of its features.
Other products on static display included the Yamaha A-S1110 and A-S2100 integrated amps.  The A-2100 is an absolute killer-sounding amp which we reviewed last year: https://novo.press/yamaha-a-s2100-integrated-amplifier-review/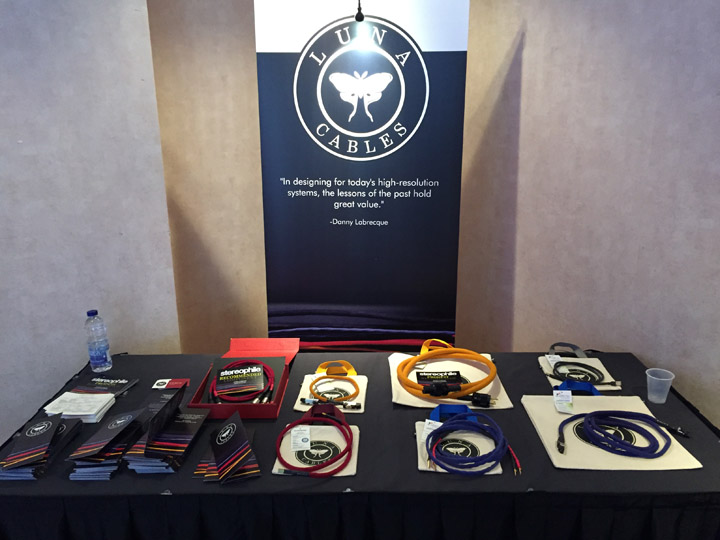 The main Yamaha system was wired by Canadian manufacturer Luna Cables.  I had the pleasure of chatting with Erik Fortier, Founder/Sales & Marketing, who shared some insights with me about the company and its products. All Luna Cables are handmade in Montreal and employ tinned copper conductors, as well as cotton and cloth made out of natural fibers (unlike most cable manufacturer that use synthetic materials like plastic).  Erik told me that production is a little more difficult with these materials but the sonic benefits are well worth it.  Luna Cables offers power cables, interconnects, speaker cables and digital cables across five ranges of products: Grey, Orange, Mauve, Red and Black.  At the show, they showed their new power cables in the Grey, Orange and Mauve series, as well as new network cables in the Orange and Mauve series.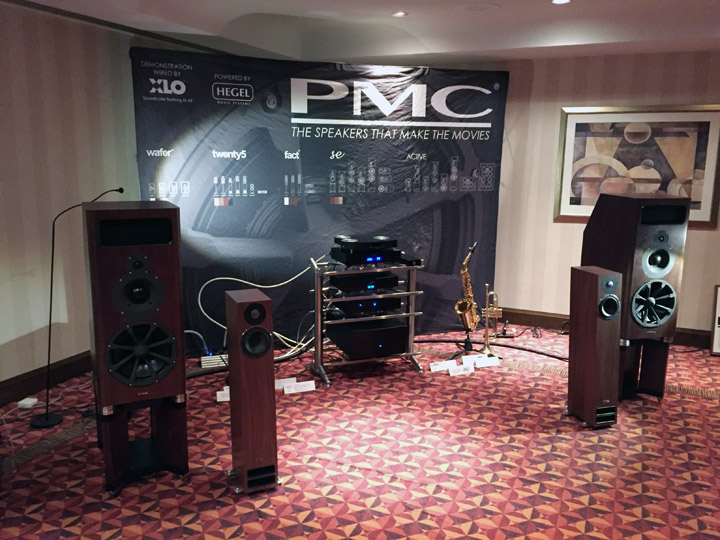 Motet Distribution: PMC / VTL / iFi / Triangle / HIFIMAN / Lumin
Motet Distribution, led by Lily Luo, is a Canadian importer of fine high-end audio brands including PMC loudspeakers, VTL, iFi, Triangle, HIFIMAN and Lumin.  The company made a big splash at this year's show by demonstrating many of its products across four rooms. In a large meeting room, Motet played the state-of-the-art PMC MB2 se speakers ($40,800) in rotation with the more reasonably priced-and-sized PMC twenty.23 speakers ($6,750).  The electronics stack consisted of the Hegel H30 amp ($17,000), Hegel P30 preamp ($8,999), Hegel Mohican CD player ($5,999) and the Lumin U1 transport ($7,950).  Cabling was all courtesy of XLO Signature 3 cables.  I listened to a couple of tracks on the twenty.23 speakers and was impressed with the system's natural midrange, crystal clear and extended highs as well as their ability to produce a great big soundstage.  Not surprisingly when listening to the TRON: Legacy soundtrack through their much larger siblings, the PMC MB2 se speakers, the system sculpted a massively large stage with instruments and sound effects emanating from far beyond the boundaries of the room.  The dynamic range of this album is immense and the system presented it effortlessly. The music was turned up very loud at some points during this demo, yet the sound remained remarkably clean and composed.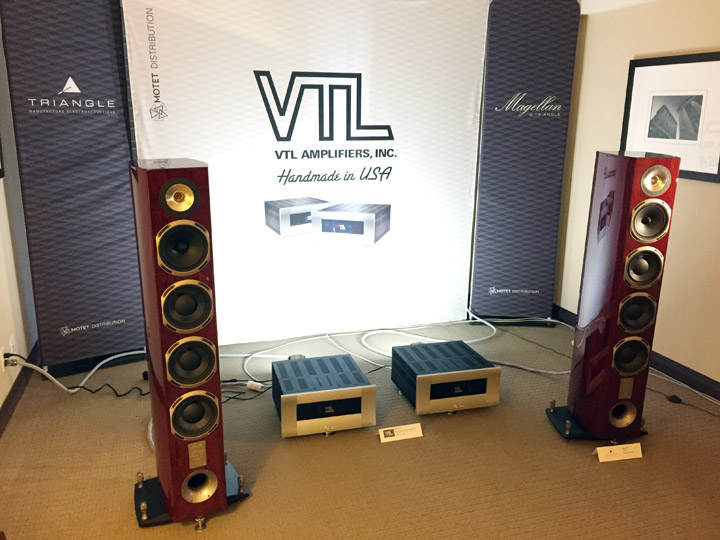 In the second room, Motet Distribution demonstrated a VTL / Triangle music system. Here, the system consisted of the Triangle Magellan Quatour speakers ($26,500) powered by two VTL MB-450 Series III monoblocks.  The music was sent from a laptop, via an iFi nano iONE DAC, at the back of the room.  This system offered a highly musical, engaging presentation that was a pleasure to listen to.  String instruments played with a natural tonality and timber, while vocals sounded palpable.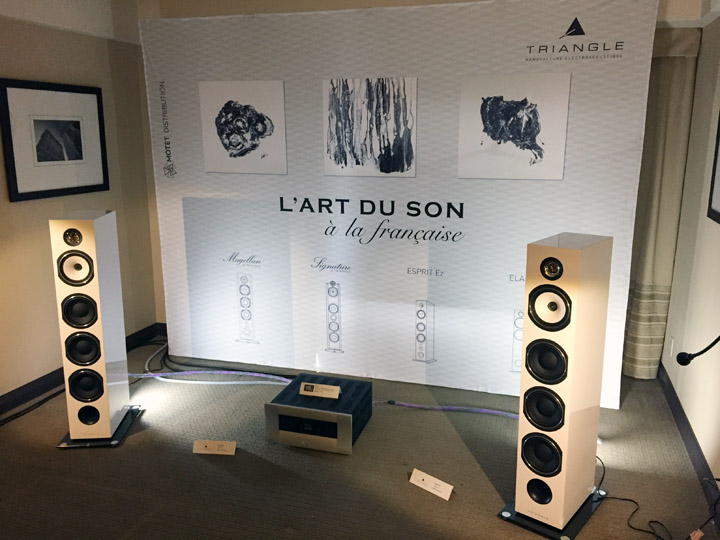 The third Motet Distribution room highlighted another VTL / Triangle system.  This system played music through a pair of Triangle Esprit EZ Australe speakers ($5,500), a VTL S-200 Signature stereo amp ($17,500) and a VTL TL2.5i preamp ($4,900).  The music was fed from a laptop through an iFi nano iONE DAC.  These Triangle speakers are outfitted with a rear-firing tweeter which requires them to be placed at least 3 feet away from the back wall.  If your room allows this kind of placement, you'll be rewarded with a beautiful midrange and rich, tonally accurate vocals.  The sound here offered an excellent level of detail and sparkly, crisp highs.  I have a feeling these speakers would benefit from playing in a larger room, where they would have even more room to breathe.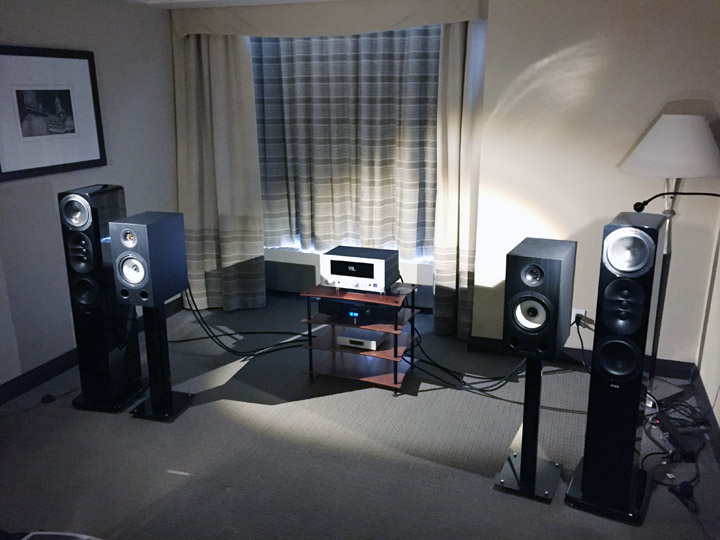 In the final Motet Distribution room, I found yet another VTL / Triangle audio system, albeit, a system that was much kinder to the wallet than the Motet systems in the other rooms.  This room offered a pairing of Triangle Comete bookshelf speakers ($1,600 to $1,900), a VTL IT-85 integrated amp ($7,350) and a Hegel Mohican CD player ($5,999).  The sound here was very well balanced, offering a rich, warm midrange.  This made both instruments and vocals sound very natural. The soundstaging of the system was also excellent, with lots of air around instruments and vocals, resulting in a sonic landscape that had great width and depth.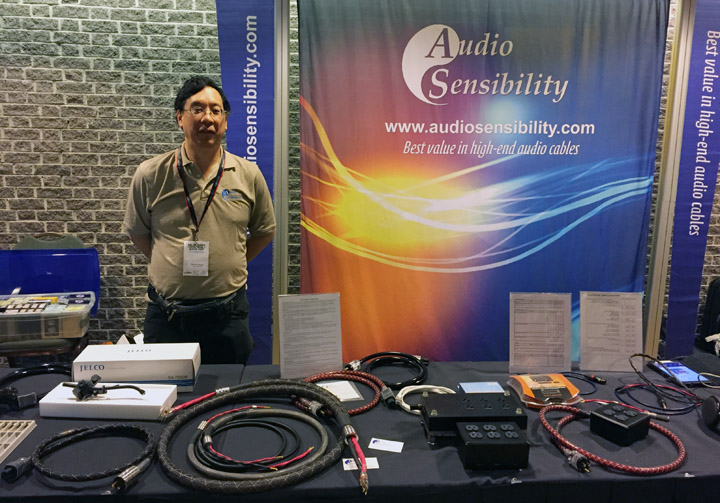 Audio Sensibility
This Canadian hifi cable manufacturer employs a factory-direct sales model and produces great performance/high value cables aimed at both novice and seasoned audiophiles.  At the show, owner/designer Steven Huang, is always ready to discuss his designs and materials and provide advice on how to improve the sound of your system.  Audio Sensibility products include power cables, interconnects, speaker cables, digital cables, phono cables and headphone cables.  They will even construct you a custom cable for unique applications.  In addition to these products, they also offer power distribution boxes, as well as a grounding devices and cables – all available for purchase at the show.
Paradigm / Anthem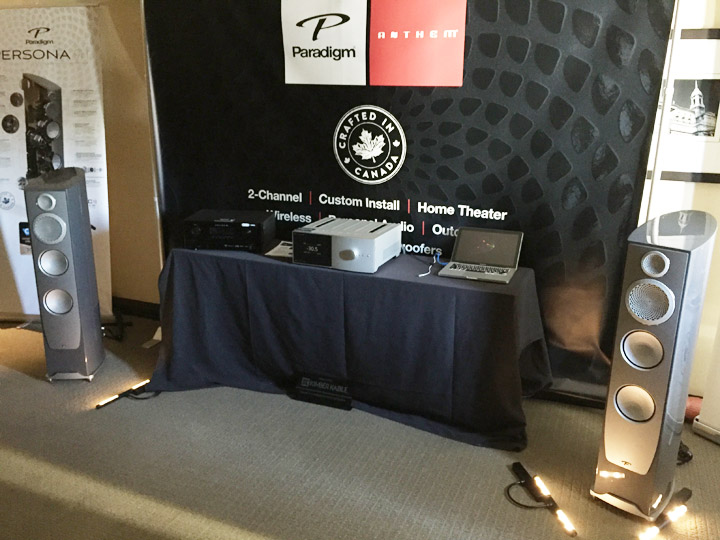 It was a great pleasure to see two beloved Canadian  brands, Paradigm and Anthem, return to the show this year.  Their sister company MartinLogan was also present at the show in another room (which will be covered by George de Sa in an upcoming report).  At the heart of the demonstration system in this room, were a pair of beautiful Paradigm Persona 3F 3-way tower speakers ($12,000/pair), powered by the Anthem STR integrated amp ($5,499).  This was my first chance to lay my eyes on the revamped line of Anthem electronics based on an entirely new technology platform.  This amp puts out 200 watts per channel (8 ohms), and comes with an Anthem Room Correction system to optimize sound in your listening space, a USB input that supports DSD audio and a built-in phono stage.  As you can see in the picture above, half of the front panel is now devoted to a large, beautiful graphic display.  On static display to the left of the SRT integrated amp, was an Anthem MRX 720 AV receiver.  I personally own the MRX 510 AV receiver and have been loving its sound for the last few years.  Although the room was filled with attendee conversations, the sound of the system did manage to captivate me for a few minutes thanks to its rich midrange, great tonal accuracy and an overall musical presentation.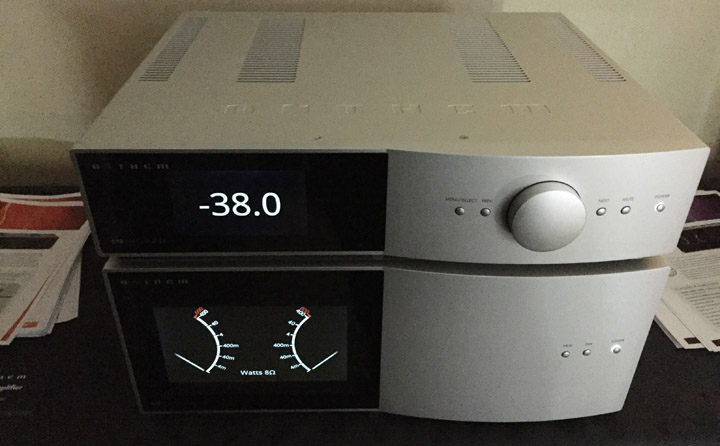 The Anthem STR series actually consists of three models: in addition to the STR integrated amp, there is also the STR preamp ($4,999; top) and the STR power amp ($7,499; bottom).  Cool graphics on the amp!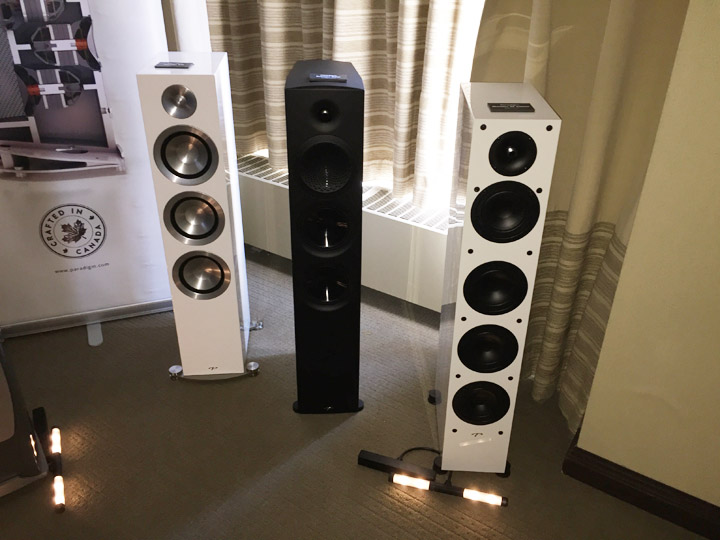 In their exhibit space, Paradigm also showed a sample speaker from three other series: the Paradigm Prestige (85F model, $2,349 each; left), the new made-in-Canada Paradigm Premier (800F model, $1,249 each; middle), and the new made-in-China Paradigm Monitor SE (6000F model, $549 each; right).
This wraps up my Part 2 of the Montreal Audio Fest coverage.  Please check out Part 3 at THIS LINK.
If you missed Part 1, you can read it here: https://novo.press/montreal-audio-fest-2018-highlights-report-part-1/