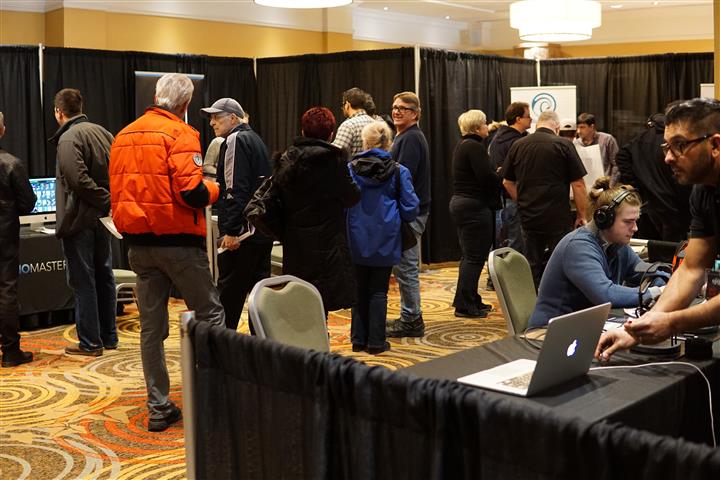 With Michel Plante and Sarah Tremblay at the reins of the Montreal Audio Fest, I had no doubt that the 2018 edition would be a success.  Their tag-team efforts over the past couple years have successfully rejuvenated the show, while retaining its focus on not only audio products but also on music.
Once again, visitors were welcomed at no charge (although the show was selling raffle tickets for prizes to raise money for the show), which no doubt was part of the reason for the substantial crowds I saw in a number of the rooms.  The vibe was friendly and warm, with consumers and exhibitors obviously having a good time.  Making my way down the escalators, my excitement began to build.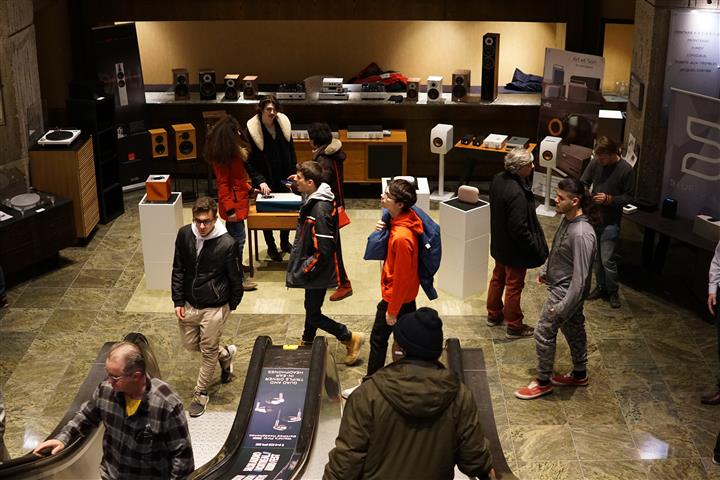 JVCKenwood
Though there is no denying the audio focus of the Montreal Audio Fest, it was nice to see JVCKenwood taking the effort to show off some of their fabulous projectors.  Though I finally made the move this year to an 82" 4K TV a projector is at the top of my wish list.  Three projectors were in action in their room.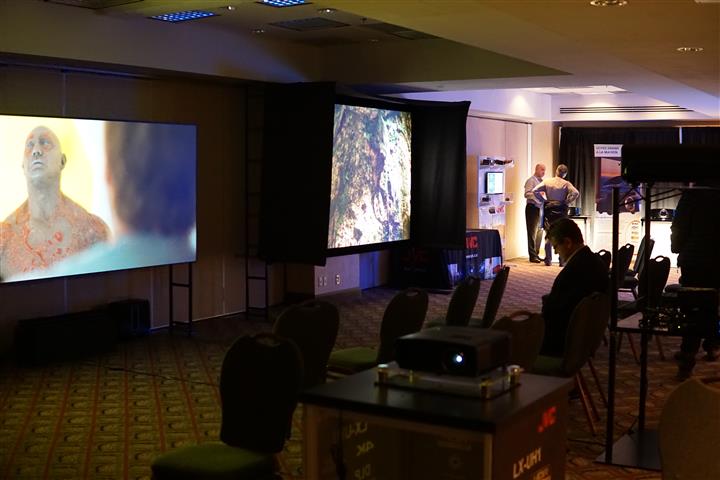 The screen in the foreground is being lit by JVC's flagship DLA-RS4500 4K Laser projector ($45,000).  In the background the projector was the Procision DLA X-790 ($8,000), which sits midway in the Procision line-up, with the X-590 ($5,000) beneath it and the X-990 ($10,000) above it.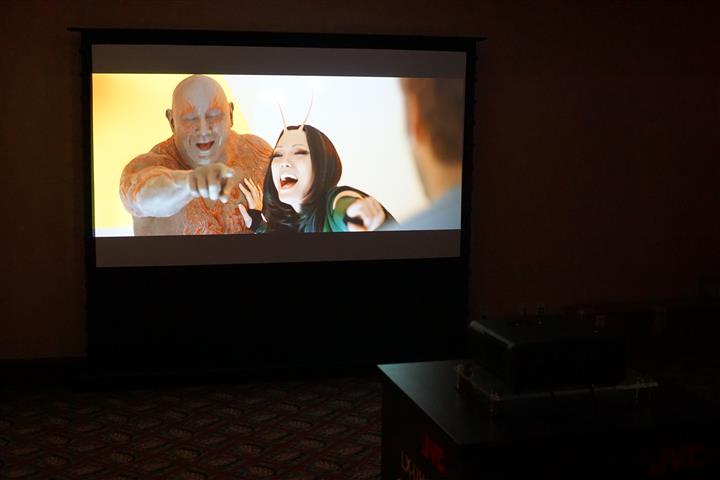 On a smaller screen, there was an impressive picture being cast by an amazing new product form JVC.  The all-new native-4K LX-UH1 pre-production DLP projector (est. $2,999) was being shown for the first time ever (coming to stores in May 2018).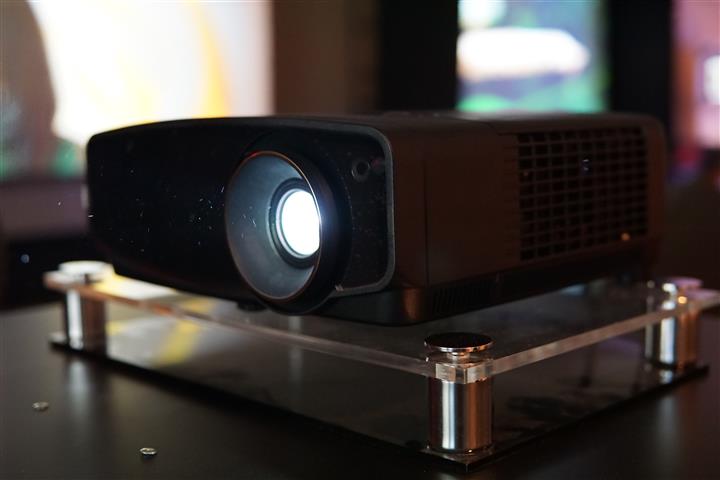 This all-new LX-UH1 will no doubt be a very competitive product, as it brings JVC down to an unheard of price point for a true 4K 60fps projector, with full-speed 18G HDMI.  It most definitely caught my attention.
MOON by Simaudio with AudioQuest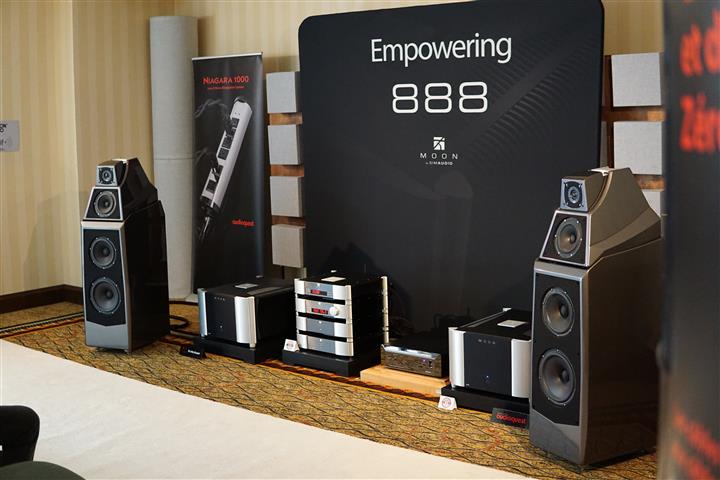 As I walked into the MOON room, I couldn't help noticing the 888 emblazoned on the wall and more so the two Goliath sized monoblocks flanking a full MOON by Simaudio Evolution stack.  This was my first time hearing the 888 monoblock amplifiers ($160,000/pair) that each weigh 230 lbs. and push 888 watts at 8Ω, doubling that into 4Ω Ohms.  The stack was made up of a MOON 780D DAC with the MiND Streamer ($19,000), 820S power supply ($9,000) and 850P preamplifier ($40,000).  Cables were all AudioQuest, including Redwood speaker cables ($18,000) with Fire interconnects and Dragon power cords via a Niagara power conditioner.  The speakers in play were the Wilson Alexia ($75,000/pair).  And, how did it sound?  Despite a square room, my overall perception was of clarity and dynamic impact, with masterful bass and impressive musicality.  In short, I found this room, nothing less than droolicious.
Audio by Mark Jones – Kronus, CH Precision, Magico, Nordost
The Whitby, Ontario based dealer, Audio by Mark Jones, no stranger to the Montreal Audio Fest, had returned this year once again to show off how good vinyl done-right can sound.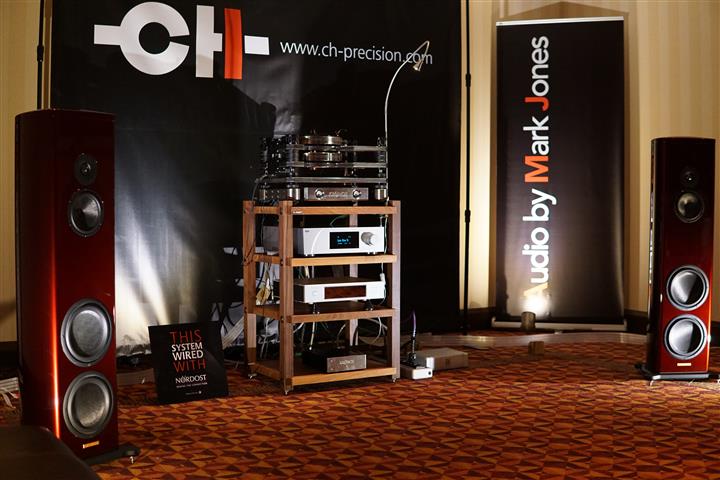 The system centred around a Kronos Pro turntable with a Lyra Etna SL cartridge with a package price of around ($70,000 U.S.).  A new integrated amplifier with a DAC & phonostage from CH Precision ($38,000 U.S.) were driving a pair of Magico S3 MKII speakers.  The digital player/streamer was the Aurender N10, though not in-play during my stop in the room.  Loom was Nordost Valhalla 2, with the system sitting on a rack by Massif Audio.  Listening to Wrapped Around Your Finger, by the Police, I was taken by the lifelike texture, impactful dynamics and bass control.
Martin Logan
It was a welcome surprise to find Martin Logan, the manufacturer, hosting its own room.  Unfortunately, my pics do not show the glory of these speakers, perhaps I was too focused on what I was hearing.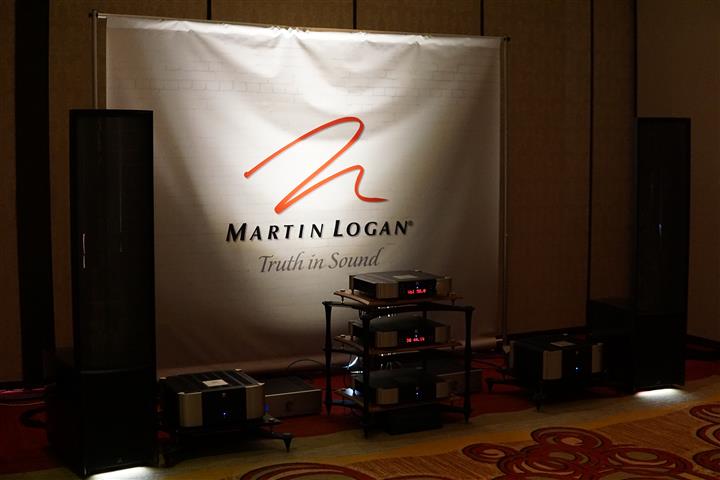 The speakers were from Martin Logan's Masterpiece Series, the Renaissance ESL 15A ($32,499/pair).  Combining a 15-inch CLS XStat electrostatic panel with twin 12" 500-watt active woofers and balanced with their 24-Bit DSP Engine and ARC room correction, the presentation was smooth, incredibly easy on the ears with plentiful bass, despite the massive room.  Driving the panels was a Simaudio stack, comprised of a 740p preamp, 780D DAC with MiND player, 820S power supply, and a pair of 880M monoblocks.  Cables were by Kimber Kable and power conditioning was courtesy of a Torus RM20.
Wynn Audio – Tidal, Kalista by Metronome, Goldmund
Wynn Audio's room at the show was large enough to accommodate two full top-line system demonstrations, side-by-side and taking turns wowing audiences.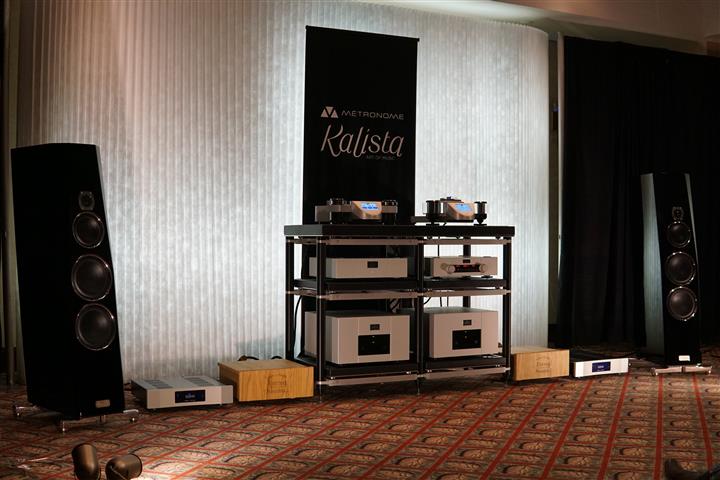 The first system incorporated a Kalista DreamPlay CD transport ($56,800), with Kalista DAC ($58,500), Goldmund Mimesis 22H preamp ($130,000), Goldmund Telos 1000+ monoblocks ($140,000/pair), TIDAL Contriva G2 loudspeakers ($75,000/pair) and cabling by Acoustic Revive of Japan.  Incredibly detailed, yet extremely smooth and natural, I could have spent the better part of the day just taking it all in.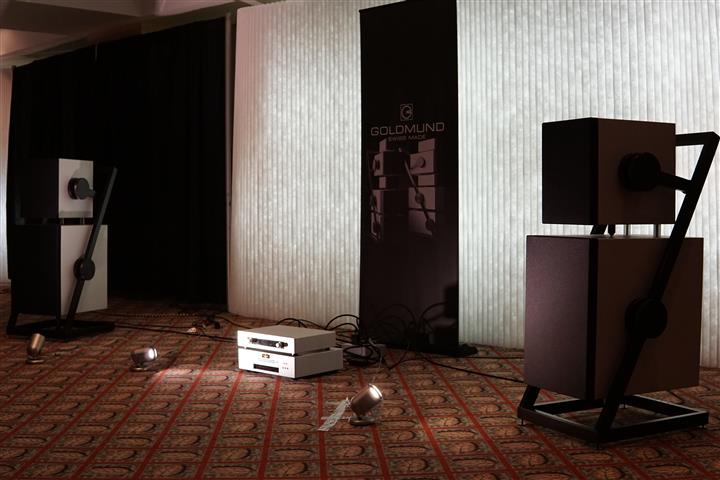 The second system was an all-active wireless speaker system from Goldmund, their Logos Satya active loudspeakers ($140,000) fed by a Goldmund Eidos 36U+ universal player ($53,000) and Goldmund Mimesis 11 wireless hub ($15,000).  This setup was strikingly realistic.  The sense of effortless dynamic delivery, ease and scale was just amazing.  Truly an end-game system.
The Gramophone Distribution Company – Luxman, Raidho, Acoustic Signature, MELCO
I walked into the room hosted by The Gramophone, a distributor and re-seller of a number of very desirable audio brands.  The system was a combination of Luxman, Raidho, Acoustic Signature and MELCO with Nordost cabling.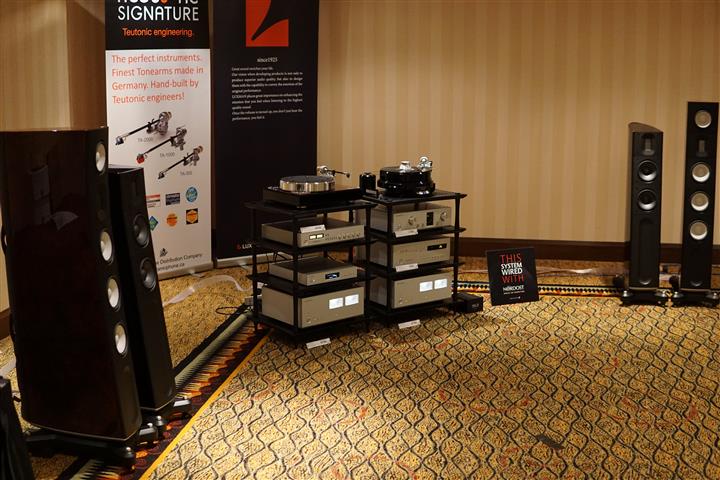 The Raidho speakers were the C3.2 ($54,000/pair) and the D2.1 ($53,000/pair).  Though the construction and technology and high-frequency drivers of these two speakers are much alike, the key difference is their mid-bass drivers; the C-series uses ceramic (Ceramix) drivers, whereas the D-series uses Raidho Diamond Drivers.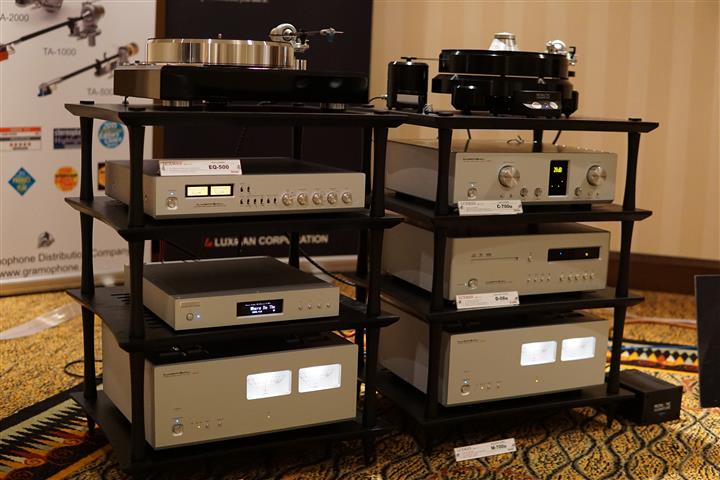 At the heart of the system was Luxman C-700u control amplifier ($8995) , paired to M-700m stereo amplifiers ($8995/each) running bridged as monoblocks.  A Luxman EQ-500 tube phonostage ($6,495) was connected to two Acoustic Signature turntables; a Storm ($9,000) with 12" TA-2000 tonearm ($3,600) and a WOW XL ($3,600) with TA-500 ($1,250).  Digital music was by way of a MELCO N1ZH 6TB HDD NAS ($6,500).  The sounds was silky smooth, relaxed and very musical, though the room with its square dimensions was gremlin to this systems bass performance.  Cabling was by Nordost, including the Frey 2 speaker cables.
Tetra Speakers
Hailing from Ottawa was Tetra Speakers.  This company has a history of endorsements from music production professionals, including the Herbie Hancock, Ron Carter and Rob Fraboni.  In fact, though I didn't get a chance to meet him, I understand that Rob was personally at Montreal Audio Fest hailing the virtues of Tetra's loudspeakers.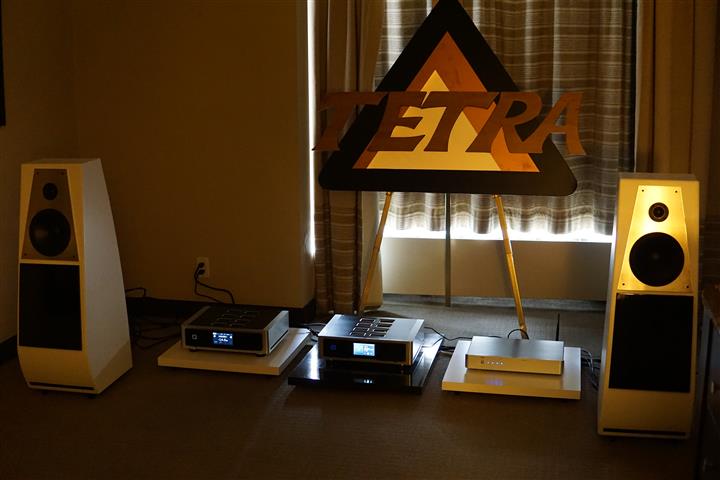 The speakers in play were the Tetra Phoenix ($12,750 U.S.) a relatively new design, which was paired to NAD Master Series components, including the M32 Direct Digital integrated and the new M50.2 DAC/Server/Vault.  They were playing specific "live" recorded, direct from master, recordings to demonstrate the detail retrieval and realism potential of the speakers.
Muraudio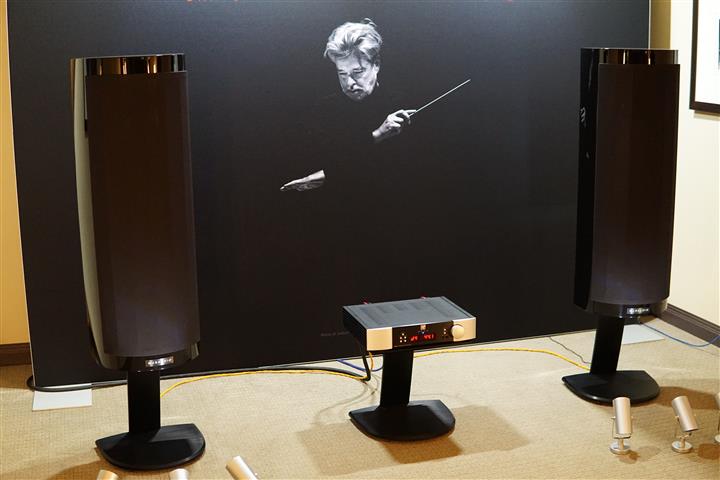 Muraudio was hosting the world-premiere of their all-new SP1 loudspeakers ($14,700 U.S. / pair).  I had heard about their development over a year ago and so was in anticipation of the result.  The SP1 (Single Panel 1) is a speaker that draws from their significantly more expensive Domain Omni series, using many of the same components in a much lighter and more compact design.  It's great to see this innovative Canadian company introduce a product at this significantly more attainable price point.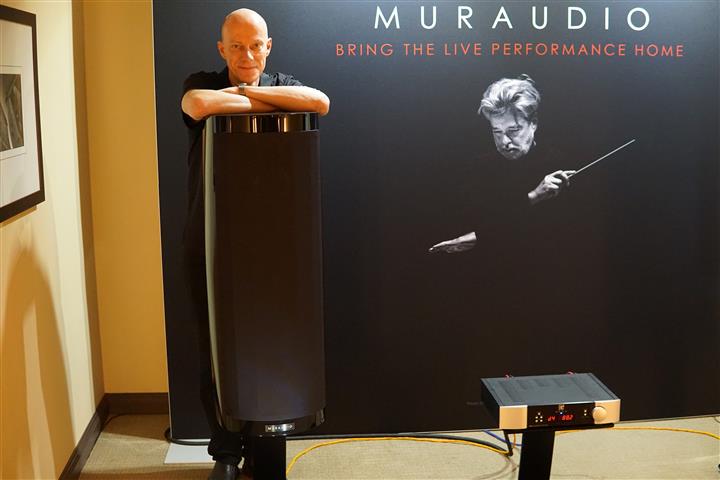 Murray Harmon, the company's founder and Chief Technology Officer was all smiles with showing off his new product.  These speakers were being driven by an incredibly modest MOON by Simaudio 340i, with Luna cabling.  The SP1 incorporates two pairs of 15cm aluminum mid-bass drivers with a single continuous cure ESL panel.  The sound was natural with wonderful transparency and an amazingly even distribution within the room – no bad seats here.  A very exciting product indeed.
If you missed the earlier parts of this article, you can find them here: Part 1 and Part 2 and Part 3.