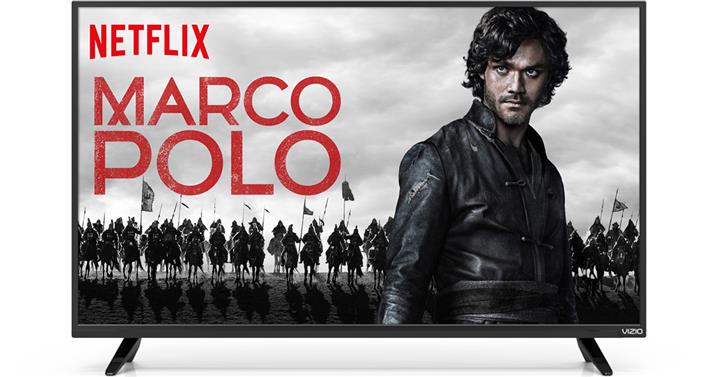 PERFORMANCE
The best picture mode out of the box is the Calibrated setting, although calibrating the image with professional equipment provided a significant leap in performance and color accuracy.  I watched a variety of programs from Netflix, over-the-air HD and UHD Blu-ray disc.  The experience was quite consistent on all formats with the edge going to UHD Blu-ray disc for the cleanest 4K signal. I watched several 4K titles such as The Fifth Wave, Ghostbusters and Concussion.  The Fifth Wave isn't exactly the best alien-invasion film around, but it appeals to the tweens and teens since it's the youth that are battling the bad guys.  Many of the scenes take place in dimly lit interiors that exercised VIZIO's full array LED technology.  The picture offered a far greater contrast with this technology enabled, giving it a more realistic look.  However, some brightening and darkening of the image can be seen occasionally when this feature is used.  Without the full array LED technology turned on, dark images appeared brighter and had a noticeable blue tint.
Watching the opening library scene in the original classic Ghostbusters movie was a visual treat. I have never seen this title look as good as it did on this TV. Because the TV's pixels are too small to notice at a typical viewing distance, the film's gritty grain texture came through like never before. It's amazing how 4K can make film sources take on a whole new dimension.  This was in great contrast to Concussion starring Will Smith, with its polished, razor sharp image. While not produced from a 4K master like Ghostbusters, it looked a bit better than the Blu-ray edition, and demonstrated VIZIO's excellent color fidelity. Such great color detail is hard to find on low priced televisions, especially in combination with a full array backlight.
In addition to UHD Blu-ray discs, I watched a few other sources on this TV. Over-the-air HDTV broadcasts looked as crisp and detailed as I've seen on other TVs. The quality video processing in this TV displayed video below 4K resolution without objectionable noise.  VIZIO Internet Apps Plus' support of smart TV apps like Netflix, Xumo, Vudu, Hulu and others provides instant access to a great wealth of content, right out of the box.
Of course streaming video from these online services is no match to the picture quality of UHD Blu-ray discs, and showed compression artifacts and banding.  This is not a fault of the TV but rather of streaming itself.  Make sure your Internet Provider's speed is a stable 10MBs to insure best performance. Nevertheless, the show Chef's Table was eye-candy for the TV and showed the tiniest details of the food and the various towns highlighted in this series.  Flight of the Butterfly on the other hand showed some unnaturally pumped up contrast and color.
CONCLUSION
Ultimately, this TV offered a great picture quality, a good set of features and excellent value for its price.
The VIZIO D65u-D2 may very well be the best entry-level 4K television I've tested to date. For a TV at this price point to offer 4K resolution and a full array LED backlight (with 16 active zones) is very impressive.  Its ability to display a picture with a high contrast and excellent color accuracy makes it a standout performer.  If you're looking to step up to a 4K TV without breaking the bank, this is a TV you should definitely give a good look.
VIZIO
www.vizio.ca
(877)698-4946
VIZIO D-Series 65-inch LED TV (Model D65u-D2)
Price: $1,199