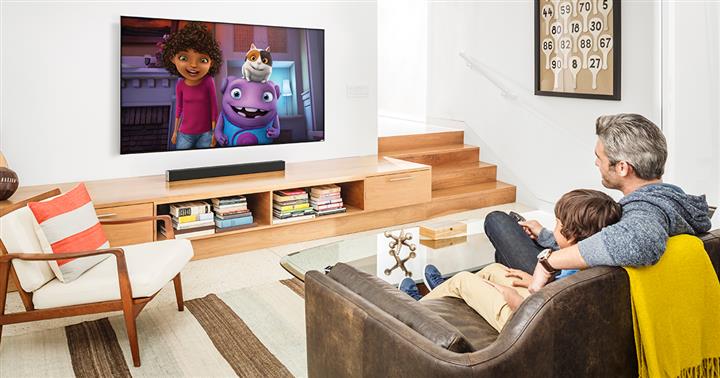 UHD, or 4K, TV technology is rapidly expanding its market reach as more consumers embrace higher resolution displays.  Offering four times the resolution of HDTV, the added picture definition brings more life-like images into our homes than ever before.   Online streaming services like Netflix and Amazon offer an ever-increasing amount of 4K content, and 4K TV set top boxes are readily available from local TV service providers.  There are also over 100 UHD Blu-ray discs available for purchase today, for those equipped with a UHD Blu-ray player.  What's amazing is how quickly prices have dropped to get into this technology.  Only four years ago 4K TVs were over $6,000 to start.  Today a 4K TV can be purchased for under $999.  At this price point, it becomes very tempting to embrace this latest TV technology.
VIZIO manufactures high quality video and audio products for price-minded consumers.  The company currently offers five ranges of TVs: Reference Series, P-Series, M-Series, E-Series and D-Series.  In this review I take a close look at the 65-inch D65U-D2 model from the entry-level D-Series (which offers screen sizes from 24-inches to 70).  Priced at $1,199, this set offers 4K resolution (3,840 x 2,160 pixels), smart TV features and full-array LED backlight technology, with 16 active LED zones.  This technology controls the LED lights behind the LCD panel for superior light uniformity and black level performance.  Ensuring that the LEDs aren't turned on in dark areas of the screen, the result is a stunning high contrast image typically found on high-end TVs.
The remote is very simple and easy to use, once you get used to the small buttons and location of input and VIZIO's smart TV functions.  Built-in WiFi and a V6 six-core processor allows for a quick setup and immediate enjoyment of HD video content from Netflix, Spotify, Hulu and more. Ultra HD content can also be streamed from Netflix, VUDU, UltraFlix, and Toon Goggles.  All 1080p HD content and lower resolutions are enhanced to look better on the 4K panel using VIZIO's Spatial Scaling Engine. This upscaler will give a little more life into lower resolution content and provides a more consistent viewing experience alongside UHD content.  Enhanced motion clarity for fast action scenes such as sports is achieved with backlight scanning and powerful image processing using the Clear Action 240 feature.  I am personally not a fan of how the picture looks with this feature turned on, but you might enjoy it for watching sports.
If most of your content comes from a stack of boxes on your A/V shelf, there are still plenty of inputs on this TV for external sources like a cable or satellite box, streaming devices like an Apple TV or Roku, and the classic DVD, Blu-ray, or UHD Blu-ray player. There are 4 HDMI 1.4a inputs for HDTV signals and one HDMI 2.0 input with HDCP 2.2 content protection required for 4K TV boxes and UHD Blu-ray players. Other notable inputs are a shared component/composite connector with audio, an HDTV antenna RF connector, as well as one USB and one RJ-45 jack. There's an optical digital output for PCM and lossy DTS and Dolby Digital 5.1, if you plan on connecting the TV to a home theatre receiver or preamp. Otherwise the 15 watt speakers with DTS simulated surround sound may be sufficient for your needs.  VIZIO also offers numerous sound bars to complement its TVs for those looking for a fuller sonic experience.
The TV's on-screen menu is nicely laid out and provides all of the options anyone could ever want, including calibration of grayscale and colour management.  The TV also allows you to give custom names to each of the inputs, making switching between inputs later very simple, and without guessing.  To have all of this in entry-level TV seems unheard of but VIZIO has been successful at it for several years now.  What's missing on this TV? UHD TV format features such as 10-bit color, High Dynamic range (HDR-10), Dolby Vision HDR and Wide Colour Gamut (WCG).  These features are all saved for VIZIO's step up M and P-Series home theatre displays.  Something has to give when offering a 4K TV at this price point; so if those features are important to you, check out VIZIO's higher TV series. While those technologies take color and contrast to the next level, VIZIO's D-Series is no slouch in reproducing 4K details and an image that's consistent with HDTV color fidelity.