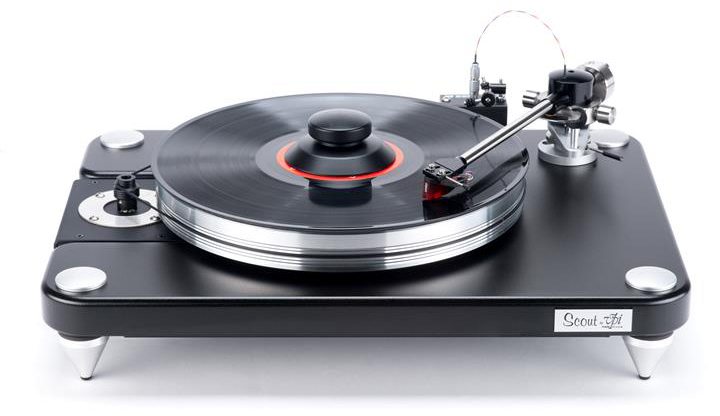 My earliest memories of music listening involve a turntable. In the mid-70's, as a young child (I date myself), my father had one of those huge console stereo cabinets, a Capehart console – Google it and you'll get my drift. It had an integrated amplifier, two-way speakers, 8-track player, AM/FM tuner, and jukebox style auto-changer turntable. Though that turntable was far from a quality / hi-fidelity playback instrument, I always found myself sucked in by the warm, often crackly, yet comforting sound of vinyl LPs played at family huddles.
As time went by, my brother and I jumped into the music of the 80's and eventually convinced our dad to upgrade the family stereo, which included a Technics SL-QD2 fully-auto direct-drive turntable and Ortofon cartridge. Compact Disc (CD) was just coming in and compact cassettes were a competing media. Though I always preferred the sound of vinyl to cassette, as vinyl sounded noticeably cleaner and more open, I regarded CD as the ultimate – why? Thinking back, CD had a high-tech look, compact form, was noiseless and sounded quicker, harder and more incisive, which seemed to work for the pop, amped rock and British new wave music that filled my listening repertoire. However, in those days, listening to music for realness or musicality was never the case.
Eventually the turntable got less play and the CD player took front stage in my ever evolving stereo system. I actually kept that original Technics turntable in play until 2008, when I replaced it with a Goldring GR1.2 turntable that up to now has been my regular spinner. With the Goldring, and the amazing quality of 180 gram audiophile pressings, my vinyl interest was fully re-energized. I now appreciated the texture, flow and rightness that vinyl can provide. Around the same time, I came across an article in Sound & Vision magazine entitled, "Sound & Vision's Vinyl Listening Club". It captured the excitement, enjoyment and pleasure of a friendly vinyl listening meet-up. Within the pages, there were pictures and fond mention of a VPI HW-19 MK-3, as well as a VPI record vacuum. The article sucked me right in and I've never forgotten it nor VPI, though it's taken me until now to get one of their turntables into my listening room.
Before I get into telling you about the Scout, a little background on VPI Industries is in order. The company was founded in 1978 by Sheila and Harry Weisfeld. Their first product was a record weight, then a turntable isolation base and in 1981 a record cleaning machine – the HW-16. VPI's first turntable product – the original HW-19 turntable was followed by the MK2, MK3 and then MK4. VPI continues to be best known for its turntable and vinyl cleaning machines and has been busy introducing fresh new models over the last several years. The company remains a family owned business with all its products built in Cliffwood, New Jersey of the U.S.A. – a fact that the company is most proud of.
The Scout was up to recently, VPI's most affordable turntable; however, over the last couple years VPI has introduced some other more affordable models, including the Nomad, Traveler and just last year the Scout Jr. The Aries Scout was introduced over a decade ago, followed by the Scout with acrylic platter, which preceded the Scout 2, released in 2009. This brings us to the Scout that was launched in 2013; essentially a Scout 2 with a thinner 6061 aluminum platter (1.375″ vs. the 2″ thick "Classic" platter on the Scout 2) and a different main bearing. This model was originally called the Scout 1.1, but VPI recently renamed it to just Scout.
The Scout is a belt driven design with an outboard 600 RPM AC synchronous Hurst motor that VPI has used in different iterations for over 30 years. The solid aluminum platter, which feels like it weighs 20-lbs, rotates on a hardened, tapered shaft, sitting in an oil bath bearing with PEEK thrust disc and machined graphite-impregnated brass bushings. The plinth is 1.25″ thick, made of MDF, covered in a premium textured black vinyl and bonded to a 12 gauge steel plate on four conical anti-resonance feet. Fitted to this body is VPI's latest iteration of their Scout tonearm, simply referred to as the new JMW Scout Tonearm. This arm is stated to be an improvement over the original JMW 9 arm, with slightly more detail and smoothness. The new JMW Scout Tonearm is a 9″ design and easily identified by its stark black anodized stainless steel and aluminum construction. It allows for full adjustment including VTF, VTA and azimuth, to accommodate almost any cartridge. A power cord is included, along with detailed instructions on how to set up the turntable properly. There are also a number of setup tools and accessories in the box. These include a screw-down record clamp, custom JMW Memorial protractor, a digital stylus weight gauge with leatherette slip cover, an azimuth-setting bar, a mechanical anti-skate device and a couple Allen keys.
The Scout was packed incredibly well in layered custom foam cutouts – no doubt here that VPI knows how to ship things right. Assembly was easy enough, following the instructions and getting it level posed no issue. Then the big test – mounting the Ortofon 2m Red cartridge that VPI provided (a $100 US option), uninstalled. This was my first time mounting a cartridge so I took my time and followed the instruction manual. Fortunately the included manual is quite detailed and there are also videos to be found on YouTube, including most recently a couple on the VPI website for the new Scout Jr. and Prime turntables. With a little tinkering I got things to measure all right in about an hour – not bad for a first time but before I started to play records, I had an experienced friend confirm my work and apart from a little tweaking on azimuth and VTF, the Scout was good to go.
In form, the Scout looks very different from VPI's more traditional designs – their Classic, Classic Signature and Classic Direct and more akin to their modernistic designs – their Aries and HR-X. It comes only in a semi-gloss textured black finish with silver adornments that include a name plate, corner caps, conical feet and of course the platter and two-tone tonearm. Though there are no hard edges, the Scout comes across as a vixen rather than a lady. Sexy – oh yes, cool – for sure and solidly built – no doubt about that. Build and fit is excellent but the finish, though functional and forgiving of blemish / handprints is nothing to rave about. The tonearm is a work of art with its unipivot design which offers almost frictionless performance. I did find the motor produced some initial noise, which settled in with break-in but it never reached the totally silent level I hoped for. I never heard it when playing, even during the quietest passages – so I might be a little fussy on this point. VPI does offer a 300 RPM motor upgrade option for $150 US, which I expect will be exceptionally silent. VPI offers a 3-year warranty on its turntables, so you are well covered, should anything not be up to spec.
I began listening critically to the Scout once it had 100+ hours on it. My evaluation was done in my reference two-channel system, consisting of a Pro-Ject Phonobox II SE phonostage, Simaudio 350p preamplifier, Bryston 4B-SST2 amplifier and quadral Aurum Montan VIII loudspeakers. Wiring was all Nordost Norse 2 Heimdall 2 cables. Power was provided by a Nordost QB8 power distributor. I also used a set of Audio Physic VCF III Double Component sound optimizer feet for isolation under the turntable. The cartridge, as mentioned earlier, was a VPI supplied Ortofon 2m Red.