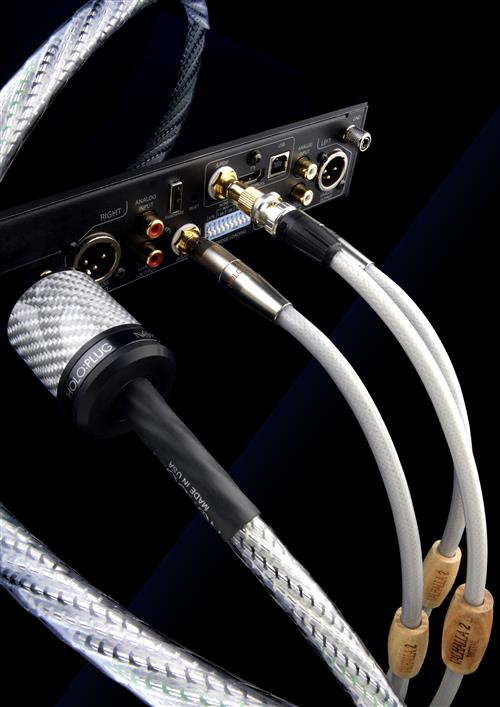 Before all these improvements, the wires were quite possibly the strongest link, and no one really paid much attention to them. Only when the standards of reproduction achievable in the home reached more elevated levels did it become apparent that cables could make a great difference. To many in the industry, making cables is an art, but to the real innovators, George Cardas of Cardas Audio, Ray Kimber of Kimber Kable, and Edwin van der Kley of Siltech Cables, it's a science. Technology and innovative engineering is the name of the game. Of all the cable innovators, perhaps the most influential or notorious is Joe Reynolds of Nordost, pictured on this page with local Toronto audio legend Ernie Fisher. If you attend hi-fi shows, you may run into Joe and you might have a chat with him. I would recommend the experience. He is itching to tell you what he's up to, and to set up demos where you can hear for yourself the changes in sound between the various Nordost cables, and to demonstrate the other products Nordost makes to improve the sound of your home system.
By setting the highest standards, these four gentlemen have raised the bar for the cable industry as a whole. But those highest standards have come with a price. Such cables can be ultra expensive, they can run you into five or six figures. Fortunately a lot of the innovative solutions they have developed has trickled down into the more affordable ranges of cables they make, so that the best three figure cables today are vastly superior to their equivalent ten or twenty years ago, and things continue to improve apace, to keep up with the improvements across the board in audio performance. If you have an ultra-revealing system and you are really chasing the state of the art, then you should investigate the top of the line offerings from Cardas, Siltech, Nordost and Kimber. That way you will do full justice to your investment.
I invite you to read a review of the exotic Valhalla 2 cables from Nordost on our site at THIS LINK.