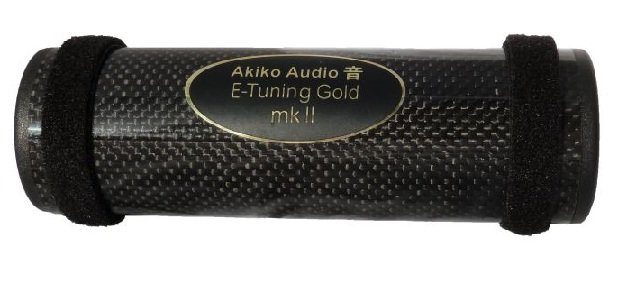 Akiko Audio has just recently introduced their new Akiko Audio E-Tuning Gold mk II tuning stick.  Akiko set out to develop an AC enhancement product that would exceed competitive products in performance, including their own existing E-Tuning products.  The new Gold mk II is the successful result of their efforts. 
Focused listening tests were completed using a variety of existing power cable brands and products with clearly audible results achieved in all cases, including a more natural rendering of instruments, less etched vocals and an increase in spaciousness.
The new E-Tuning Gold mkII contains a mixture of minerals such as piezoelectric and paramagnetic materials enriched with gold.  These contents are stabilized with black resin, a material which sufficiently suppresses microphonics.
The new Gold MkII tuning sticks weigh 475g each and measure 15cm in length with a 5cm diameter.  Velcro attachment straps allow for quick and easy attachment to all power cable products.  A modern design employs a carbon fibre pattern and robust construction.
The new Akiko Audio E-Tuning Gold mkII stick is available at a price of: € 195 and comes with a manufacturer's 14 day full money back satisfaction guarantee.
Look for more details or to purchase Akiko Audio products at: www.akikoaudio.com.