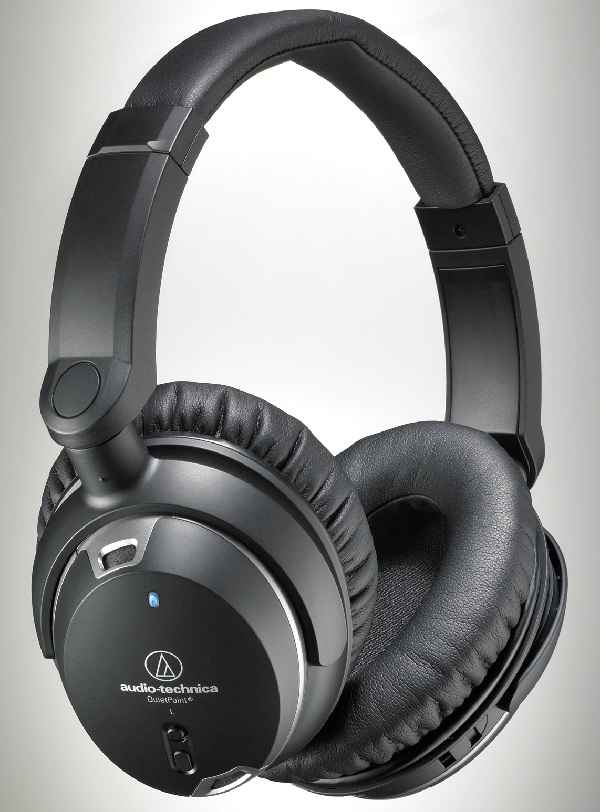 Audio-Technica has released a few new headphone models within their Solid Bass, QuietPoint and SonicSport lines.  
Audio-Technica's new ATH-WS55i over-ear and ATH-CKS55i in-ear Solid Bass headphones are designed to provide impactful bass with an accurate midrange and highs.  These headphones feature mic and in-line three-button remote for volume and call answer.  The remote and mic are iPhone TM, iPad and iPod compatible.  These headphones use a Double Air Chamber System to focus air flow from the drivers and provide greater bass output.  Along with the ATH-WS55i and ATH-CKS55i are the new ATH-WS55 (in black and red/black) and ATH-CKS55 that offer the same features without communications capabilities.
These new Solid Bass models are currently available at the following MSRP:
ATH-WS55i over-ear $119.95 U.S. / ATH-WA55 $99.95 U.S.
ATH-CKS55i in-ear $79.95 U.S. / ATH-CKS55 $69.95 U.S.
Audio-Technica's is releasing a new QuietPoint active noise-cancelling ATH-ANC29 over-ear headphones, which has redesigned earcups and restyled headband with extra padding for a comfortable fit.  The QuitePoint ATH-ANC29 headphone is designed to deliver powerful bass, natural midrange, detailed treble and precise imaging.  It offers up to 87% noise cancellation and works even if the batteries run out. Its detachable cord also enables its use as cordless noise-cancelling headphones.
The ATH-ANC29 will be available in June at a MSRP of $99.95 U.S.  
Audio-Technica's new SonicSport in-ear headphones are designed for active use and have an IPX5 lab-certified waterproof rating, making them sweat-proof and washable. The ATH-CP700 model has an in-line volume and music playback functions for compatible Apple devices, and features a thin headband that wraps around the back of the head. It also has a flexible pivot ear-fit design that directs clear audio and impactful bass toward the ear canal, while allowing awareness of outside sounds. The ATH-CKP500 headphones feature secure-hold C-tip earpieces that nestle in the outer ear, while the ATH-CKP200 has a hinged ear hook that adjusts around the ears. The ATH-CKP500 and ATH-CKP200 are available in a variety of colors and have XS/S/M/L choice of sound isolating eartips, and ridged eartips to allow a low amount of ambient sound for great safety outdoors.  MSRP is as follows:
ATH-CP700 $99.95 U.S.
ATH-CKP500 headphones $74.95 U.S.
ATH-CKP200 $49.95 U.S.
Look for more details or to buy these products at: www.shopaudiotechnica.com.