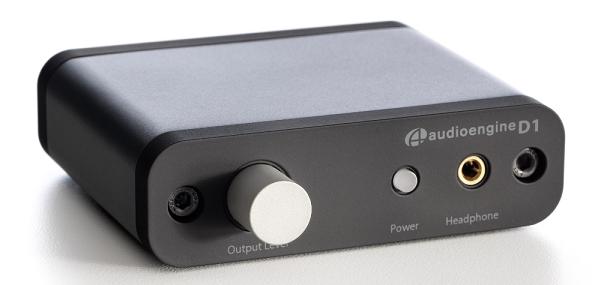 Audioengine has just announced their D1 Premium 24-bit DAC and D2 Premium 24-bit Wireless DACs.
Audioengine D1:
The D1 allows streaming of high-quality/resolution audio from your computer to headphones, powered speakers, or any music system. The D1 bypasses the computer headphone output or soundcard and sends audio through the USB port, which should improve result in improved audio quality.
The D1 is a computer DAC capable of receiving audio files up to 24-bit / 192 KHz but will output at a maximum of 24-bit / 96 KHz. The rounded D1 case reflects traditional Audioengine design. Using double-redundancy input power filtering, precision re-clocking of the digital stream, and the high-performance AK4396 DAC, the D1 promises to deliver high performance. The D1 is a true plug-and-play digital audio solution, with no required software / drivers. The D1 output connects to any audio system or powered speakers. A high-quality headphone output is also included for headphone enthusiasts.
D1 Features:
Desktop or portable digital-to-analog converter
Mac or PC plug-and-play, no drivers to install
High-performance headphone amp included
USB and optical inputs
USB-powered
Stream bit-perfect 24/96 HD audio with low jitter
Based on the high-performance AK4396 DAC
Audioengine D2:
The D2 builds on the features of the D1, adding wireless streaming capability.
The D2 Sender will accept USB or an optical input and the D2 Receiver will output optical or analog audio through audiophile-quality RCA connectors. The system can accept up to 24-bit / 192 KHz data but will stream over-the-air up to 24-bit / 96 KHz PCM stereo in a "closed-system" Wi-Fi configuration. Its proprietary RF technology ensures data integrity, with no impact on existing routers or networks. In addition, the D2 Sender can simultaneously transmit HD audio to up to 3 Receivers. The volume control is transmitted over an entirely separate channel, so there is no impact on the digital stream.
D2 Features:
Wireless 24/96 digital-to-analog converter
Mac or PC plug-n-play, no drivers to install or network setup
USB-to-S/PDIF converter
USB and optical inputs
Optical and analog outputs
Based on Burr-Brown PCM1792 DAC
Bit-perfect 24/96 PCM over-the-air transmission
The Audioengine D1 Premium 24-bit DAC has a MSRP of: $169 U.S. and the D2 Premium 24-bit Wireless DAC has a MSRP of $599 U.S. with a Sender/Receiver pair. Both products are currently available. Look for more information on these products at: www.audioengineusa.com