AudioQuest has just recently introduced their first headphone, the NightHawk, designed by Skylar Gray.  The new headphone leverages the know-how that AudioQuest has acquired with its high-performance DACs (digital-to-analog converters), phono cartridges, audio/video cables, and numerous accessories.
The NightHawk brings together advanced manufacturing techniques and driver technologies with sustainable materials within an attractive and comfortable product that gives a sense of quality beyond its reasonable price.  
NightHawk is the first completely original production headphone to use a 3D-printed part—a biomimetic grille (inspired by the underlying structure of butterfly wings) that uses a complex diamond-cubic latticework to diffuse sound and defeat resonances. NightHawk's 50mm pistonic drivers have a biocellulose diaphragm designed to take advantage of the material's outstanding rigidity and high-frequency control, while its patented split-gap motor has been devised to significantly reduce intermodulation distortion.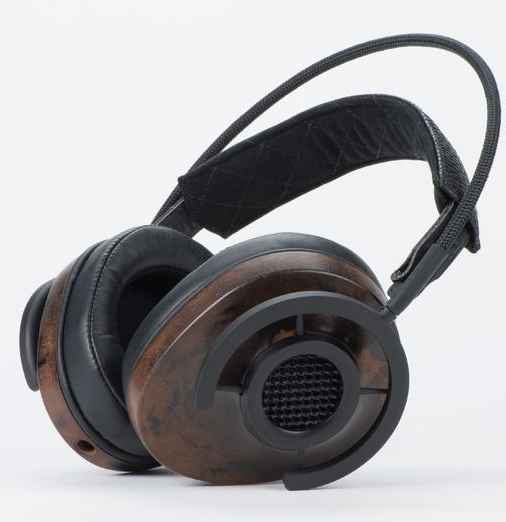 Among NightHawk's many intelligent innovations is a flexible headband that efficiently distributes the headphones' weight, providing a sure and simple fit designed to minimize clamping force and enable long listening sessions. NightHawk's earcups are made from a revolutionary material known as "Liquid Wood"—actual wood that has been combined with reclaimed plant fiber, heated, liquefied, and processed in such a way that it can be injection molded. Unlike typical plastic, Liquid Wood has outstanding acoustic properties and is environmentally friendly.  In addition, NightHawk's patent-pending suspension system allows its earcups to move freely, accommodating heads of any shape or size, while decoupling the earcups from one another, further counteracting harmful resonances.
As seen in the use of its Liquid Wood earcups and biocellulose driver diaphragm, NightHawk carefully balances innovations in headphone design with innovations in sustainability and responsible engineering. To that end, even NightHawk's packaging reflects designer Skylar Gray's belief that an intelligent design should minimize waste, culling all unnecessary parts and leaving behind only those that are vital to the product's success. Forgoing the luxurious cardboard-and-plastic packaging of today's popular headphones, NightHawk is packaged in a leatherette carrying case with a simple sleeve and original artwork by the acclaimed freelance graphic designer Justin Maller—a packaging solution that is as simple as it is intelligent, responsible, and beautiful.        
The new AudioQuest NightHawk will be available in 2015 but no specific date has been shared nor has pricing been announced.  More information on the AudioQuest NightHawk headphones is available at the following website: http://nighthawk.audioquest.com/.
Comments are closed.