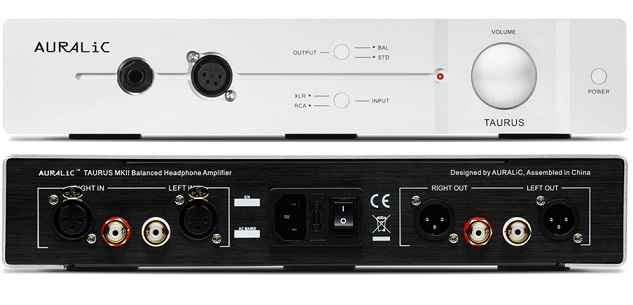 Auralic Limited has just introduced their new Taurus MkII Balanced Headphone Amplifier.  This MKII version incorporates design improvements and a change in chassis colour from black to white.
The new Taurus MKII has a unique four-way output structure, which allows configuration as standard or balanced at the simple touch of a front-panel button.  Both standard and balanced modes work with the 6.35mm jack and 4-pin balanced connections.
New proprietary technologies have been integrated within the new Taurus MkII, such as: Auralic's patented ORFEO Class-A output module that provides from 1,000 to 4,500 milliwatts into various loads meeting the power requirements of virtually any consumer audiophile headphone.
A sophisticated ultra-low-noise input buffer maintains a high input impedance providing a dynamic range of more than 130dB.  EMI shielding is increased in this MkII version, reducing noise from the input buffer to 0.8uV, less than half the level of the original.  Auralic has also improved the input switch circuit to increase the isolation among different input channels, which boosts performance when the TAURUS MKII is connected to multiple sources.
The TAURUS MKII's connection package includes access capabilities on both the front and rear panels. The front panel includes 6.35mm stereo and 4-pin balanced headphone jacks, along with a power button, an LED indicator, input and mode control buttons, and a volume control. The rear panel includes RCA and XLR analog inputs, RCA and XLR pre-amp outputs, and a power cord socket.
The new Taurus MkII Balanced Headphone Amplifier is available now at a MSRP of $1,899 U.S.  For further information, visit Auralic's website at: www.auralic.com.