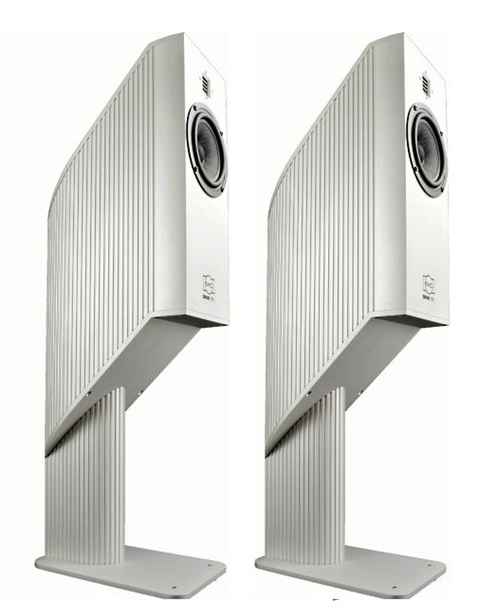 Balanced Music Concept (B.M.C.) Audio has just recently introduced a new entry-level loudspeaker – their PureVox speaker that was first shown at CES 2014 this month.
The B.M.C. PureVox loudspeaker is a quasi-bi-polar that aims to dramatically improve sound-stage depth to the sides, for a more complete and realistic impression.
The PureVox's cabinet is constructed ao a single piece of extruded aluminum with variances in its thickness, which are designed to combat internal resonaces.  The cabinet also uses a number of layers of dampling material that have been molten into the structure.  Stabilization bars at the remaining resonance points ensure that the  cabinet is inert.
The contruction of the PureVox cabinet ensure low internal energy loss, which is claimed to be far better than any  traditional MDF wooden cabinet.  As well, the aluminum contruction is immune to the effect of humidity and aging.
The PureVox's cabinet is sealed to add to its accuracy.  The PureVox is a quasi-balanced speaker, which means the same driver set is on the front as is on the 45-degree angled rear of the  top. This includes two 6.9-inch Kevlar / fiberglass bass / midrange drivers in a quasi-bipolar configuration. The PureVox's configuration  also includes two powerful AMT tweeters, with strong motor / weight relation for superb acceleration and a high sound-pressure capability without compression effects.  Each speaker weighs 27.2 kg (60lbs).
Beside the traditional binding posts the PureVox also offers a  professional SpeakON terminal, which is safe, reliable and  convenient to use.
A small switch allows slight variations of the sound balance.  The top position provides a little treble emphasis, while the bottom postion provide a little bass emphasis.  The PureVox will be available from March at a suggested price of EUR 4500 or $6,400 U.S. per pair.
Look for more details to become available at: http://bmc-audio.de/.  B.M.C. products are distributed in Canada by www.audionation.ca.