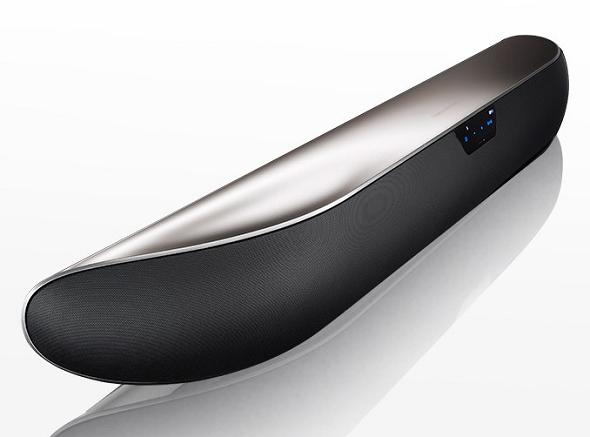 Bowers & Wilkins (B&W) has just released a completely redesigned Panorama 2 Soundbar.  The new Panorama 2 Soundbar looks very much like its predecessor; however, B&W suggests that the similarities stop there.  The new Panorama 2 Soundbar promises dramatically improved sonic performance, according to B&W.  
Panorama 2 is the result of intensive research by Bowers & Wilkins renowned engineering team at its UK Research and Development division in Steyning, West Sussex. It includes technologies originally developed for high-end speakers such as the 800 Series Diamond, and uses them to bring a new level of performance to soundbars.
Panorama 2 features completely new Bowers & Wilkins engineered drive units, which deliver a dramatically enhanced acoustic performance.  The new low frequency drivers have improved linearity for greater dynamic performance and lower resonance for deeper extension. The midrange drive units have wider dispersion characteristics, which helps to improve the virtual surround performance. The tweeter has been improved, too, for smoother integration with the midrange.  Of the nine drive units housed within Panorama 2's sleek and rigid casework, five are utilized in the active centre speaker: two bass woofers, two midrange drivers and an aluminum dome tweeter featuring Bowers & Wilkins Nautilus™ tube-loaded technology.  The other four drive units provide the rest of the sound, and each one is located within its own enclosure to maintain a purity of performance. All the drive units are powered by six class D amplifiers, providing a combined power output of 175Watts.
Digital Signal Processing (DSP) allows Panorama 2 to not only boost the quality of your TV to unprecedented levels, it also provides users with an immersive surround performance from a single speaker. The wide 'sweet spot', allows lots of people to experience the surround sound effects together, making it the ideal family entertainment system. For many people Panorama 2 will sound amazing on its own, however it's simple to add a subwoofer such as Bowers & Wilkins PV1D, for an even further enhanced experience.
Panorama 2 also has improved connection options, with the introduction of the latest HDMI connectivity. The three HDMI inputs and single HDMI output allows Panorama 2 to serve as the hub of your home entertainment system.
Panorama 2 uses a new proximity-sensing control panel and more intuitive On Screen Display (OSD). When Panorama 2 is operating the display is completely black, but when the user's hand gets close, it slowly illuminates, allowing the user to control Panorama 2 directly. Panorama 2 is set up and configured through the OSD, and the menu system is designed to be so simple it can be used straight out of the box, without having to read the manual.
The new B&W Panorama 2 Soundbar is expected to become available later in October 2012 at a MSRP of $2,200 U.S.  More information is available at: www.bowers-wilkins.com.