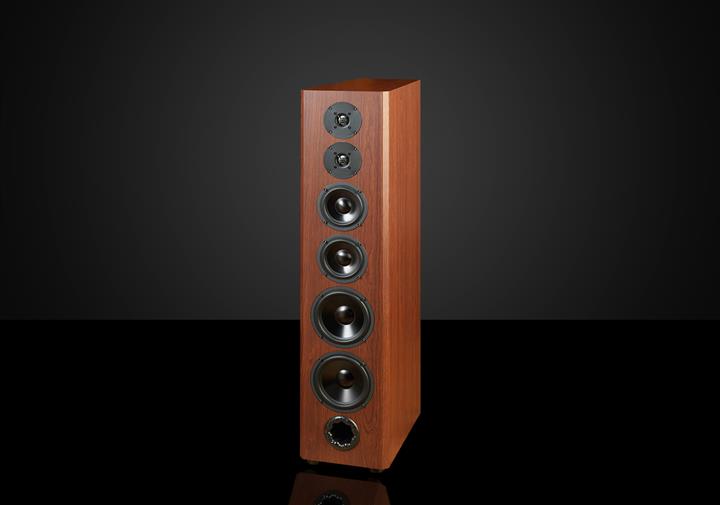 After two weeks of burning-in Bryston's Model A2 floorstanding loudspeakers, I invited two audio enthusiast friends over to listen to them. Both are well-heeled professionals with $150K+ invested in their 2-channel stereo systems. Irv owns high-efficiency horn speakers and Single-Ended Triode (SET) tube monoblocks. Steve also loves tube gear, but prefers electrostats.
So as not to bias their opinions, I didn't reveal the model or the maker of the speakers we were listening to. Three hours into our listening session, I asked: "Wha'd'ya think the MSRP is?"
Irv ventured: "I'd say… at least $8K to $10K."
I glanced over at Steve. He offered: "Gotta be… $7K to $8K… minimum."
I smiled to myself. "They're Bryston's new Model A2; a smaller version of their flagship Model T floorstanders."
Irv curiously countered: "What're they worth…?"
"Sticker price for the speakers is $2,790 Canadian. The braces on the bottom—the outriggers—are optional and add an extra $280."
They looked at each other in disbelief.
Steve sputtered out: "I'm sorry… I had something 'crazy' in my ear. Did you just say that these speakers cost $2,790 Canadian dollars?"
"Yeah…" I replied. "The outriggers raise the price to $3,070 though."
"Sheez…" Irv sighed. "The damn things sound better than speakers I've heard with $12,000 dollar price tags."
But I might be getting ahead of myself. Let's start with a little bit of a background about Bryston speakers. Bryston's VP of sales and marketing James Tanner remembers: "In 2010, I began a personal quest to develop the ultimate loudspeaker. After two years of development, the Model T was born… …Upon hearing them, my associates convinced me that I should offer them for sale under the Bryston banner."
While the Model T has been a resounding success, that 105 pound speaker is simply too big for small or mid-sized rooms. Accordingly, Bryston decided to launch their Model A-series line of speakers to offer music listeners with smaller spaces (and budgets) a viable alternative.
Built to Bryston's specifications by Canadian speaker manufacturer Axiom Audio, like all other Bryston speakers, the A2s are assembled at Axiom's facility in Dwight Ontario. By 'leveraging' Axiom's manufacturing and testing facilities, Bryston can bring the A2 to market at about one-third the retail price which it would otherwise cost.
The A2's cabinet is built from high density MDF and comes in three standard vinyl finishes: black ash, natural cherry, and Boston cherry. For an extra 15 percent (or $418), the speakers can be had in a variety of real wood veneers.
Standing 39.5" high, each A2 has a total of six drivers: two 6" woofers; two 4.5" midrange drivers; and two newly-designed 1" soft dome tweeters. All of the drivers are sourced from Axiom and are custom made to Bryston's specs. The nominal impendence is 4 Ohms and sensitivity is 87dB.
Inside of each A2, a precisely engineered network of internal braces are "eccentrically spaced" to mathematically eliminate surface resonances. These braces are locked into cuts in each speaker's side walls with mitre joints. Independent plastic injection-moulded enclosures cover both of the midrange drivers to isolate them from the other speakers' vibrations.
Due to its six drivers, thick MDF walls, and internal braces, the A2 is as heavy as a slab of reinforced concrete. At 62 pounds per speaker, if you're not young and strong, you'll (probably) need help setting them up.
Eyeing them from above, their shape resembles a rectangle that's tapered inwards towards the back.
Each A2 has three ports: one at the bottom on the front face beneath the drivers; and two at the top and bottom of the back panel. These ports are fluted and scalloped to reduce "chuffing" noises. Custom foam port plugs are also available for integration with subwoofers.
The A2s come standard with two sets of binding posts for bi-amping or bi-wiring. The crossover network is a 3-way design that's housed internally.
By bolting two optional brushed-aluminum braces—Bryston calls them 'outriggers'—to the bottom of each cabinet, the speaker achieves better lateral stability and superior downward energy transfer of vibrations through their spikes.
With the outriggers installed, I consistently heard tighter bass and mid-bass, clearer high frequency detail, and better midrange timbral accuracy. The braces also generated a bigger soundstage, more precise placement of individual instruments within that soundstage, and a lower noise floor.
Each and every time I removed the outriggers and listened to music, the rush to re-install them was overwhelming. To hear the A2s at their best, the outriggers are a necessity; and, for their asking price, a bargain.
Some speakers fire sound towards a listener in a narrow and tightly focused beam. The A2s throw sound out in a wide dispersion pattern.