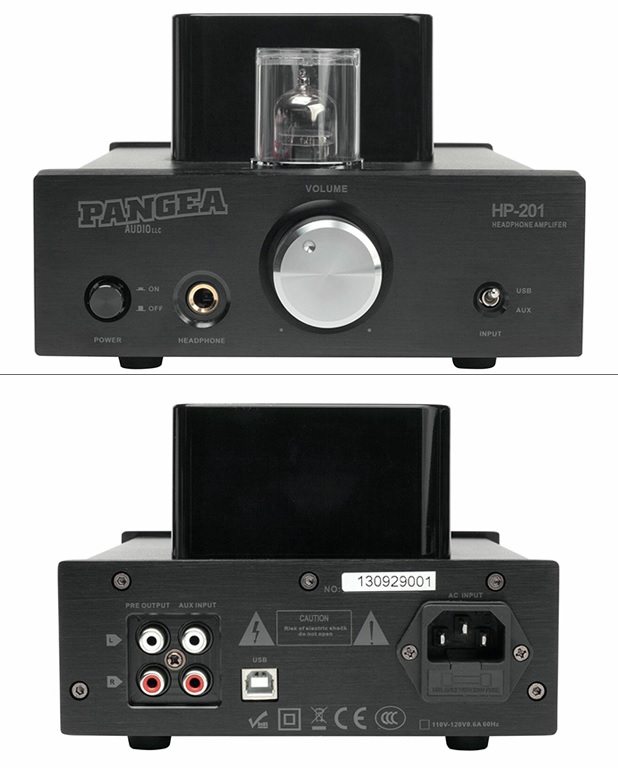 Pangea Audio has just announced their HP201 Hybrid Tube Headphone Amp with 24/192 USB DAC. The Pangea Audio HP201 brings together Class A solid state circuitry with MOSFET output devices together with a premium vacuum tube buffer to produce a a smooth and authentic presentation for headphone listening. MOSFETS were selected over affordable op-amp devices due to their performance advantages. The 12AX7 vacuum tube is protected by an easily removable shield aiding tube rolling. Built upon a sturdy all-steel chassis featuring a burly ten millimeter machined metal face plate, the HP201 is designed to deliver long-lasting high-performance audio.
The output stage of the HP201 has been designed in a robust fashion so as to work with a wide range of headphones. The analog stereo outputs can be connected directly to a power amplifier, as a preamplifier, leveraging the large precision-machined aluminum volume control knob. The HP201 also features a pair of auxiliary RCA inputs for additional flexibility. The internal linear power supply features an upgradeable rear panel IEC connector, enabling the use of a premium Pangea power cable.
The HP201 is also a high-performance USB DAC (Digital to Analog Converter). The 24/48/96/192kHz compatible input lets you play high-resolution digital audio files directly from your Windows or Mac computer. Conversion is managed by the highly regarded Cirrus Logic CS4344 24-bit/192-kHz DAC chipset.
Pangea Audio is confident that their HP201 headphone amp/USB DAC, due to its high components and well-thought-out design, will outperform competitive products.
The HP201 is now available from Audio Advisor with an MSRP of $299.99 U.S. Look for more details at: http://www.pangeaaudio.com