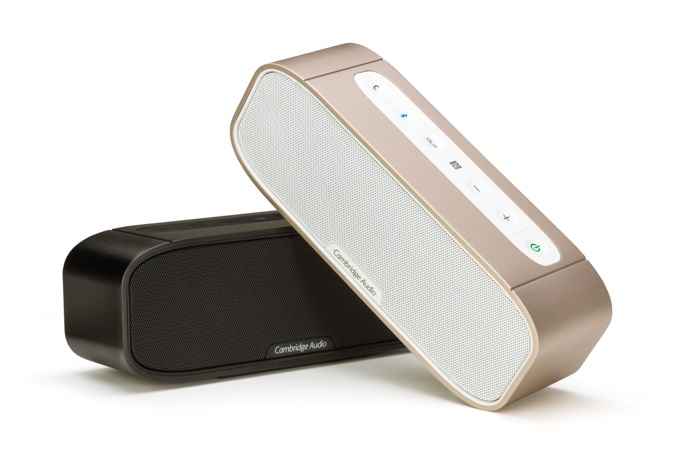 Cambridge Audio has just announced their G2; an urban styled, portable Bluetooth speaker that provides extended operation with its long-life battery.  The G2 joins Cambridge Audio's Bluetooth range of products and has been designed to provide sound and scale that is siginificantly beyond its compact size (189mm (W) x 67 mm (H) x 55mm (D)).  The G2 sports a solid aluminium body and has backlit soft-touch controls.  It also comes in a two finishes – champagne or black.
Utlizing an impressive four driver array the G2 is set to provide stereo sound but can also be paired with an additional G2 to provide an even larger stereo image and/or fill a larger space with sound.  The battery has an amazing 10 hour life and there is integrated hands-free speaker phone capbability.  
CONNECT AND PLAY
The G2 will connect to almost any Bluetooth device and also supports NFC technology for one-touch Bluetooth pairing.  It can remember up to 8 different devices for similicity of re-connection.  
BATTERY LIFE WITH MAXIMUM ENDURANCE
Utlizing a high capacity lithium-ion battery, the G2 can provide up to 10 hours play on a single charge. And, with intelligent battery management software – bettery life and charging time are optimised.
A convenient USB socket is provided to charge connected mobile devices – the perfect charging back-up.  
G2 X TWO
Pairing of two G2 speakers is possible for twice the sound  and better stereo imaging.  The G2 accomodates BBC iPlayer, Spotify or Google Play Music for wireless music play.  
The G2 portable Bluetooth speaker will be availabe in October at the following prices: £99.95 / €149.99 / $159.99 U.S. / speaker.  If you're interested in more details: http://www.cambridgeaudio.com
Comments are closed.