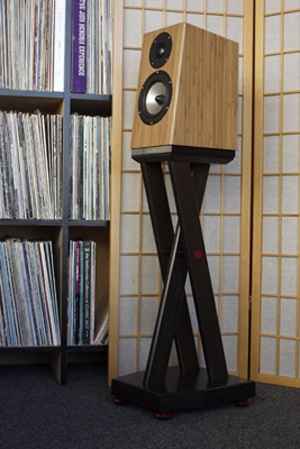 Canalis Audio has just releaed their new Anima Stand.  The custom Anima Stand incorporates refinements that have been specifically incorporated to get the best peformance out of the Canalis Anima loudspeaker through its rigid, inert and vibration minimizing structure.
The Anima Stand is constructed of bamboo that is know for its rigidity, strength and vibration dispersion abilities.  Three intersecting vertical supports are specifically arranged to dissipate energy with maximum efficiency.  The speaker is bolted onto the stand from underneath the stand's speaker base.
The Anima Stand prevents vibrational energy being transmitted back up into the loudspeaker, thus, avoiding a loss of clarity, delicacy and precision in the mounted speaker's sound.  The Anima Standa also prevents enery being transmitted to the floor, where it could result in degradation of the sound heard at the listening position.  
The height of the Anima Stand is calculated to provide the correct relationship of the woofer to the floor, and puts the acoustic center of the two drivers at ear level when the listener is seated and the rake angle can be adjusted for different heights.
The Anima and Anima Stand are hand-built in Berkeley, California using 3-ply bamboo, a material that is environmentally friendly and has beneficial acoustical properties.  It is currently available at a MSRP of $1,500 U.S./pair, while the Anima loudspeakers have a MSRP of $3,250 U.S./pair.  For more information please visit http://www.canalisaudio.com/.