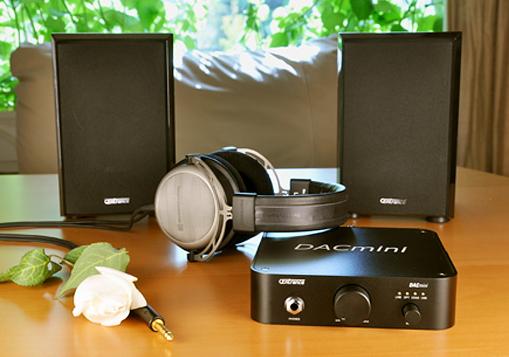 CEntrance, Inc. will be introducing its new Audiophile Desktop product bundle at CES in January 2012. The system inclues a stereo pair of MasterClass 2504 desktop 2-way coaxial speakers, DACmini PX desktop amplifier and DAC packaged with a custom flight case, as well as, speaker and USB cables. The DAC, amplifier and speakers have been matched to provide, what CEntrance claims, is mastering-level audio quality.
The powered DACmini PX features analog and digital inputs and 192kHz / 24-bit capability. The new MasterClass 2504 near field speakers are claimed to define mastering-quality sound in a near-field environment.
These components include features such as patented 'Co-planar' transducer technology (tweeter and bass driver working surface located on the same vertical plane), all-wood speaker construction, an integrated amp with volume control and on-board custom-designed digital 25-watt amplifier.
Each MasterClass 2504 speaker features a full-range two-way 4-inch transducer, a carefully tuned bass-reflex cavity, a musical cross-over circuit with custom frequency-shaping components and 25 watts of power-handling capability. The speakers are finished in black piano lacquer to match the black anodized finish of the DACmini PX.
DACmini PX is a compact DAC with built-in Class A headphone and Class D speaker amplifier designed to perfectly complement the MasterClass 2504 speakers. It's a preamp and digital to analog converter with multiple I/O options including: USB, optical, coax S/PDIF, analog input and output, and a front-mounted 1/4-inch connector for professional headphones. It features a proprietary JitterGuard jitter elimination system, and plug-and-play driverless USB connection on Windows, Mac and Linux computers. Galvanically-isolated, gold-plated RCA connectors provide analog input and output. The extended range volume control is matched to the MasterClass speakers and also accommodates a wide array of headphones, from IEMs to professional high-impedance models.
The DACmini PX's form-factor matches the classic Apple "Mac mini" computer footprint, creating a perfect platform for an audiophile-level music server on your desktop. Using the S/PDIF inputs the DAC features 192kHz 24-bit conversion quality. For the USB connection using ASIO, a free, downloadable CEntrance 'Universal Diver' is available from CEntrance.
The Audiophile Desktop bundle is available for ordering now at a MSRP of $2,000 USD. Look for more details at: www.centrance.com.