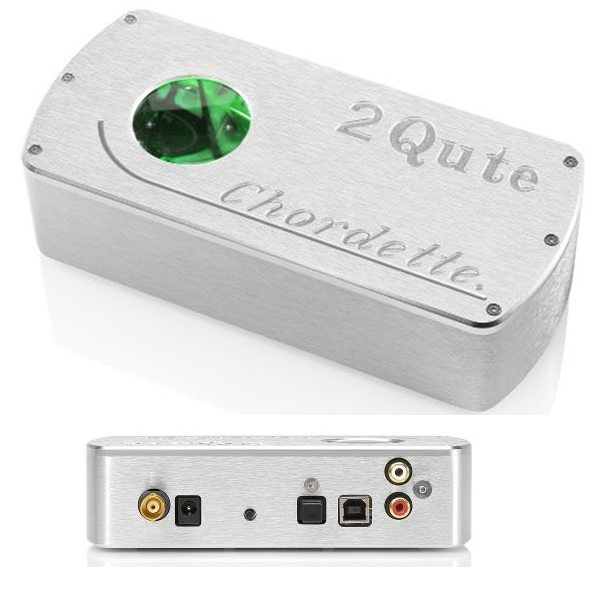 Bluebird Music, the North American distributor for Chord Electronics, has just announced that the first batch of the new Chord 2Qutes was shipped to US and Canadian dealers on April 23, 2015.
The new 2Qute is a compact, affordable standalone DAC which combines two Chord products: the Hugo DAC/headphone amp and the Qute EX standalone DAC. The result is a new super-DAC for 2015 with class-leading specification, outstanding technical measurements and proven sonic performance.
2Qute takes the Qute EX DAC up to the latest Hugo specification; and is essentially a Hugo within Chordette dress, or in this case chassis. The 2Qute has the latest FPGA DAC technology, with the same high-performance Spartan 6 FPGA within the Hugo. The 2Qute also boasts astonishingly low distortion levels of 0.0003%.
The 2Qute offers support for up to 32-bit/384kHz audio via coax and USB, and 24-bit/192kHz over optical. DSD64 is supported on all inputs and DSD128 is supported via coax or USB (all via DoP). The new DAC also gains a handy switch to easily move between coax, optical and USB digital inputs.
The device features a Class 2 USB input which, because of the 2Qute's home-system orientation compared to Hugo's more mobile aspirations, has been galvanically isolated for greater sonic performance. This has been achieved using a novel technique which allows for very high data rates of up to 384kHz; the input is driverless on Apple and Android devices, with (ASIO included) drivers for Windows devices.
Features Include:
– Coax, optical and USB digital inputs with input switch
– Galvanically isolated Class 2 USB input up to 384kHz
– Driverless operation on Apple and Android devices; drivers supplied for Windows
– Support for up to 32-bit/384kHz audio via coax and USB, and 24-bit/192kHz via optical
– DSD64 supported on all inputs, DSD128 supported via coax or USB input (all via DoP)
– Source and sample rate indication/illumination
– 12V 0.5A power supply provided
Measurements:
– Output: 3v RMS 1kHz
– Dynamic range: -119dB A Wt
– THD: 0.0003% at 3v RMS 1kHz; 0.0002% at 2v RMS 1kHz
– Crosstalk: 126dB 1kHz
– Frequency Response: +/- 0.1dB 20-20kHz
The new Chord 2Qute will be available, starting in April at a MSRP of $1,795 U.S. Look for more details at: http://www.chordelectronics.co.uk