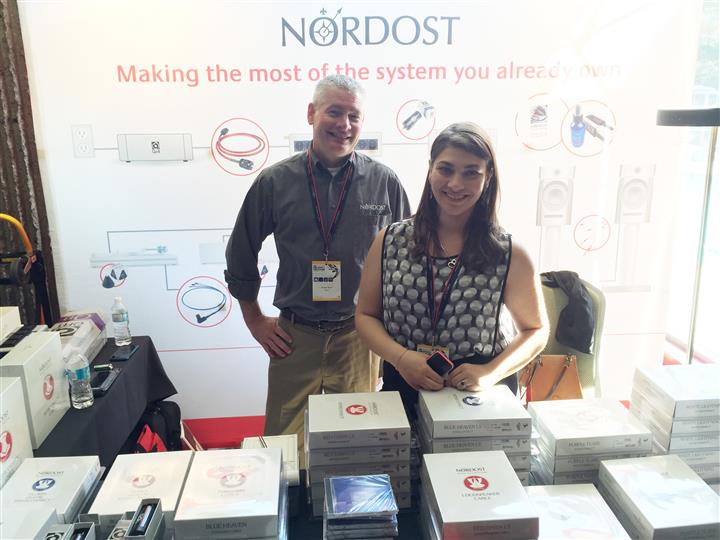 Nordost
Cable and accessory manufacturer Nordost is always happy to show off and demonstrate its products at audio shows.  At the Montreal show, the company had a booth right at the entrance of the show, in addition to a demonstration room elsewhere on the show floor.  Above: Meredith Gabor and Micheal Taylor of Nordost stand with big smiles at their booth, where show attendees were given the opportunity to purchase various products at special show prices.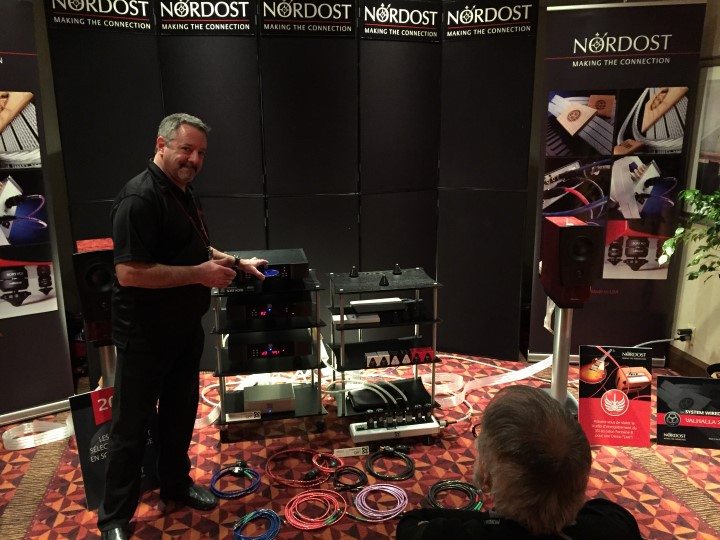 Nordost ran closed-door seminars during all three days of the show, providing demonstrations and insights on how to improve the sound of your system using its cables and various accessories.  I can't think of a better way to learn about Nordost products and discover just how much of an impact they can make on system performance.  If you've never sat through a Nordost seminar, you absolutely must!  Above:  Bruno de Lorimier of Nordost happily demonstrates two resonance control devices: the Nordost Sort Kones designed for use with audio components and power distributors, as well as Nordost Sort Fut designed to sit under an audio rack.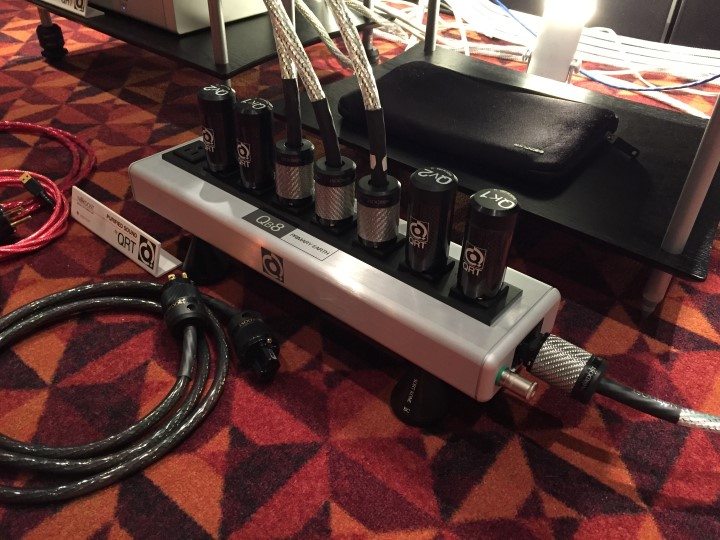 I also managed to snap a picture of a familiar product in the system – the QBASE QRT QB8 power distribution unit, which provides a straight-line AC distribution path, combined with star-earthed topology for connection to a clean ground.  I just installed one of these units in my own reference audio system and I'm delighted with the performance boost that my music has gained from this upgrade.  The most noticeable improvement is the soundstage – which went from three-dimensional to almost holographic.  Both the vocals and the instruments have more air around, and the distance the various musical components is now much better defined.  It's a pretty remarkable sonic treat indeed.  Look out for a closer look / review of the QRT QB8 on novo.press in the next couple of months.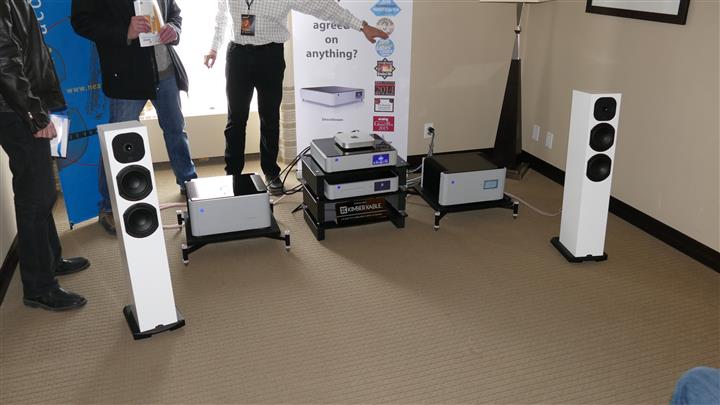 Kimbercan
For a number of years, Kimbercan used to exclusively distribute Kimber Kables in Canada.  More recently however, the company has added Neat Acoustics, PS Audio and Custom Design (audio rack & speakers stands) to its suite of brands.  The statement piece inside this room was the new PS Audio BHK-250 Signature amplifier (250 watts/ch in 8 ohms).  Don Rhule of Kimbercan said that this amp is "more than a prototype and very close to production" and he expects it to begin shipping in June at approx. $10,999. Paul McGowan from PS Audio was kind enough to provide me with some insight about this new amplifier.  The BHK-250 is a hybrid design with vacuum tubes in the front, running with no feedback, that go into 3 pairs of series diff pairs of Mosfets (so it's fully balanced, fully differential push-pull).  It is equipped with an output stage that uses a unique design of "same-sex" devices (meaning that all output devices are N-channel).  Paul was demoing the new amp with a PS Audio DSD DAC, taking tunes from a MAC mini and controlling it with an iPad mini, playing through a pair of Neat Acoustics Motive SX1 speakers. As you might imagine, the system was wired up with Kimber cables.  In addition to this, the full range of Neat speakers was on static display, lining the walls of the room.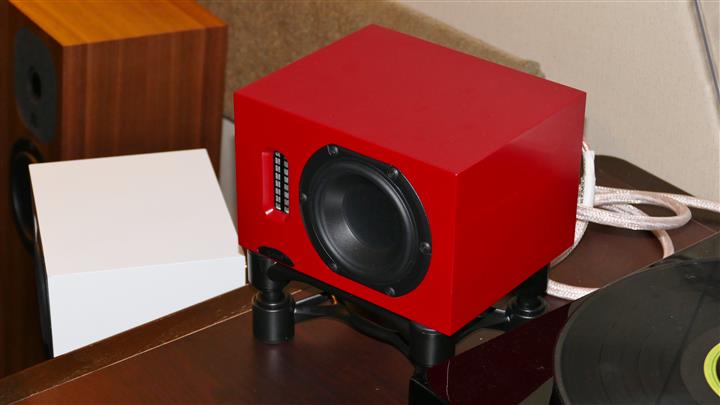 A secondary system in the same room was also ready for demonstration.  This one consisted of the PS Audio Sprout integrated amp (50 watts / ch, class D), offering Bluetooth, phono, headphone inputs, and digital inputs ($999); along with a turntable source and Neat IOTA speakers.  Topping it all off, Kimbercan also showed a number of beautiful Custom Design stands and audio racks built in the UK.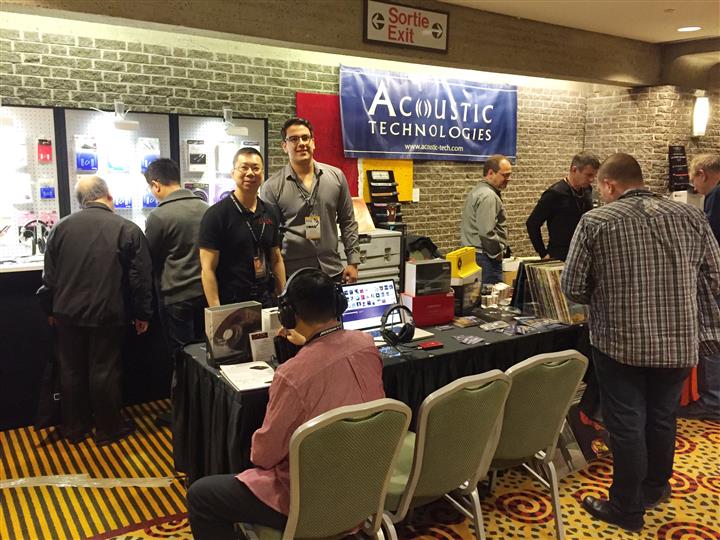 Acoustic Technologies / Alpha Design Labs (ADL)
Retailer Acoustic Technologies partnered up with Alpha Design Labs to highlight numerous (mostly personal) audio products and accessories at their show booth.  Starting with the latest, ADL was demonstrating its brand new GT40 Alpha USB DAC (with a built-in phono stage), which is a completely revamped version of the company's original GT40, offering better quality chips, a better power supply, and now capable of 24-bit/192kbps recording / playback.  Visitors could listen to a personal audio system consisting of the ADL GT40 Alpha ($593) running ADL's top-range H128 headphones ($513, available in three different colours).  For those on the move, ADL also had its A1 portable DAC capable of DSD audio (made for Andriod devices) available for audition, with H118 headphones (now available for a lower price of $199).  Also at the booth was ADL's popular X1 portable DAC designed for Apple devices, playing tunes from a MAC laptop through another pair of H118 headphones.  Other portable audio products that attendees could also listen to included the Cruise portable headphone amp / DAC and the EH008 earbuds (dual drivers, carbon fiber finish).  The Cruise portable headphone amp/DAC, offers up to 80 hours of playback from its built-in battery which makes it a great travel companion.  It was playing music from an iPod shuffle, through ADL's H128 headphones.
In addition to the active demonstrations, ADL also presented its wide range of upgradable headphone cables (designed to interface with all popular headphone brands), interconnect cables, USB cables and HDMI cables. Other products at the booth included Fostex headphones, headphone DACs, JBL Bluetooth headphones, Oppo products, Furutech, and lots of different accessories like the SpinClean record washer.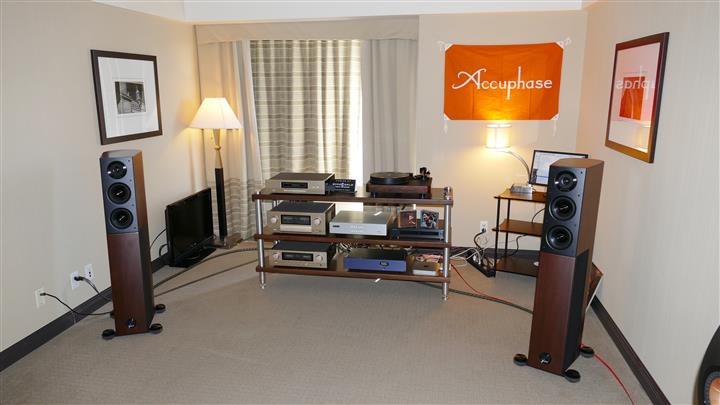 Elsewhere at the show, inside a dedicated room, Acoustic Technologies also featured two 2-channel music systems.  The main system was comprised of the Accuphane E-600 Class A integrated amplifier (30 watts per channel) $14,000 approx., the Accuphase DC3-7 DSD DAC $11,000 approx. and Audiophysic Avantera loudspeakers.  This system also had a secondary source – the Canadian made EMM Labs DAC2 $17,700 and the music flowed from a Mini MAC computer.  Everything was wired up with Wireworld cables.
The secondary, smaller system inside this room featured a pair of KEF LS50 speakers ($1,650/pair), a Peachtree Nova 125SE hybrid integrated amplifier ($1,795) and was also wired with Wireworld cables.
Last, but certainly not least, Acoustic Technologies also showed its own Solidrack RB Series racks constructed out of Russian Birch. This is a new entry-level, more affordable rack series from Solidrack. Available in single and double-tier versions, these racks can be ordered in custom sizes to match customer needs. A single tier, 4-shelf unit goes for $1,300, while a double-tier version goes for $1,800.  In addition to the racks, Solidrack now also produces matching speaker stands.  As the brand name implies, all of the racks / stands are solidly built and offer a clean, sophisticated look.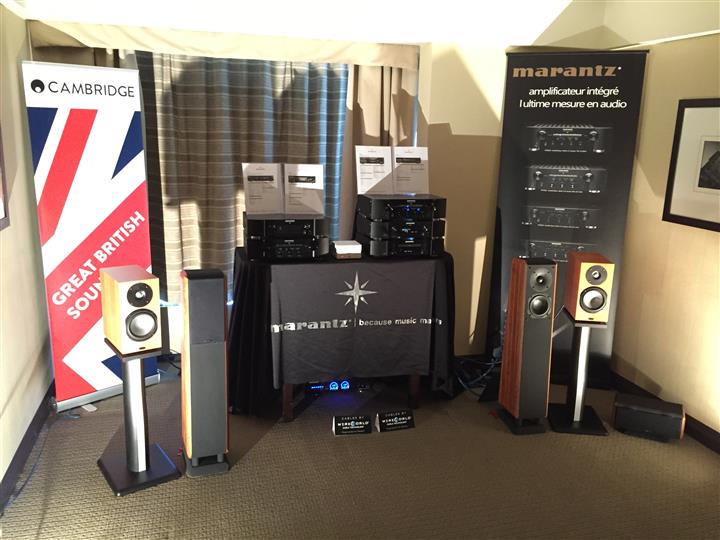 Tri-cell Enterprises
Tri-cell Enterprises partnered with two local dealers to show some of brands at the Montreal show.  Retailer La Maison Du Son focused on showcasing the Italian-made Chario speakers in various price points and different finishes.  Ready for demoing inside this room were Syntar Series 513 bookshelf speakers (around $700) as well as the Constellation Series Cygnus floor standing model ($2,200), both driver by Marantz electronics.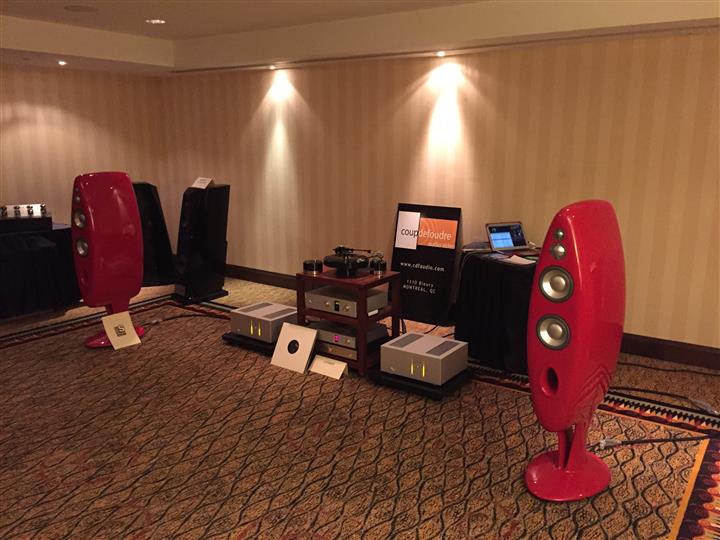 Another local retailer called Coup de Foudre was demonstrating a powerful and engaging system consisting of Luxman electronics and the beautiful Vivid OVAL K1 Speakers.  I listed to the system for a few minutes and quickly concluded that it was one of the better sounding systems at the show – a great pairing between the two brands.  The Luxman components included dual M-600A amplifiers, a C-800f preamp, and a DA-06 DAC fed by a laptop computer as the source.  Tri-cell Enterprises brands shown inside this room included Brinkmann, AWS, Clearaudio, and Opera – although they were all on static display so attendees could not audition any of these products.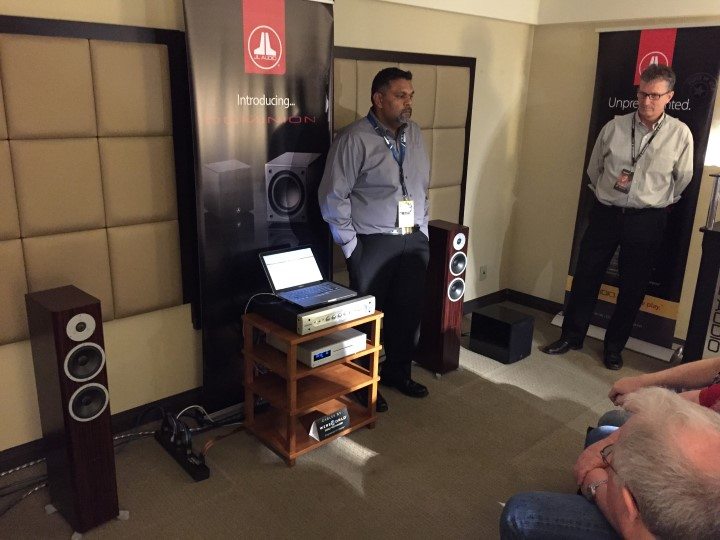 Gemsen
Phil Bryant of Gemsen, distributor of Dynaudio, JL Audio, and Wireworld, explained to me that their focus at the show was to demonstrate an audio system that offers exemplary performance for a realistic price, unlike many of the other exhibitors. At the same time, Gemsen was excited to reveal the JL Audio Dominion line of entry-level subwoofers (coming soon) for the first time in Canada. The system on demonstration (approx. $20,000) included Dynaudio Excite X34 speakers, a pair of the soon-to-be-released JL Audio Dominion 8-inch subwoofers and Wireworld cabling. Yes, this was one of the only 2-channel systems at the show that used two subwoofers to supplement the main channels, and did so very well. Phil explained that although the JL Audio subs have excellent crossovers built-in, they choose to use the JL Audio CR-1 external crossover (reviewed last year by CANADA HiFi) as it offered them a completely seamless integration with the main speakers, in an environment that is not well known to them and not perfect (that being the hotel room).
Gemsen also demonstrated the Dynaudio Focus 200 XD ($8,700) – a product that looks like a loudspeaker but is in fact a nearly complete audio system. The 200 XD houses and on-board amplifier and digital sound processor (DSP); all you need to add is your favourite sound. It's the perfect solution for a small space, like a condo room.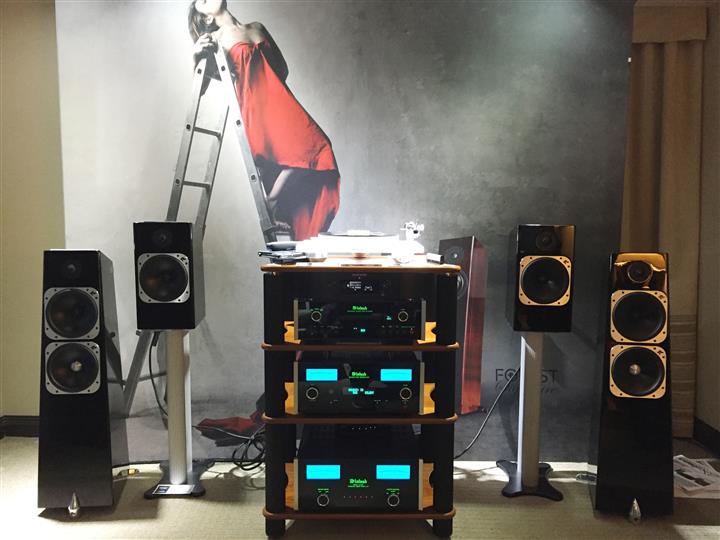 Stereo Plus & Design / Totem Acoustic
Local retailer Stereo Plus & Design showcased the pairing of Totem Acoustic speakers and McIntosh electronics.  There were two pairs of Totem Element series speakers ready for audition – the Element Ember bookshelf and the Element Earth floor standers.  The McIntosh components on the other hand included the MAC6700 2-channel stereo receiver and the MCD500 SACD/CD player.  Alternative music sources comprised of the Marantz NA6005 network audio player and the Marantz TT-15S1 turntable.  I have always been very fond of the Element series sound but the small room was too busy and too loud to truly enjoy what these speakers are capable of.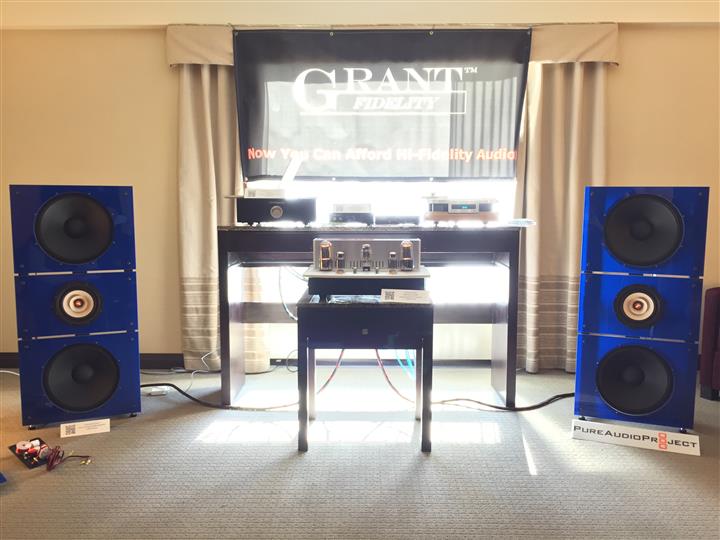 Grant Fidelity
My final stop at the Montreal show was to the Grant Fidelity room.  This Canadian distributor has earned a great name in the business for offering affordable, high quality audio products and always attracts a good crowd at shows.  The main focal point inside this room was a system that included the Psvane Audio Reference TS845 integrated tube amplifier, Pure Audio Project open-baffle Trio 15TB speakers, Consonance Droplet CDP 3.1, Grant Fidelity TubeDAC-11 DAC as well as a Yulong Audio DA8 DAC.
It is always a great pleasure to head to the Montreal Audio Show and this year was no different.  I hope that you enjoyed my show highlights as much as I enjoyed assembling them together.  Au revoir for now – we'll be back at the show in 2016!
Next stop for our team is the TAVES Consumer Electronics Show (Oct. 30 – Nov. 2, 2015).   www.taveshow.com.  I leave you with a picture of myself standing beside my "goal" speaker, the rather large Focal Grande Utopia EM… though first I'll need to move to a bigger house 🙂