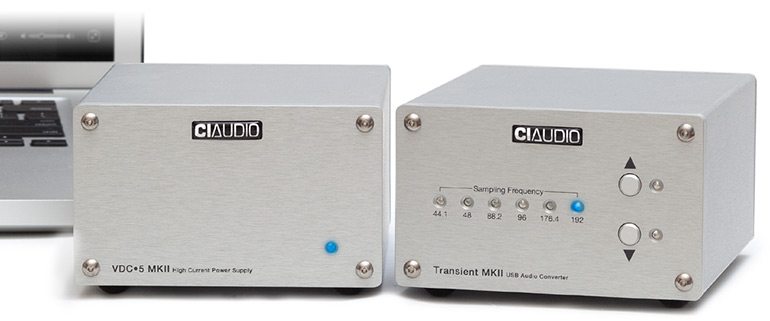 Channel Islands Audio (CIAudio) has released a USB to S/PDIF converter named the Transient MkII Asynchronous USB Converter.
The Transient MkII offers 24bit/192kHz data rates via an asynchronous USB link to source device – Mac or PC. The new Transient MkII is built around an XMOS based circuit that is claimed to have extremely low-jitter clocks.
Interestingly, the Transient MkII is also a DAC, with Wolfson DAC chips. A stereo RCA variable / fixed switchable output is provided, allowing the Transient to be used as a preamplifier to drive a power amplifier or powered speakers or more traditionally, as a DAC between a source component such as a computer and an integrated amplifier or preamplifier in a larger audio system.
For increased performance, the Transient MkII can be used with an optional separate power supply, the VDC-5 MkII, rather than via its USB hook-up.
Specifications:
Digital Outputs:
• S/PDIF via 75 ohm BNC Connector (Galvanic Isolated)
• I2S via Mini DIN Connector (Audio Alchemy/Perpetual Tech/Camelot)
• Differential I2S via HDMI Connector (PS Audio/Wyred4Sound)
Sample Rates Supported 44.1k, 48k, 88.2k, 96k, 176.4k, 192k up to 24bits
Master Clock Jitter: < 1.0psec
Analog Output Level 2V RMS Maximum (Single-ended RCA)
Frequency Response 20hz to 96kHz
THD + Noise: -89db @ -1dBFS
Dimensions 4.45″W x 2.9″H (including feet) x 5.25″ D
Shipping Weight 5 lbs
Warranty 5 Year Parts & Labor
The Transient MkII is currently available at a MSRP of $699 U.S. Look for more details at: www.ciaudio.com.