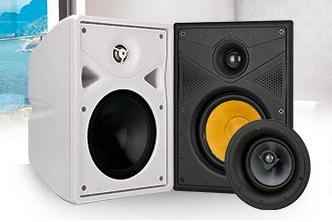 Crestron has just announced that their new Essence and Aspire speakers are now shipping.  The Essence and Aspire speaker products are Crestron's latest addition to its easy-to-install speaker line. 
The new Essence and Asprire speaker products feature an innovative toggle clamp mounting system, which allows for quick and easy installation and with their minimalist zero-bezel grille design will allow for a mulitude of applications to work with any decor.  
Both the Essence and Asprire products ahve been designed to provide clean, pure sound and inconspicuous aesthetics, while using high quality materials.  The Aspire and Essence 2-way speakers are set to provide high-end performance.
Essence speakers take over where Aspire leaves off. Adding top shelf components like woven Kevlar woofers to deliver deep, defined low end, as the large 1.1 inch advanced synthetic polymer dome tweeters accentuate crisp, fluent highs, articulate midrange, and provide consistent coverage across a wider listening area. Premium cast aluminum woofer baskets assure pure, uncolored bass response. In-ceiling models include both round and square zero-bezel grilles to match light fixtures or décor.
Make your favorite artists, melodies, and movies come to life at any volume you desire. Precisely tuned 4th order crossovers ensure a full, warm response across the spectrum and professional quality sound every time. Handles an impressive 100-175 watts of power (depending on model and size) with a wide frequency response.
Great sound meets installation versatility. Essence and Aspire are sold in pairs* and available in both in-ceiling (round) and in-wall (rectangular) models. Choose from three popular sizes: 5.25″, 6.5″ and 8″. (*Aspire 8″ 2-Way Single-Point Stereo In-Ceiling Speaker is sold individually).
Both the Essence and Aspire speakers from Crestron are currently available – pricing is yet to be announced.  Look for more details at: www.crestron.com.