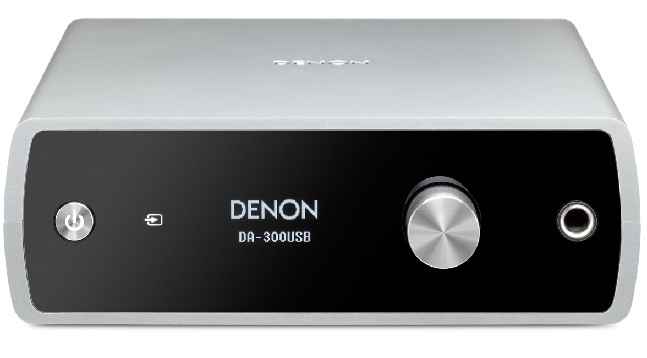 Denon Electronics has just announced the DA-300USB DAC, which is Denon's first-ever stand-alone USB DAC product.  DA-300USB has been designed to provide a higher level of performance within a computer music based system – whether that be with PC or Mac, loudspeaker or headphone.  With the DA-300USB, the sound quality of other connected digital audio devices—like media players, CD and DVD players, televisions, Apple TV, and game consoles can also be substantially improved.  Connection is simple via coaxial or optical digital inputs. 
The new DA-300USB DAC incorporates Denon's advanced AL32 32-bit, 192-kHz digital-to-analog conversion technologies for the highest level of sound quality.  Users can simply connect the DAC via its USB-B port and benefit from an improved sonic experience via headphones, powered speakers or via a connected stereo system.
Key Features:
High-definition DAC with one USB-B, one coaxial two optical digital inputs
High-quality audio components for rich, open, detailed sound
Denon advanced AL32 processing and high-precision 32-bit, 192-kHz digital-to-analog conversion for exceptional high-definition audio quality
DAC master clock design for distortion-free, fully transparent sound stage
Noise-isolating circuit design prevents distortion via USB connection from computer-generated digital noise; ensures fully transparent and spatially accurate sound stage
Universal bit-transparent, asynchronous playback of digital audio file formats and streaming audio from PCs via USB-B; up to 24 bit, 192 kHz and DSD2.8 and DSD5.6 native support by DoP (DSD audio over PCM frames)
3x SPDIF (coaxial/optical) inputs for upgrading sound from other digital audio devices (up to 24 bit, 192 kHz) with the DA-300USB's advanced high-definition signal processing
High-quality analog signal (line level) output and headphone amplifier stage for connection to hi-fi amplifiers or desktop speaker systems and superb listening with all kinds of headphones.
Simple plug-and-play operation for connection to PCs and other devices with digital audio outputs
The USB-B input allows computer-stored music files or streaming audio from Internet.  A connected computer will recognize the DA-300USB as an external soundcard and therefore, bypass its internal lower-performance soundcard, resulting in improved sound.  Any files that can be played via a computer can be processed by the DA-300USB—including MP3/MP4, AAC, ALAC, WAV and FLAC HD (up to 24 bit, 192 kHz) and DSD (the native file format for SACD; in 2.8MHz and 5.6MHz resolution).  The digital audio stream from the computer to the DA-300USB is transferred in bit-transparent, asynchronous mode to ensure a bit-perfect data stream for high-definition advanced AL32 processing and high-precision digital-to-analog conversion.
Denon's advanced AL32 processing and high-precision 32-bit, 192-kHz digital-to-analog conversion processor up-converts and up-samples all input signals to a 32-bit, 192-kHz high-definition data stream that is interpolated, using a highly advanced proprietary algorithm, to provide a full-scale, accurate reproduction of the original sound recording.
The DA-300USB is approximately 7 x 7 x 2 inches and can be positioned either horizontally or vertically (using the supplied clip-on stand).  The front panel has a power button, headphone output and volume control, a touch input selector switch, and an OLED display that shows the selected input, headphone volume and input signal resolution. Orientation of the display changes with horizontal or vertical positioning of the unit.
The DA-300USB is expected to be available in March at a MSRP of $499 U.S.  Look for more details to be annouced shortly at: www.denon.com.