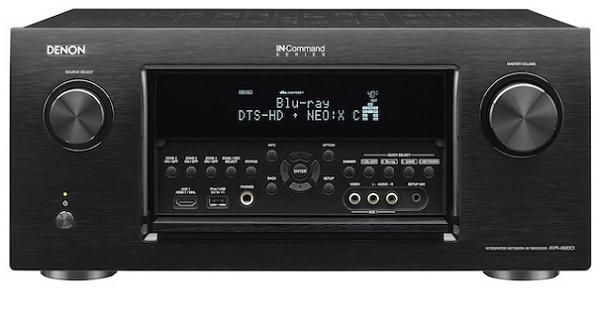 Denon Electronics, has just launched its flagship In-Command AV receiver (AVR), the 9.2-channel AVR-4520CI, which features Apple's AirPlay
The AVR-4520CI features a larger character display, richer graphics and newly designed GUI interface. With its streamlined new design and easy-to-access front-panel inputs, as well as 4K and 3-D video capability, the 150 watt x 9.2-channel AVR-4520CI provides access to all today's popular content sources, including Spotify. A Spotify Premium subscription will now be able to enjoy a more personalized music listening experience. The flagship also provides access to popular content sources including Sirius XM, vTuner Internet radio and Pandora. The receiver also features Direct Connectivity for iOS devices via a front panel USB input.
The new flagship AVR features 150 watts x 9.2 channel amplification with multi-mono block amp construction that ensures high performance. A free assign amp configuration allows maximum system configuration flexibility, making it ideal for custom integrators who want to provide their clients with the ultimate system for every conceivable lifestyle need.
The AVR-4520CI's incredible surround sound performance is made possible by Denon's exclusive Dynamic Discrete Surround Circuit (DDSC-HD32) technology, which dispenses with conventional all-in-one chips in favor of a trio of high power 32 bit floating point DSP processors. For the utmost fidelity, the AVR-4520CI is equipped with multiple high resolution 192 kHz/32 bit D/A converters, operating in differential mode for the widest dynamic range. Additionally, the unit's 11.2-channel processing capability has been newly expanded to accommodate leading edge dts Neo:X.
The AVR-4520CI can be the centerpiece of a 4-zone system, including the main room plus three additional playback areas, with independent sources available for each zone. The unit's seven HDMI inputs and triple HDMI outputs allow for a one wire connection for both picture and sound from most newer audio/video sources, such as set-top boxes, gaming consoles, and Blu-ray players. The AVR-4520CI allows for the connection of up to three different HDMI equipped displays; users can now send two different HDMI feeds to two displays at the same time directly from the receiver, eliminating the need for costly external switches and extra remote control complexity.
The AVR-4520CI incorporates true multi-zone HDMI audio/video distribution with the inclusion of HDMI matrix switching functionality.
Custom integrators will appreciate the fact that Audyssey MultEQ XT32 Auto Setup and Calibration allows for total ease and accuracy of set-up, along with the ability to use the advanced Audyssey Pro installer kit, which measures ideal sonic performance in up to 32 different positions, defining the ultimate sound quality for virtually any size or shaped room. The AVR-4520CI also features two Audyssey technologies designed to optimize bass performance. Audyssey Sub EQ HT provides individual tailoring for each subwoofer in a dual subwoofer setup, delivering the optimum combination of highest deep bass output and lowest distortion. Audyssey LFC processing analyzes and processes bass content on a continuous basis and custom tailors the sound via advanced psychoacoustic algorithms to deliver dynamic bass response within the listening room without annoying family members or neighbors in adjacent rooms.
The unit also features remote access via the Internet, RS-232 and IP Control for third-party controllers and is Control4 certified. The powerful amplifier section features Denon's Free Amp Assign function, which lets users configure the receiver to exactly match the needs of an integrated home theater or multi-zone setup.
The new AVR-4520CI is currently available at a MSRP of $2,699.99 in Canada. Look for more details at: www.denon.com.