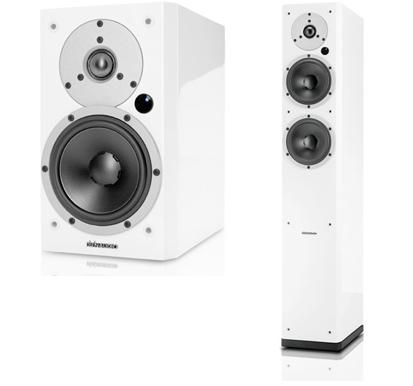 Dynaudio, the Danish based high end loudspeaker company, just introduced their new Xeo loudspeakers and wireless loudspeaker system last week at CES 2012. This new Xeo wireless series is currently comprised of two models, the Xeo 3 bookshelf monitor and the Xeo 5 floor-stander. Xeo loudspeakers are wireless, remote controlled active loudspeakers. The models are powered by integrated digital amplifiers with DSP.
The Xeo has been designed to deliver true high end sound quality, while the wireless active loudspeaker concept helps to achieve an incredibly high level of value in that there is no additional cost of amplification or cabling. The tweeters are 27 mm soft dome designs with Dynaudio's precision coating, while the long-throw mid/woofers are 14.5 cm drivers featuring Dynaudio's proprietary MSP (Magnesium Silicate Polymer) cones. The Xeo sonic performance is open, detailed, accurate and dynamic with perfect timing.
Dynaudio's statement on the Xeo is that the, "Xeo is Dynaudio's answer to an ever changing marketplace. This new product range exists as there has been a drastic shift in how customers are listening to music…With the Xeo, Dynaudio aims to bring the high performance sound that the audiophile market requires in line with today's demands of a wider audience who is interested in intelligent designs, the latest technologies and a simple and convenient platform to listen to music in higher sound quality."
The Xeo loudspeakers receive the music signal digitally from the Xeo wireless transmitter, and process the signal digitally up to the internal amplification. Setting up and operating the Xeo is as simple as unpack and play. Each Xeo loudspeaker set is supplied with a Xeo transmitter and a remote control, with the transmitter communicating to the internal amplifier in the loudspeaker, with no need for any further connection to a router or LAN. The Xeo speakers only require a wall power outlet to plug into and the Xeo Transmitter connected to the sound signal source.
The Xeo Transmitter converts a digital, wireless signal, sending such at full CD resolution (up to 16 bit/48 kHz) to the Xeo 3 or Xeo 5 loudspeakers. The Xeo Transmitter even supports files up to 24 bit/48 kHz. Depending on room shapes and wall construction, one Transmitter can send the signal up to 50 meters, or up to 100 meters in spaces without any boundaries. The Xeo remote control allows for source selection between the three available inputs as well as powering the speakers on, setting the volume level, choosing an audio source, and switching the speakers off.
Essentially replacing the functions of D/A converters, sound cards, preamplifiers and speaker cables, the Xeo Transmitter is an electronic device that receives music from a connected sound source and wirelessly transmits it, uncompressed, to the Xeo loudspeakers, thus making listening to music as easy as possible.
It requires no software and instantly sets up its own 2.4 GHz A-to-B connection. It may be connected to multiple sources, as it features both an optical (Toslink) digital input as well as a mini USB digital input, allowing connection to the digital output of myriad audio devices, while two analog inputs – a stereo mini jack for connecting a Smartphone, Tablet or other personal media devices, as well as a set of RCA stereo inputs allowing connection to an existing hi-fi system are on offer. When connected via USB, the Xeo Transmitter doesn't require use of the supplied external power adapter. When connected to Toslink optical cable, or analogue via RCA Stereo cable or 3.5 mm Minijack cable, without any USB connection, however, the Xeo Transmitter must be powered by the compact mains power adapter. A starter set of compatible cables is also included.
In addition to wireless operation, the Xeo system is also ready for multi-room/multi-zone installations. One single Xeo Transmitter can also supply wireless sound to a second pair of Xeo loudspeakers in a second room, and to a third pair of Xeo speakers in a third room. Since each speaker set includes its own remote control, each of these pairs of Xeo loudspeakers is capable of wirelessly playing a separate source with independent volume control in each room or zone. The Xeo remote control facilitates independently selecting the source input, setting the volume, or muting the sound (in addition to powering the speakers on and off) for each set of speakers in each or any room. Similarly, multiple sets of Xeo loudspeakers can be combined in one single room as well.
A simple example of a Xeo setup could be connecting the transmitter to the USB output of a Mac or PC, which thus would power the transmitter. The only thing to do other than connecting the power cables to the Xeo loudspeakers is to select Left or Right on the back panel of the corresponding speaker (both speakers can also be set to Mono). This is it. If additional Xeo loudspeakers are to be used in different rooms on the same transmitter, a second small switch on the speaker's back panel defines the Xeo speaker as belonging to Room 1, Room 2 or Room 3.
Thanks to its advanced digital amplifier and sound processing, the Xeo Loudspeakers are much more energy efficient than traditional amplifier/speaker combinations. Even when playing at high SPL levels, the speakers only need a few Watts, while the Xeo Transmitter runs on a few Microwatts. When not in use, the Xeo speakers automatically switch off into energy-saving standby-mode, consuming only 0.6 Watts.
The Dynaudio Xeo models will begin shipping by March 2012 at the following MSRP:
Xeo 3 Set $2,300 U.S. (1 pair Xeo 3, 1 Xeo Transmitter, 1 Xeo Remote)
Xeo 5 Set $4,500 U.S. (1 pair Xeo 5, 1 Xeo Transmitter, 1 Xeo Remote)
Xeo 3 Loudspeakers $1,950 U.S./pair (Remote included, no transmitter)
Xeo 5 Loudspeakers $4,150 U.S./pair (Remote included, no transmitter)
Xeo Transmitter $350 U.S./each
Look for more information on these and other Dynaudio products at: www.dynaudio.com