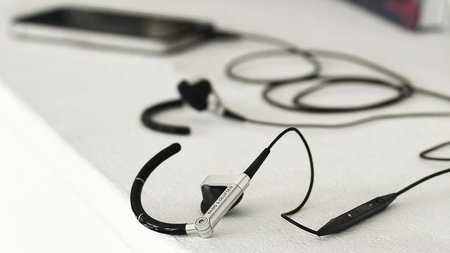 Bang & Olufsen is introducing a new version of its stereo headset, the EarSet 3i, which will has been designed with Apple i-devices in mind.
The EarSet 3i offers additional functionality to its predecessor, the EarSet 3, and is based solely on Apple products.
Acoustic performance has been a key area of attention. The tiny EarSet 3i, weighing in at only 23 grams, incorporates full range drivers (frequency range of 50Hz to 20,000Hz) on a telescopic bar, which allows through some environmental sounds.
The EarSet 3i has been specially developed with ergonomics in mind, for people with an active lifestyle. To ensure a perfect fit for any ear and make the placement of the earphones even more comfortable, the headphones come with small pads you can put on the speaker.
EarSet 3i is designed with carefully selected materials, providing ultimate comfort for the user as well as a high level of robustness. EarSet 3i is made of brushed aluminum and a special soft-touch rubber coating.
EarSet 3i is comes in only one black & silver finish and is priced at $199 U.S.
Look for more details at: http://www.bang-olufsen.com