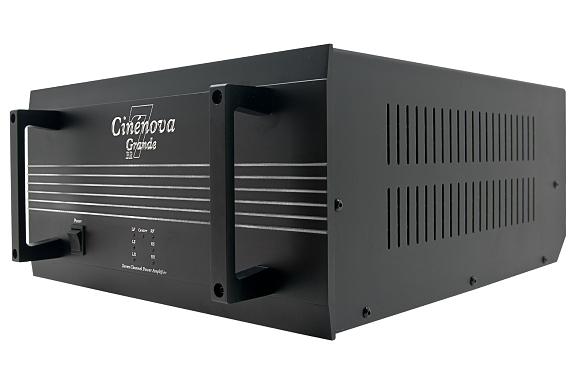 The new Cinénova Grande 7BR incorporates seven independent amplifiers for lower distortion, greater power and enhanced channel separation.  Each independent amplifier block uses a variable filter from 20Hz to 5kHz; the filter can be set in high-pass, low-pass, or by-pass mode via a 3-way selector. Both RCA low level & XLR inputs are accomodated.  A substantial 70Lbs toroidal transformer is utilized to ensure sufficient power for high performance operation.
Driving high power speakers (such as big tower speakers) is made easy by bridging 2 channels. The master/slave switch sets each individual block to be used independently (as a master), or in conjunction (as a slave) with another block when in bridged mode (1400 watts in 8-Ohm).
The Cinénova Grande 7BR exceeds the technical performance standards set by THX, DTS, and Dolby and is rack-mountable for convenience and utility.  The Cinénova Grande 7BR provides solid / low distortion amplification for home theatre, multi-channel music rooms and commerical applications.
Specifications:
360 Watts@ 8-Ohm, all channels driven Height 9 ¼" (235mm)
610 Watts@ 4-Ohm, all channels driven Width 18" (457mm)
810 watts@ 2-Ohm all channels driven Depth 21" (533mm)(457mm)
Features
Built-in line conditioner and surge protector
Balanced XLR & Low Level inputs for each channel
12V trigger
Integrated 20Hz – 5kHz variable filters with Low-Pass & High-Pass selector
Fused operation indicators
Thermal protection against overheating
Speaker protection against DC & Frequency below 10Hz
The new  Cinénova Grande 7BR has a MSRP of $5,999 U.S. and is currently available.  For more information, visit www.earthquakesound.com