Focal has 35 years of expertise in the speaker driver industry and has many years of innovation in the science of transducers. The new Sopra line of loudspeakers offers music lovers exceptional acoustic performance in a very desirable, stylish and compact package.
Conceiving, innovating, pushing the boundaries while improving its expertise and staying faithful to its roots: Focal has taken up the new challenge. This new range of loudspeakers proves that even today it is possible to go further in the quest for audio perfection and excellence of the sound reproduction. Sopra is the unique proof that in this age of digital technologies, docking stations and wireless sound, it is now more possible than ever before to give high-fidelity loudspeakers their importance once again. Inherently desirable but reasonable in terms of design, Sopra is destined for all those who, through space constraints or concern for modernism, would have thought that at some point the loudspeaker would go out of fashion. Modern in its approach and bringing obvious faithful musicality to your room, Sopra is about to seduce all music lovers who are enthusiasts of performance and equipment which reflect their true identity and which is not only intended for audiophiles.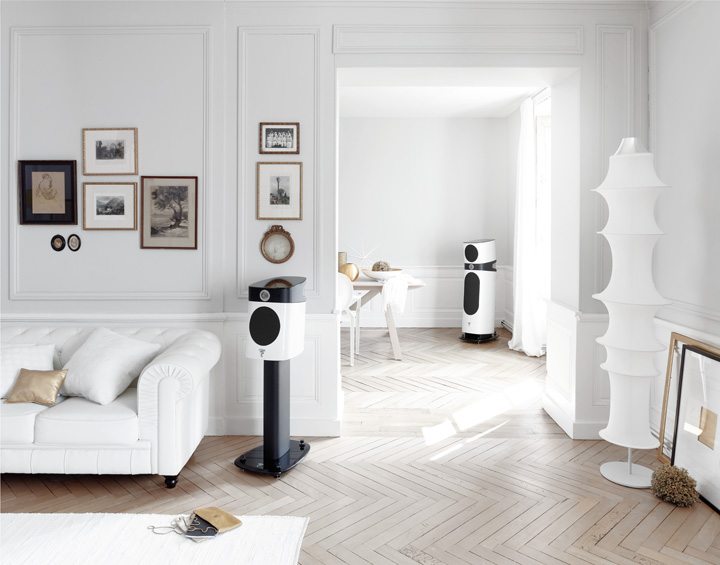 A visual signature and technical ingenuity
Sopra's origins are immediately visible. Besides having Focal's DNA, it is also the offspring of the Grande Utopia, the prestigious loudspeaker developed in 1995 and whose third version was launched in 2008. Sopra has the same sleek silhouette conceived by designer Alain Pineau. This evokes, as Alain says, "the passionate quest reconciling complex
constraints, experience and innovative and sophisticated solutions" which led the engineers at Focal to forge Sopra N°1 and Sopra N°2. Through their so unique and inimitable visual signature,
Sopra N°1 and Sopra N°2 bring unprecedented technical ingenuity. There are three main major innovations which make this line so unique.
The tweeters rear horn
Thanks to Focal's patented IHL technology (Infinite Horn Loading), the 21 milligram dome of the Beryllium tweeter no longer requires large cabinet volumes to prevent the rear sound waves from the dome being reflected back. Sopra needed to be compact, so the tweeter was given a graduated rear horn to avoid any return energy effect which can cause distortion.
Midrange suspension
The surround connecting the W cone to the chassis can cause anomalies at certain frequencies where its movement isn't in perfect phase with the cone. When applied to Sopra's 6'' (15cm) woofer, Focal's patented TMD technology (Tuned Mass Damper) counterbalances the resonance of this oscillating system and gives the sound incomparable transparency. Made possible thanks to the power of numerical analysis carried out by Focal, TMD ensures that the sound stays pure and that very high definition is maintained.
A stabilised magnetic field
In all loudspeaker drive units the magnetic field surrounding the voice coil is unstable. Variations in current from the amplifier in the voice coil and the voice coil's varying position blur the sound which can be more or less significant and which changes the sound reproduction. Focal's new innovation NIC (Neutral Inductance Circuit) was made possible thanks to the development of powerful dynamic simulation software, which finally enables the magnetic field to be stabilised. This paves the way for very high definition sound.
Equipped with transducers which are "Made in France" for the bass, midrange and treble which probably recognized as being the best in the world, and benefitting from major technological innovations which weren't possible 3 years ago, Sopra N°1 and Sopra N°2 are premium loudspeakers capable of unprecedented performance in such a compact design. Emblematic of Focal's sound signature, the new Sopra line has now paved the way for a new era for the world of high-fidelity.
For more info, please visit www.focal.com